As befits one of the industry leaders, Epson annually expands its lineup. Last year, the company introduced two great mini projectors, including EF 100 and EF12 up to $ 1,000.
In addition, Epson has launched a new line of EpiqVision UST projectors, including premium EH LS500 at $ 6,000 with 120″ UST ALR screen, and more affordable LS300, priced at $ 2,000 without screen. These models fit perfectly into the trend of rapid growth in the popularity of 'living room' projectors, which are positioned as an alternative TV.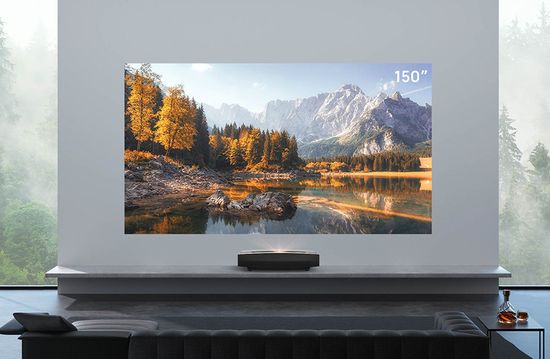 For example, already this year the segment of UST (Ultra Short Throw) laser projectors has expanded due to LG UST HU715Q, JMGO UST U2, Hisense PX1-Pro and L5G UST 'Laser TVs', which complemented last year's premium Hisense L9G UST TriChroma Laser TV.
This year, Epson introduced two mid-focus premium projectors, including the Home Cinema LS11000 (V11HA48020) and Pro Cinema LS12000 (V11HA47020MB).
The models are almost identical. The list of their differences is very short and includes (LS11000 vs LS12000):
– $ 4,000 vs $ 5,000;
– white / color brightness (CLO) – 2,500 vs 2,700 Lumens;
– dynamic contrast ratio – 1,200,000:1 vs 2,500,000:1;
– LS12000 comes with ceiling mount, has ISF-certified calibration tools and is compatible with option third-party anamorphic lens for changing aspect ratio.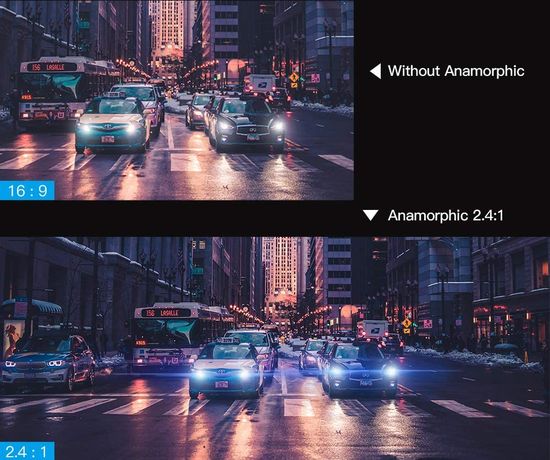 Pros
– four-phase, dual-axis pixel shift for full 4K resolution;
– 3LCD design;
– solid-state laser light source;
– excellent HDR performance;
– HDR10+ support;
– native 120Hz refresh rate;
– gaming up to 4K@120 fps with input lag times below 20ms.
Cons
– no 3D;
– no variable refresh rate (VRR);
– 16-point HDR Dynamic Range slider instead of dynamic tone-mapping for HDR10;
– no Dolby Vision.
Main technologies
The list of innovative technologies is impressive. Models use:
– 4K PRO-UHD Advanced Pixel-Shifting Technology or quad-phase, dual-axis pixel shift technology. Epson also calls it "Precision Shift Glass Plate Technology."
In fact, the new dual-axis pixel shift quadruples the pixel count. As a result, the model with three 0.74-inch 1080p LCD chips provides very sharp 4K (3,840 x 2,160) images with virtually no loss in brightness.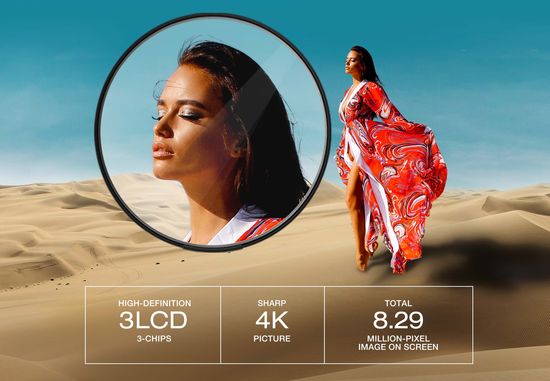 As known, in the previous HC5050 the company used a pixel shifter with only a 2-fold increase in the number of pixels;
– new proprietary 32-bit Epson ZX picture processor, which together with advanced video processing technology effectively handles real-time color, contrast, HDR, scene adaptive correction and resolution enhancement. As usual, the frame interpolation is great.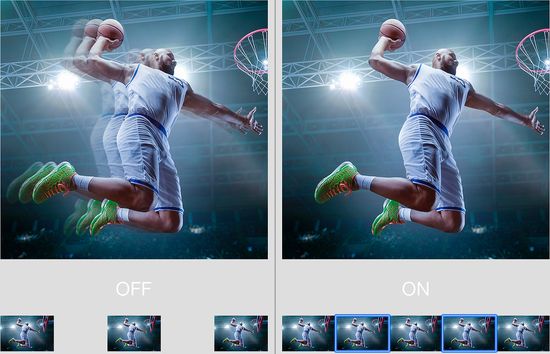 Some sources, including detailed specs on the company's official website, indicate the 36-bit Epson ZX processor. Maybe I'm wrong, but there are no such processors, and new Epson ZX is a 32-bit processor;
– new Laser Array Light Source – multi-array laser diodes.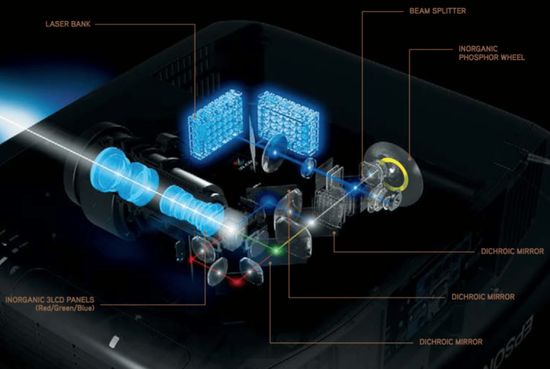 In addition:
– Epson 3-chip 3LCD design (no rainbow effect, white brightness = color brightness);
– Epson VRX Cinema Lens with zero light leakage uses a proprietary 15-element precision glass structure, providing great image clarity and edge-to-edge focus uniformity;
– Scene Adaptive Correction function;
– 3-way motorized lens – lens shift ±47% / ±96%(Horizontal & Vertical);
– Digital Keystone ±30% (Horizontal & Vertical);
– 2.1x motorized zoom and autofocus (settings can be stored in one of 10 lens memory presets).
– HDR (full 10-bit HDR color processing) – HDR, HDR10+ and HLG.
Specs
Until this year, the Home Cinema 5050UB / Pro Cinema 6050UB were rightfully considered the best Epson Home Theater projectors. The new Home Cinema LS11000 and Pro Cinema LS12000 have every reason to be positioned as the next generation.
As known, in 2016 Epson developed and pioneered Pixel Shifting (e-shift or 4K Enhancement) in Epson 5040UB.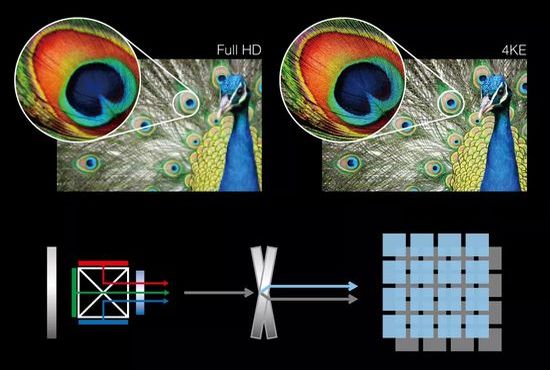 Of course, over the years the company has significantly improved the technology. Today it uses four-phase, dual-axis pixel shift technology that upscales image resolution to full 4K (3,840 x 2,160). At the same time, native resolution of image processing chips is 1080p only.
Probably, laser JVC DLA-NZ7 or DLA-RS2100 4K Home Theater projectors can be positioned as its closest competitors. But they have native 4K (4,096 x 2,160) resolution or 8K with pixel shifting, and cost $ 10,000.
Some specs
– Display Type – 2 cm 3LCD chips;
– Color Processing – 10-bit;
– Throw Distance – 10 ft – 30 ft (3.1 m – 9.0 m);
– Image Size – up to 300 diagonal inches (50"- 300" or 127 – 763 cm);
– Throw Ratio – 1.35:1 – 2.84:1;
– Audible Noise – 30 dB / 22 dB (Eco);
– Refresh Rate – 120 Hz;
– Weight – 28.0 lbs (12.7 kg);
– Projector Size – (7,5 x 20,5 x 17,7) inches or (19 x 52 x 45) cm;
– Connection:
– 2 x HDMI 2.1 (one with eARC for output Dolby or DTS audio) with HDCP 2.3 (High-bandwidth Digital Content Protection), 4:4:4 chroma subsampling support, up to 4K@120fps (gaming). HDMI 2.1 ports support 48 Gbps bandwidth for 120 Hz refresh rate with input lag times under 20 ms;
– Network RJ-45;
– RS232 DB-9pin;
– 2 x USB.
Epson light engine
As known, the Epson projectors use blue laser diode array and a fixed yellow phosphor to generate white. Next the optics converts white to red, blue and green and sends them to three 0.74-inch LCD chips.
This design is known as three-chip architecture and is used in 3LCD projectors. The same brightness of white and colors is one of their main pros. It's due to the lack of loss on the color wheel, which is used in DLP projectors. As known, it alternately forms colors. Accordingly, at each moment of time, the light flux 'loses' the brightness of the other two colors.
About 5 years ago, the Japanese company even insistently offered to measure and indicate in the specs the projector brightness depending on its color brightness. As known, today the specs of most projectors contain only brightness of white. But, quite predictably, DLP projector manufacturers did not support this initiative. Nevertheless, Epson always focuses consumers' attention on this aspect, indicating Color Light Output (CLO)-brightness in the projector specs. Moreover, the company very convincingly illustrates its arguments.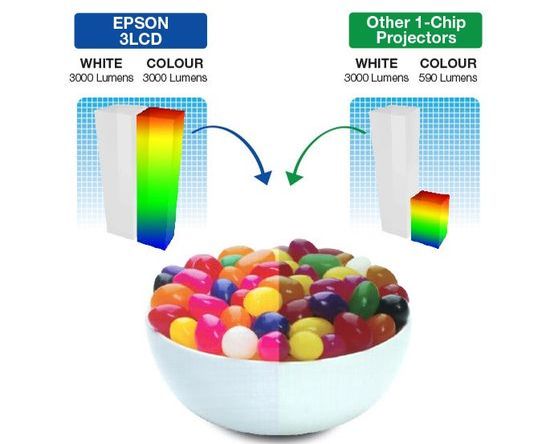 In addition, this technology eliminates the rainbow effect that is typical for 1-chip DLP projectors with color wheel. This effect is caused by insufficiently fast rotation of the wheel, which sequentially forms each pixel color. It's most pronounced on color transitions, which are maximum around the objects.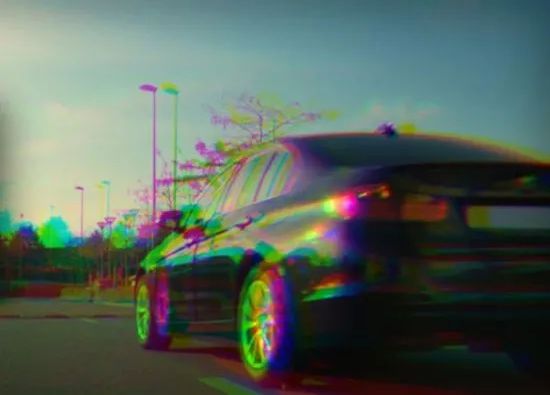 Unfortunately, 3LCD technology isn't perfect either. As with other laser projectors, their image is sometimes distorted due to speckle. It appears as a granular pattern of spots on the projected image, which is caused by the quasi-random interference due to scattering the coherent laser beam.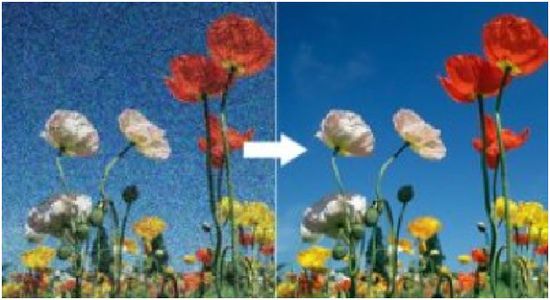 Advanced light engine
Epson is constantly improving the light engine in 3LCD projectors, and the LS11000 / LS12000 is no exception. In particular, according to the company, they practically do not flicker.
This effect occurs in models using a disk with a yellow phosphor layer to form white due to uneven layer thickness, disk microdefects, etc. They cause intensity fluctuations of the yellow light when the laser beam passes through the phosphor layer on the rotating disk surface. As a result, the projector image flickers.
Experiments have shown that flicker occurs when the difference between the disc rotational speed and the pulse frequency of the laser light source exceeds 20 Hz.
The developers successfully reduced frequency difference with the help of adjusting frequency PWM (pulse-width modulation) of laser beam and the rotation speed of the disk with phosphor, achieving a flicker free image.
As a result, the new projectors received an improved light engine. A new control algorithm has virtually eliminated image flicker.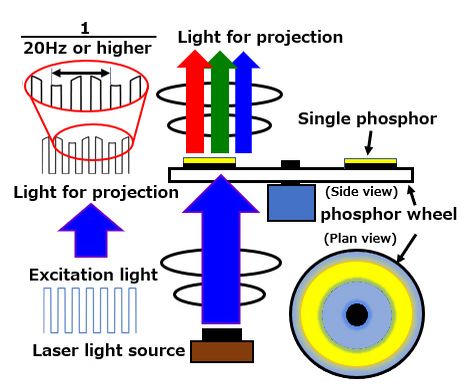 Moreover, it's smaller and quieter due to improved heat conductivity and heat resistance of yellow phosphor layer on spinning round disk.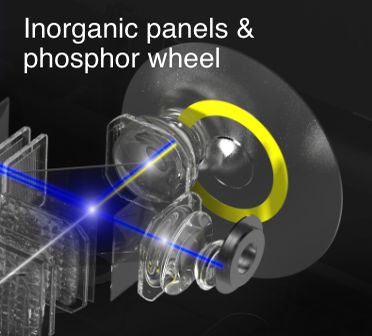 Calibration
Unlike some premium projectors like JVC NZ or LG HU families, LS12000 does not have Dynamic Tone Mapping. Essentially, this function adapts the original content brightness with the projector capabilities, which is often necessary when playing HDR content. In short, this function can be positioned as smart tone mapping. It analyzes the incoming signal, and ignoring any metadata, adjusts the brightness on a scene-by-scene and frame-by-frame basis. In this case, it optimally adjusts the tone mapping curve, keeping detail without losing highlights in dark scenes and dark objects in bright areas.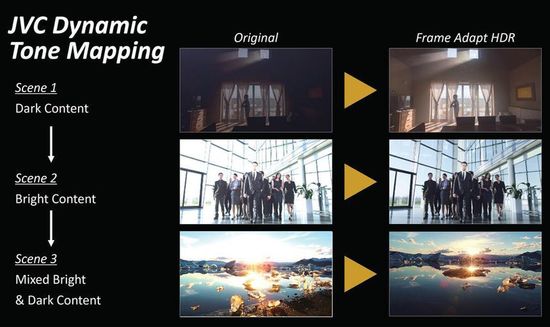 Instead, Epson uses a 16-point HDR Dynamic Range slider for adjusting the overall brightness in HDR mode (lower numbers – brighter, higher numbers – darker). It's effective, but manual tuning can be cumbersome for many lazy viewers. The Scene Adaptive Gamma complements the HDR slider, works in any mode and provides a frame-by-frame image enhancement.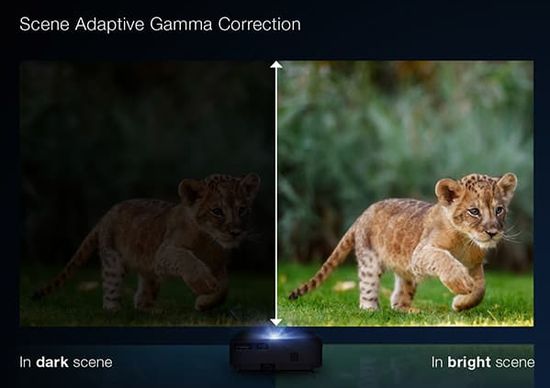 The Dynamic Contrast function adjusts the laser light source or panel pixels. Its menu offers Off, Normal, and High Speed. With 'High Speed' setting, the Dynamic Contrast provides an almost perfect black level. Its joint operation with Epson's UltraBlack technology should provide excellent results.
Generally, the models are ideal for lovers of calibration. RGB offset and gain settings, an 11-point grayscale adjustment for white balance, an 11-point G-M Correction slider for green / magenta balance, Color Uniformity option for correction of color temperature across an 11-point brightness range, etc will keep them entertained.
Key features
The list of color modes includes Dynamic, Vivid, Bright Cinema, Cinema, and Natural, whose settings are identical for SDR and HDR signals. As usual, Dynamic mode is the brightest. In this mode, the brightness exceeds 2,600 Lm, which is practically in line with the specs.
Cinema is the least bright, and delivers just under 1,000 Lm. Next in ascending order are Vivid, Bright Cinema and Natural with brightness from 1,300 to 1,500 Lm.
Natural mode is optimal for most content and has great pre-settings 'out of the box'.
The Light Output slider offers an adjustment range from 50% to 100% in 5% increments. Color brightness is practically the same as white brightness, which is normal for Epson's three-chip design.
Even without a color filter, which, by the way, reduces brightness, the projector covers almost 140% of BT.709, 93% of DCI-P3, and 63% of BT.2020 color space.
The models have an Epson VRX Cinema Lens with a proprietary 15-element precision glass structure with zero-light leakage. It provides an incredibly sharp picture perfectly focused over the entire screen surface. Combined with 2.1x optical zoom and lens shift (±96% vertical / ±47% horizontal), they provide simple, fast and near-perfect image adjustment.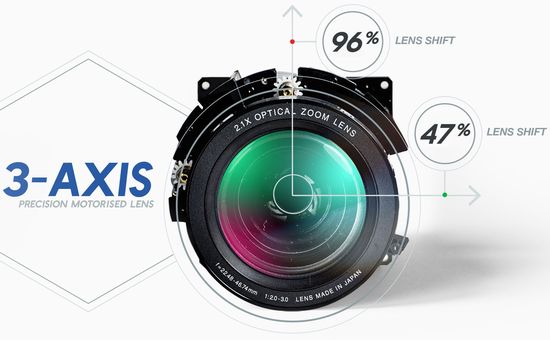 Even for widest angle, the light loss with a zoom does not exceed 35%. Of course, it decreases as the required zooming is reduced, which is adjusted by the selection on the projector placement. Brightness uniformity is over 90% for wide angle mode and slightly less than this level for telephoto.
The measured input lag is also in line with the company's promises. In Fast image processing mode, it's just under 20 ms for a 4K@60, just under 30 ms for 1080p@120, almost 40 ms for 1080p/@60 signal. Today these indicators are among the best.
Conclusion
Of course, these medium-throw projectors are not correct to compare, for example, with the excellent portable Samsung The Freestyle LED projector costing $ 900. Samsung wins in terms of price, functionality, ease of setup and installation, but its image quality is significantly lower and the screen size is smaller.
In terms of image quality and price, Epson LS12000 / LS11000 is much closer to the popular UST laser models, the list of which was replenished this year due to:
– Hisense PX1-Pro and L5G Laser TVs – under $ 4,000;
– LG HU715Q – $ 3,000;
– JMGO U2 – $ 3,000.
Unlike UST projectors, which are placed almost close to the screen, Epson mid-throw projectors require a fairly large room. In order to avoid the hassle of wires on the floor, they are usually mounted on the ceiling, but this requires additional hassle and expense. But they provide a much larger projection size at a higher resolution.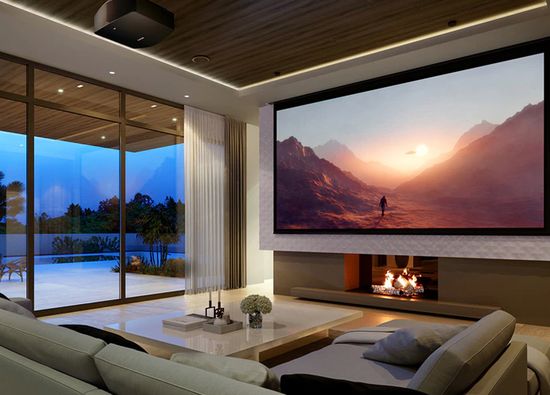 In the Home Cinema projector segment, Epson LS12000 / LS11000 offer the best value for money today. The full 4K image with four-way pixel shifting, great sharp from edge to edge, brightness 2,700 / 2,500 ANSI Lumens (CLO), 2,500,000:1 / 1,200,000:1 dynamic contrast ratio, etc at a price of $ 5,000 / $ 4,000 guarantee these models excellent marketing prospects. By comparison, the JVC DLA-NZ7 and RS2100 cost $10,000.
Perhaps the lack of dynamic tone mapping and 3D support can be positioned as small cons. But they fade in the background of the excellent image quality, high HDR performance and low price.
This video shows the Epson Pro Cinema LS12000 4K PRO-UHD laser projector.