The popularity of Home Theater projectors began to grow steadily about 10 years ago. Some experts even predicted that they would replace traditional TVs fairly quickly. But some aspects have made adjustments to these forecasts.
When using a projector, the eye perceives a reflected light stream. As a result, projected image colors are less bright and saturated compared to TVs that directly emit light into the viewing area. In addition, a projector-based home theater requires a separate, spacious room without stray light. On the other hand, the projection size is much larger than the screen size of TVs, the price of which rises sharply already at screen sizes of 65″ and above. These factors partially offset each other, keeping their competition intriguing.
Screen size
Of course, TV manufacturers are increasing the size of their models. Today this process is developing in two directions. For example, Samsung is quite successful in developing microLED technology. It uses 13-inch microLED modules, which are assembled in huge panels using brackets with powerful magnets.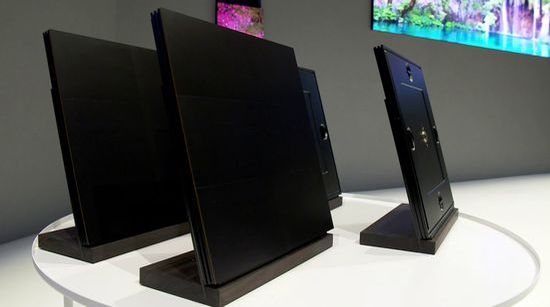 Of course, this technology provides impeccable image quality on a huge screen, but at an insane price. For example, at CES 2021, the company introduced a 108-inch microLED panel worth over $ 150,000. Today they are mainly used for advertising.
The systematic increase in screen size of traditional TVs is more efficient. Until a few years ago, the 77-inch model was billed as 'huge' and was very expensive. But this year, companies are already offering some huge TVs, including 100-inch Sony XR X92, Samsung QN90A and TCL 98R754. Sony and Samsung TVs are traditionally over $ 15,000, but the Chinese giant offers TCL 98R754 4K 'only' for $ 8,000, which was a sensation in this segment.
But projector manufacturers haven't been idle either, improving projection technology, projector light sources, etc. A partial list of their successes includes:
– solid-state light sources based on powerful and relatively inexpensive LEDs and lasers. A huge service life of 20,000 hours practically eliminated the problem of replacing them. Furthermore, they do not overheat, which eliminates the problem of their cooling, allowing the developers to abandon powerful but noisy fans. Additionally, this factor reduces the requirements for internal volume, which is necessary for heat dissipation. Accordingly, the developers were able to significantly reduce their size;
– screen mirroring, wireless data transmission and fast content streaming solved the content problem for the projector;
– ALR screens have reduced ambient light requirements by increasing light reflection efficiency.
UST projectors
Improving lenses for projectors have given impetus to the development of ultra-short throw (UST) projectors. Unlike mid-focus models, they create a big image (100″ and more) from a very short distance (several tens of cm) by using specialty optics. Therefore, UST models are placed close to the screen.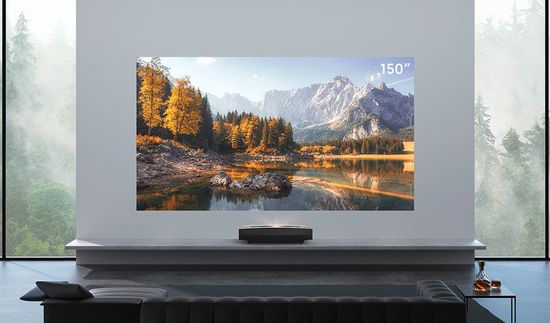 Today, companies use several designs of UST optics. For example, Epson uses a lens with folded optics, which has two flat mirrors. They 'rotate' the projected light 180 degrees, directing it towards the projector rear. Therefore, UST projectors are installed backwards, providing a rear projection. The large-diameter aspherical lens on the exit side reduces chromatic aberration.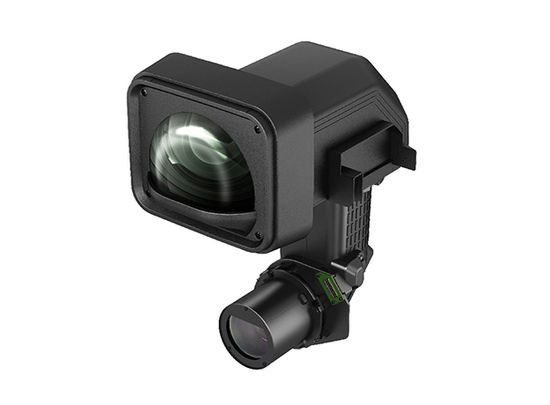 The company also uses a UST lens with a concave aspherical mirror.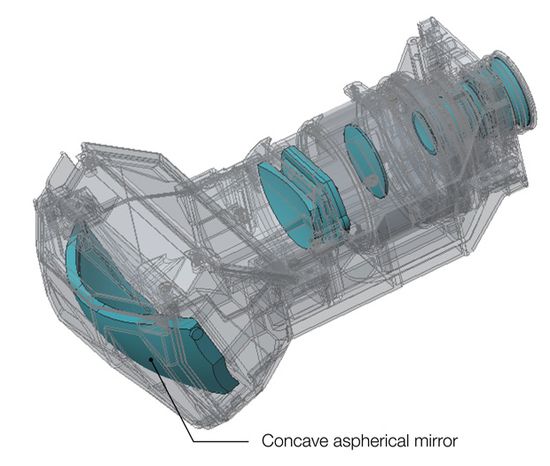 It consists of multiple lenses and a concave aspherical mirror, which reduces chromatic aberration.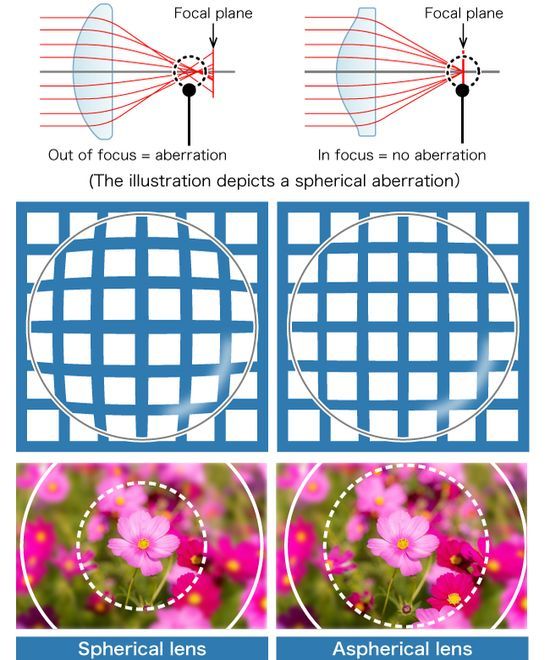 They are smaller, cheaper and use fewer optical components.
Placed near a screen eliminates floor wiring or ceiling mount hassle. The combination of these factors has made UST projectors an ideal alternative to traditional TVs. Today, some sellers even call them 'living room projectors'.
Of course, Epson, Optoma, Hisense and other industry leaders are responding adequately to consumer demand by offering a wide range of UST projectors.
ViewSonic projectors have their rightful place on this list. This company was founded in 1987 and has been successfully developing, manufacturing and marketing visual display equipment, including displays and projectors, for over 30 years. Today ViewSonic Corporation is a privately held multinational electronics company with headquarters in Brea, California. It has a research & development center in New Taipei City, Taiwan. In 2018, ViewSonic launched the world's first PX747 DLP 4K projector, which competed successfully in the market until 2021.
Main specs
In fact, the new X2000B-4K laser UST projector with built-in soundbar replaces the X1000-4K LED model from 2019, and is available in black and white.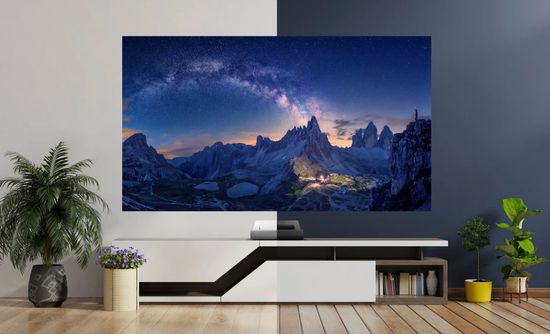 It became the first ViewSonic's UST projector with a Laser Phosphor light source.
Specs
– brightness – 2,000 ANSI Lumens;
– 4K (3,840 x 2,160) resolution with four-phase pixel shift;
– 3,000,000:1 dynamic contrast ratio;
– display type – 1 cm DLP x 1;
– color processing – 10-bit;
– Full HD 3D;
– Laser Phosphor light source (20,000 hours);
– Fixed focal length & Powered focus;
– Throw Distance – 0.3 m – 0.7 m;
– Image Size – 65″ – 150″ (165 – 382 cm).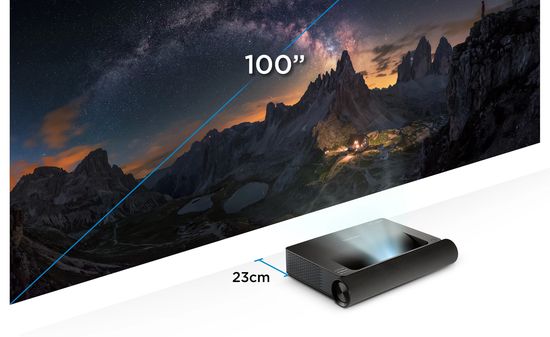 – Throw Ratio – 0.22:1;
– Horizontal & Vertical digital keystone.
Features
– UST lens;
– Full HD 3D;
– 100% Rec. 709 color gamut with Cinema SuperColor technology.
– 2nd generation laser phosphor technology;
– theater-level Harman Kardon customized speakers – 25W Cube (10W tweeter + 15W woofer) x2;
– 4-corner adjustment (includind for curved walls);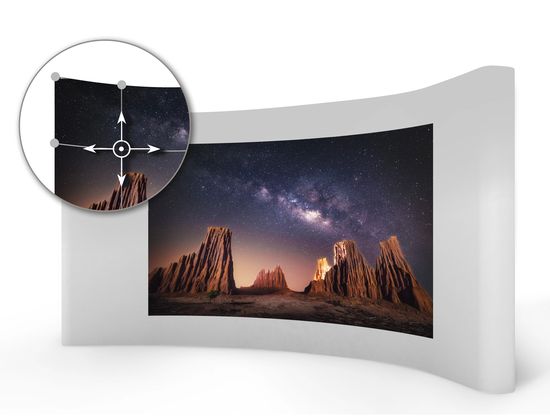 – frame interpolation.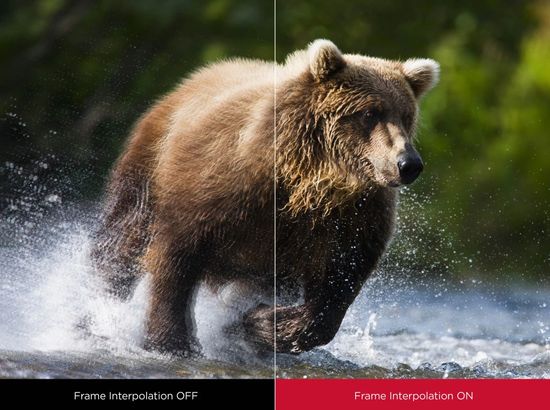 – HDR/HLG support;
– 5GHz high-speed Wi-Fi support;
– Blackboard Mode;
– eye protection.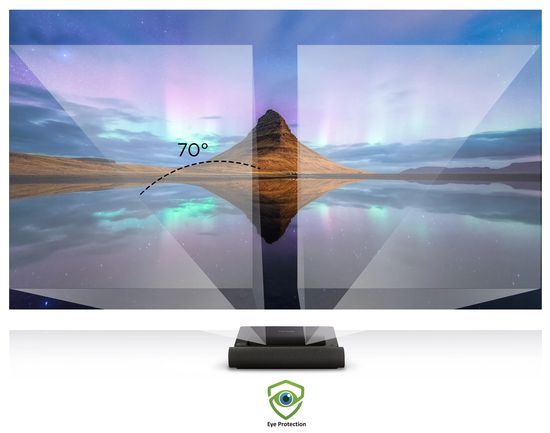 Of course, an adult is unlikely to look into a projector with a working laser. But the eyes of curious children and pets need protection from a sufficiently powerful laser beam. ViewSonic uses advanced protection with two built-in ultrasonic sensors that automatically cuts power when objects are too close to the lens.
This feature is activated in Basic Settings.
SSL (Solid State Light Source)
SSL is compact, run cool, has a long lifespan, and provides a longer and more stable brightness level. Modern projectors use three SSL-versions, including:
– LED;
– laser phosphor;
– RGB laser.
LED models use red, green and blue LEDs.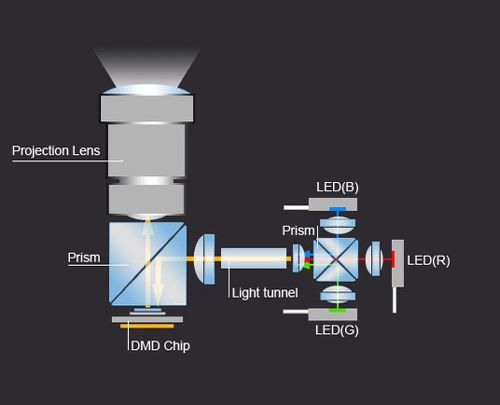 Pros
– compact design is ideal for portable models;
– vivid colours;
– low price.
Cons
– limited brightness up to 1,000 lumens.
This light source is often used in budget DLP LED projectors. However, the developers quite successfully solve the problem of limited brightness. For example, BenQ uses 4LED (RGBB) light source and ceramic phosphor in their latest Gaming BenQ X3000i.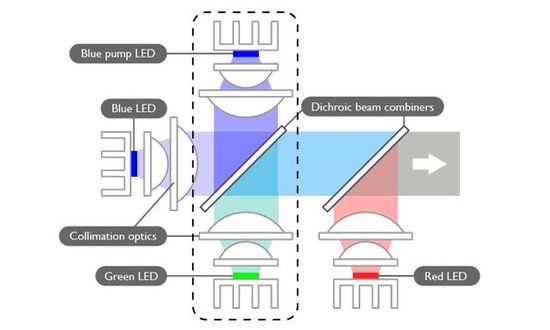 According to the company, the additional blue 'pumping' LED increases the output of green light by 40%, increasing overall brightness by 8-12%.
The projectors with a Laser Phosphor light source use the arrays of lasers. In this case, a blue laser diode creats the blue colour, and also used to illuminate a yellow phosphor wheel. This yellow light is split into green and red with a prism or colour wheel.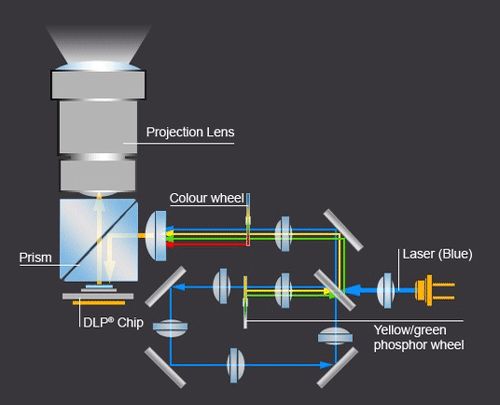 Pros
– great colours and brightness uniformity;
– affordable price;
– high brightness.
Cons
– brightness loss on the color wheel;
– 'rainbow' effect in some scenes.
Today they are most popular in mid-budget projectors.
Projectors with RGB Laser light source ('pure laser' technology) use red, green and blue lasers whose light is delivered directly to the image chipset.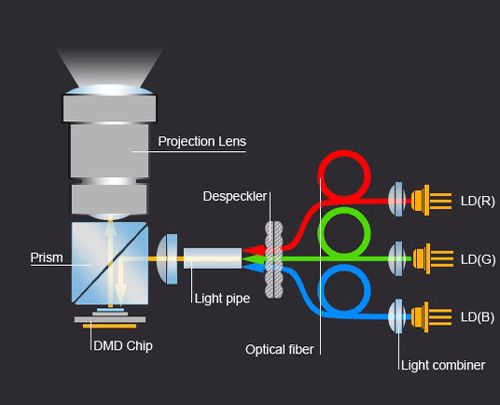 Pros
– great colours and brightness uniformity;
– very wide color gamut;
– highest brightness.
Cons
– high price.
Viewsonic X2000 has Laser Phosphor light source which provides brightness up to 2,000 lumens.
Projection technology
As known, DLP (Digital Light Processing) projector use imaging DMD (Digital Micromirror Device) chipset from Texas Instruments. The X2000B-4K has a .47-inch DMD 1080p chipset with four-phase pixel shifting.
The DMD creates an image using micromirrors, controlling their tilt with a 2D array of 1-bit CMOS memory cells under the mirrors.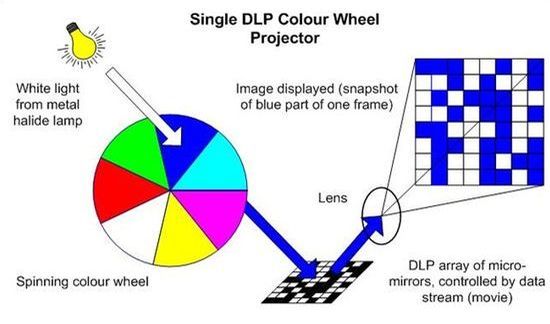 In fact, their number determines the resolution. Until last year, TI offered .47-inch 1080p, and .66-inch 4K UHD (2,716 x 1,528) chipsets with four-phase and two-phase pixel shift, respectively. They micromirror pitch is 5.4 µm.
A new .65″ 1080p DLP650TE chipset has increased micromirror pitch from 5.4 µm to 7.6 µm which should reduce noise levels, making mid-budget 4K DLP projectors more competitive.
The development of XPR (Xpanded Pixel Resolution) technology was driven by the company's desire to lower the price, because DMD with native 4K resolution (2,716 x 1,528) is significantly more expensive. It's based on horizontal-vertical shift of displayed pixels and increases their number by 2 or 4 times with two- or four-phase pixel shifting.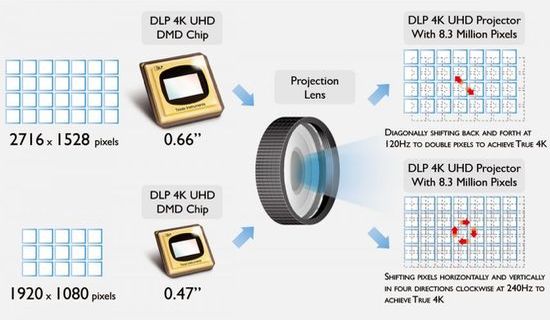 In fact, this technology takes 4K content, splits it into four parts of 2 million pixels each, and plays 4 separate frames, transmitting the entire 4K volume with the help of only 2 million chipset's pixels. Thus at every moment of time, the image contains only 2 million pixels (1080p resolution). They are shifted on the screen using a lens whose tilt is controlled by 4 electromagnets. But our vision and brain do not perceive the micro-delay between their switching, creating the illusion of a holistic image.
In fact, this technology has become the basis for the development of relatively inexpensive 4K-compatible DLP projectors.
Conclusion
The growing popularity of ultra short throw (UST) models remains the dominant trend in the projector segment. Already this year, their range has expanded due to:
– Hisense PX1-Pro 4K 'Laser TV' with RGB Laser light source (TriCroma technology) – $ 3,300 (2,200 ANSI Lm);
– LG CineBeam HU715Q 4K with Laser Phosphor light source – $ 3,000 (2,500 ANSI Lm);
– JMGO U2 4K with RGB Laser light source – $ 3,000 (2,400 ANSI Lm).
Compared to its competitors, the Viewsonic X2000-4K is a bit less bright (2,000 ANSI Lm), but slightly wins in price ($ 2,900). With the exception of JMGO, the high reputation of all brands has been proven over decades. All projectors offer great audio and roughly the same functionality. But unlike competitors, Viewsonic X2000 and JMGO U2 support Full HD 3D, which can be an important bonus for 3D fans. In addition, Viewsonic has a very handy Blackboard Mode for schoolchildren. Given the price and specs, the Viewsonic X2000-4K has great marketing prospects in the mid-budget 4K DLP projector segment.
This video showcases the new ViewSonic X2000 4K ultra-short throw projector.