Predictably, the explosive growth in popularity of UST (ultra short throw) projectors has continued this year. Of course, the demand for TVs is not decreasing yet, but the competitiveness of UST projectors as their alternative in living room continues to grow. Indeed, the projectors image quality is steadily improving while maintaining a huge advantage in price and screen size.
But TVs makers aren't wasting their time either. This year's list of their successes includes:
– Sony A95K and Samsung QS95B with new generation of hybrid QD-OLED panels by Samsung Display;
– LG OLED Evo C2 and G2 at an unprecedented low price of $ 2,100 and $ 2,900 for 65-inch models (a few years ago it was dumping for OLED TVs);
– continuation of last year's super popular Neo series, including Samsung QN90B and ultra bright Samsung QN95B priced at $ 2,300 and $ 3,300 (HDR peak brightness exceeds 2,000 nits).
TVs vs UST projectors
Unfortunately, the price of huge TVs is hardly going down. In particular, today companies offer:
– 'cheapest' 98-inch TCL 98R754 4K – $ 8,500;
– 98-inch Samsung QN90A – $ 13,000;
– 100-inch Sony BRAVIA XR X92 – $ 17,000.
At the same time, screen mirroring, wireless data transmission and fast content streaming leveled the difference content availability. Generating a huge projection from several feet away with UST projectors eliminated the hassle of ceiling mounts or the wires on the living room floor.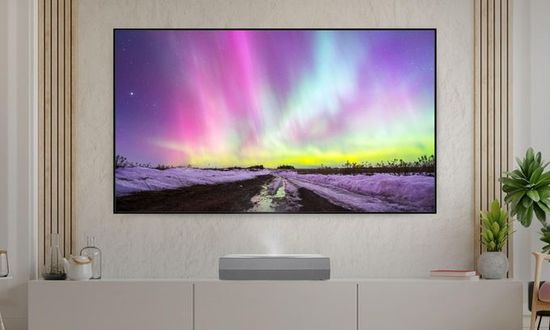 In fact, the huge gain in brightness due to differences in technologies remains the only advantage of TVs. When watching TV, our eye perceives its direct light flux. When using a projector, a person perceives the light reflected from the screen. In addition, no one has canceled the optical law 'the angle of incidence is equal to the angle of reflection'. Therefore, the luminous flux of the UST projector is partially re-reflected upwards due to the acute incidence angle. The brightness decrease of medium-focus models is less due to the almost right incidence angle, but light scattering at a longer distance reduces this gain.
Of course, modern UST ALR screens with a complex coating structure partially solve this problem by reflecting the light into the viewing area and absorbing light from other sources.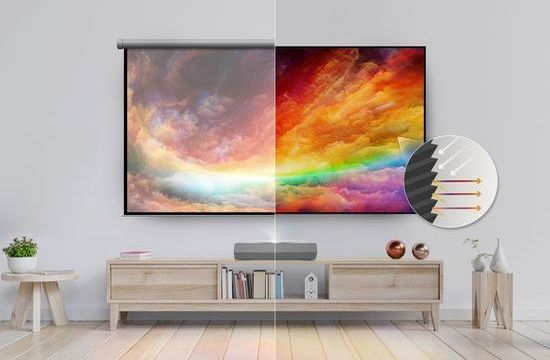 But their price today ranges from $ 600 to $ 900 for a 100-inch screen. TVs brightness remains substantially higher.
Projector brightness
However, this aspect has nuances. Brightness is not important in itself. As known, ambient light makes the image dull and faded. The high brightness provides rich colors even in sunlight. Simply put, this aspect is important for those who like to watch daytime TV programs in sunny California. But a resident of foggy Albion, who prefers evening viewing on a huge screen, is unlikely to encounter this problem. Simply turning off a light bulb drastically reduces the requirements to projector brightness.
Unfortunately, the high quality of popular HDR mode also requires a fairly high brightness.
But HDR content is currently only available from Disney Plus, Netflix or from a 4K Blu-ray disc. Most people receive SDR content via satellite or cable TV, high-quality playback of which does not require high brightness.
Furthermore, the maximum difference between them is only perceived in scenes with a large number of small bright objects on a dark background (stars in the night sky, night city, etc).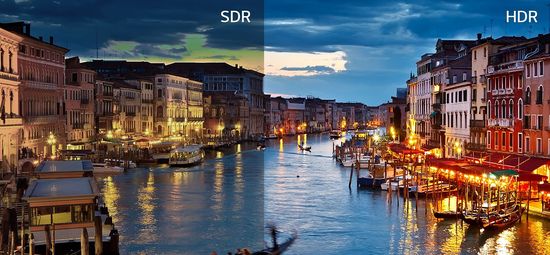 Of course, HDR content producers take this into account by making the most of contrast scenes. But for most TV content, the difference is much less pronounced.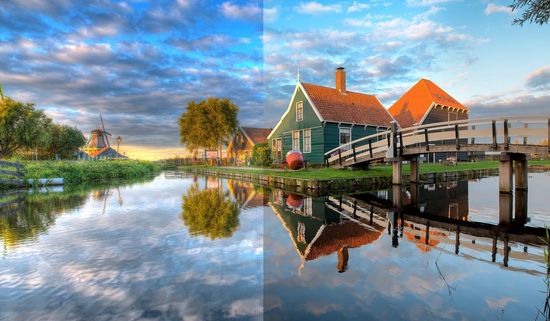 What's more, HDR playback requires high panel brightness, 10-bit or more color depth, and efficient image processing algorithms typically found only in expensive flagship TVs. To put it mildly, HDR quality on budget TVs often leaves a lot to be desired. Therefore, question 'how do I turn off HDR mode in TV' often flicker on the Internet. Thus, the growing popularity of UST laser projectors as an alternative to TV in the living room is well justified.
Optoma projectors
Optoma was founded in 2002 and is headquartered in Hemel Hempstead, UK. Today this multinational company specializes in areas of large format displays, interactive flat panels, etc. Projectors are one of its main directions. As one of the industry leaders, the company has not ignored the growing popularity of UST models by developing the CinemaX series of UST 4K DLP Home Theater laser projectors.
In just a few years, it introduced the P1 model in September 2019, its Pro version in March 2020, and Optoma CinemaX P2 in September 2020. They support 4K UHD (3,840 x 2,160) resolution with 0.47-inch DLP XPR chip (pixel shift), 10-bit color processing, Rec.709 color gamut coverage, Full HD 3D, have NuForce 40W Dolby Digital 2.0 soundbar, and provide image size of 85″- 120″ with Throw Distance of 1.6 ft – 2.3 ft (0.5 m – 0.7 m) at Throw Ratio of 0.25:1.
All models are very bright. Using the popular ALPD 3.0-based (Advanced Laser Phosphor Display) light engine, P1/ P2 provide 3,000 ANSI Lm, and the brightness of the Pro version reaches 3,500 ANSI Lm.
Besides great brightness, the pros list includes a built-in Dolby Digital 2.0 soundbar including two 2-inch tweeters and two 2.75-inch woofers in isolated and ported chambers.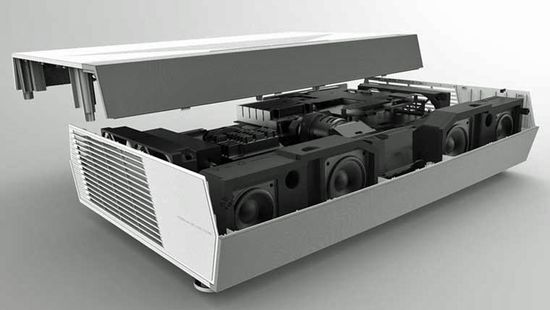 It's compatible with outboard subwoofer via analog audio output.
Today P2 is offered for $ 2,800, but some sellers sell it for only $ 2,300. Of course, this is a great value for money. But the company didn't stop there with the introduction of the new CinemaX D2 and D2+ projectors this summer.
OptomaX D2/D2+
Specs OptomaX D2/D2+ are completely identical and practically do not differ from P2. But D2+ comes with a Google & Netflix certified Android TV dongle from Hako mini, which provides 4K streaming and supports HDR. In fact, the Google & Netflix certified Android TV dongle turns the projector into a Smart 4K TV, providing access to movies and shows via Netflix with 4K HDR supported with plug-and-play dongle.
Smart options
– 5000+ Google Play apps;
– easy installation Plug & Play;
– smart devices voice control;
– wireless casting.
Due to this, the price difference between models is several hundred. D2 is not yet available, but D2+ is already being offered in some Asian countries and in Australia, where its launch price is A$ 4,600 (~$ 3,200).
Specs
– Display Technology – DLP 4K UHD chip;
– Brightness 3,000 lumens;
– 1,800,000:1 contrast ratio (P2 has 2,000,000:1);
– Screen Size 85″ – 120″;
– single laser light source;
– True 4K UHD (3,840 × 2,160) resolution with 0.47″ DLP XPR chipset with four-phase pixel shifting;
– 4ms input lag for 1080p@240Hz and 16.9ms for 4K@60Hz gaming (P2 offers 50ms only);
– 3D support;
– HDR10 & HLG.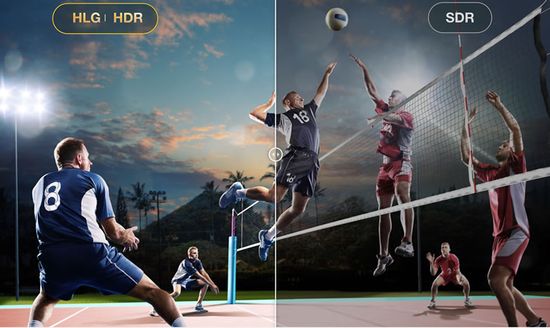 The projector automatically switches to HDR / HLG display mode when a HDR / HLG signal is detected;
– 0.25:1 throw ratio;
– 20W built in speakers (P2 has built in 40W soundbar);
– 120% Rec.709 color gamut coverage;
– 3x HDMI 2.0 (one with eARC and lower latency).
As known, eARC (Enhanced Audio Return Channel) enables digital transmission of audio content to external audio system (for example, soundbar) without decrease in quality. It supports up to 37 Mbps of high-speed audio transmission, pass through of uncompressed 5.1 without AV receiver, and next-gen sound formats.
Resolution
The projectors use 0.47-inch XPR (Xpanded Pixel Resolution) DLP chipset with native (1,920 x 1,080) resolution and four-phase pixel shifting.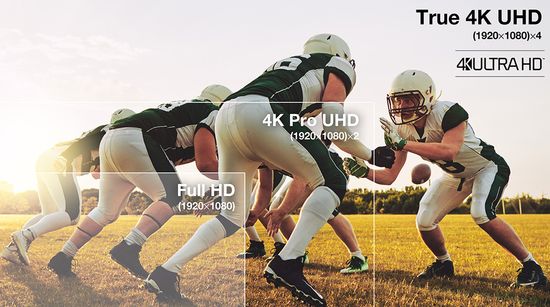 The first 4K projectors used very expensive chipsets that physically provited over 8 million pixels. But in 2016 Epson developed Pixel Shifting.
Its operation principle is simple and captivates with its elegance. Like the frame interpolation in TVs, the projector creates a duplicate image with a vertically and horizontal shift. As a result, our eye sees more pixels and perceives the image more clearly.
The DLP XPR technology by Texas Instruments opened up excellent prospects for the development of low cost DLP 4K projectors. These 1080p chipsets with (1,920 x 1,080) micromirrors and with four-phase pixel shifting displays 8 million pixels of 4K content.
In fact, it takes 4K content, splits it into four parts of 2 million pixels each, and plays 4 separate frames.
Strictly speaking, the 1/4 part of the image contains only 2 million pixels at every moment. Then, the projector displays the next 2 million pixels at a 1/2 pixel shifting, etc. But our vision and brain do not perceive the micro-delay between their switching, creating the illusion of a holistic image.
Pixel shift is done by tilting the lens 2 or 4 times per second (two- or four phase shift) using four electromagnets of XPR module.
This great technology has drastically reduced prices, but sparked discussion about native 4K vs true 4K vs 1080p pixel shift. But today it's irrelevant. The Consumer Technology Association (CTA) absolutely rightly positions image with at least 8 million active pixels as 4K Ultra HD resolution. DLP XPR technology meets this requirement, and most consumers are unlikely to be concerned about the way they are formed.
Key features
As known, Optoma projectors uses single-chip DLP technology with laser-phosphor solid-state light sources (SSL) based on ALPD 3.0 (Advanced Laser Phosphor Display). This technology uses an array of blue laser LEDs, which additionally are used to illuminate a phosphor wheel. Then light is directed to a color wheel to generate the primary colors.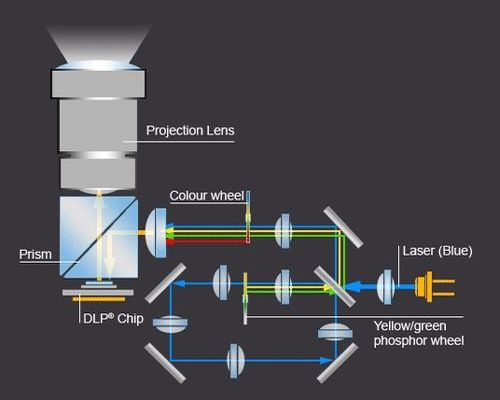 It's cheaper compared to ALPD 4.0 (triple RGB laser technology), but less bright due to losses on color wheel, and has a narrower color gamut.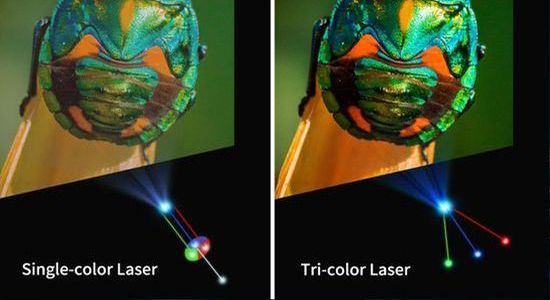 However, it's used in most modern projectors. Among the new UST models, only the Hisense PX1 Pro ($3,150; 2,200 ANSI lumens) and JMGO U2 ($3,000; 2,400 ANSI lm) use ALPD 4.0 SSL ('TriChroma' / 'TriColor' technologies with color gamut 107% / 114% in the BT.2020 standard, respectively).
In addition, the projectors have 'Cinema' display mode with enhanced color gamut due to red (cinema-tailored gamma curve).
What's more, the projectors use built-in PIR sensors for eye protection. Of course, an adult is unlikely to look into a working laser, but this protection is clearly useful for curious children and pets. When they approach a dangerous distance, the projector automatically reduces the brightness to a safe level.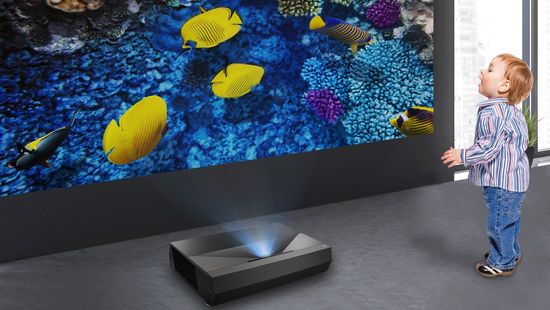 Gaming & settings
The input lag of OptomaX P2 in 'Gaming mode' is up to 50 ms. This is probably enough for casual games, but too much for hardcore games. But the new CinemaX D2 / D2+ may well be positioned as one of the best gaming UST projectors. Their enhanced gaming mode provides extremely low input lag ~ 4ms.
Enhanced gaming mode:
– HDR;
– ultra wide 21:9 / 32:9;
– 1080p@240Hz and 1080p@120Hz – 4ms;
– 4K UHD@60Hz – 16.9ms.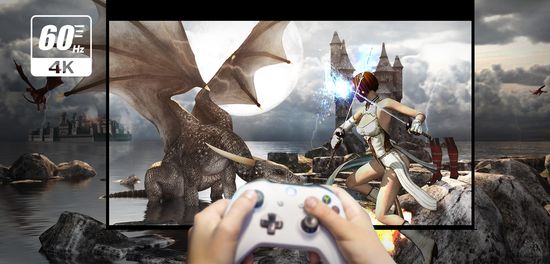 In fact, they offer the level of the Epson LS500, which is positioned as the best gaming UST projector today.
The projectors offer a wide range of settings including:
– 4-corner adjustment;
– 2D keystone correction (±10° Vertical, ±10° Horizontal);
– digital zoom (80%~200%);
– advanced curve screen warping adjustment capabilities with warping at 3*3 matrix.
Sure, a curved projector screen costs around $ 1,000, but it's very handy, for example, in flight simulators, museum exhibitions, gaming conventions and training simulators.
Conclusion
Of course, the Optoma D2/D2+ will have tough competition. The list of new UST 4K living room projectors includes:
– LG CineBeam HU915QE – $ 6,000 (3,700 ANSI lm);
– Hisense L5G – $ 4,500 with UST ALR screen (2,700 ANSI lm);
– Hisense PX1 Pro – $ 3,150 (2,200 ANSI lumens);
– JMGO U2 – $ 3,000 (2,400 ANSI lm);
– LG HU715Q 4K UST – $ 2,900 (2,500 ANSI lm);
– Hisense PX1 – $ 2,500 (2,000 ANSI lm);
– Epson LS800 – $ 3,500;
– announced NexiGo PJ90 Aurora – $ 2,600 (2,200 ANSI lm).
But high 3,000 ANSI lm brightness, dongle from Hako mini for D2+, great gaiming with 4ms input lag and support of 4K@60Hz, and wide range of settings give them excellent marketing perspectives.
Curious but cheaper Optoma CinemaX P2 with integrated soundbar and more high contrast may become the main competitor of new models. Indeed, at $ 2,300 or even $ 2,800, it offers the best value for money. But perhaps lowering their launch prices will change the situation.
The video introduces the new Optoma CinemaX D2/D2+ laser DLP UST 4K projectors.