The NexiGo brand has only been on the market for a few years and has yet to establish a reputation. Just in case, NexiGo is not affiliated in any way with NexGo (or Shenzhen Xinguodu Technology Co., Ltd.) headquartered in Shenzhen (China), which is a global manufacturer of high-tech payment terminals, PIN pads, etc.
Introduction
The start of the young American company was very successful. Located in Portland, Oregon between Silicon Valley to the South and Seattle, Washington to the North, company actively cooperates with experienced technicians and parts suppliers in the area. Its products are sold under the names NexiGo or NexiPC.
NexiGo started out as an online retailer selling laptops, desktops, and other electronics. Subsequently, the company expanded its activities by upgrading systems to order. Today NexiPC is an online computer reseller specializing in upgrade and custom laptops and desktops Acer, Dell, Lenovo, etc.
In the course of further development, NexiGo began to expand the production of its own OEM products. This direction has also been successful. In the spring of 2020, the company introduced the N60 webcam, which is still on many bestseller lists due to its great value for money. The NexiGo N930AF webcam has also become a major success for the company. Today NexiGo offers almost 20 webcam models, continuing to develop this direction.
Projectors have become an equally successful business line for the company. For several years, the company has already developed several quite competitive models:
– NexiGo PJ01 WVGA (854 x 480) – $ 300;
– -"- PJ06 HD (1,280 x 720) – $ 100;
– NexiGo PJ10 Full HD (1,920 x 1,080) – $ 180;
– -"- Full HD (1,920 x 1,080) – $ 250.
In fact, PJ01 / PJ06 belong to the segment of low-power budget WiFi mini projectors. NexiGo PJ 10 / 20 provide brightness of 220 / 350 ANSI Lumens with LED light source at Full HD resolution and can be positioned as good mid-budget models.
Moreover, the company clearly gives much attention to creative design.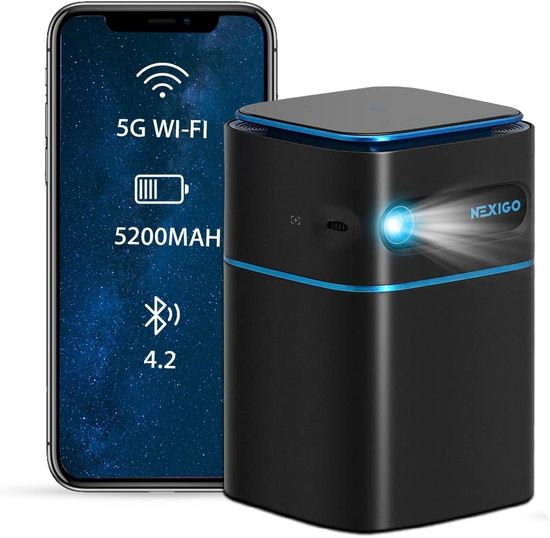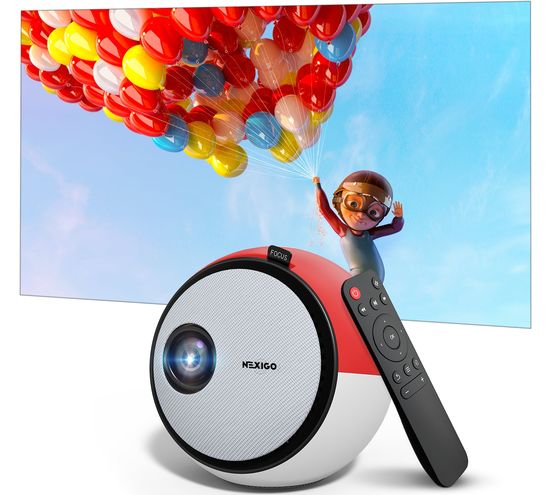 NexiGo PJ90 Aurora
This year the company has shown strong intentions to further increase rates. Announced $ 2,600 NexiGo PJ90 Aurora 4K (3,840 x 2,160) UST laser Home Theater projector belongs to the premium level. Moreover, it falls into UST model segment. For several years they popularity has been growing rapidly as an alternative to TVs. In this year, their list has expanded due to great new models, including:
– Hisense PX1 and PX1 Pro 'laser TV';
– LG CineBeam HU715Q and HU915QE;
– JMGO U2;
– announced ViewSonic X2000-4K and ViewSonic X2 1080p.
But titled competitors did not embarrass the young company. The price and specs of the NexiGo PJ90 are more than competitive.
Already traditional for this brand, the PJ90 Aurora features a stylish premium design including aluminum housing, radial brushed texture and fabric covering finish.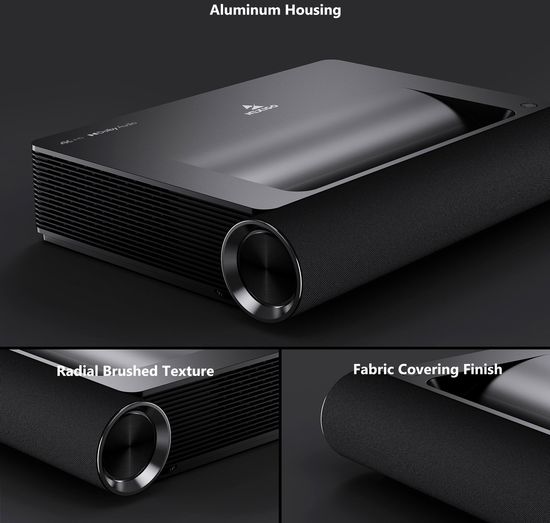 Specs
– brightness – 2,200 ANSI lumens (laser phosphor light engine);
– 4K (3,840 x 2,160) resolution;
– imaging technology – 0.47″ DMD DLP;
– color processing – 8-bit;
– image size is 80″ – 120″ (202 cm – 306 cm) at Throw Distance of 16″ – 24″ (0.4 m – 0.6 m) with Throw Ratio of 0.23:1 (100″@0,5m).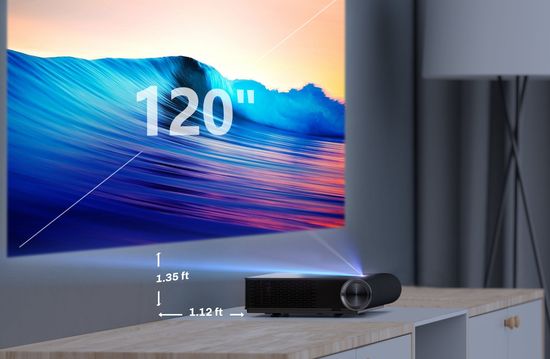 – HDR10 support;
-WiFi – dual frequency 2.4GHz / 5GHz;
– кeystone: 4-corner / 8-point correction;
-autofocus;
– SoC – MediaTek MTK MT9669 (4-core ARM Cortex-A73, 1.3GHz, Mali-G52 GPU, 4GB RAM).
New SoC supports 120Hz refresh rate and features 120Hz motion compensation technology. In addition, it provides hardware decoding of 4K video codecs HEVC, VP9 and AV1, which are used by global streaming video services.
Key Features
The projector has a great built-in audio system including dual 15 watt woofers and dual 10 watt tweeters powered by Dolby and DTS.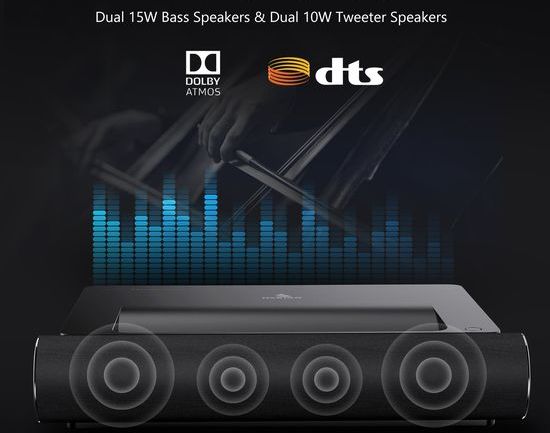 Unfortunately, the projector only offers Bluetooth 4.2 instead of Bluetooth 5.0, which:
– faster (2 Mbps vs 1 Mbps);
– long range (street/indoor – 200/40 m vs 50/10 m);
– more reliable connection.
However, this aspect is not important for projectors.
Smart functionality also includes almost all modern options. The projector uses advanced Android 9.0 with pre-installed streaming apps and 32GB internal storage.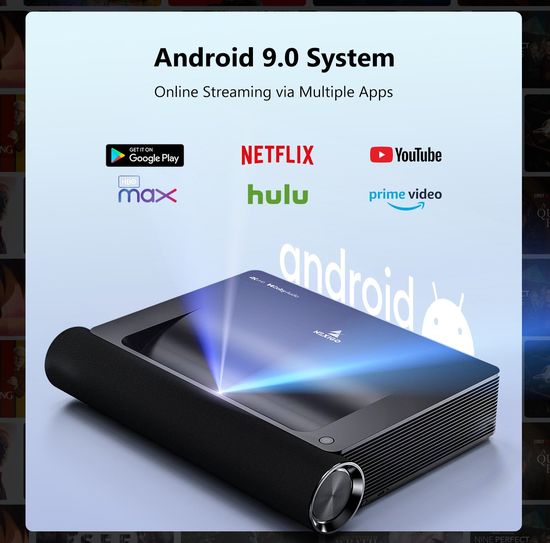 NexiGo PJ90 supports 2.4 / 5.0 GHz wide-range and high-speed wireless mirroring for iOS, Android, and Windows devices, solving the problem of content for projector.
NexiGo PJ90 wireless mirroring.jpg
Conclusion
Pros
– Ultra Short Throw (UST) design;
– 2,200 ANSI Lm brightness;
– 4K UHD resolution;
– Android 9.0 app streaming;
– 5 GHz WiFi connection;
– powerful Dolby DTS HD speakers;
-autofocus.
Cons
– 8-bit color processing only.
Usually, young companies compensate for an undeveloped reputation with an aggressive pricing strategy. Also, the companies use a similar strategy to penetrate new markets. As a result, their models often offer great value for money. To the delight of consumers, the NexiGo PJ90 is no exception.
The list of new UST 'living room' projectors includes:
– Hisense PX1 and PX1 Pro 'laser TV' – $ 2,500 and $ 3,150;
– LG CineBeam HU715Q and HU915QE – $ 2,900 and $ 6,000;
– JMGO U2 – $ 3,000;
– announced Viewsonic X2000-4K ($ 2,900) and ViewSonic X2 1080p ($ 1,100).
The announced launch price of NexiGo PJ90 is $ 2,600. With the exception of the ViewSonic X2 with lower 1080p resolution, it only competes with the announced Hisense PX1. Other models are several hundred more expensive. Furthermore, the model offers a stylish design, great 50W sound and 5 GHz WiFi connection for wireless mirroring. These factors provide it with excellent value for money. As a result, NexiGo PJ90 has excellent marketing prospects.
This video introduces the popular NexiGo PJ20 native 1080p projector.