This year the range of ultra-short throw (UST) projectors has expanded significantly. Their partial list includes Hisense PX1 Pro and L5G (with 100-inch screen), Viewsonic X2000-4K, JMGO U2 4K, LG CineBeam HU715Q and HU915QE.
In terms of popularity, Hisense PX1 Pro clearly claims to be the leader in this list. But the company has already introduced its cheaper version.
The list of their differences is very short (PX1-Pro vs PX1):
– Price – $ 3,300 vs $ 2,500;
– Brightness (Lumens) – 2,200 vs 2,000;
– Screen Size with motorized focus – 90″ – 130″ vs 100″ – 120″;
– Dolby Vision Support – via firmware update vs no;
– Color – navy with grille embellishment vs blue.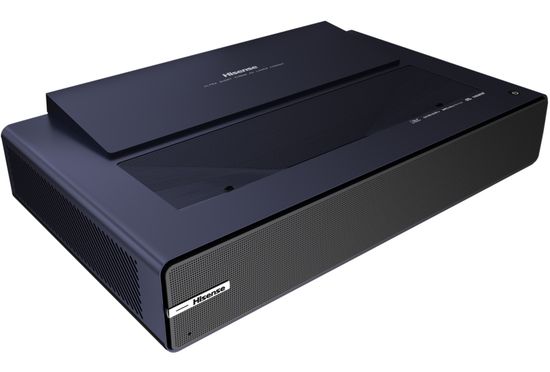 Other specs have not changed.
Key Features
– Android TV;
– color gamut of 107% BT.2020 color space with TriCroma ('RGB laser' with Red + Green + Blue lasers);
– 1,000,000:1 dynamic contrast;
– 4K-compatible with .47-inch XPR DLP chip (four-phase pixel-shifting technology);
– HDR10 and HLG support;
– ALLM (Auto Low Latency Mode) in Game Mode – 30 ms;
– Frame Interpolation;
– Filmmaker Mode – optimization movie watching (shuts off all video processing features and sets the original frame rate and aspect ratio);
– 2x HDMI 2.1 ports including one port with eARC to transmit Dolby Atmos to an external sound systemt;
– Built-in 30W speaker system supports Dolby Atmos and Dolby Digital decoding;
– Bluetooth and WiSA support for connection to compatible wireless surround sound speaker systems;
– wireless remote control, Google Assistant and Alexa voice control;
– Chromecast Built-in.
UST projector vs TV
The popularity of UST projectors is due to objective reasons.
As known, the lens of UST projector creates a very big image (100″ and more) from a very short distance (a few dozen cm). Therefore, UST models are placed close to the screen, which eliminates the problem of wires on the floor or the hassle of ceiling mounting. This aspect makes UST projectors ideal alternative to TVs.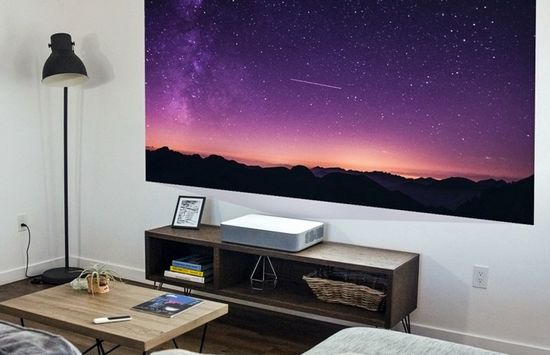 Some sellers even call them 'living room projectors'.
The lenses of UST and mid-focus models are different. UST projectors use a lens with folded optics or with a concave aspherical mirror.
The first option uses two flat mirrors, which 'rotate' the projected light 180 degrees, directing it towards the projector rear.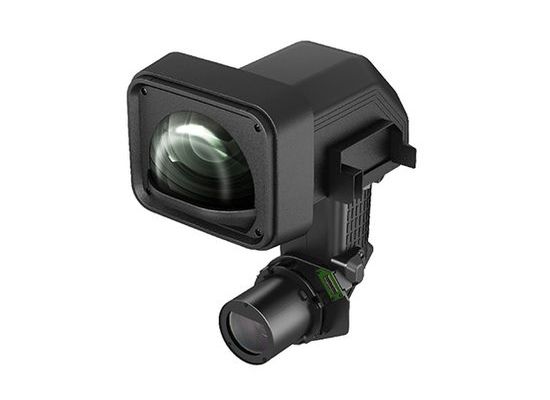 The second construct is smaller, cheaper and use fewer optical components. But both lenses use the large-diameter aspherical lens at the output to reduce chromatic aberration.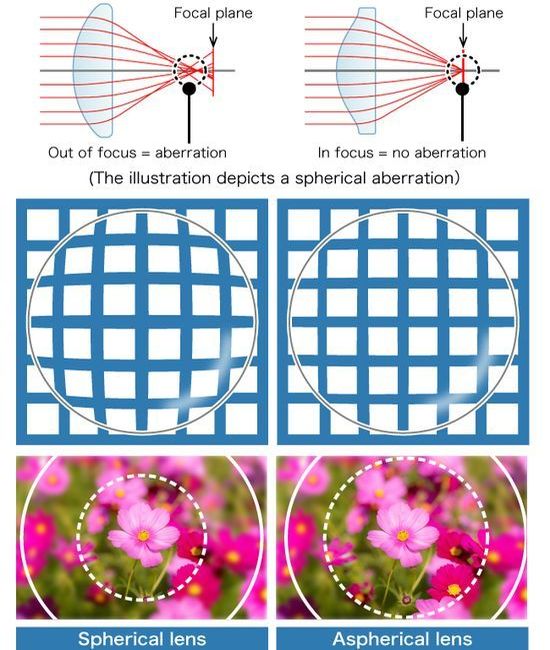 To be fair, TVs picture colors are usually brighter and richer because their screen radiates directly into the viewing area, and the projector uses reflected light. But the price of the cheapest 98-inch TCL 98R754 reaches $ 8,000. Sony and Samsung offer 100-inch XR X92 and QN90A for over $ 15,000. UST projectors are radically cheaper.
Furthermore, the owner of the projector has the opportunity to improve the image quality due to the expensive but highly efficient UST ALR screen (up to $ 1,000 for a 100-inch screen). In addition, it's greatly improved when viewed in the dark, for example, in the evening or with blinds. Moreover, increasing the UST projectors brightness also reduces the difference in image quality.
Therefore, it can be an ideal choice for fans of huge screens on a limited budget.
DLP, 3LCD or LCoS
Of course, the image quality depends on the projection technology.
DLP (Digital Light Processing) projectors use imaging DMD (Digital Micromirror Device) chipsets from Texas Instruments. They are very popular in the budget and mid-budget models from Hisense, Optoma, BenQ, ViewSonic, etc.
Epson dominates the 3LCD projector segment, which work without a color wheel, providing the same brightness of white and colors.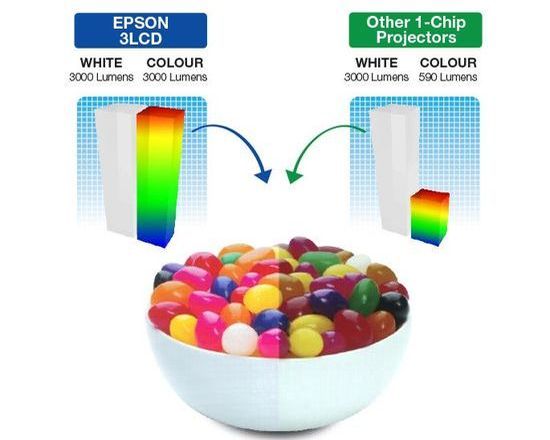 Of course, the company always focuses the attention of consumers on this aspect, indicating Color Light Output (CLO) in the specs.
LCoS (Liquid Crystal on Silicon) technology provides virtually 'infinite' contrast through near-perfect blacks and are popular in premium Home Theater projectors. Companies use different names for their own versions of this technology:
– JVC – D-ILA (Digital Direct Drive Image Light Amplifier);
– Sony – SXRD (Silicon X-tal Reflective Display);
– Canon – AISYS (Aspectual Illumination System).
Hisense PX1 DLP projectors use a .47-inch chipset (1,920 x 1,080) with XPR four-phase pixel-shifting technology. This technology splits 4K content into four parts of 2 million pixels each, and plays 4 separate frames with a vertical-horizontal shift of 1/2 pixel. Thus, the projector displays 8 million pixels of 4K content with the help of only 2 million chipset's pixels. Strictly speaking, the image contains only 2 million pixels (1080p resolution) at every moment of time. They are shifted on the screen using a lens whose tilt is controlled by 4 electromagnets. But our vision and brain do not perceive the micro-delay between their switching, creating the illusion of a holistic image.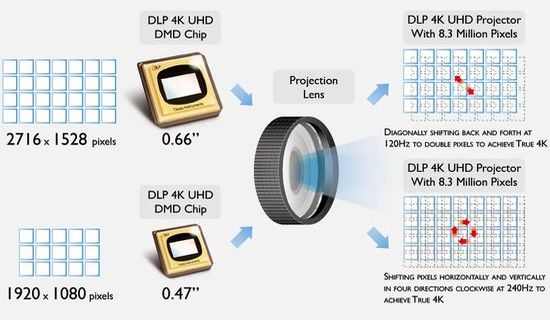 The operation principle of .66-inch DLP chip (2,716 x 1,528) with XPR two-phase pixel-shifting is similar.
In fact, this technology has given impetus to the development of relatively inexpensive 4K-compatible DLP projectors based on 1080p chipsets.
Light engine
Modern Solid State Light Sources are relatively inexpensive, compact, run cool, has a long lifespan, provide a more stable brightness level, and have essentially replaced bulb models. They are divided into:
-LED;
-laser phosphor;
-RGB laser.
As the name suggests, the LED and 'RGB laser' light engines use red, green and blue LEDs or lasers to generate the primary red, blue and grean colors. Strictly speaking, a laser LED is a LED with a built-in optical resonator that provides coherent emission.
LED light engine is compact, cheap, provides vivid colors but is limited in brightness. Laser LEDs are more expensive but significantly brighter.
Laser phosphor light source is fundamentally different in terms of creating the primary colors. It was designed to reduce the number of lasers that were quite expensive. But today they have significantly fallen in price, reducing the importance of this factor. The modern laser phosphor engines use one, two or even three lasers plus a phosphor. In this case, the laser beam is simultaneously used to generate 'its' primary color and as a backlight for phosphor to generate other colors.
For example, ViewSonic X2000B-4K uses a blue laser diode for blue and to illuminate a yellow phosphor wheel. Next yellow is split into green and red with prism or color wheel and sent to the image chip.
LG HU85LA and HU915Q have two blue and one red lasers. Red and blue lasers are used for primary colors. Other blue laser excites the static phosphor for the green primary. The expediency of such a design is due to the difference in price (the blue laser is much cheaper).
'RGB laser' or 3ch laser light engine is the brightest and provides a very wide color gamut.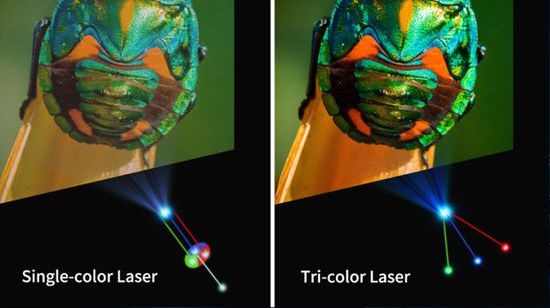 Hisense TriChroma and screen
Of course, 'RGB laser' has long been known. But earlier it was used only in powerful and very expensive commercial models. Hisense first successfully implemented it in relatively affordable home models. After developing light engines based on single laser (L5F Cinema) and two lasers (L10E discontinued), last fall the company introduced L9G 4K UST Laser TV with 'RGB laser' light engine, calling this TriChroma technology. It provided an unprecedentedly wide color gamut that reaches 107% of the BT.2020 color space.
In this year, the company introduced Hisense PX1 Pro with similar technology. Unlike the L9G, the PX1-Pro is less bright, cheaper, and comes without a screen. In addition, it has a built-in digital zoom focus to adjust the screen size from 90 to 130 inches.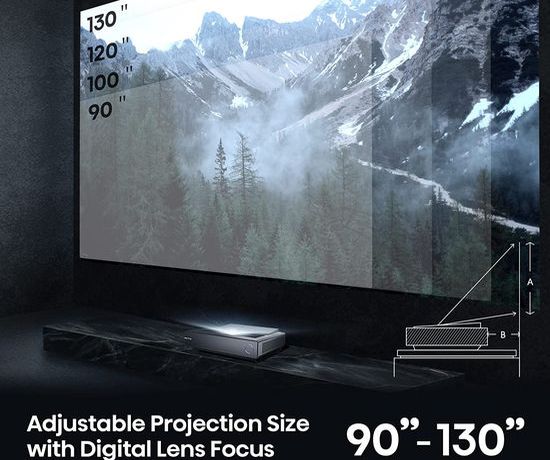 For reference, models with a screen are named 'Laser TV' and projectors that come without a screen are 'Laser Cinema'. Considering its price, which reaches $ 1,000 for a 100-inch size, this aspect is quite important. A few years ago, some well-known brands started selling their UST projectors only with a screen included, which significantly raised their price. This strategy was driven by the reluctance of companies to risk their reputation because the claimed image quality requires an efficient screen. Of course, it was unprofitable for many consumers. After all, he can keep the screen from a previous projector, get it as a gift or inheritance, or buy it extra after casino win. As a result, companies today often offer versions of the projector with/without a screen, incentivizing consumers with their bargain price when purchased as a bundle.
Conclusion
The companies have introduced several new 4K DLP UST projectors this year, including:
– Hisense PX1 Pro (RGB laser) and L5G (laser phosphor, with 100-inch screen) – $ 3,300 and $ 4,500;
– Viewsonic X2000-4K (laser phosphor) – $ 2,900;
– JMGO U2 (RGB laser)– $ 3,000;
– LG CineBeam HU715Q and HU915QE (laser phosphor) – $ 3,000 and $ 6,000.
The Hisense PX1 Pro costs $ 3,300 and looks very confident in this list, which is confirmed by its high popularity. With its 'RGB laser' light engine, it covers an unprecedented 107% of BT.2020 color space.
Unfortunately, Hisense PX1 comes without Dolby Vision but it costs only $ 2,500. However, Dolby Vision Support for PX1 Pro is also promised via firmware update. The difference in brightness of 200 Lumens and a slightly wider range of adjustable screen size complete the list of differences. The other specs, light engine and DPL chipset are similar. Considering the popularity of the PX1 Pro and the results of their comparison, the PX1 has excellent marketing prospects and claims to be the best seller of the year among 4K UST projectors.
This video shows Hisense Laser TV screen assembly.