5 years ago Rif6 Cube became a sensation of the consumer market. The weight and dimensions of this ultra-portable projector were only 0.30 lbs (136 g) and (2 x 2 x 1.9) inches.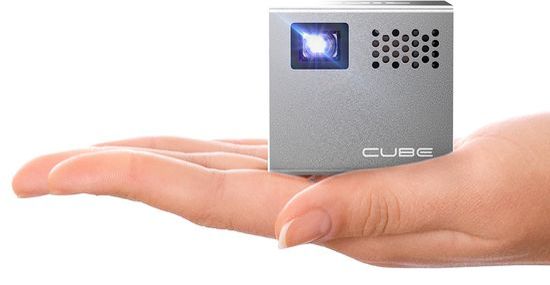 Priced around $ 200, it had decent specs, including:
– 50 Lumen brightness;
– WVGA (854 x 480) native resolution with supports 1080p content;
– 1,000:1 contrast;
– built-in rechargeable internal battery (up to 90 minutes);
– screen size up to 120″;
– HDMI input for smartphone;
– tripod.
Of course, industry leaders have not remained indifferent to its phenomenal success. As a result, market quickly filled up with the portable (pico-, mini-) models under the brands AAXA, Atman, Miroir, Nebula, Optoma and other well-known companies. With low price, they're perfect for youth in camping trip and for children as a gift. At the same time, their low brightness is not critical in the evening.
Today the market offers a wide range of portable projectors, which continues to be actively replenished with new models. For example, the South Korean giant introduced a great portable Samsung Freestyle 1080p LED projector. Priced at $ 850 – $ 900, it offers phenomenal functionality with several innovative modes that claim to be the new standard for this class. Of course, the brightness of 550 LED lumens is clearly does not correspond to the home theater level, but its portability allows the user to easily find a dark enough place to view.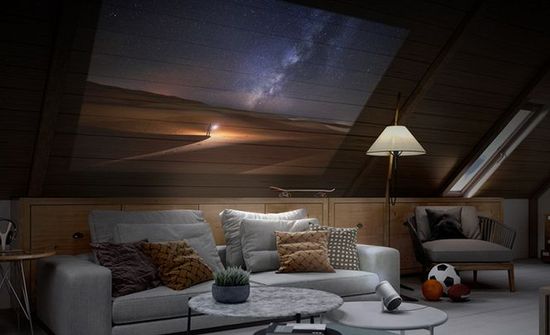 The ultra-thin Wemax Go and Wemax Go Pro (or Wemax Go Advanced) also claim a place among this year's bestsellers.
Wemax Go and Go Pro
For marketing reasons, some companies do not always correctly position their models as 'pocket'. Indeed, it's unlikely that most people's clothes have a pocket that will accommodate a device 3 inches thick and 5 inches wide. Perhaps the term 'mini' is more objective for them. Therefore, despite the abundance of proposals, the size, form factor and weight of only a few models are suitable for carrying them in a jacket or backpack pocket.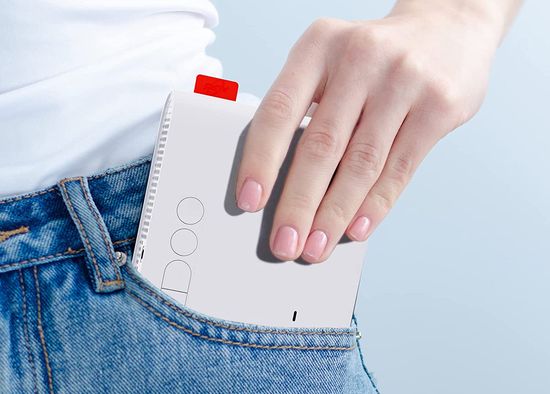 This aspect is one of the Wemax Go pros. In fact, the company is the first to use ALPD technology in an ultra-thin form factor. These projectors are thinner than 1-inch and weigh only 1.3 lb and 1.7 lb (Go and Go Pro, respectively).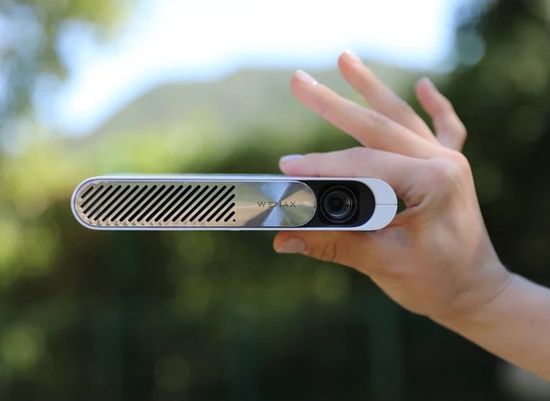 Unfortunately, their prices vary greatly. For example, they cost $ 400 /$ 1,000 on large trading services, and $ 300 / $ 600 on Indiegogo (Wemax Go / Go Pro, respectively). However, in both cases, the price difference is approximately twofold, due to significant differences in their specs.
Both models use ALPD laser light engine.
List of differences (Go vs Go Pro):
– Brightness – 300 vs 600 ANSI lumens;
– Resolution – native qHD (960 x 540) / 1080p support vs native FullHD (1,920 x 1,080) / 4K support;
– Screen Size – (15–100) vs (40–120) inches;
– Focus – Manual vs Auto;
– Keystone Correction – Vertical vs 4-point;
– Audio – 1W vs 4W (2x 2W stereo) speakers;
– Ports – HDMI 1.4 vs HDMI 2.0;
– Wireless Connectivity – 2.4GHz vs 2.4/5.0GHz WiFi +Bluetooth 5.0;
– Memory/Storage – 8 MB / 128 MB vs 2 GB / 16 GB;
– Casting – Miracast / Airplay vs Miracast / Airplay / DLNA.
Light engines
Of course, the implementation of the ALPD light engine in ultra-thin form-factor is a huge achievement for the developers.
As known, modern projectors use three SSL (Solid State Light Source) types, including:
– LED (compact design, vivid colors and low price, but limited brightness up to 1,000 lumens). Basically, they are used in budget mini LED models;
– ALPD or laser phosphor (affordable price, great colors and higher brightness, but 'rainbow' effect in some scenes). They are most popular in mid-budget models, but are also quite common in premium projectors;
– triple RGB laser (very wide color gamut and high brightness, but high price). As a rule, companies use them in premium models.
Of course, developers are constantly improving these technologies. For example, BenQ uses 4LED (RGBB) light source and ceramic phosphor in their latest gaming BenQ X3000i. In this model ceramic phosphor converts the blue from the additional LED to green (the eye responds maximally to an increase its brightness).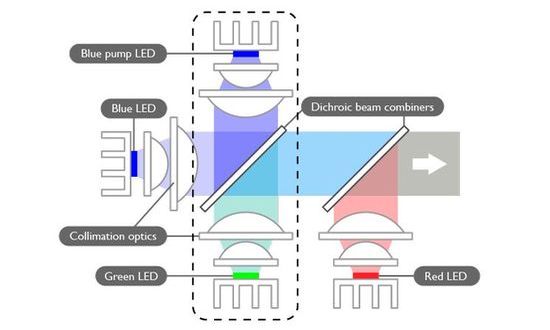 Probably, formally, this design can be called a hybrid LED-phosphor light engine.
An equally revolutionary breakthrough is realized in the announced ViewSonic X2 LED UST projector. It first uses 3rd generation LED technology based on innovative OSRAM Ostar Projection Power LED. Its unprecedented for LED SSL brightness exceeds 3,000 LED lumens (~1,500 ANSI Lm).
As known, ANSI Lm and LED Lm are used to measure the luminous flux at different points. In reality, 1 ANSI Lm corresponds to about 2 LED Lm.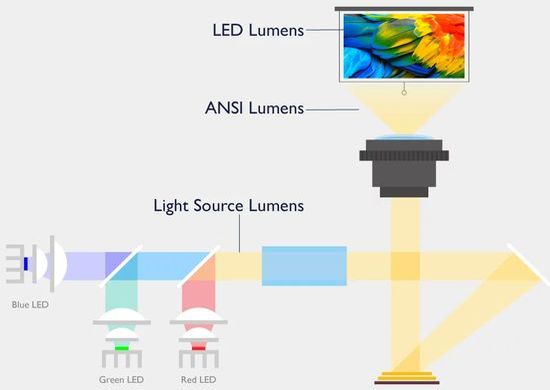 Key features
ALPD is the abbreviation of Advanced Laser Phosphor Display. It's the most popular in mid-budget and premium projectors.
Of course single-laser ALPD is less bright vs tri-color RGB laser due to brightness loss on the color wheel.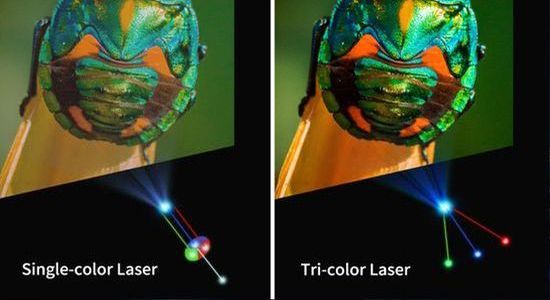 Modern ALPD projectors use several versions for colors generation with one or two lasers and a phosphor. For example one of the versions uses the blue laser diode, which additionally illuminates the wheel covered with layers of yellow and green phosphor. Then, a color wheel forms red from yellow or green. Finally, all colors are sent through a prism onto a DLP chip to form an image.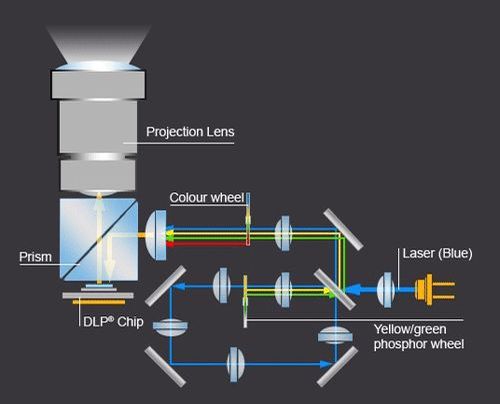 In fact, the high brightness of ALPD SSL paves the way for ultra-compact projectors into the mid-budget segment.
Of course, the ultra-thin design and high brightness with ALPD SSL do not exhaust the list of their pros.
In particular, the Wemax Go Advanced supports smart screen calibration, including auto TOF focus, keystone correction, and intelligent obstacle avoidance (projection shift to the side when an obstacle is detected).
Its color gamut covers over 100% REC. 709.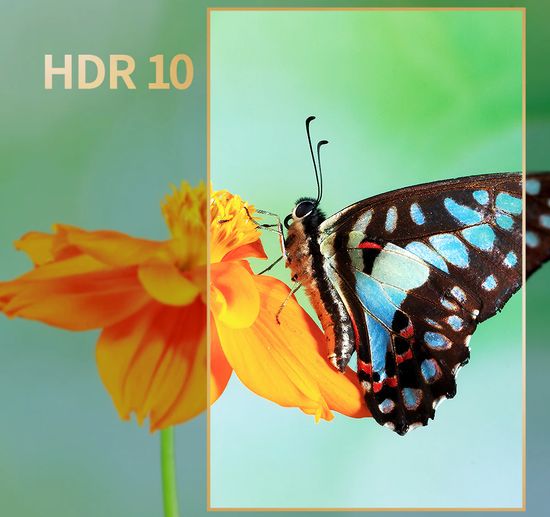 Its projection size ranges from 40″ to 120″ (100″@8.8ft).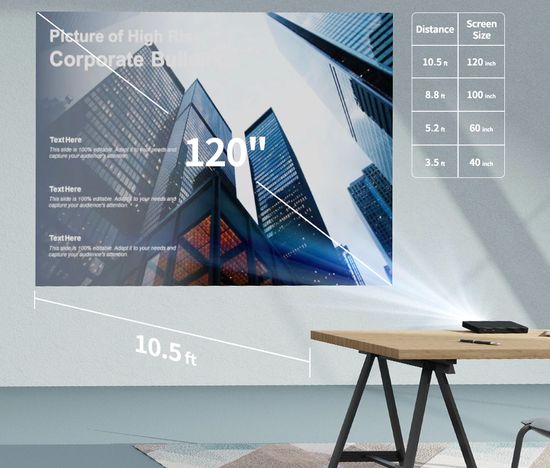 In addition, it has great built-in wireless connectivity, including Airplay, Miracast and Bluetooth 5.0.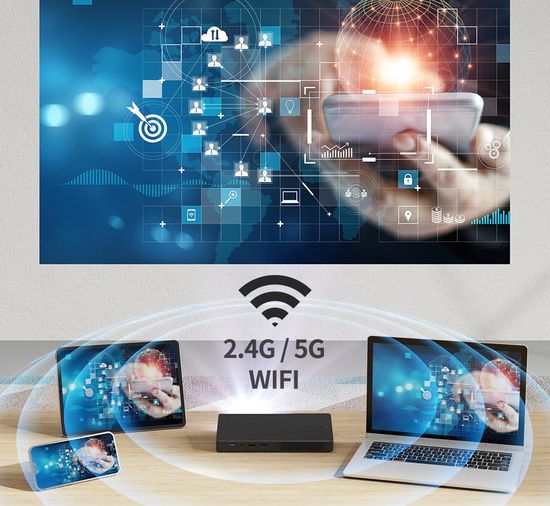 The list of connectors includes HDMI, USB and USB-C, which can also serve as a mobile power bank for fast charge.
Bluetooth 5.0 vs Bluetooth 4.2:
– higher transfer speeds (2 Mbps vs 1 Mbps);
– BLE (Bluetooth Low Energy) option;
– wider Bluetooth range (street/indoor – 200/40 m vs 50/10 m);
– more reliable connection.
Conclusion
The ALPD light engine makes the Wemax Go and Go Pro the first relatively bright ultra-thin pocket projectors. Of course, even 600 ANSI Lm of Wemax Go Pro is unlikely to provide high image quality in sunlight. But even 300 ANSI Lm of Wemax Go will be enough for acceptable quality at night in nature or in a dark room.
The two-fold difference in the price of the models is quite adequate for their specs. Budget Wemax Go is ideal for students and young people. Wemax Go Advanced is significantly more expensive, but quite corresponds to the upper part of the mid-budget segment. Its pros list is more than impressive.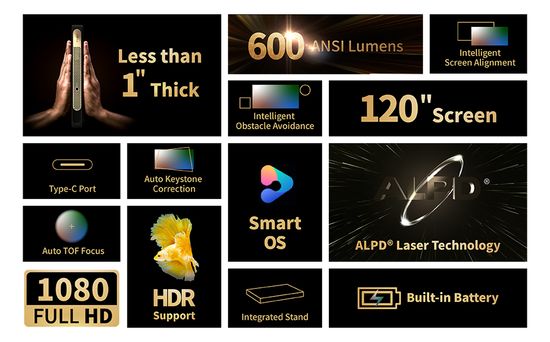 According to the slogan, the company positions Go Advanced as 'Optimal Business Partner for On-the-Go Projection'. But it's also great for watching movies, especially in the evening.
In terms of performance and price, it's closest to great Samsung Freestyle. But to be fair, they too narrowly specialized for correct comparison. Samsung Freestyle offers unparalleled functionality with innovative options and modes. Ultra-thin Wemax Go Pro with great wireless connectivity and 1.5 hour battery is ideal outdoors.
In any case, Wemax Go has already set a new standard for brightness in the pocket projector segment.
This video introduces the Wemax Go Pro.