About 10 years ago, companies mainly offered lamp-based home theater projectors. But the dependence of image quality on ambient light severely limited their popularity. The image of insufficiently bright projectors becomes faded and dull even in diffused daylight. Of course, more powerful lamps provided sufficient brightness. But their excessive heating required a large enough internal volume to dissipate heat and powerful but noisy fans. As a result, they were bulky and noisy.
Of course, the absence of ambient light drastically reduces the requirements for projector brightness. But allocating a room for a home theater is a luxury for an ordinary apartment. Careful blackout with blinds is also quite troublesome. These factors significantly limited their popularity.
Solid-state light sources (SSL) based on powerful and relatively inexpensive LEDs or laser LEDs have radically changed the situation. In fact, a laser diode is a diode with a built-in optical cavity. It operates at much higher pump currents and provides higher brightness.
Soon the market was offering SSL projectors that used different combinations of LEDs and laser diodes.
LED-based SSL is cheap, reliable and compact, provides vivid colors, but its brightness does not exceed a few hundred lumens. Basically, they are used in budget mini LED models. To be fair, companies are slowly tackling this problem. For example, the new gaming BenQ X3000i uses 4LED ( RGBB) light source and ceramic phosphor, which converts the blue from the additional LED to green, increasing the overall brightness. Its 4LED light engine delivers an unparalleled 3,000 ANSI Lumens.
The announced ViewSonic X2 LED UST projector first uses 3rd generation LED technology based on innovative OSRAM Ostar Projection Power LED. Its brightness exceeds 3,000 LED lumens (~1,500 ANSI Lm), which is very high for a traditional LED light engine.
Living room projector
Brighter laser diodes eliminates the brightness problem. Based on them, companies have developed ALPD (Advanced Laser Phosphor Display) technology. Today manufacturers use ALPD 3.0 and ALPD 4.0 versions. In fact, ALPD 3.0 is a hybrid based on one or two lasers and phosphor, ALPD 4.0 uses an RGB triple laser array. It's more expensive but brighter due to the lack of loss on the color wheel.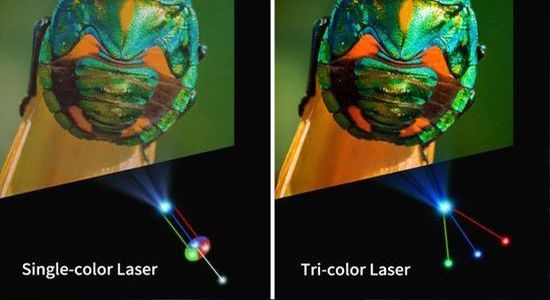 Laser+phosphor SSL generates colors with 1 or 2 lasers and a wheel whose surface is coated with phosphor layers. This cheaper technology is most commonly used in modern projectors.
But traditional mid-focus projectors have another problem. It typically produces a projection of 100″ or more from several meters away. Placing the projector on a coffee table in the living room center creates floor wiring problems, but ceiling mounting often requires the help of professionals.
Ultra short throw optics with Throw Ratio ~ 0.2:1 delivers projection sizes of 100″ or more onto a screen a few feet away.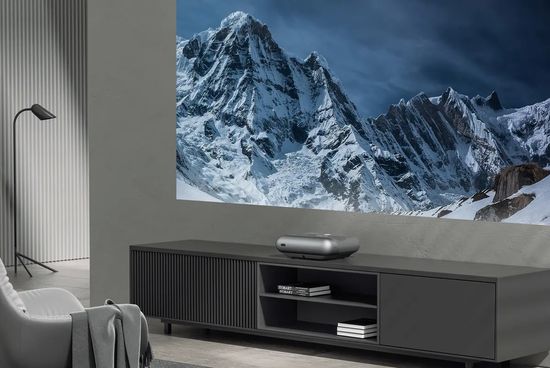 But UST lenses are more expensive due to the rather complex design. For example, Epson lens with folded optics use two flat mirrors.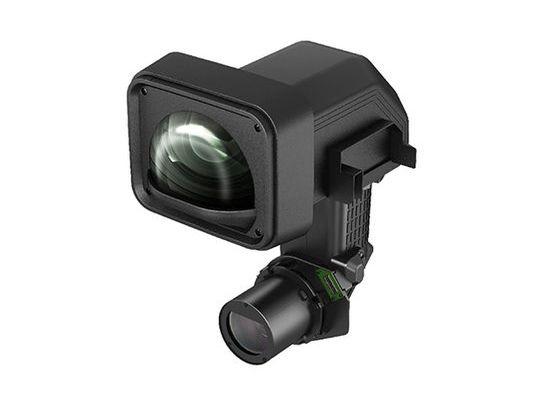 Also developers often use lens with a concave aspherical mirror which reduces chromatic aberration.
Simultaneously with the development of ALPD and UST projectors, the companies successfully solved two more problems of 'living room' projectors:
– screen mirroring, wireless data transmission and fast content streaming solved the content problem;
– UST ALR screens reduce ambient lighting requirements by increasing the efficiency of reflecting projector luminous flux into the viewing area and absorbing reflected light from the ceiling.
In essence, these factors opened the way for UST laser projectors into living rooms as an alternative to TVs.
UST laser projector vs TV
Despite the efforts of developers to increase the projectors brightness, they are still drastically inferior to TVs. Of course, the direct light output of a TV is radically brighter compared to the reflected light from a screen. For example, the peak HDR brightness of the brightest new Samsung Neo QLED QN95B exceeds 2,000 nits. By comparison, even expensive bright projectors deliver only a few hundred nits on a 100-inch screen.
But projectors drastically win in terms of image size and price.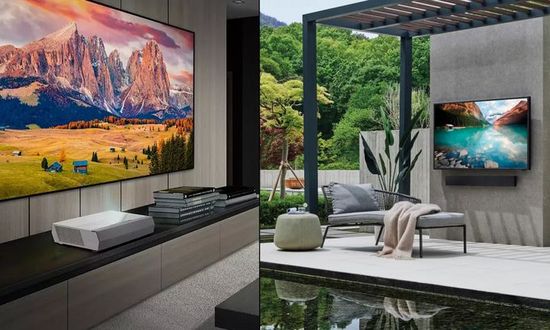 Even RGB tripl-laser UST projectors cost several thousand.
Prices for huge TVs 2022:
– cheapest 98-inch TCL 98R754 4K – $ 8,500;
– 98-inch Samsung QN90A – $ 13,000;
– 100-inch Sony BRAVIA XR X92 – $ 17,000.
In addition, brightness is primarily needed for HDR content. But it's currently only available through Disney Plus, Netflix, or on 4K Blu-ray. At the same time, most people receive SDR content via cable or satellite TV. It does not require too high brightness for high quality playback.
The combination of these factors causes the growing popularity of UST projectors. But to be honest, TVs sales are not declining yet.
The choice of any modern device is based on several criteria, including price and specs. The list of main specs of UST laser living room projectors includes:
– image quality (projection technology, colors, brightness and resolution);
– screen;
– sound;
– OS (operation system).
Projection technology & color gamut
In UST projectors companies today use 2 versions of ALPD (Advanced Laser Phosphor Display) light engine, including ALPD 3.0 (laser+phosphor) and ALPD 4.0 (RGB triple laser array). ALPD 3.0 is cheaper and more common, ALPD 4.0 is more expensive but brighter and has a very wide color gamut.
A list of popular ALPD 4.0-based UST 'living room' projectors includes:
– Hisense L9G – $ 5,000 with 100 inch UST ALR screen (TriChroma; 3,000 ANSI lumens);
– Hisense PX1 Pro – $ 3,150 (TriChroma; 2,200 ANSI lumens);
– JMGO U2 – $ 3,000 (TriСolor technology; 2,400 ANSI lm);
– LG CineBeam HU915QE – $ 6,000 (3ch laser 2nd gen; 3,700 ANSI lm).
The Chinese giant calls its RGB triple-laser light engine 'TriChroma Laser technology'. According to the company, its color gamut covers 107% of the BT.2020 standard. JMGO named its technology 'TriColor' and specifies 114% of the BT.2020.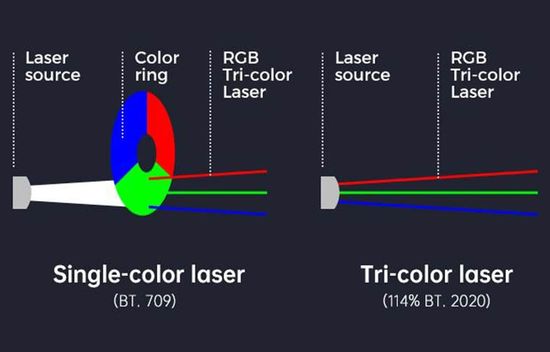 The South Korean giant uses the name '3ch laser 2nd gen'.
The list of new ALPD 3.0-based is wider and includes:
– Hisense L5G – $ 4,500 with UST ALR screen (Laser Phosphor, 2,700 ANSI lm);
– Hisense PX1 – $ 2,500 (Laser Phosphor, 2,000 ANSI lm);
– LG HU715Q 4K UST – $ 2,900 (Laser Phosphor, 2,500 ANSI lm);
– announced NexiGo PJ90 Aurora – $ 2,600 (Laser Phosphor, 2,200 ANSI lm).
But, of course, this list is much wider due to the excellent models of past years, including:
– Wemax Nova;
– VAVA VA-LT002, etc.
Their color gamut is narrower vs ALPD 4.0, but all ALPD 3.0 projectors support the full HDTV color space (100% Rec.709), which also provides great vivid colors.
Brightness
In fact, brightness is important for ambient light compensation and high quality playback of HDR content. Accordingly, it depends on the viewing conditions and the content type.
For example, for a fan of watching daytime TV series in sunny California, or colorful HDR content from Disney Plus, Netflix or from a 4K Blu-ray disc, the brightest possible projector is preferable. But for a resident of foggy Albion who prefers to watch movies on a huge screen in SDR format in the evenings via satellite or cable TV, 2,000 ANSI Lm will be more than enough. In this case, the remote for turning off the lighting in the apartment radically reduces the requirements for the projector brightness. A tree with lush foliage in front of the living room window will partially solve this problem during the day.
Of course, HDR quality is significantly higher. But the maximum difference is manifested only in frames with a large number of small bright objects on a dark background (stars in the night sky, night city, etc).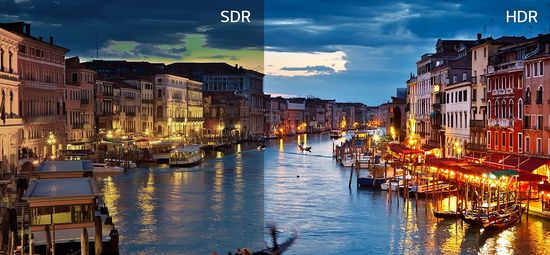 HDR content producers take this into account by making the most of contrast scenes. But in most TV content, the difference is much less pronounced.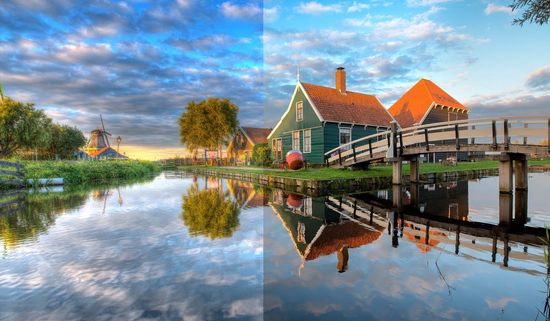 Until recently, a limited 4K-content reduced the relevance of resolution. In fact, 4K models only provided upscaling, increasing the original resolution, and not always with high quality. But today the main streaming services offer 4K content in abundance. Considering the huge projection size, this factor is very important for a projector.
Resolution
Modern models offer:
– native 1080p (1,920 x 1,080 pixel);
– '4K-ready';
– 4K (3,840 x 2,160) with two- or four-phase pixel shifting;
– native 4K.
Native 1080p is quite rare in relatively expensive UST models. This year, only $ 1,170 ViewSonic X2 UST prpjector is limited to this resolution.
'4K-ready' projector receives a 4K signal, downscale it to 1080p, and display it on the screen. This option only expands the available content without providing playback in 4K resolution.
DLP XPR technology from Texas Instruments has created excellent prospects for the development of low cost DLP 4K projectors. In fact, it displays 8 million pixels of 4K content using only 1080p chipset.
The pixel shifting operation principle is simple and captivates with its elegance. Like the frame interpolation in TVs, the projector creates a duplicate image with a vertically and horizontal shift. As a result, our eye sees more pixels and perceives the image more clearly.
DLP chipset with, for example, four-phase pixel shifting, takes 4K content, splits it into four parts of 2 million pixels each, and plays 4 separate frames. Strictly speaking, at any given moment, the 1/4 part of the image contains only 2 million pixels (1080p resolution). Then, the projector plays the next 2 million pixels at a 1/2 pixel shifting, etc. But our vision and brain do not perceive the micro-delay between their switching, creating the illusion of a holistic image.
Projectors with these chips use XPR module with four electromagnets. It very fast tilt the lens, shifting the image on the screen by 4 times per second.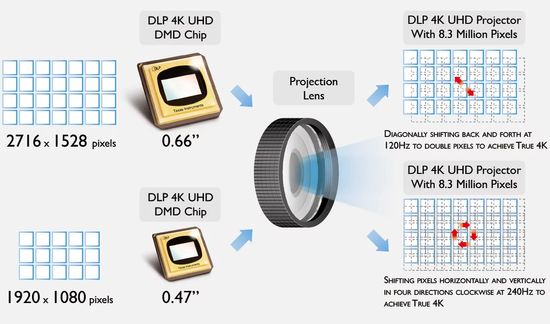 Models with native 4K provide the best quality, but are used mainly in expensive flagship models due to the high price.
Of course, HDR10 compatibility is desirable for 4K content streaming.
Other
The screen greatly improves image quality, especially on UST projectors. On a wall or conventional screen, the acute angle of the incident luminous flux causes a significant reduction in its brightness.
The screen surface of Ceiling Light Rejecting (CLR) or Ambient Light Rejecting (CLR) screen has a complex coating that re-reflects the projector light flux into the viewing area and absorbs light from other sources.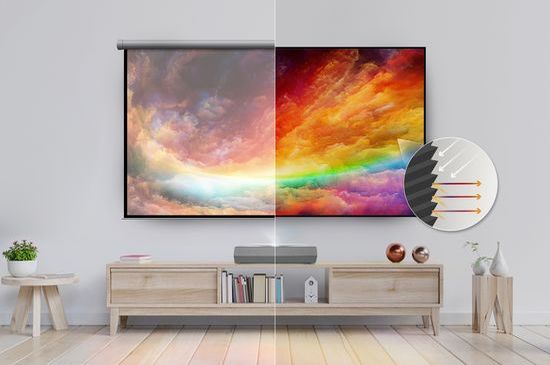 They are effective but very expensive. Their price ranges from $ 600 to $ 1,000 for a 100-inch model. However, the market offers a wide variety of less efficient cheap screens in abundance. Some of them are very creative.
Most modern models have built-in speakers with a power of 20W or more. If there is a home cinema audio system or soundbar, the projectors provide high quality sound through optical out, 3.5mm connection, Bluetooth audio and /or HDMI ARC. With rare exceptions, modern projectors are Dolby audio / DTS-HD compatible and have all the necessary connectors. The high noise was a problem in lamp-based models with powerful fans. But in laser models it rarely exceeds 35 dB. For comparison, whisper corresponds to 30 dB.
Smart functionality is one of the important selection criteria. Modern projectors are divided into:
– budget – simple menu without smart technology (require external devices to deliver content);
– mid-budget – proprietary OS with a limited range of apps;
– premium – Android TV with maximum app compatibility via on-board Google services, and Chromecast capabilities built-in.
Of course, the projector must have multiple HDMI 2.0 / HDMI 2.1 for full 4K compatibility and full size USB for powering TV sticks, etc.
RAM of 2GB or more will ensure fast and reliable Android TV performance.
Conclusion
The powerful and expensive mid-focus Epson LS12000 / LS11000 ($ 5,000 / $ 4,000) or Sony 4K SXRD XW series (from $ 6,000) are ideal for a spacious villa. Inexpensive LED projector will entertain the child in the nursery, while portable Samsung Freestyle or Wemax Go Pro are handy for backyard baseball watching with a barbecue. UST projectors are designed as an alternative to TV in the living room and are the most convenient as such.
New models 2022:
– LG CineBeam HU915QE – $ 6,000 (ALPD 4.0; 3,700 ANSI lm);
– Hisense L5G – $ 4,500 with UST ALR screen (ALPD 3.0; 2,700 ANSI lm);
– Hisense PX1 Pro – $ 3,150 (ALPD 4.0; 2,200 ANSI lumens);
– JMGO U2 – $ 3,000 (ALPD 4.0; 2,400 ANSI lm);
–Epson LS800 – $ 3,500;
– LG HU715Q 4K UST – $ 2,900 (ALPD 3.0; 2,500 ANSI lm);
– announced NexiGo PJ90 Aurora – $ 2,600 (ALPD 3.0; 2,200 ANSI lm);
– Hisense PX1 – $ 2,500 (ALPD 3.0; 2,000 ANSI lm).
Of course, the choice depends on the budget and personal preferences. But a few general tips can make it easier:
– the brightness importance depends on viewing conditions and content. 2,000 ANSI Lm is enough for evening viewing in the dark and for SDR format;
– today 4K (3,840 x 2,160) with pixel shifting is the most profitable;
– until ALR UST screens get cheaper, mid-budgrt screen is quite sufficient;
– Android TV provides maximum convenience of access to content, which is fundamentally important for the projector.
This video showcases the LG CineBeam HU715Q UST projector.