Probably, most modern people are familiar with the Seiko or Epson brands. The history of this company began in 1881 with several Japanese watch companies. Today, Seiko Epson Corporation is the holding company of the Epson Group, part of the Japanese diversified Seiko Group. It designs, manufactures and markets printers and cartridges, Seiko and Orient watches, projectors, industrial equipment and electronic components, etc. Company has production facilities in Japan, Indonesia, Malaysia, Philippines, Thailand, Singapore, USA, Italy and the UK.
Projectors is one of the most successful areas of its activity. The company is rightfully positioned as one of the innovative leaders in this segment. For example, in 1989 Epson introduced the world's first VPJ-700 3LCD projector.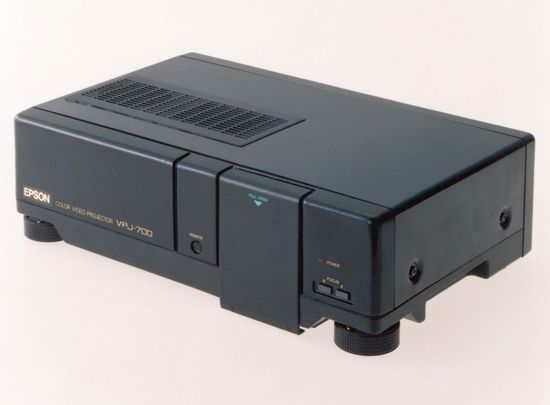 Its first ultra short throw (UST) projector was introduced in 2010.
The successful development of high power solid state light engines and screen mirroring technology have created excellent opportunities for using projectors as an alternative to TVs. But placing the projector in the living room creates the problem of wires on the floor. Of course, the ceiling mount solves it, but it's quite troublesome. UST models do not have this problem. Due to sophisticated special optics, they project an image of 100″ or more from a short distance, ensuring the projector placement almost close to the screen on the wall. As a result, the UST projector segment has been showing phenomenal growth in popularity.
Some companies and sellers sometimes refer to them as 'laser TVs' or living room projectors. Strictly speaking, any projector with a built-in TV receiver can formally be positioned as a TV with a screen outside the case. But, to be fair, most companies still prefer to call them projectors.
Epson EpiqVision UST series
This year, the company has already introduced excellent mid-focus LS11000 and LS12000 projectors.
But, of course, the Epson's management does not ignore new market trends either. In the fall of 2020, the company introduced new EpiqVision series of superb UST 3LCD projectors. Today this list includes:
– mini EF11 laser projector (V11HA23040) – $ 700 (1080p, 1000 lumens);
– mini EF12 (V11HA14040) – $ 900 (1080p, 1000 lumens);
– LS300 (V11HA07020 / V11HA07120) – $ 1,900 (1080p, 3600 lumens);
– EH LS500 – $ 4,000 (4K w/pixel shifting, 4000 lumens).
Of course, the company continues to develop a successful and promising series. At the 2022 CEDIA Expo in Dallas, Epson has announced the new EpiqVision Ultra LS800 UST 4K laser projector, which replaces the popular LS500.
Like it's predecessor, it provides 4K PRO-UHD resolution with two-phase pixel-shifting, and uses a single-laser+phosphor light engine that provides 4,000 lumens. Furthermore, 3LCD design provides equal color & white brightness.
But unlike the LS500 with a large periscope-style lens (0.29 throw ratio), lens of the new LS800 supports 0.16:1, providing the shortest throw distance vs any modern UST projectors. For example, it forms a 120-inch projection from a distance of only 6.8 inches from the back of the projector to the screen.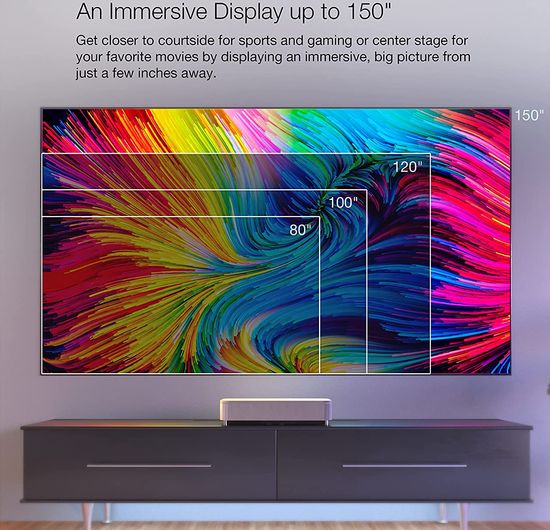 Of course, the specified high brightness of 4000 Lm is one of the main model pros. But this aspect has nuances.
As known, the projector brightness directly affects the image colors saturation. In particular, bright models provide a colorful image even in diffuse daylight conditions. The image of less bright projectors dims and pales even in twilight. Therefore, companies often use this spec as a marketing argument.
DLP vs 3LCD brightness
In turn, the brightness depends on the light source and on the projection technology. For example, DLP projectors generate colors using a color wheel. The color filters of its segments pass only one color at any time, blocking the other two. Of course, this process is accompanied by a loss in the color brightness, and their CLO (Color Light Output) is always lower vs white brightness. Epson 3LCD projectors do not use a color wheel, producing an image without colors loss.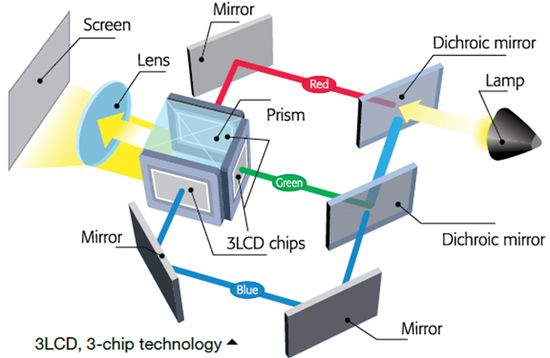 Transmitting light only of a certain frequency (color), their mirrors divide the white light stream into red, green and blue RGB components, directing them to the corresponding monochrome LCD matrixes. They form at the output black-red, black-green and black-blue images that are sent to prism, are combined into a full color image and sends to the optical system. In this case, colors brightness is not reduced.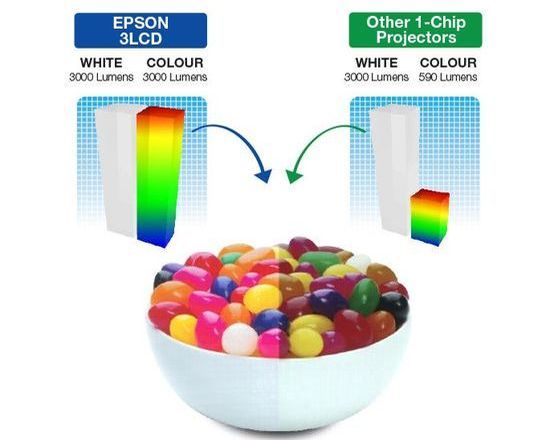 A few years ago, Epson suggested using CLO to characterize the projector brightness. Unfortunately, the manufacturers did not reach a consensus and today Epson uses ISO Lumens.
In turn, LED projector manufacturers suggest taking into account the Helmholtz-Kohlrausch effect, according to which the eye perceives the brightness of individual colors. As known, LEDs provide higher colors brightness vs lamps.
Of course, they also use more traditional ways to increase brightness. For example, BenQ has been using innovative 4LED light source since last year with 8-12% increased brightness due to the additional blue pump LED.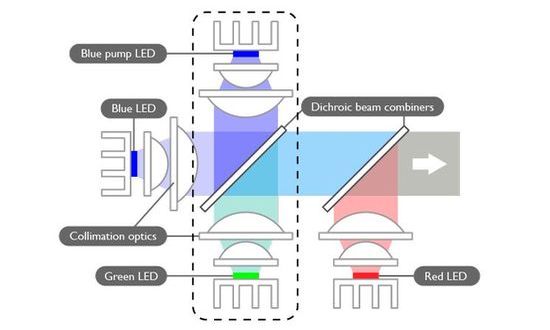 As a result, the new gaming BenQ X3000i projector under $ 2,000 delivers up to 3000 Lumens, which is unprecedented for today's LED models.
In addition, ANSI and LED Lumens are measured at different points.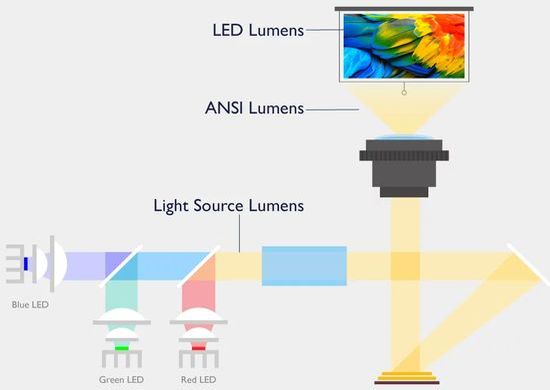 ISO Lumens vs ANSI Lumens
Finally, some Chinese manufacturers of mini LED projectors indicate the screen illumination in Lux instead of brightness. Maybe this is logical, because perceived illumination is more important to the consumer. But in this case, estimating the actual projector brightness requires taking into account the screen size (1 ANSI lm provides 1 Lux on a 1m² screen).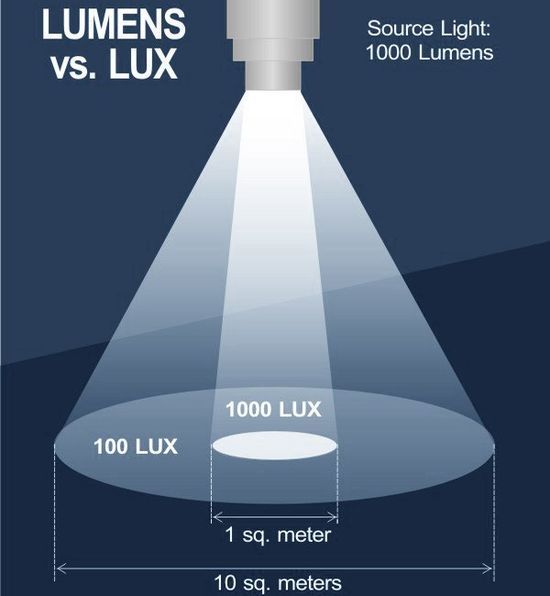 Simplified, 1 ANSI lm provides 1 Lux on a 1m² screen. Unfortunately, companies don't take this factor into account. But in general, 1 ANSI lm = 1 Lux for 57 inches diagonal, and 3.2 Lux for 100 inches diagonal. Moreover, even this ratio does not take into account the scattering of the light flux. Realistically, a projector with several thousand Lux in specs can provide a relatively rich, bright image only on a 60″-80″ screen from a short distance.
As a result, specs from different companies contain model brightness information in different units, including ANSI / ISO / LED Lumens and even Lux.
For reference, ISO is an acronym for International Organization for Standardization. ANSI is an acronym for American National Standards Institute. In fact, ANSI lumens define method of measuring the projector luminous flux, and ISO lumens is the standard by ISO 21118 regulation.
Calculation ANSI lumens uses a nine points on the projection screen. ISO lumens specifies the production standard of the projector and the measurement test standard, including the lamp power and the noise effect on brightness.
In practice, the conversion may use the ratio 1 ANSI lumen = 0.8 ISO lumens. Accordingly, 4000 ISO Lumens = 3200 ANSI Lumens. This is a very high value for today's home theater projectors.
Key features
The company positions the EH-LS800 (V11HA90140) model as a super UST 4K PRO-UHD smart laser projector. It comes with Android TV and sound by YAMAHA. The 'super' prefix to the UST acronym is due to the 0.16 – 0.40:1 Throw Ratio of new optics, which provides 80″ image from just 2.3cm away from the screen. Max image size reaches 150″.
The model has three HDMI 2.0/HDCP 2.3 compatible ports, including one with ARC (Audio Return Channel) for lossless audio transmission to external devices. Unfortunately, its improved eARC version is missing.
In addition, the projector has a digital optical and mini stereo audio outs, Wi-Fi and Bluetooth 5.0 connectivity. For gaming, one of the HDMI ports supports 1080p@120Hz with input lag of 20 ms and 4K@60 with 16.7 ms.
But to be fair, gaming BenQ X3000i 4K LED projector supports 4.16ms for 1080p@240Hz and 16.4ms for 4K@60Hz.
Of course, Android TV OS with Google Assistant is a significant bonus of Epson projectors. Android TV provides streaming channels including Google Play, Amazon Prime Video, Hulu, Disney+, HBO Max, YouTube and more plus stream live TV with apps like YouTube TV. Unfortunately Netflix is not supported. Unlike with the LS500, the fully integrated OS does not require an external HDMI dongle.
A built-in 2.1ch virtual surround speaker system from Yamaha with AudioEngine technology and FR-Port speakers is an added bonus on the new Epson projectors.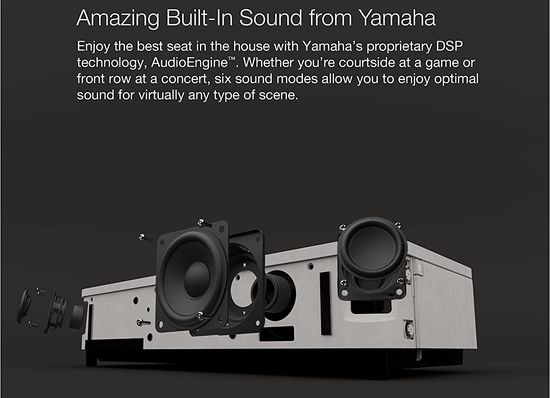 It creates immersive sound performance with presets for TV, sports, movies and music. The connection smartphone via Bluetooth provides its use as a standalone speaker.
Epson Setting Assistant app automatically aligns images with just a click of a button.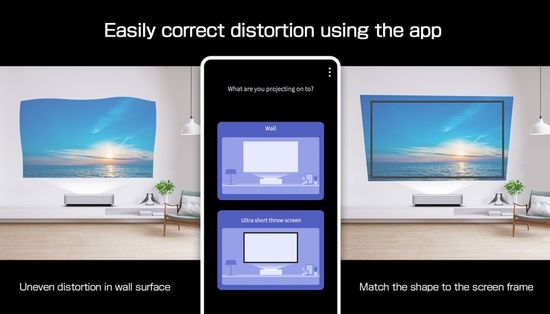 Main specs
– 4,000 lumens of color and white light output with True 3-chip 3LCD technology (4000 ISO Lm or 3200 ANSI Lm);
– LCD panel – 0,62 inch with C2 Fine.
For more than 10 years Epson has been using a high temperature polysilicon TFT liquid crystal (HTPS).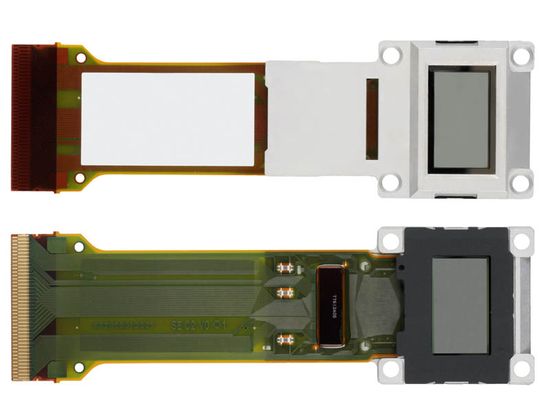 The technology allowed developers to significantly increase the projector brightness by increasing aperture ratios using an additional VA inorganic adjustment layer.

– 0,16 – 0,40:1 Throw Ratio;
– 1 – 2,5 digital zoom, factor;
– 0,28 – 0,54:1 – projection lens zoom ratio;
– 80 inches – 150 inches image size;
– 4K PRO-UHD (3,840 x 2,160 native resolution) with advanced pixel-shifting technology;
– 2,500,000 : 1 contrast ratio;
– 10-Bit HDR color processing;
– Bluetooth, WiFi, 3x HDMI ports (HDMI ARC, 4K HDR@60 Hz & 1080p/120 Hz);
– built-in Yamaha's 2.1ch virtual surround system (20 W);
– latest Android TV interface with built-in Google Assistant;
– Dynamic, Natural, Cinema and Vivid video color modes;
– 32 dB / 19 dB (Normal / Economy) noise level.
Unlike the LS500, the developers have dropped support for 1080p 3D. But this option is also missing in the new mid-focus LS12000, LS11000 and HC 2350 home theater Epson models. Perhaps the company has made a fundamental decision to abandon this feature.
Screen, HDR and color gamut
A few years ago, an ambiguous situation with screens arose in the segment of UST models. Not wanting to risk their reputation, some companies only sold projectors with a high performance screen that could deliver the declared image quality. But their price ranged from $ 1,000 to $ 2,000. Of course, a significant price increase sharply reduced their popularity. Indeed, the importance of the UST screen is drastically reduced, for example, when viewed in a dark room. In addition, the consumer can use less efficient, but much cheaper versions of ALR screens. Finally, he can win a UST screen in the lottery, get it as an inheritance or as a gift. As a result, most companies have abandoned this practice.
LS800 can be mated with any appropriate 3rd-party UST screen. Of course, Epson offers high performance screens, but they are expensive. For example, Epson SilverFlex Ultra 120″ ALR screen (V12H002AM0) costs $ 3,000.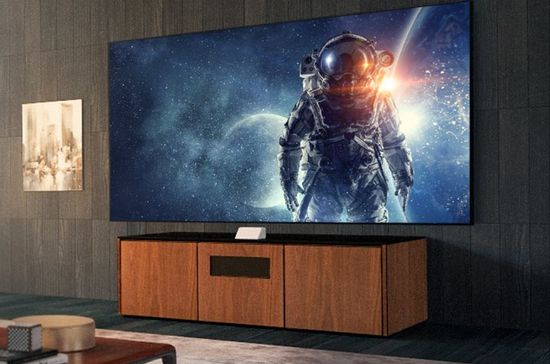 But the company is selling them at a substantial discount with the purchase of a projector.
The LS800 supports HDR10 and HLG formats of HDR (high dynamic range) content. Unfortunately, the model does not support HDR10+ with dynamic metadata. As known, they are necessary for dynamic tone mapping with brightness optimization for each scene (frame-by-frame). HDR10 with statistical metadata enhances colors equally for all scenes.
As with the LS500, its max color gamut for HDR covers Rec.709, which is typical for single-laser models. For comparison, triple-laser Hisense PX1-Pro ($ 3,000) and PX1 ($ 2,500) cover 107% of BT.2020 color space.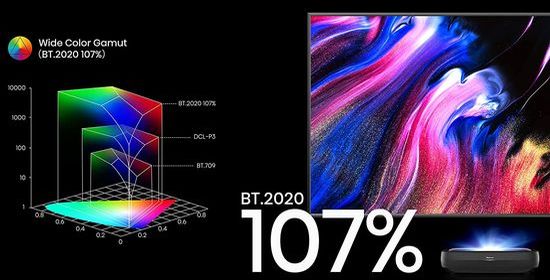 Conclusion
Priced at $ 3,500, the new Epson EpiqVision Ultra UST 4K LS800 offers:
– 4,000 lumens of color & white Light Output with True 3-chip 3LCD technology;
– 4K PRO-UHD resolution;
– 2,500,000:1 contrast ratio;
– built-in Yamaha's 2.1ch virtual surround system;
– UST design with screen size up to 150″;
– latest Android TV with built-in Google Assistant.
This year, the UST 4K projector segment has expanded significantly due to a large number of new great models. Their incomplete list includes:
–ViewSonic X2000B-4K – 2000 ANSI Lumens peak brightness, laser phosphor light engine, throw distance from 0.3 m with throw ratio 0.22:1 – $ 2,900;
– Hisense PX1 Pro / PX1 'laser TV' – 2,200 / 2,000 ANSI Lumens, triple-laser light engine, 0.5 m / 0.25:1 – $ 3,000 / $ 2,500;
– LG CineBeam HU715Q / HU915QE – 2500 / 3700 ANSI Lumens, laser phosphor / 2nd generation 3ch laser, 0.4 m / 0.22:1 & 0.19:1 – $ 2,500 / $ 5,500;
– JMGO U2 – 2400 ANSI Lumens, laser phosphor, 0.4 m / 0.25:1 – $ 2,800;
– NexiGo PJ90 Aurora – 2200 ANSI Lumens, laser phosphor, 0.4 m / 0.23:1 – $ 2,600;
– Optoma CinemaX D2 laser UST 4K projector – 3000 ANSI Lumens, laser phosphor, 0.5 m / 0.25:1 – $ 2,500.
But despite an impressive list of formidable competitors, the excellent reputation and good value for money keep the Epson EpiqVision LS800 excellent marketing prospects.
This video offers an overview of the new Epson EpiqVision Ultra LS800 UST laser 4K projector.