Traditionally for innovative leaders, Epson annually expands the range of its projectors, and 2022 was no exception. In spring, the company introduced great mid-focus LS11000 and LS12000 projectors with 32-bit ZX picture processor, four-phase dual-axis pixel shift, precision shift glass plate technologies, etc. In addition, Epson expanded its Ultra Short Throw (UST) EpiqVision series with LS800 projector. It replaces the popular LS500 4K UST model. Finally, in the fall, the company announced a $ 1,300 bulb-based 4K Home Cinema 2350 (V11HA73020 model) smart gaming projector, which expands the HC series. Today it includes (4K models):
– Home Cinema 2350 – $ 1,300;
– HC 3800 – $ 1,600;
– Home Cinema 4010 – $ 1,950;
– Home Cinema 5050UB – $ 2,900.
Of course, the class Home Cinema 5050UB is higher. In particular, it offers HDMI 2.0 (18 GBps) version support, advanced pixel-shifting processor, real-time 12-bit analog-to-digital video processing, dynamic contrast ratio of 1,000,000:1 with Epson UltraBlack technology, etc.
The specs and functionality of other models are closer. Its max resolution is 3,840 x 2,160 (16:9) vs 4,096 x 2,160 (16:10 resize) in 4010 & 3800 models. It provides a Color/White Brightness of 2,800 lumens vs 2,400 lumens (HC 4010) vs 3,000 lumens (HC 3800). Like the HC 3800, the 2350 uses manual focus/zoom vs powered focus / optical zoom / lens position in the HC 4010.
Unlike the HC 3800 with manual Vertical / Horizontal lens shift of ±60% / ±40%, and the HC 4010 with powered Vertical / Horizontal lens shift of ±96% / ±47%, the new model only offers manual Vertical lens shift of ± 60%.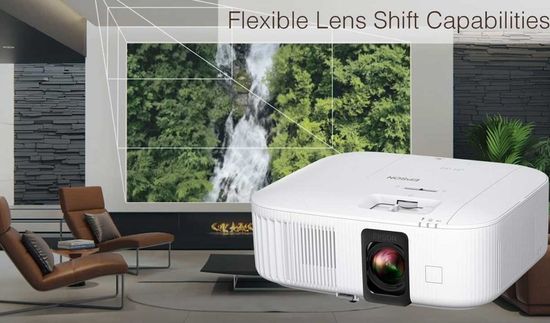 In general, it can be positioned as a budget version of the previous HC models.
Key features
Specs:
– white / color brightness – 2800 lm (1900 lm Eco mode);
– 4K resolution w/pixel shifting (1,920 x 1,080 chips);
– dynamic contrast – 35,000:1;
– dynamic iris (mechanical diaphragm for adjusting the lens opening diameter);
– lens – manual focus & 1.62x zoom;
– lens shift vertical +/-60%;
– throw distance – 1.9 m – 14.8 m;
– image size – 40″-500″ or 102 cm – 1270 cm (100″ diagonal screen with projector lens between 3.0 m and 4.8 m from the screen);
– throw ratio – 1.34:1 – 2.17:1;
– Horizontal & Vertical digital keystone;
– 10W internal speakers;
– 2x HDMI;
– features – HDR, Android OS, Streaming Apps and Google Assistant.
Probably a huge screen of up to 500 inches (102-1270 cm) is one of its main pros. In fairness, the length of an ordinary room is unlikely to provide the necessary Throw Distance for max image size. But the possibilities of its optics are amazing.
120Hz Refresh Rate for 120 FPS games (1080p@120Hz & 4K@60Hz support), Input Lag under 20 ms and multiplayer mode give developers reason to position the model as a gaming one. Of course, Android TV with support for Twitch or YouTube channels and TV content from Netflix, Amazon Prime Video, Hulu, Disney+, HBO Max, etc is also a significant bonus of the model.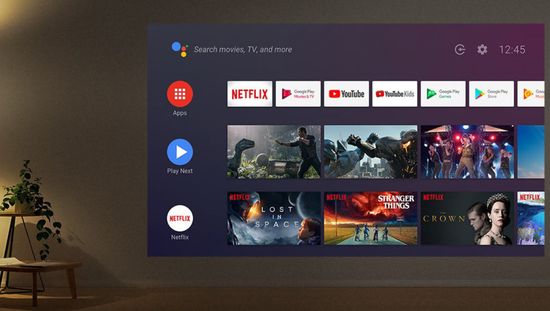 But Android TV requires a wireless connection with a speed of 5 Mbps or higher.
The built-in Integrated Audio Technologies 10 W bass-reflex speaker system providing big sound for a big picture. In addition, the HC 2350 model functions as a Bluetooth wireless audio device. But, of course, audio is limited by Android TV capabilities.
White / color brightness
Like previous HC models, the novelty uses advanced 3-chip 3LCD technology with color gamut of 100% RGB. This technology does not use color wheel or white segment and does not have a rainbow effect.
As known, color wheel causes loss of color brightness. The color filters of its segments at any time pass only one color, blocking 2 others with a loss of their brightness. Unlike DLP technology, 3LCD provides the same white and color brightness (CLO). In turn, equal white and color light output ensures bright images even in natural daylight.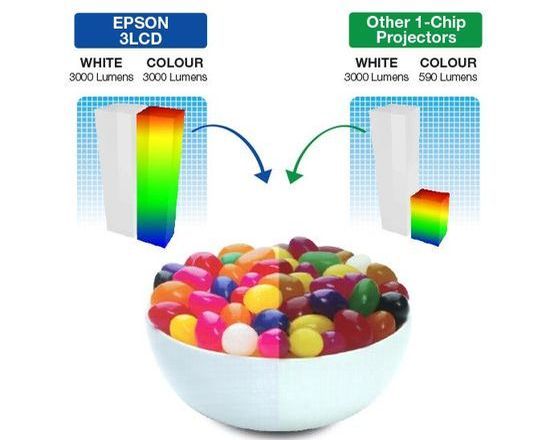 A few years ago, this aspect even became the cause of a heated discussion. In particular, Epson suggested specifying CLO (Colour Light Output) in projector specs. Unfortunately, the producers could not agree. As a result, today Epson specifies white light output in ISO lumens (International Organization for Standardization, 21118 standard). CLO is measured in accordance with IDMS 15.4.
Some manufacturers of LED light engine projectors, including Optoma and ViewSonic for example, sometimes use LED lumens. Some Chinese companies prefer to indicate the brightness in lux, which is not very correct, because these units characterize the illumination of 1m². But most manufacturers prefer to use traditional ANSI lumens, which are measured in nine points on the projection screen.
Approximate ratios:
– 1 ANSI lm = 3.2 Lux (for 100 inches diagonal) ~ 1,25 ISO lm ~ 2,4 LED lm. So white brightness 2,800 ISO lm corresponds to 2,240 ANSI lm. However, given the CLO, all Epson projectors provide rich, vivid colors.
4K PRO-UHD
Of course, projector uses Epson's 4K PRO-UHD technology. This name combines '4K-Enhancement technology' (pixel shift) + 'Projector' (PRO) + 'Ultra-High Definition' (UHD). It encompasses all of the factors impacting image performance, including color and white brightness, contrast, HDR10, color processing, and capability of receiving, processing and projecting 4K content. According to the company, 4K PRO-UHD image quality is more lifelike and exceed Full HD resolution.
But not all competitors agree with the company's opinion. For example, based on the Ultra High Definition (UHD) specification (3,840 x 2,160 addressable pixels) from the Consumer Electronics Associatio (CEA), the Ultra HD Forum states:
– 4K UHD projectors with DLP HPR technology has twice the resolution vs 4K PRO-UHD model;
– PRO-UHD is a marketing term;
– retailers unreasonably position 4K PRO-UHD as true 4K UHD resolution.
According to their classification, modern devices are divided into:
– 4K UHD (4K, UHD, Ultra HD or Ultra-High Definition for projectors and TVs) – 3,840 x 2,160 or 4,096 x 2,160 horizontal x vertical pixels (8.3+ million);
– PRO-UHD (4Ke or 4K Enhancement for Epson projectors) – 1,920 x 1, 080 x 2 pixels (4.1+ million);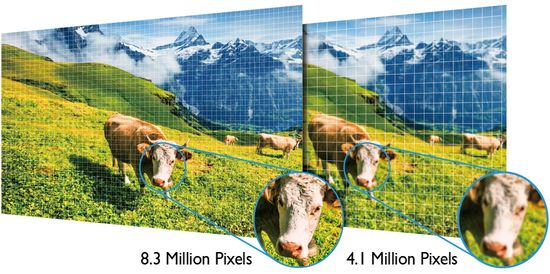 – 1080p (Full HD or FHD for projectors, TVs and monitors) – 1,920 x 1,080 (2.1 million);
– 720p (HD or High Definition for projectors and TVs) – 1,280 x 720 pixels (0.92 million).
Of course, these statements are well founded and DLP HPR technology in modern DLP models is very effective. But to be fair, Epson's version of pixel shift works just fine too, especially when combined with other video processing technologies. In any case, the use of 1080p chipsets to display 4K content through pixel shifting has opened the way to the market for relatively affordable models.
Light source and HDR mode
Model uses UHE (ultra high pressure) bulb. A few years ago, bulb-based projectors were bulky and produced quite a lot of noise. The noise is due to the use of a powerful fan to cool the lamp, which is very hot. A large internal volume is required for efficient heat dissipation. But today, developers have largely solved these problems.
For example, Epson HC 2350 weighs 9 lb (4.1 kg) and has a compact form factor with dimensions of 4.7″ x 13″ x 11″ or 12 cm x 33 cm x 28 cm (HxWxD). Moreover, its audible noise does not exceed 36 dB / 28 dB (Eco), which corresponds to to whisper.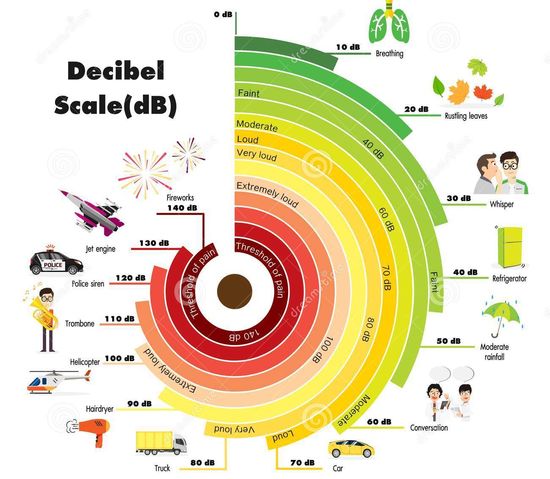 In addition, the short lamp life at their relatively high price previously required significant additional costs. Epson ELPLP97 (V13H010L97) UHE bulb for HC 2350 only has a lifespan of 4,500 hours / 7,500 hours (eco), but the price of about $ 65 makes this aspect uncritical.
The growing popularity of HDR technology is one of the trends of recent years. It provides a major improvement in dynamic range for HDR content and colors for SDR content. New model supports HDR10 format, which is mainly available on UHD Blu-ray discs, and HLG (Hybrid Log-Gamma), which is used for live broadcasts. As known, they use statistical metadata. Of course HDR10+ and Dolby Vision formats provide higher quality through the use of dynamic metadata that supports 'frame-by-frame' brightness adjustment based on scenes.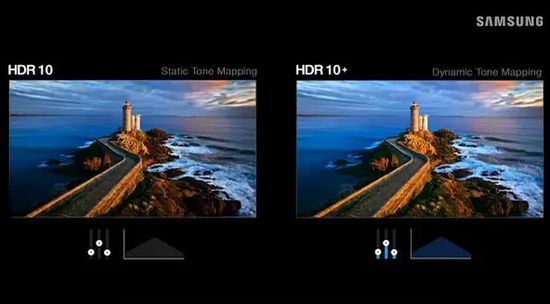 But the extremely limited range of HDR content with dynamic metadata greatly offsets this bonus.
Conclusion
Pros
– price only $ 1,300 – today HC 2350 is Epson's cheapest pixel-shift 4K PRO-UHD projector;
– Android TV;
– unprecedented image size up to 500″;
– 3-chip LCD architecture with equal white and color brightness up to 2800 lm;
– 120Hz Refresh Rate (1080p@120Hz & 4K@60Hz support), multiplayer mode and Input Lag under 20 ms are ideal for games;
– ±60% vertical lens shift.
Cons
– no 3D;
– not UST design;
– Epson UHE bulb (replacement price V13H010L97 ~ $ 65) instead of laser phosphor light source.
Of course, it's inferior to UST models as an alternative to TV, and its specs are lower vs most new 4K laser projectors this year:
–ViewSonic X2000B-4K – $ 2,900;
– Hisense PX1 Pro / PX1 'laser TV' – $ 3,000 / $ 2,500;
– LG CineBeam HU715Q / HU915QE – $ 2,500 / $ 5,500;
– JMGO U2 – $ 2,800;
– NexiGo PJ90 Aurora – $ 2,600;
– Optoma CinemaX D2 laser UST 4K projector – $ 2,500;
–Epson LS800 – $ 3,500.
But it's at least twice cheaper, which is a very weighty argument.
In the gaming segment, it competes with the great BenQ X3000i 4LED 4K for $ 2,000 and bulb-based Optoma HD39HDRx 1080p priced at $ 850.
In general, given the great value for money, the projector has excellent marketing prospects.
This video introduces Epson Home Cinema 2350 gaming projector with screen size up to 500″.