Traditionally for industry leaders, the Italian DeLonghi annually expands the range of its coffee machines. Last year, the company introduced the continuation of the legendary Dinamica series called Dinamica Plus. This series offers several models including the very popular ECAM 370.70 Dinamica Plus. In fact, it has become the cheapest fully automatic DeLonghi coffee machines with LatteCrema system. For example, the price of ECAM 370.70B Dinamica Plus ranges from € 600 to € 650.
New DeLonghi Clessidra ICM17210 drip coffee maker also has achieved success in the market, successfully competing with eminent Moccamaster and Wilfa brands. Priced at just £100 (UK, discounted) or an average of $ 180, it uses new design (heating element above the coffee pot), temperature sensor and pulse pouring water flow for coffee brewing. As a result, the coffee maker provides a precise temperature range (92-96°C) an infusion time control, which is probably important for coffee perfectionists.
Last year's DeLonghi ECAM 450.55S Eletta Explore boasts with the additional LatteCrema Cool milk system and 40 pre-programmed coffee recipes.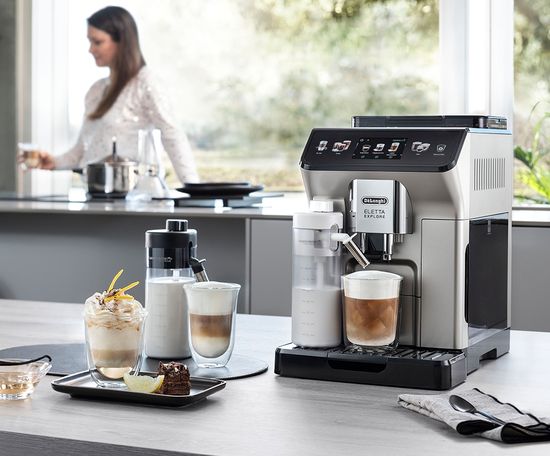 As known, the previous record was 30 programs. It's probably inferior to the super innovative Swiss Jura Z10 with P.E.P., Product Recognizing Grinder, 3D brewing technology, etc, but Eletta Explore is several times cheaper.
DeLonghi Magnifica family
Of course, the company has not forgotten about one of the most popular Magnifica family. After expansion, it includes:
– Magnifica XS Espresso Machine;
– -"- S Smart;
– -"- Evo.
Its models differ in milk frothing system, design and panels with controls. In particular, the new $ 900 Magnifica Evo ECAM29084 offers an auto LatteCrema system.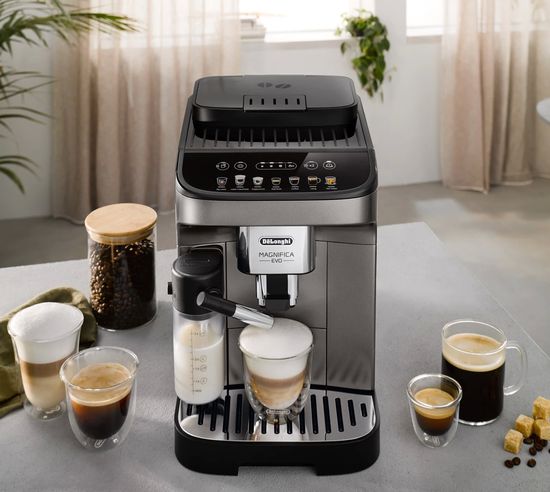 As known, it makes a creamy milk foam for milk beverages in just one-touch. Other models, including the new Magnifica Evo ECAM29043, use a manual steam wand.
In addition, this year the company is replacing the 2019 Magnifica S Smart with the Magnifica Start ECAM. New series of entry-level coffee machines is ideal for 'Americano' lovers and include Magnifica Start ECAM 220.21, 220.22, 220.30 and 220.31. The letters at the end traditionally indicate the model color:
– W – white;
– B – black;
– GB – grey-black;
– SB – black with silver;
– SSB – silver front, black sides.
This line can be positioned as a replacement the legendary Delonghi Magnifica ECAM 22.110 (Magnifica S), which has been successfully competing in the market since 2014. Magnifica Start uses the same platform, but offers several additional black coffee recipes and has a new control panel.
Like the previous series, Magnifica Start prepares espresso at the touch of a button. But the coffee strength setting offers three preset levels instead of a continuously adjustable dial. Formally, it limits the choice, but 3 levels is enough for most people. The temperature setting has also been reduced from 4 to 3 modes. Serving size programming for each recipe and the 13 grind settings of the steel conical grinder has not changed.
Delonghi Magnifica Start
All models of the new line support the same basic functionality. The first button on the control panel is for espresso.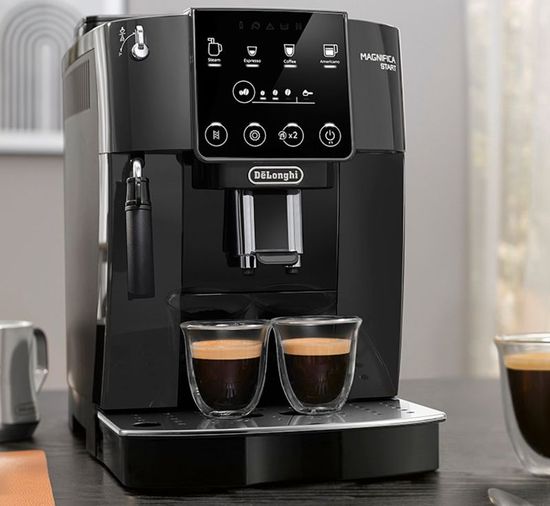 The compact, detachable brewing unit holds up to 14 grams of coffee and can brew even stronger coffee than Philips Saeco, Krups or Bosch. But about once a week, it requires rinsing under running water without cleaners.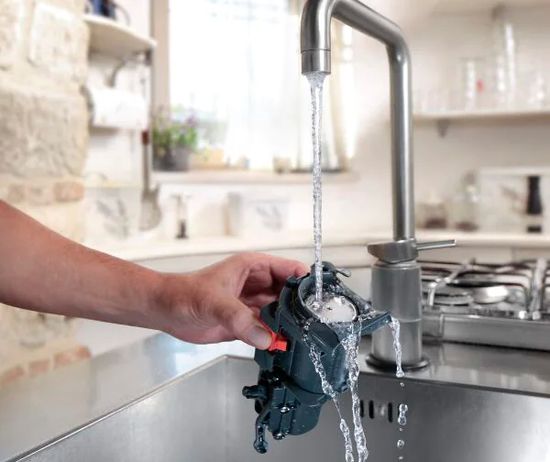 The second 'Coffee' icon activates the making coffee with a factory preset of 180 ml. In fact, it's 'Lungo' and can be positioned as a second memory cell for programming espresso with a different volume. Unfortunately, the setting range of this program varies from 100 to 240 ml, excluding the possibility of saving a recipe for espresso or ristretto. As known, the volume of classic espresso is 30-40 ml, and ristretto is 15-20 ml.
Of course, all Magnifica Start coffee machines prepare cappuccino, latte and other milk and coffee drinks, but with a manual Panarello nozzle. In this case, the milk is frothed in a separate jug and added to the espresso.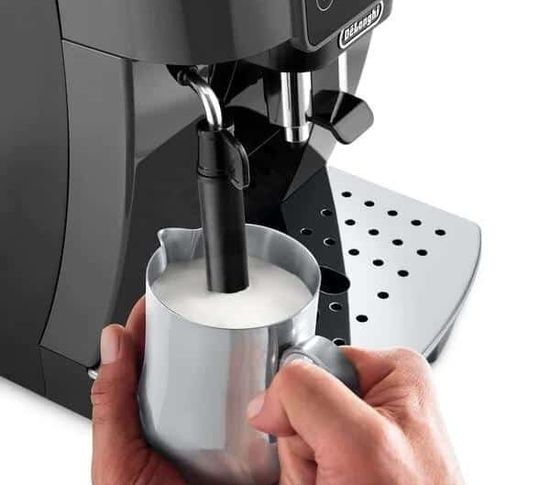 The choice of ground coffee is carried out using the icon with a spoon in the 'strength' setting. But, of course, the taste of coffee from ground freshly roasted beans is much better and allows the user to experiment. In addition, it's significantly cheaper.
Programs
Of course, the preparation of high-quality finely dispersed milk foam with Panarello requires experience. However, even an inexperienced coffee lover begins to make a good latte after a few cycles.
The new Delonghi ECAM 220.2x and ECAM 220.3x offer special modes for lovers of large portions or very strong espresso. Previous models only prepare canonical espresso with a volume of 30-40 ml. Of course, the volume set to max allowed the user to prepare even 200 ml of 'lungo', the taste of which many do not like. Similar to the 'americano', baristas in coffee shops typically prepare a large amount of espresso by diluting a strong espresso with hot water. In Magnifica Start, this program is called 'americano'.
'Americano' recipes
An easier way first brews espresso and then adds hot water from the same nozzles.
The default settings are 40 ml espresso + 110 ml hot water. Adjustment – espresso 20-180 ml, water 50-300 ml.
The 2nd method uses less pressure. This mode corresponds to the 'long' program which is available on all newer models. When a 'long' recipe is selected, the pump (water pump) operates intermittently at reduced pressure, increasing the duration of coffee and water contact. What's more, this drink is made from two grinds with a standard setting of 80 ml + 80 ml. In fact, the 'long' mode prepares a large portion with the possibility of adjusting (160 ml by default). Its parasitic bitterness is significantly lower vs traditional 'lungo', and it has a richer flavor profile vs 'americano'.
In addition, ECAM220.21 and ECAM220.31 offer Doppio+, which was previously only available in expensive Delonghi models.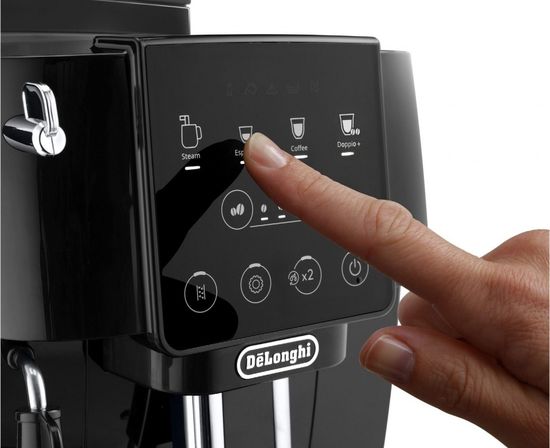 In fact, it's the strongest espresso ever. It uses 14 grams of ground coffee and a long prewetting for max coffee extraction.
Design
Models have quite traditional dimensions of 24 cm wide and 35 cm high. But the depth with the cup stand reaches 44 cm, which exceeds the average dimensions of coffee machines in this class.
Probably, some owners of coffee machines have already encountered the problem of scratches on the surface of shiny metal cup stands due to pump vibration during operation. In the new series, the developers have improved the cup stand. Its embossed shape with matte plastic protrusions reduces chatter during operation and protects the surface from scratches.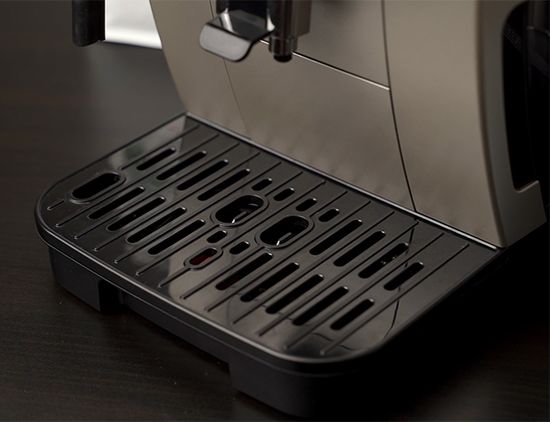 The new series uses only a touch panel instead of buttons and dials. Some consider this a disadvantage due to their unreliability. But Delonghi uses high-quality touch panels, which recognize touches without error.
The absence of a separate display for setting drinks is not critical due to the small number of parameters. Unfortunately, changing the settings for temperature, water hardness, power saving mode and auto-off time remained unintuitive, which is typical for all symbolic screens. Therefore, the instruction will be useful at first.
Conclusions
The company confidently confirms its status as one of the leaders in the segment. In a short period, it has significantly expanded model range due to:
– ECAM Dinamica Plus (cheapest fully automatic DeLonghi model with LatteCrema system);
– DeLonghi Clessidra ICM17210 drip coffee maker with a precise temperature range (92-96°C) an infusion time control;
– DeLonghi ECAM Eletta Explore with additional LatteCrema Cool milk system and 40 pre-programmed coffee recipes.
New Magnifica Start adds to this list. Probably, it can be positioned as a replacement for the legendary base Delonghi Magnifica ECAM 22.110 (Magnifica S), which has been successfully competing in the market since 2014.
At a low price, the new series offers a modern touch panel with crisp responses, an improved cup stand without rattling and scratches, additional 'Long' / 'Doppio+' programs, and the classic preparation of 'Americano' with hot water addition to espresso. Previously, these programs were available only in expensive models.
Probably, manual steam wand is not ideal for lovers of coffee milk drinks. But the Magnifica line specializes in making black coffee. However, the company also offers the $ 900 Magnifica Evo ECAM29084with the LatteCrema system. But some experimenters prefer to prepare milk foam using Panarello.
In addition, the price of € 400 to € 450 significantly compensates for this aspect.
This video introduces the new Magnifica Start ECAM220.22.GB.