Until the early 19th century, coffee was brewed in cezve, which is a small long-handled pot with a pouring spout. But scientific and technological progress has made adjustments to this simple ritual. In 1800, Blason Jean Baptiste de Belloy de Morangles, an engineer-trained archbishop, introduced the first drip coffee maker. Its operation principle is based on the slow infiltration of hot water through the layer of ground coffee in the paper filter. In fact, modern models have not changed and consist an electric kettle analogue and a coffee pot for ready-made coffee.
Low price and high reliability due to a very simple design, and a fairly high quality of coffee have ensured its high popularity for more than two centuries.
Unfortunately, this extraction technology causes a significant disadvantage. As known, the taste and aroma of the finished coffee requires a stable brewing temperature. What's more, standards from the Specialty Coffee Association (SCA) and European Coffee Brewing Center (ECBC) set it at 90-96°C or 92-96°C, respectively. For reference, ECBC was established in 1971 by the Norwegian Coffee Association and is an independent testing authority.
The espresso technology presses hot water through the coffee tablet quickly enough at a pressure of about 15 bar. Accordingly, the water does not have time to cool down and the problem of its temperature stability does not arise.
Drip coffee brewing
The brewing process with a drip coffee maker is much longer. As a result, the water temperature is significantly higher than the recommended 96°C at the beginning of the cycle, and below the allowable 90°-92°C at the end of brewing.
Of course, the importance of this aspect may seem a little overstated. Indeed, it's unlikely that most people will tell the difference between a correctly / incorrectly brewed coffee of Jockey, Pele, etc. But lovers of Specialty coffee want to reveal its subtle flavor nuances, which requires following temperature recommendations.
In principle, this problem has already been successfully solved. In particular, the Dutch Technivorm has been producing Moccamaster drip coffee grinders since 1969, modern models of which provide a stable brewing temperature.
Norwegian Wilfa (abbreviation of company founder Fritz R. Wilhelmsen – WILhelmsen FAbrikker) also offers similar models, including, for example, Wilfa Svart Precision WSP-1A/2A.
The pioneers of the 'correct' filter coffee-brewing at a stable water temperature use a rather complicated algorithm with a thermoblock, a pump and a system of temperature sensors. Of course, their models provide the desired result, but cost is $ 400 or more. However, perhaps this aspect will not confuse lovers of Specialty coffee. But most buyers pay attention to the value for money, and, probably, the innovative Delonghi Clessidra coffee maker will be of interest to them.
Italian developers have come up with an ingeniously simple solution similar to a samovar. As a result, at prices up to £ 100 (UK, discounted) or an average of $ 180 elsewhere, the Clessidra ICM17210 meets even the toughest ECBC standard (92-96°C coffee brewing).
DeLonghi drip coffee makers
DeLonghi range:
– Argento Flora ICMX210.BG/AZ/GR/PK (4 colors);
– ICM 14011/15210/16731;
– Clessidra ICM 17210.
In fact, the new Clessidra provides a precise temperature range and pulse pouring water flow with a new design (heating element above the coffee pot) and a temperature sensor.

These simple changes allowed the developers to organize an additional operation modes. As a result, the model has High Quality Brew (or Optimum Coffee Brew) and Pour Over modes.
The first mode is activated by the left button and ensures a stable water temperature during brewing. In this mode, the coffee maker quite often interrupts the brewing cycle to heat the water to the required temperature. In fact, it only uses the temperature sensor data.
The right button activates the Pour Over mode, which works virtually identical to a traditional drip coffee maker, but with multiple brewing phases.
Duration of pouring water through coffee powder in paper filter:
– at the start, a long strait for 30 seconds + a long pause for 30 seconds for prewetting;
– then cycles with water supply for 20 seconds + a pause of 10 seconds;
– after using all the water, the coffee maker automatically turns off the brewing mode and turns on the warming up a jug with ready coffee. By the way, many people do not really like heated coffee.
With a volume of water up to 500 ml, both modes work almost identically due to the lack of switching to water heating.
Key features
Traditionally, the new design is accompanied by some features of use. In this model the hot water boiler is located at the top.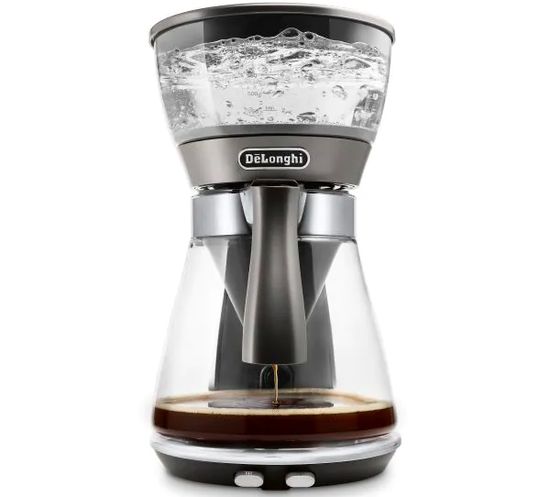 The coffee pot for 10 cups with a filter is located at the bottom. Its uses a solenoid valve to regulate the water supply.
The ICM17210 comes with 4 paper filters, uses ground coffee, but does not have a built-in coffee grinder.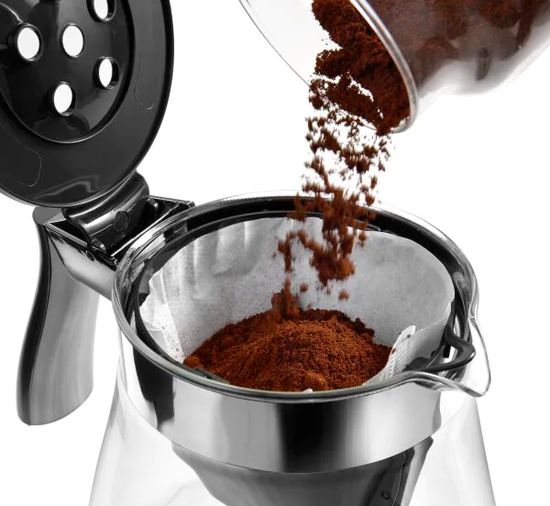 The lens-shaped lid of the coffee pot collects hot water and directs it through six holes into the ground coffee filter. But the remains of hot water and condensate accumulate on the lid. When opening the lid while removing the coffee filter from jug, they can get on your hands. In addition, placing the filter inside the jug increased its size.
The coffee maker comes with a convenient filter stand.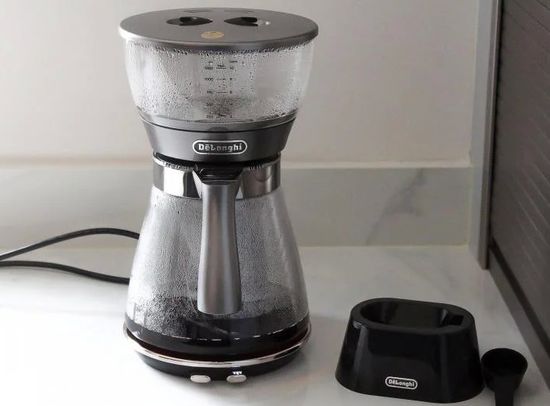 Unfortunately, it does not perfectly match the dimensions of the popular Melitta paper filters.
Conclusions
Pros
– mid-budget price;
– precise temperature range;
– pulse pouring water flow;
– one-touch brewing;
– anti-drip system;
– descaling alarm (two buttons light up at the same time);
– 10-cup capacity;
– washable carafe and filter casing;
– 40 minutes keep warm.
Cons
– filter inside the jug;
– no milk option.
In fact, the ECBC-certified DeLonghi ICM17210 with a precise temperature range (92-96°C) and infusion time control ensures that the classic coffee brewing recipe is followed. But unlike Moccamaster and Wilfa models with a similar function, the model price is quite consistent with mid-budget sement of drip coffee makers.
Perhaps it will leave indifferent lovers of Jockey, Pele, etc, but many lovers of Specialty coffee will appreciate the difference in taste and aroma.
This video introduces the DeLonghi Clessidra ICM17210 drip coffee maker.