Xiaomi Roborock S7 MaxV Ultra became one of the sensations at CES 2022. Of course, its appearance is largely due to the phenomenal popularity of the previous Roborock S series. 'Plus' models come with a docking station with automatic emptying. Unlike previous S series with 2500Pa suction power, MaxV provides 5100Pa.
About 10 years ago, robotic vacuum cleaners were an expensive fun toy for pets.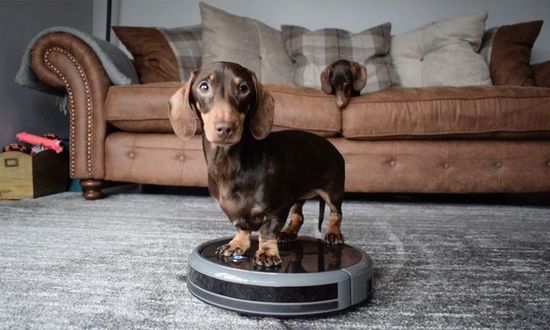 This was due to several objective factors.
First, cleaning under low furniture drastically limited their profile. In turn, the compactness limited the motor size, and, accordingly, its suction power. As a result, the developers were looking for a compromise between power and compactness. For example, the height of a fairly powerful Dyson 360 Eye reaches 4.72 inches. But the progress of motors partially eliminated this problem. For example, the height of Xiaomi Mijia ultra-thin model is just over 2 inches (55mm), but its suction power is over 2,000 Pa.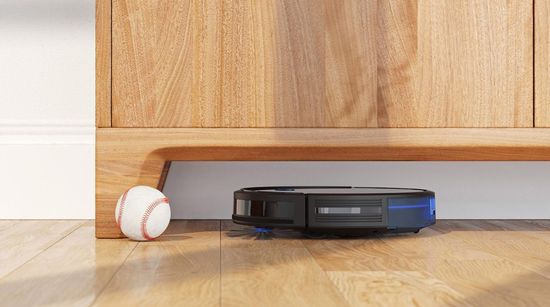 Probably, this power is not enough to clean high-pile carpets, but it can already clean short- and medium-pile carpets.
Secondly, the low level of navigation required the use of additional 'virtual walls' or magnetic tapes, adding to the expense and hassle.
Thirdly, not very high permeability required preliminary cleaning of the surface from small things that were an insurmountable obstacle for the robot.
Fourth, the mopping option was practically unavailable. Its first version was introduced in iLife models a few years ago.
These and other problems have been successfully solved over the past few years. Of course, they are still typical for many budget models, but mid-budget and premium robot vacuums have almost got rid of them.
Roborock S7
To a certain extent, Roborock S7 MaxV Ultra illustrates Hegel's philosophical argument of the transition from quantity to quality. Indeed, the new Chinese marvel is taking cleaning automation to a higher level. Of course, this final chord was largely prepared by iRobot Roomba i7/i7+, s9/s9+, and j7/j7+ with Braava Jet M6 Ultimate Robot Mop, Ecovacs Deebot N series, etc. But Roborock S7 MaxV Ultra completes this stage in the robotic vacuum evolution.
Its Empty Wash Fill dock with Auto Mop Washing, Self-Emptying and Self-Refilling reduces to a minimum participation in the cleaning of its owner.
In fact, its happy owner only has to make a schedule and periodically change the dirty water and a garbage bag that has a capacity of about 120 days.
What's more, great ReactiveAI 2.0 navigation, smart innovations including the Ultrasonic Carpet Recognition Sensor and VibraRise function (Sonic Mopping), a capacious battery and high energy efficiency further reduce the need for personal monitoring of the cleaning process.
The very high suction power up to 5100 Pa is sufficient for effective cleaning even of high-pile carpets. In addition, the mop's auto-rinsing function radically improves the washing floor quality.
For $ 1,400, the MaxV Ultra offers almost complete automation with high cleaning quality. But of course, it's going to have a very tough competition, for example, with the iRobot Roomba j7+ (with Braava Jet M6 Ultimate Robot Mop), which is available today for $ 900.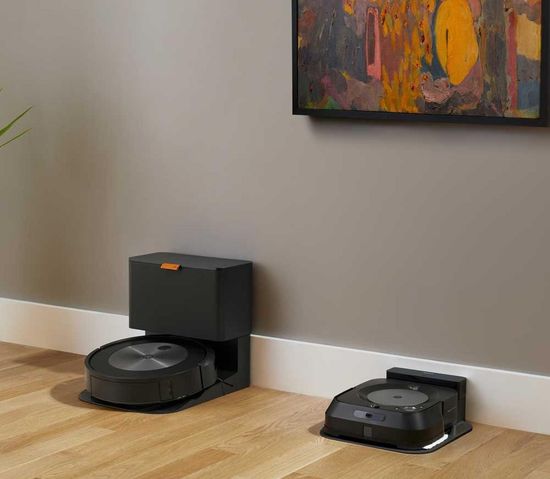 Unfortunately, iRobot does not traditionally indicate suction power, only offering a ratio to previous models. But '10x Power-Lifting Suction vs Roomba 600 Cleaning System' is a bit vague. Nonetheless, the numerous tests show an equivalent in the range of 2,500 Pa – 3,000 Pa, which is clearly less than 5,100 Pa.
S7 MaxV series
It includes 3 versions and covers almost all price segments. They come with different docks, which is the main and only difference.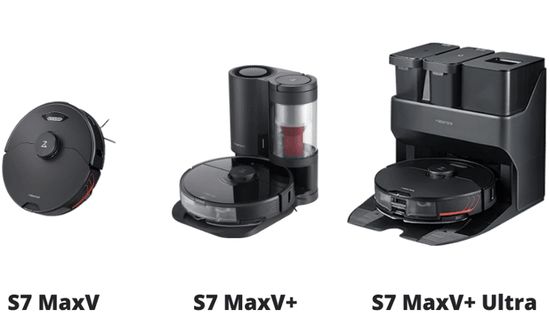 Price:
– S7 MaxV (without self emptying station): ~ € 800 (Europe) / $ 800 (USA);
– MaxV+ (with self emptying station): ~ € 1,000 / $ 1,000;
– MaxV Ultra (self emptying station + self-refilling + wipes rinsing): ~ € 1,400 / $ 1,400.
All models provide up to 5,100 Pa suction power and 180 mins run time with 5,200 mAh battery, have Reactive AI 2.0 navigation system, sonic vibration technology and VibraRise mop.
Other specs:
– onboard dust container – 400 ml;
– onboard water tank – 200 ml;
– charging time – up to 4 hours;
– gradeability – up to 1.9 cm;
– noise level – up to 65 dB.
Design
S7 MaxV diameter and height is 35 cm and 9.65 cm, respectively. In comparison, the Eufy RoboVac 11S is only 7.3 cm high. Therefore, Roborock is not the most ideal model for cleaning under low-profile furniture. But this is a reasonable compromise for the 5,100 Pa vs 1,300 Pa suction power of the RoboVac 11S.
The robot is made of high quality black matte plastic that does not retain fingerprints. LED display shows robot status:
– white – cleaning;
– blue – mopping;
– green / blue – battery status.
The bottom panel includes traditional components:
– side brush;
– the main brush from firm rubber;
– rollers;
– fall sensors;
– carpet sensor;
– mop module with wipe.
The Ultra dock is much larger (42 x 42 x 49 cm) and is available in black only.
Innovative features
Ultra dock has Auto Mop Washing, Self-Emptying, Self-Refilling and Self-Cleaning features.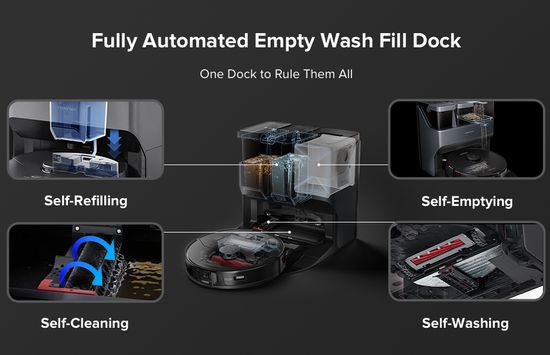 They provide:
– mop's auto-rinsing periodically (after 10, 20, 25, 30, … minutes or after each room) and at the end of cleaning;
– auto-refilling the onboart water tank provides mopping area up to 3230 sqft (300 sqm);
– auto-emptying option uses 2.5 L dust bag, which will last for several weeks (depending on cleaning schedule);
– the self-cleaning design automatically pushes dirty water into the dirty water tank.
However, the functionality of other systems is also impressive:
– the robot neatly goes around even flat objects on the floor with improved Reactive AI 2.0 navigation.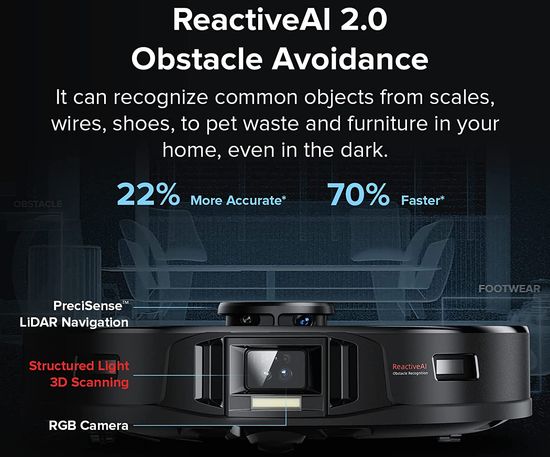 It uses structured light 3D scanning to recognize obstacles accurately using templates. Moreover, the model has a new neural processor with support for machine learning algorithms;
– the unprecedented 5100 Pa suction power in Max+ mode is sufficient even for long pile carpets;
– Ultrasonic Carpet Detection activates the rise of the VibraRise mop when moving from floor to carpet, providing mopping / vacuuming per cycle. But the mop module can be lifted only up to 5mm, which is enough for low-pile carpets up to 4mm.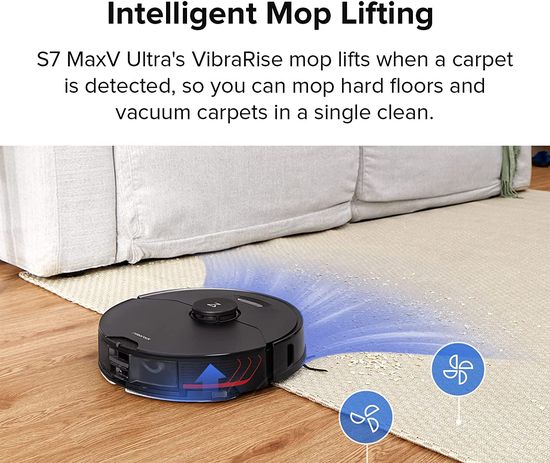 – Sonic Vibration technology uses vibration (up to 3000 times/min or 50Hz) to improve cleaning efficiency.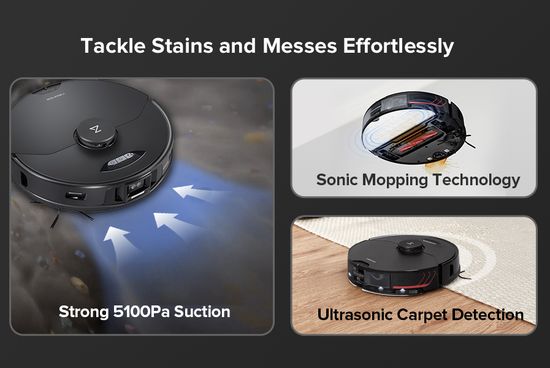 – Reactive AI 1.0 has already been used in the Roborock S6 MaxV. But it requires fairly good lighting and is ineffective at night or in dark places. Given this factor, the developers equipped the new robot with a 3D light scanner and an additional LED spotlight.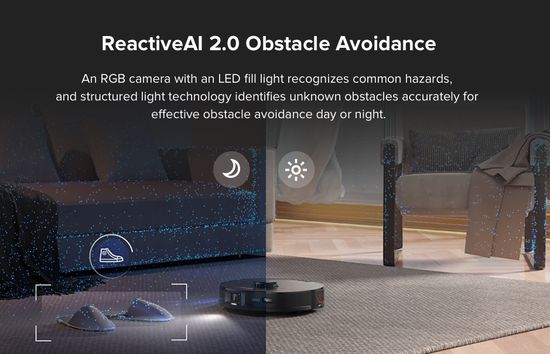 They ensure the system operation even in the dark.
Key features
According to the company, Ultra dock charges the battery 30% faster.
Precision LiDAR navigation uses 2D and 3D mapping, supporting virtual No-Go Zones, Multi-Level Mapping, etc.
Voice control is compatible with Amazon Alexa, Google Home and Siri. The Multi-Directional Floating Brush compensates for uneven floors, providing a snug fit.

Real-time video call will appeal to progressives, but its functionality is still questionable. This option can be useful to communicate with children or pets, especially in a spacious home.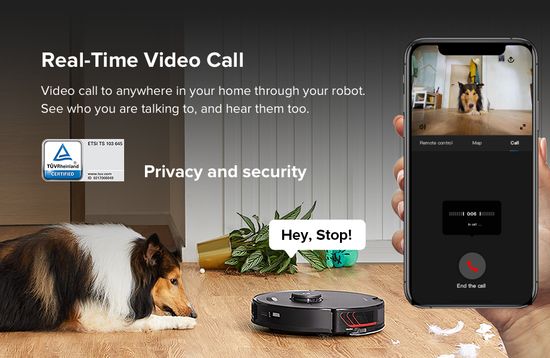 Settings include:
– wipe washing – Light, Balanced, Deep;
– suction power – Smart, Light, Balanced, and Max;
– 3 levels of Reactive AI 2.0 sensitivity;
– 2D and 3D mapping;
– clean intensity – adjustable suction power and vibration speed;
– virtual No-Go Zones, Invisible Walls and No-Mop Zones;
– cleaning schedule.
Sonic Mopping technology provides uniform pressure and wipe vibration up to 3000 times per minute. In fact, vibration imitates scrubbing movements, increasing the efficiency of surface cleaning.
Adjusting the water supply affects the vibration intensity. The bot offers low, medium and high levels (1650 / 2300 / 3000 vibrations per minute). Of course, the selected level depends on the degree of contamination. Water supply mode is configured from the smartphone via the app. For example, more water will clean the tiles in the bathroom better, but it's unlikely to be optimal for the parquet in the living room. Intensive mode narrows the passage lanes, providing a double wipe.
Traditionally, hair are easily wound around the central and side brushes. But they are easily cleaned with scissors or a knife. Unfortunately, the screw that secures the side brush makes this task more difficult. In addition, the robot comes without a cleaning tool.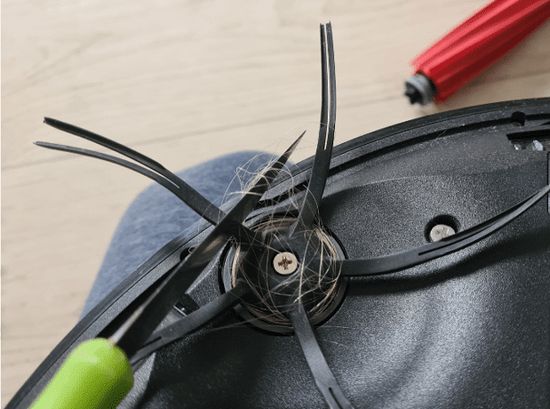 Conclusions
Pros
– great cleaning performance with very high suction power up to 5100 Pa;
– mopping automation with self-refilling and self-cleaning the wipes;
– fantastic 2D/3D mapping / navigation and obstacle avoidance with front RGB camera and Reactive AI 2.0;
– great Roborock app;
– 3 hour run time with 5200 mAh battery, an automatic recharge, return technology;
– great innovations, including Sonic Vibration technology, VibraRise module (auto lift mop on carpet with Ultrasonic Carpet Detection), front LED spotlight for obstacle detection in the dark, video call, etc;
– Alexa, Google Assistant and Apple (Siri) support.
Cons
– high price;
– cleaning long pet hair is not ideal;
– no tools for cleaning brushes;
– for overly cautious people, the built-in camera can create data protection problems;
– Ultra dock is only available in black, has large sizes, uses only disposable dust bags (no cyclone reusable container), does not provide thermal drying for wipes, and is not backwards compatible with previous models.
In general, Xiaomi Roborock S7 MaxV Ultra is positioned today as the most innovative model. In fact, Roborock S7 MaxV Ultra has set a new automation level. Maybe, new Chinese miracle will have to compete with great iRobot Roomba j7+ with Braava Jet M6 Ultimate Robot Mop. It's available today for $ 900. Of course, Roborock is significantly more powerful (5100 Pa vs ~ 3000 Pa) and more functional, but the $ 500 difference ($ 1,400 vs $ 900) is a strong argument in favor of Roomba. However, the traditional lowering the launch price can significantly reduce it.
Additionally, the S series also contains cheaper Roborock S7+ and S7 MaxV Plus with similar technologies but less functionality.
This video introduces Xiaomi Roborock S7 MaxV Ultra.