Certainly, Xiaomi Roborock S7 MaxV Ultra is one of the sensations of CES 2022. Unlike the previous S6 series, the company has increased the suction power of the new series from 2500 Pa to 5100 Pa and introduced a radically improved Empty Wash Fill dock with new automation level of mopping mode. In fact, Roborock S7 MaxV Ultra completes the next stage in the vacuum evolution. Its lucky owner can only:
– cleaning schedule;
– settings;
– periodically change dirty water and garbage bag;
– have fun with video calls through the front RGB camera, moving the robot around the apartment.
Docks & Mapping
The Roborock S7 MaxV Plus comes with a self-emptying dock that can use a disposable dust collector or a cyclone reusable container.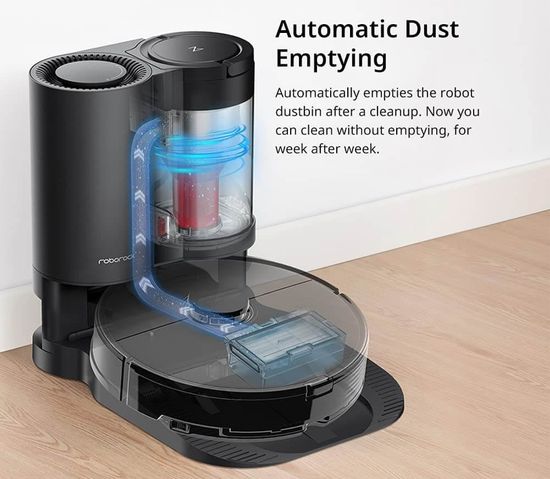 Of course, the cyclone fiter is its essential bonus.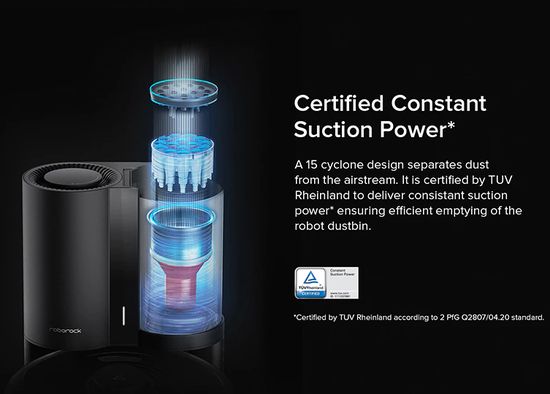 MaxV Ultra dock additionally washes wipes and fills the onboard water container.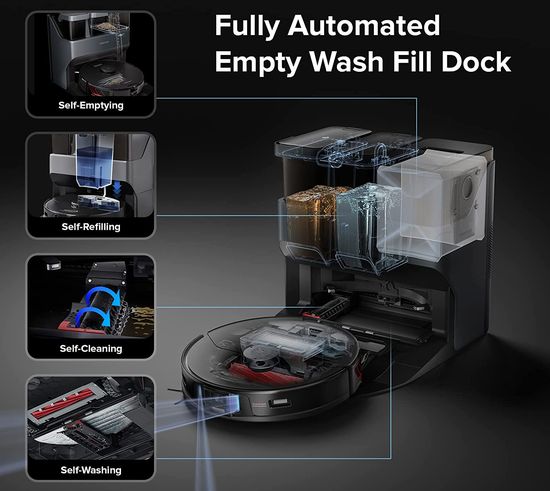 Unfortunately it's not backwards compatible and cannot be used with previous models including Roborock S7, Q7 Max, etc. In addition, it cannot use a cyclone reusable filter. However, frugal users may try to carefully empty the debris into a plastic bag and reuse dust container. But for most, this method will be doubtful.
Mapping
A room map is created during the first cleaning. According to the developers, the new Reactive AI 2.0 is 70% faster. Indeed, the 'Quick Mapping' function shortens this process to 10 minutes for a room up to 100 m². Cleaning map editing offers zoning with room division/combination. In addition, the app displays the outlines of large objects, including doors, furniture, etc. Based on the recognition of floor types and furniture, S7 MaxV Ultra automatically sets the optimum suction power and water flow rate, for example for a bedroom, living room or bathroom.
The model saves up to four cards in memory, which is important when using it in multi-storey buildings.
Of course, 3D mapping is one of the main innovations. Like the latest iPhone, the robot uses a laser rangefinder in matrix mode. Today, its practical use is rather uncertain, but, of course, this direction may have good prospects.
Adaptive optimization of the cleaning route improves performance. For example, it ranges from 1-2 m² per minute for laminate.
Empty Wash Fill dock operation
According to the company, Empty Wash Fill (Ultra) dock provides 30% faster battery charging. Emptying the onboard container is activated when it returns to the dock and lasts ~ 15 sec at a noise level of ~70 dB.
The debris is sucked into the 2.5 liter dust container (4-6 weeks capacity).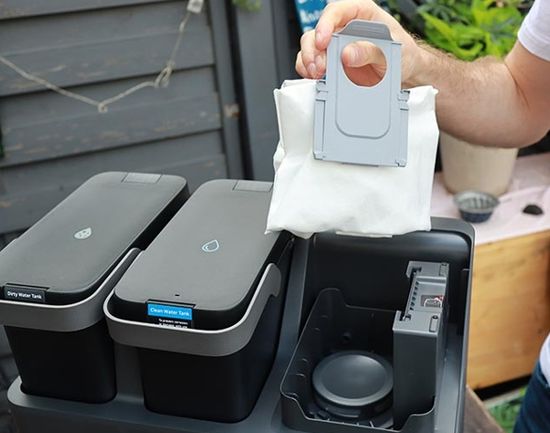 Then, the robot charges the battery.
The washing frequency of mop's wipe is set via the app. In this mode, wipe moves back and forth along the guide, and the bristles on a special disk clean its surface.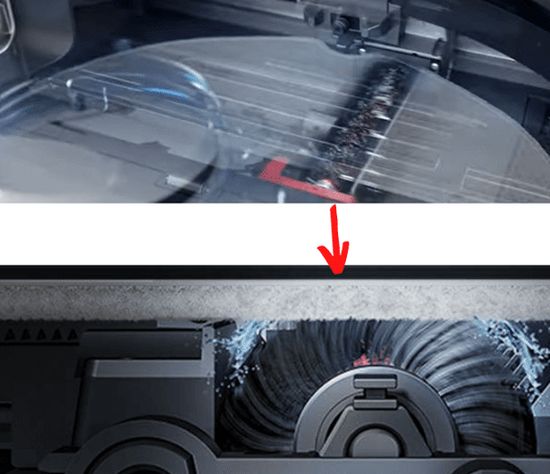 Adjustable intensity and frequency:
– Light, Balanced or Deep;
– 10, 20, 25, 30, … minutes / after each room and at the end.
In addition to mechanical cleaning, dock rinses the wipe from a 2.5 liter clean water container.
The control its water level uses LED indicator that lights up in red. A separate 2.5 liter container is designed to collect dirty water. In fact, topping up clean water and pouring dirty water down the drain are the only manual actions.
After cleaning is completed, the robot lifts the mopping module to dry it naturally. But despite automation, periodically washing the wipe in the washing machine and wiping the dock with a damp cloth will additionally protect against germs.
The automatic filling of the onboard clean water container increases the mopping area up to 3230 sqft (300 sqm) without manual refilling.
Thus, the robot enters the dock with a full dust container, a dirty wipe and an empty water container, and leaves with an empty dust container, a clean wipe and a filled water tank.
Cleaning performance
Unprecedented suction power, and a hard rubber Multi-Directional Floating Brush (adaptation to bumps) provide great cleaning performance. The model perfectly cleans even heavily soiled hard surfaces. Of course, carpet cleaning is a much more difficult task for robotic vacuums.
The Roborock S7 uses ultrasonic carpet detection to automatically increase the suction power on the carpet.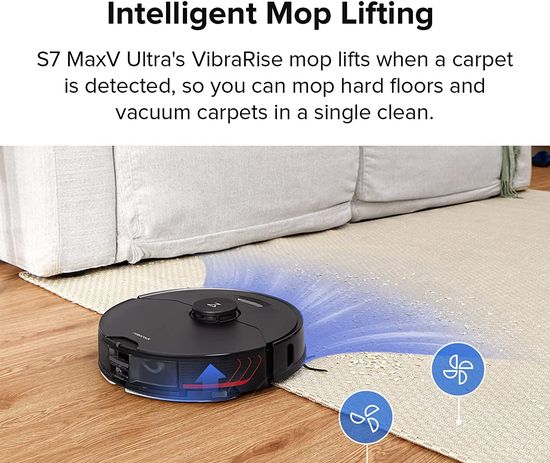 In addition, special protrusions under the brush lift the pile, further increasing the cleaning efficiency. Finally, the algorithm always chooses a route from the perimeter to the center, especially carefully cleaning the dirtier edges.
The testing demonstrated the efficiency of these solutions. With the exception of sand and long hair, the model perfectly cleans carpets.
VibraRise mop with max 5mm rise works well on low pile carpets, but less effective with 5mm pile or more.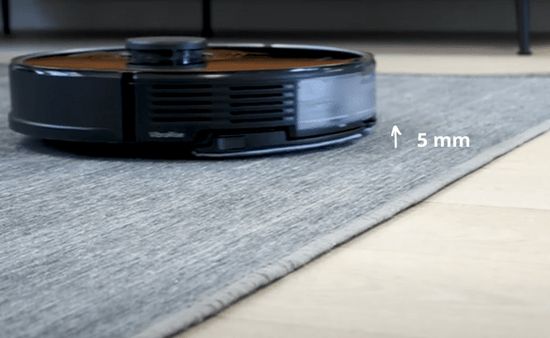 However, several factors reduce this problem:
– this mode works without additional contact pressure (a special mechanism increases the pressure on the wipe by 580 grams to increase mopping efficiency);
– it's not wetted by water;
– no vibration.
Of course, its contact with the pile impedes the robot movement, but very little. But the versatility provides cleaning of carpets and hard floors in one cycle. Therefore, the function seems very promising.
Settings in Roborock app:
– automatic increase in suction power on the carpet;
– mopping module rise;
– avoid.
To be fair, the rubberized side brush is ineffective on long pile carpets. When in contact, it bends and even stops for a short time. Perhaps, lovers of long pile carpets will be better suited to more powerful cordless models like Dyson. Curiously, but bristle side brush from the Roborock S5 works better with long pile.
ReactiveAI 2.0
For navigation and movement Roborock S7 MaxV Ultra uses LDS (Lidar – Light Detection and Ranging) laser system with an accuracy of up to 2 cm.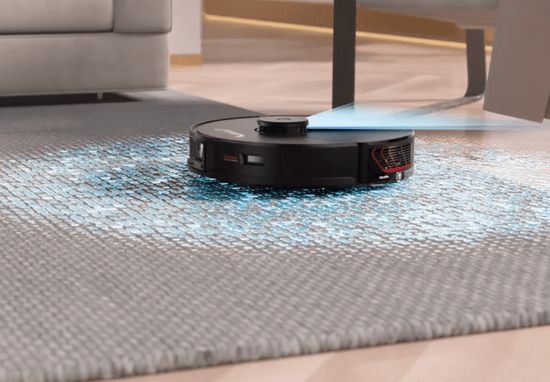 It easily detects tall objects above 10 cm, but unfortunately it's ineffective for objects up to 10 cm. To solve this problem, the robot uses additional RGB camera.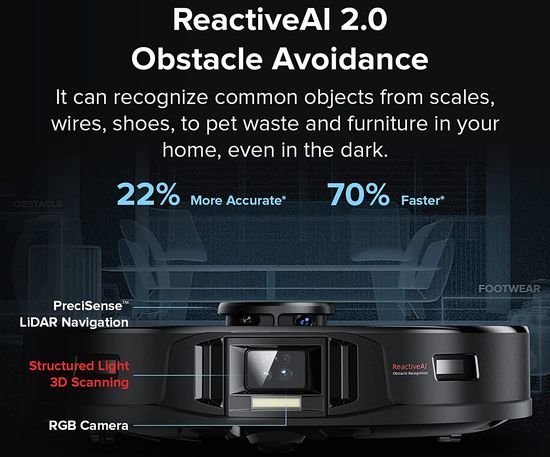 ReactiveAI compares images with database. In this case, the obstacle height does not affect the recognition.
Testing showed some problems at max sensitivity, including avoiding bottlenecks and 'detection' of false obstacles. Robot works better with lowered sensitivity. Moreover, expanding the database increases should increase its efficiency.
In addition, the robot marks the detected obstacles on the map and saves them along with a photo. This option will simplify the search for lost things by scattered people.
The list of Reactive AI 2.0 settings:
– pets;
– LED spotlight (in low light).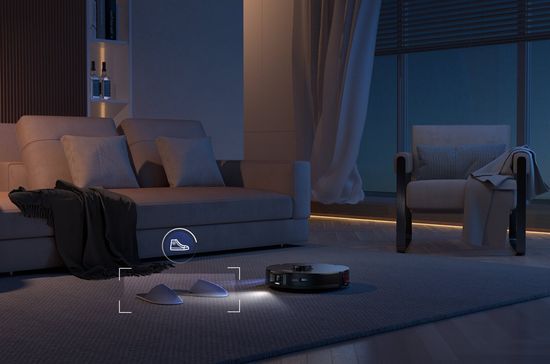 – photo of obstacles;
– Reactive AI sensitivity.
Of course, Reactive AI 2.0 slightly slows down navigation. Therefore, the robot offers 3 levels of sensitivity. This setting expands the compromise between obstacle avoidance and cleaning speed. It affects the maximum allowable distance between the robot and an obstacle. Accordingly, at max sensitivity, the robot slows down and avoids obstacles more carefully.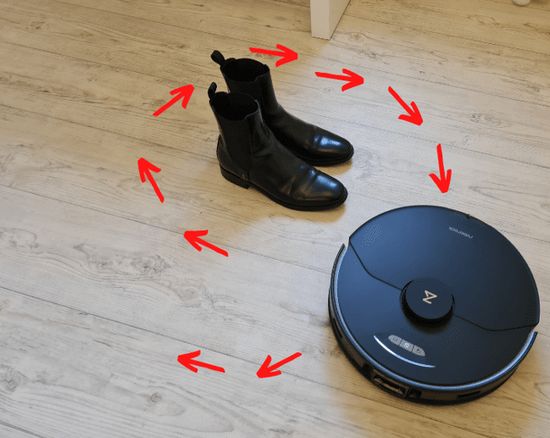 The built-in camera also provides video calling through the Roborock app with setting in the Pin and Go section of app. Scattered people can use this option, for example, to check whether the iron, oven, etc is turned off. A good fantasy will make the list endless.
Roborock app
The robot vacuum uses to control:
– buttons (start/stop, dock charging command, area cleaning and child locks);
– voice control;
– app via smartphone (Roborock or Xiaomi Home app in the App Store for iOS / Android).
Roborock app is optimized for robot vacuums and provides fast updates. But the functionality of both apps is identical.
WLAN (Wireless Local Area Network) connection setup:
– app download and registration via email address and password;
– setting up a WLAN connection with detailed step-by-step instructions in the app.
This step opens access to future updates.
Changing the router setting from 5 GHz to 2.4 GHz or switching to airplane mode with a WiFi connection enabled can help with connection problems.
Unfortunately, the lack of WiFi connectivity severely limits functionality.
Roborock app features:
– choice of cleaning area (whole apartment / one room / one zone);
– choice of suction power and intensity of water supply (depends on the surface and contamination);
– return to dock command;
– choice of 2D or 3D maps;
– creation of restricted zones (for example, a children's play corner; additionally – 'no wet / dry cleaning area');
– map editing (separating/combining rooms, adding furniture, specifying the floor type);
– monitoring/communication functions (eg naming – bath / bedroom / living room, etc to optimize their cleaning sequence);
– cleaning schedule.
Pressing the 'hamburger' symbol in the upper right corner gives access to additional features.
Maintenance section contains some useful tips, Cleaning History saves cleaning data.
Dock settings are mainly designed to select the frequency (Mop wash frequency – 10, 15, 20 … 40 minutes) and intensity (Washing mode – ligth/balanced/deep) for wipe.
Data protection & noise
Given the mobile camera and microphone, the company has not forgotten about data protection. Therefore, on the main page of the site you can find the slogan repeated three times Datenschutz (Confidentiality).
According to the company:
– Roborock strictly adheres to the General Data Protection Regulation (GDPR) which was drafted and passed by the European Union (EU).Today it's the toughest privacy and security law in the world;
– the model has a security certificate ETSI TS 303 645 from TÜV-Rheinland (cybersecurity assessment for consumers of IoT products);
– manufacturer's guarantee for complete blocking of photo / video / sound recording transfer to the cloud;
– video activation requires entering a security code;
– shooting is accompanied by voice notification of camera activation and flashing purple indicator on the top robot panel.
Finally, too careful people can stick the camera lens over. But in this case, choosing a Roborock S7 without a camera seems like an easier decision.
The noise level depends on the selected suction power and is:
– quiet – 55 dB;
– balanced – 58 dB;
– max – 60 dB;
– max + – 65 dB.
For comparison, the volume level of a normal conversation ~ 60 dB.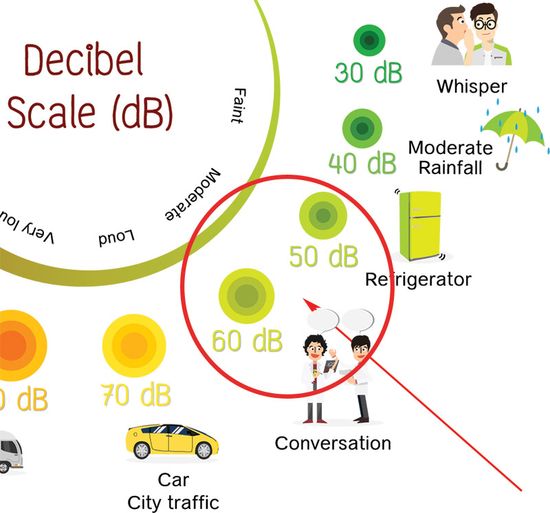 The noise during emptying the onboard dust collector on the dock rises to 70 dB, but it only lasts 15 seconds. Noise of wipe washing and filling the onboard container with water varies from 45 to 55 dB and is also short-lived.
Battery & voice control
The S7 MaxV Ultra uses a 5200 mAh battery that provides up to 180 minutes of cleaning at minimum power.
Of course, the power level and additional features speed up its discharge. In particular, the mopping with vibration significantly increases energy consumption.
Testing showed its high energy efficiency. In particular, a vacuuming (40 m²) drained the battery by less than 20%. A full cleaning cycle (vacuum + mopping) with a 'Balanced' suction power level and max water flow rate in mopping discharged the robot by almost 30%.
However, the Charge & Resume auto-recharge option with continued cleanup from a breakpoint significantly reduced the importance of this parameter. But 5-10 years ago, its, in fact, determined the automation level.
The maximum charging time does not exceed 240 minutes. In addition, the Roborock S7 MaxV Ultra charges the battery 30% faster than other bases.
Roborock S7 MaxV Ultra supports Alexa, Google Assistant and Apple (Siri).
Voice commands for Alexa are conditionally divided into several sections, each of which offers several commands:
– start – Alexa, sage Roborock staubsaugen (German) – to vacuum, Alexa, sage Roborock reinigen – to clean, etc;
– stop – Alexa, sage Roborock anhalten / stoppen – to stop;
– pause;
– fortsetzen / continue;
– mich finden / find me;
– zuruck zum lade dock schicken (return to dock);
– modus wechseln (change mode).
Perhaps the list is too short, but it corresponds to modern similar devices.
Conclusions
Pros
– 5100 Pa suction power;
– highest mopping automation level;
– 3D mapping and Reactive AI 2.0 navigation with front RGB camera;
– great Roborock app;
– 3 hour run time;
– Sonic Vibration technology, VibraRise module (auto lift on carpet with Ultrasonic Carpet Detection), front LED spotlight, video call, etc;
– Alexa, Google Assistant and Apple (Siri) support.
Cons
– high price;
– Ultra dock not have a cyclone reusable filter and is not backwards compatible with previous models.
Xiaomi Roborock S7 MaxV Ultra is the most innovative modern model with new automation level. But the new Chinese miracle will have to compete with great iRobot Roomba j7+ with Braava Jet M6 Ultimate Robot Mop. It's available today for $ 900. Of course, Roborock is significantly more powerful (5100 Pa vs ~ 3000 Pa) and more functional, but the $ 500 difference ($ 1,400 vs $ 900) is a very significant. However, it can drop significantly after the traditional lowering the launch price.
Additionally, the S series also contains cheaper Roborock S7+ and S7 MaxV Plus with similar technologies but less functionality.
This video shows the Roborock S7 MaxV Ultra.