At CES 2022, Xiaomi introduced the new Roborock S7 MaxV series, which includes the most innovative robot cleaners today.
Considering previous models, the list of current S-robots on the company's website contains:
– Roborock S7 MaxV Ultra or S7 Pro Ultra (5,100 Pa and Empty Wash Fill dock – Auto Mop Washing, Self-Emptying, Self-Refilling, ReactiveAI 2.0 Obstacle Avoidance) – $ 1,400.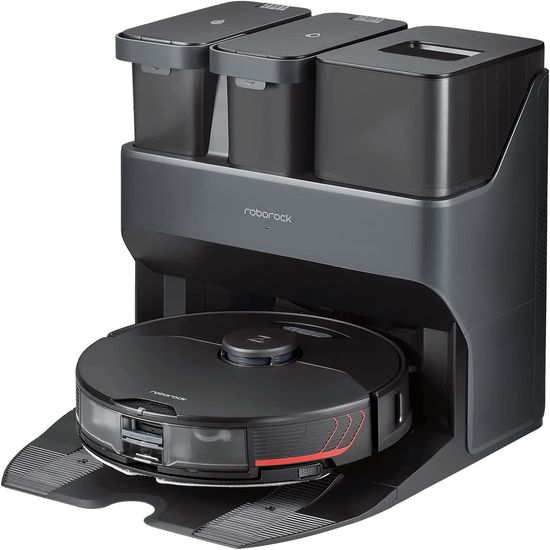 – '-' S7 MaxV Plus (5,100 Pa and Self-Empty Dock, ReactiveAI 2.0 Obstacle Avoidance) – $ 1,160.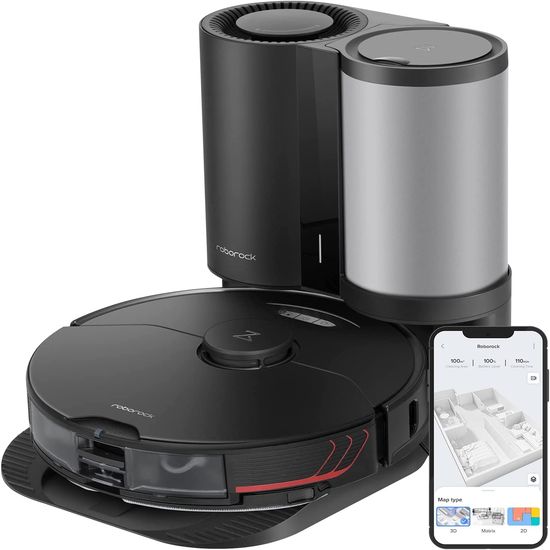 – -/- S7+ (2,500 Pa and Self-Empty Dock) – $ 950.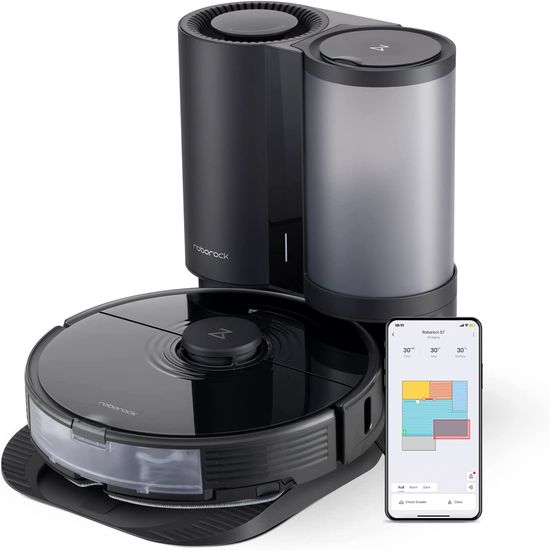 – '-' S7 MaxV (5,100 Pa, without Self-Empty Dock) – $ 860.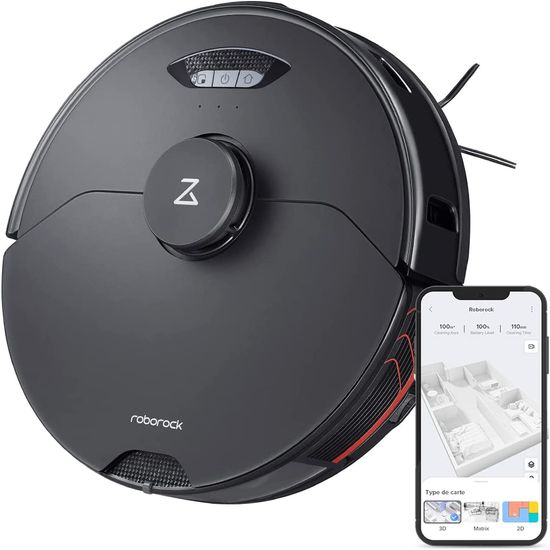 – '-' S7 (2,500 Pa, without Self-Empty Dock) – $ 430.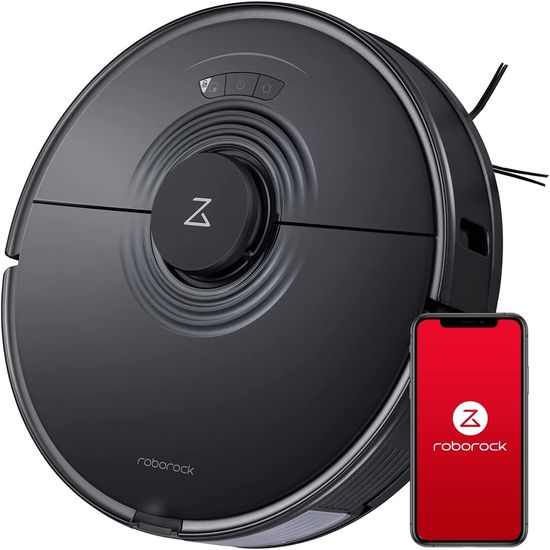 Formally, S7 MaxV can be positioned as an improved version of the previous S6 MaxV series. But their comparison is irrelevant for two reasons:
– S6 MaxV is no longer available even on the company's website;
– too much difference in price, features and specs – S6 MaxV series uses a motor with peak suction power up to 2,500 Pa vs 5,100 Pa in S7 MaxV, and it costs between $ 400 and $ 500. In fact, it's almost identical to the Roborock S7.
Roborock S7+, S7 MaxV Plus and S7 MaxV Ultra:
– have Sonic Vibration technology, Ultrasonic Carpet Detection, VibraRise module and Lidar navigation;
– voice control – Alexa, Google Assistant and Apple (Siri) support;
– their noise level and runtime is 50-60 dB depending on the set suction power level and 180 min. But the Empty Wash Fill dock charges the robot about 30% faster;
– MaxV Plus and Ultra have front LED spotlight for operation of RGB camera in dark.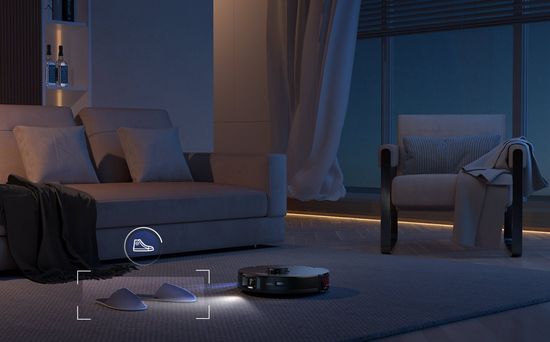 Roborock S series
The flagship S7 MaxV Ultra comes with the innovative Empty Wash Fill dock that enables fully automated mopping in areas up to 3230 sqft (300 sqm). In particular, dock washes and cleans wipes and replenishes the onboard container with clean water.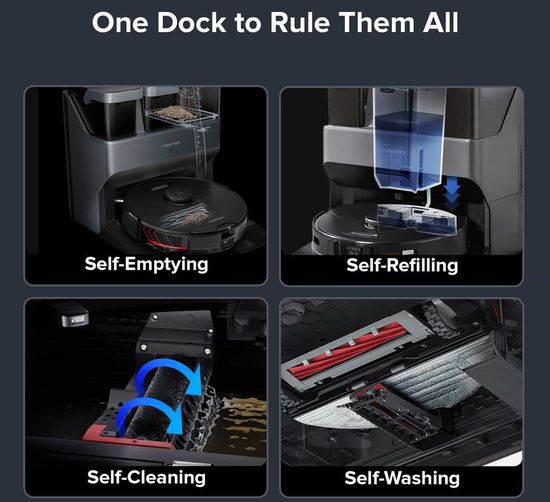 On the company's website, it costs $ 600 when purchased separately. Unfortunately, it's not backwards compatible with previous models and is only for S7 MaxV Ultra.
The dock for S7/S7 MaxV only provides self-empty, but is half the price ($ 300 vs $ 600), available in black and white, much smaller and can use a 15-cyclone reusable filter.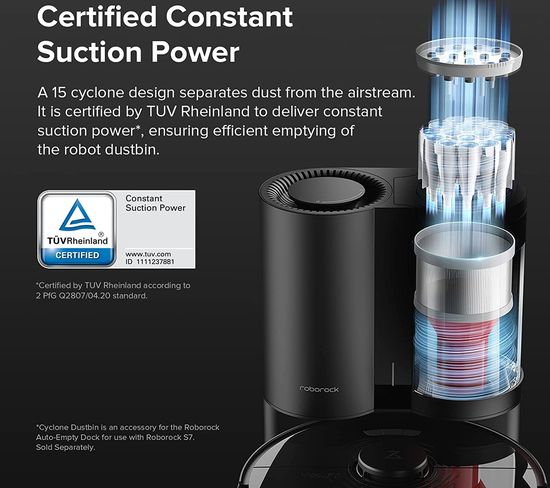 Empty Wash Fill dock uses only disposable dust bags, but their capacity is 2.5L vs 1.8L of dock for S7.
Except for the dock, the S7 MaxV and S7 MaxV Ultra are identical. Considering the price, the Ultra model actually offers a higher mopping automation level for about $ 250.
Therefore, the comparison between last year's S7+ and the new S7 MaxV Plus ('+' models come with a self-empty dock) is more relevant. Using the same station and an almost identical technologies (Sonic Vibration technology, Ultrasonic Carpet Detection, VibraRise module with wipe lifting on carpet, etc), they have several differences:
– price – $ 1,160 vs $ 950;
– peak suction power – 5,100 Pa vs 2,500 Pa;
– 3D Structured Light Obstacle Sensing (Reactive AI 2.0 with front RGB camera detects flat obstacles) + LiDAR vs SLAM (simultaneous localization and mapping) + LiDAR (light detection and ranging) navigation;
– 3D vs 2D mapping;
– upgraded narrower floating main brush;
– extended functionality with front LED spotlight, front RGB camera (video call), etc.
But a correct comparison of their value for money requires additional analysis.
Mopping/Vacuuming
All models use Sonic Vibration (or Sonic Mopping) technology to vibrate the plate with wipe up to 50 Hz to increase cleaning efficiency.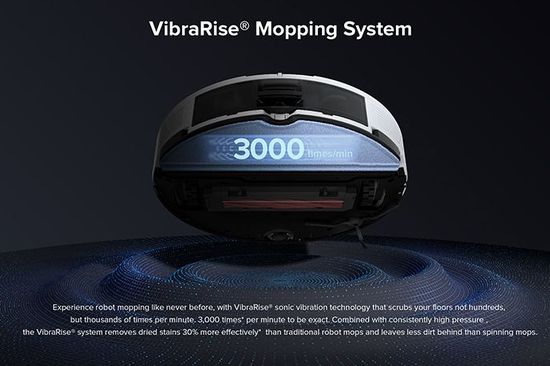 The vibration frequency is controlled by the water supply and is 1650 / 2300 / 3000 times per minute (low, medium and high levels).
In addition, a special mechanism increases the pressure on the wipe by 580 grams, which further increases the cleaning efficiency.
Sonic Vibration is implemented using a VibraRise module with a fluffy wipe that automatically rises when carpet is detected using the Ultrasonic Carpet Detection function. Unfortunately, the rise height is only 5 mm, which is not enough for some long pile carpets. But on the other hand, vacuuming / mopping in one cycle drastically reduces the cleaning time. In addition, turning off the extra 580-grams load reduces pile resistance to a minimum. Therefore, models with VibraRise module clean even long pile carpets with confidence.
Of course, the S7 MaxV Ultrs delivers a higher mopping quality by periodically cleaning the wipe on the Empty Wash Fill dock. Its intensity and frequency is set via the Roborock app. In particular, it offers a frequency of 10, 20, 25, 30, … minutes or after each room and at the end. Moreover, the auto water filling of the onboard 200ml tank increases the wash area from 40 m² to 3230 sqft (300 sqm). Therefore, Ultra model with Empty Wash Fill dock is unbeatable.
Despite the different peak suction power of the S7 and S7 MaxV, testing shows almost identical brushing performance. The S7 MaxV is slightly more efficient on hard floors, perhaps due to the upgraded narrower floating main brush.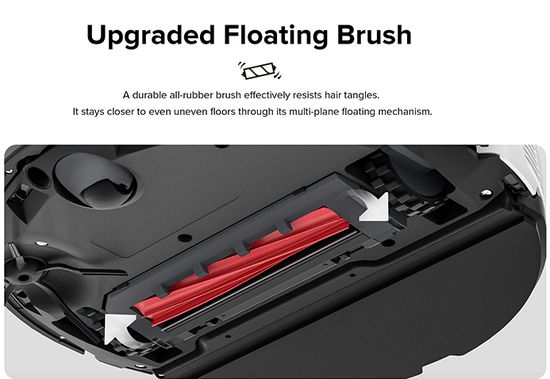 The S7 is marginally better on carpets. But the difference is almost imperceptible.
Mapping, navigation and obstacle avoidance
New Quick Mapping option in S7 MaxV significantly reduces the map creation duration (less than 10 minutes vs ~ 40 minutes). In addition, MaxV supports its editing, providing a choice of cleaning area (for example, under the table in the kitchen). Moreover, the new series can create 3D maps. Its practical use is still unclear, but in the future it may have good prospects.
Both versions use LiDAR for optimal route calculation and navigation. Unfortunately, the laser detects objects with a height of 10 cm or more. Accordingly, it does not see 'flat' objects up to 10 cm high. To solve this problem, S7 MaxV uses additional Reactive AI 2.0 obstacle detection technology with RGB front camera.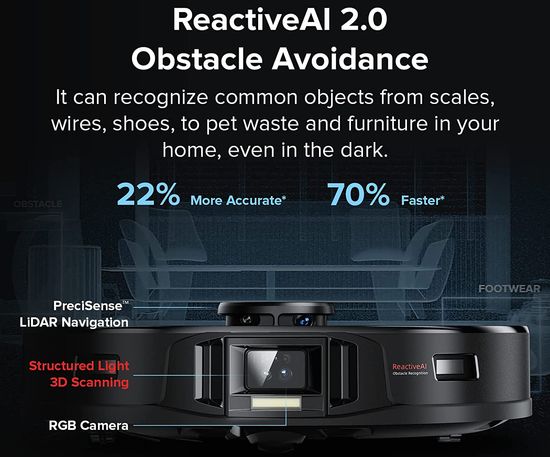 A deep learning intelligent system compares shots to a database, identifying 'flat' objects on the floor and driving around them.
Unfortunately, Reactive AI 2.0 slightly slows down motion. But the bot has 3 sensitivity levels offering the compromise between obstacle avoidance reliability and cleaning speed. This setting affects the maximum allowable distance between the robot and an obstacle.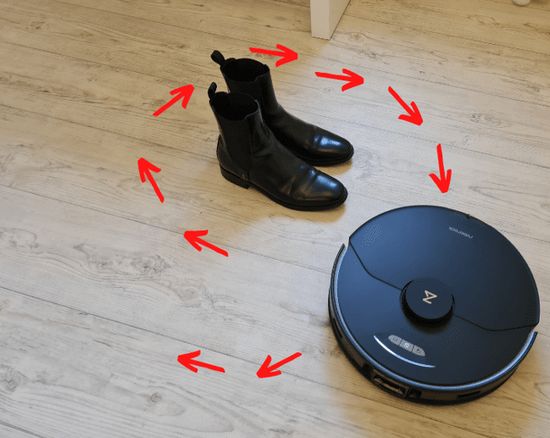 Accordingly, at max sensitivity, the robot slows down and avoids obstacles more carefully. But it can block some passages, identifying them as too narrow.
In fact, ReactiveAI 2.0 eliminates the need to free the surface from small items before cleaning.
Additional options of RGB front camera:
– using as a mobile surveillance camera;
– photos of obstacles (may be useful for finding the remote or keys under the sofa);
– video calls in the apartment (convenient, for example, to communicate with children in a large house).
Protection of personal data:
– TÜV-Rheinland certification (cyber security for consumers of IoT products);
– six-digit camera activation code and voice notification.
Conclusions
With a relatively small difference in price ($ 1,400 vs $ 1,160 vs $ 950 with Self-Empty or Empty Wash Fill docks), the models almost completely cover the premium segment of modern robot vacuums.
The Roborock S7 MaxV Ultra with innovative Empty Wash Fill dock offers complete automation of mopping in large rooms up to 3230 sqft (300 sqm). It also provides high quality cleaning of carpets even with long pile due to great peak suction power up to 5,100 Pa. The S7 MaxV Plus, with similar suction power but without cleaning the wipes and adding water to the onboard container, is ideal for relatively small carpeted spaces. Probably both of these models with a huge number of settings in the Roborock app and a front RGB camera will appeal to progressives. S7+ is an example of reasonable sufficiency for a small apartment without long pile carpets.
MaxV Plus vs S7+:
– higher peak suction power (5,100 Pa vs 2,500 Pa);
– quick map creation and its editing function;
– upgraded narrower floating brush;
– Reactive AI 2.0 with RGB camera to detect flat obstacles;
– front LED spotlight for camera operation in the dark;
– 3D mapping;
– video calls.
This list is probably quite adequate for the $ 200 price difference. But of course, the value of these options depends on personal preference.
This video introduces Roborock S7 Pro Ultra.