For more than half a century, JVC has rightfully been positioned as an innovation leader. An incomplete list of company achievements is impressive:
– the first stereo system – 1957;
– the first video recorder with two heads – 1959;
– the world's first four-head SP / EP VHS VCR – 1978.
In 2009, it was acquired by Japan's Kenwood. In 2011, JVC and Kenwood merged into JVC KENWOOD Corporation.
LCoS technology was developed by JVC in 2013 as a hybrid of DLP and 3LCD technologies. Instead of individual mirrors, it uses liquid crystals, which are applied to a reflective mirror substrate. Depending on polarization, 'open' / 'closed' crystals reflect or block the light from lower mirrors, modulating the light to create an image.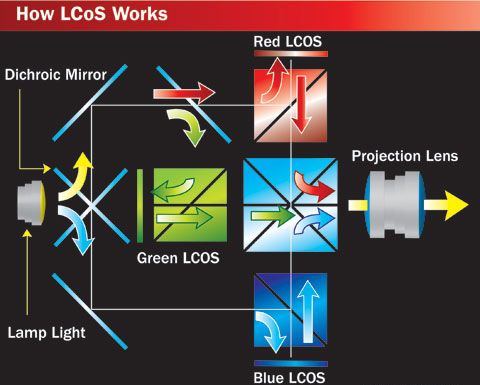 There are currently three versions:
– JVC – D-ILA (Digital Direct-Drive Image Light Amplifier);
– Sony – SXRD (Silicon X-tal Reflective Display);
– Canon – AISYS (Aspectual Illumination System).
Similar to OLED panels, LCoS technology is used in premium models, delivering great contrast due to deep blacks. OLED TVs provide perfect blacks thanks to the lack of backlight. LCoS technology provides a similar result due to the tiny width of the gaps between the liquid crystals, which practically do not transmit light.

Unfortunately, it's expensive to produce.
The latest JVC DLA-NZ series uses BLU-Escent laser light source for the first time and supports 8K with advanced e-shiftX technology. However, this year the company also introduced a 'budget' DLA-NP5 4K lamp projector 'only' for $ 7,000.
NZ 8K series
The new DLA-NZ8/RS3100 with a launch price of $ 16,000 expanded JVC's NZ series of 8K laser projectors. As known, it has replaced the very successful lamp DLA-NX5/RS1000, DLA-NX7/RS2000, and DLA-NX9/RS3000. Unlike Sony, Epson, Hisense and other industry leaders, JVC only introduced solid-state lighting (SSL) projectors last year. As a result, the premium segment was replenished with new magnificent JVC 8K D-ILA projectors with 3d gen BLU-Escent Laser Diode (dynamic brightness control, laser-phosphor).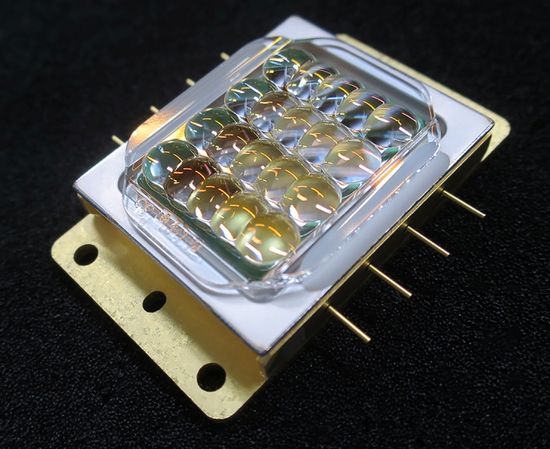 Thus, the list of current premium JVC Home Theater models includes:
– NZ9 / RS4100 (BLU-Escent SSL, $ 26,000) – 8K/e-shiftX (32M pixels) / 3,000lm brightness / 100,000:1 native contrast / 100mm all glass lens;
– NZ8 / RS3100 (BLU-Escent SSL, $ 16,000) – 8K/e-shiftX (32M pixels) / 2,500lm / 80,000:1 / 65mm;
– NZ7 / RS2100 (BLU-Escent SSL, $ 11,000) – 8K/e-shift (16M pixels) / 2,200lm / 40,000:1 / 65mm;
– lamp NP5 / RS1100 ($ 7,000) – 4K (8M pixels) / 1,900lm / 40,000:1 / 65mm.
The jump in prices between NZ9 and NZ8 is not very justified. Sure, flagship offers better brightness, native contrast, and the lens (18-element, 16-group 100mm vs 17, 15, 65mm), but considering the huge $ 10,000 difference, NZ8 has offers the best value for money.
Both models offer:
– new 0.69-inch 4K D-ILA (4,096 x 2,160) device x 3;
– HDR10+ with metadata;
– ~100% DCI P3 with Cinema Filter;
– Frame Adapt HDR (frame-by-frame or scene-by-scene);
– ISF (Imaging Science Foundation) certification and JVC Auto Calibration;
– 2x HDMI (48 Gbps, HDCP 2.3) inputs, 8K@60p and 4K@120p input signals;
– memorable Installation Mode – Lens Control, Pixel Adjustment, Mask, Anamorphic Scaling on/off, Screen Adjust, Installation Style, Keystone, Pincushion, and Aspect.
JVC 8K e-shiftX
As known, pixel shifting was developed by JVC in 2013 for (1,920 x 1,080) chips. In fact, it increases the resolution of the displayed image due to the additional pixels. The projector shifts them on the screen relative to each other, increasing the overall image clarity. In fact, e-shift allowed developers to use significantly cheaper, lower resolution chipsets to display content at higher resolutions.
For example, a projector with a (1,920 x 1,080) chipset takes 4K content (8M pixels), divides it into 4 parts of 2M each, and displays it sequentially on the screen with the image shifted by half a pixel. Pixel shift is performed by tilting the lens. In particular, TI XPR technology in DLP projectors shifts the lens using an XPR module with 4 electromagnets.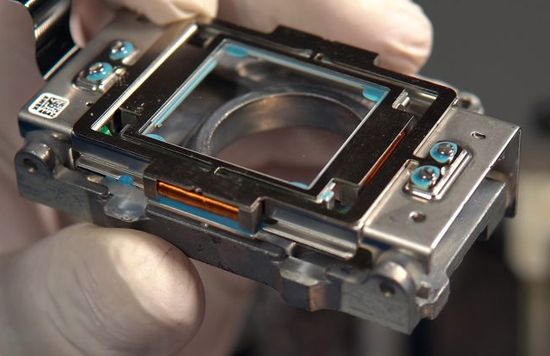 As a result, our eye sees 4 sequentially displayed images on the screen. But because of the high frequency, our brain perceives them as one higher definition picture.
But upscaling works differently. In this case, the projector is shifting identical pixels that are available in the original content. However, the extra pixels also give the illusion of an increase in resolution. To be fair, the very limited range of 8K content makes upscaling a primary mode of 8K models.
Previous JVC e-shift version in DLA-NZ7/RS2100 doubles the amount of on-screen pixels using a two-phase pixel shift at 120 Hz.
Improved 0.69-inch 4K (4,096 x 2,160) D-ILA device has red, green, and blue chip per each primary color and uses four-phase pixel shifting. Moreover, it supports double speed to display images from 120 Hz to 240 Hz-equivalent.
Insteed the conventional two diagonal directions, it shifts pixels in four directions (up / down / left / right), providing 8K-signal display (35M pixels).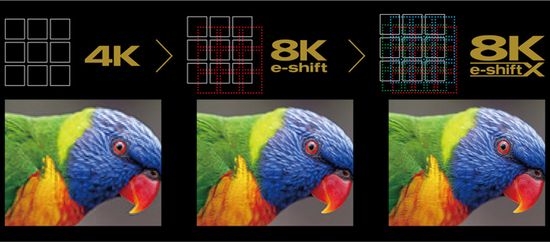 Color modes
This list offers 6 modes for SDR and 10 modes for HDR (3/5 picture modes and 3/5 user picture modes).
SDR
– Film, Cinema, Natural, User 1, User 2 and User 3.
HDR
– HDR10+, Frame Adapt HDR, HDR10, Pana_PQ (for Panasonic UHD players with their own tone-mapping), HLG, User 4, User 5 and User 6.
Natural and User for SDR and Frame Adapt HDR (frame-by-frame) for HDR are brightest.
Each picture mode has various preset and custom color temperatures and color profiles. The User modes correspond to Natural (SDR) and HDR10 (HDR).
Controls:
– 2-point controls for Gain and Offset (white balance adjustment for grayscale);
– Color Management System (CMS) – Hue/Saturation/Luminance adjustments for primary and secondary colors (RGBCMY);
– Various Gamma options.
NZ8 also offers the Cinema Filter. It expands the color gamut from 85% to 96% DCI-P3 (or 98% to 138% Rec.709), but reduces the projector brightness by almost 30%.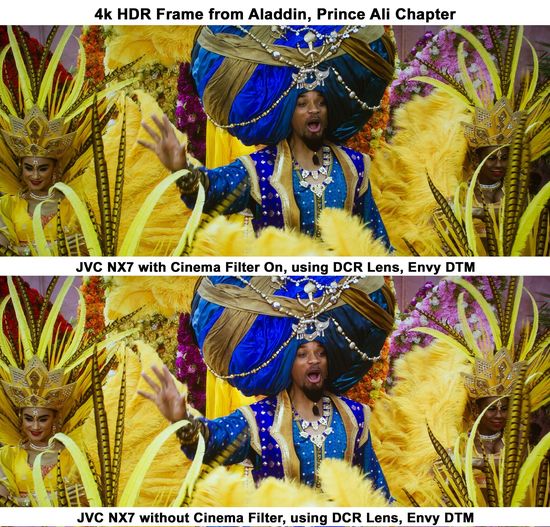 Probably, the wide setting range will appeal to perfectionists striving for the ideal. But, as practice shows, most people choose Natural for SDR and HDR10 / Frame Adapt picture modes for HDR. Traditionally, their are the most accurate out of the box.
The brightness of the projector varies over a wide range:
– SDR – from 840 ANSI Lm for 'Low' Film mode with Cinema Filter to 2,500 ANSI Lm for 'High' Natural or User with High Bright Color Temp;
– HDR – from 1,250 ANSI Lm for 'Low' Frame Adapt HDR (FbF) to almost 2,000 ANSI Lm for any 'High' HDR mode.
Max light loss when shifting zoom to telephoto does not exceed 30%.
Brightness uniformity for a 100-inch diagonal image is over 80% (wide angle zoom), and just under 80% in telephoto zoom.
Video processing and optics
HDR10+ format support with dynamic metadata is another important NZ line improvement. As known, dynamic metadata contains information about the peak brightness for each scene. As a result, the projector displays every frame very accurately. Of course, support for HDR10+ content with great image quality is a huge bonus. Unfortunately, today its range is very limited. However, the more accessible HDR10 content is also perfectly reproduced with efficient Frame Adapt HDR (frame-by-frame or scene-by-scene) dynamic tone mapping. In fact, its algorithm instantly analyzes the HDR10 content peak brightness, and adjusts to the optimal dynamic range.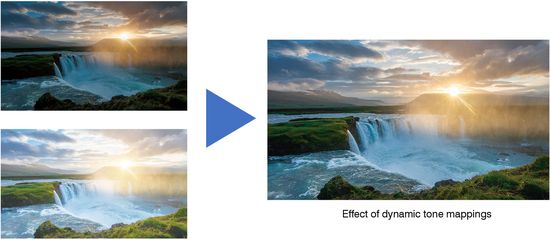 This technology increases gamma processing accuracy from 12- to 18-bit equivalent, providing smoother and finer gradations.
Theater Optimizer further enhances Frame Adapt HDR performance.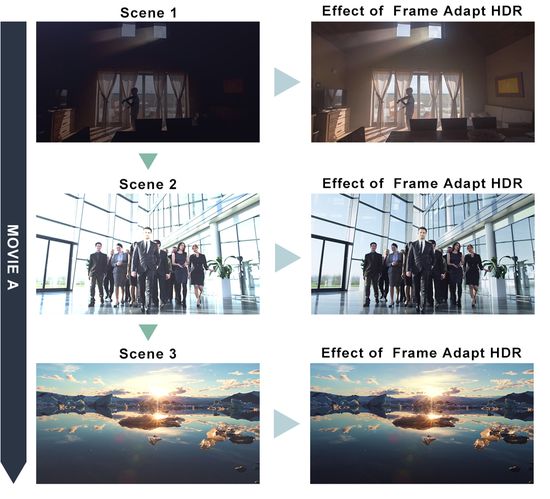 Optimal projector brightness depending on the screen size, gain, settings, etc. With these factors in mind, the Theater Optimizer algorithm adjusts tone mapping when using Frame Adapt HDR. Thus, JVC models with Frame Adapt HDR and Theater Optimizer provide optimum brightness and darkness in each scene for HDR/HDR10+ content.
Auto Tone Mapping function automatically adjusts settings for optimum HDR10 image quality.
New high contrast optical block also corresponds to the premium level.
NZ8 optics
– 65mm diameter, 17-element, 15-group all glass lens;
– supports vertical (±80%) and horizontal (±34%) motorized lens shift;
– 2.0x motorized optical zoom adjusts projection size in the range of 60 – 200 inches (16:9 aspect ratio), depending on throw distance and zoom.
Projector remembers up to 10 settings of lens. In addition, it supports Anamorphic Scaling (aspect ratio change).
A 200-inch image (more than 500 cm) is formed from 21 feet to 43 feet (100-inch image – 10 – 21 feet).
Key features
I/O
– two HDMI 2.1 (48 Gbps, HDCP 2.3, no CEC support);
– RS232 connection;
– USB for service (firmware);
– 3.5mm mini-jack for DC 12v trigger support;
– RJ45 port for LAN connection;
– 3D Synchro port for a compatible 3D emitter.
Gaming
With HDMI 2.1, the NZ series supports full bandwidth of 48Gbps on both HDMI inputs. Of course, this is a significant bonus for gamers. Accordingly, the projector supports 4K@120Hz from newer gaming consoles, including Xbox Series X and PlayStation 5.
Additionally, HDMI 2.1 supports receiving 8K (8,192 x 4,320) content via HDMI 2.1 of PC GPU.
Unfortunately, NZ series does not currently support VRR (variable refresh rate). Low Latency Mode reduces lag from 45-50ms to just over 25ms, immediately reducing responsiveness. But it blocks Dynamic CTRL, which works like a dynamic iris, adjusting the laser light source brightness in dark scenes (Mode 1 and 2).
Input Lag with Low Latency and 8K e-shiftX turned off:
– 1080p@60 / 1080p@120 ~ 40ms;
– 2160p@60 / 2160p@120 – 45ms / 30ms;
– 8k@60 – up to 30 ms.
In general, the NZ8 is an ideal for casual gaming.
According to the specs, fan noise is ~24 dB in Low mode. But in reality it's significantly higher and even exceeds 50 dB in 1 ft behind the device (Power High). To be fair, even 50 dB matches the noise only of 'moderate rainfall'.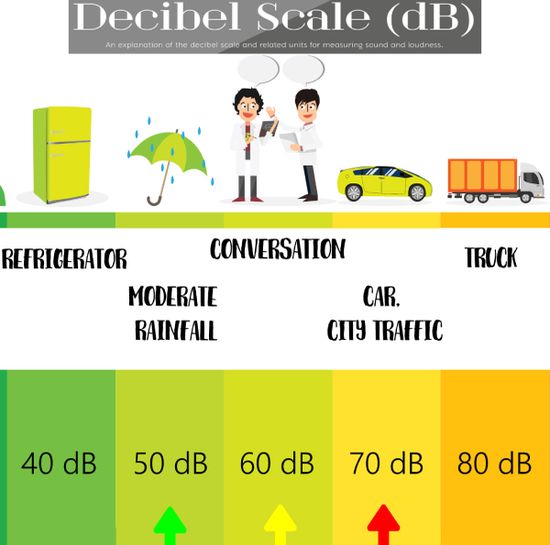 3D support requires 3D emitter (JVC PK-EM2G 3D RF Emitter costs $ 99) and compatible glasses.
Conclusion
Pros
– 3d gen BLU-Escent laser diod light source;
– 2x HDMI 2.1;
– perfect color accuracy;
– flawless HD upscaling;
– HDR10+ Support;
– 8K e-shiftX 240Hz four-phase pixel shifting;
– 'infinite' dynamic contrast with D-ILA technology;
– Full HD 3D;
– many settings;
– great 17-element, 15-group all glass optics with 200-inch screen;
– great image processing (Frame Adapt HDR with Theater Optimizer);
Cons
– high price;
– Cinema Filter significantly reduces light output;
– motion could be smoother.
In fact, the JVC DLA-NZ could be positioned as the next stage in the projector evolution. But traditionally for innovative models, it's unlikely to become a bestseller due to the very high price. Today it reaches $ 11,000 / $ 16,000 / $ 26,000 for DLA-NZ 7 / 8 / 9, respectively. But the cost of a sharp, contrast and bright 8K 200-inch image can hardly be objectively assessed.
In addition, the JVC NZ series actually stands alone today in the 8K Home Theater projector segment. Their comparison with powerful commercial laser models starting at $ 100,000 would hardly be appropriate. Best Hisense, Sony, Epson, etc Home Theater projector are substantially cheaper, but only offer 4K resolution.
Perhaps this is due to quite objective reasons. The extremely limited range of 8K content has severely limited the popularity of 8K compatible TVs and projectors. Today it's available only on expensive Netflix subscriptions or on Blu-Ray discs. In fact, the 8K model only performs upscaling, enhancing the clarity of the original 4K content.
But for cinephiles with a very good budget, the JVC NZ series offers the best picture quality.
This video shows new lamp DLA-NP5 4K projector.