Of course, the explosive growth in popularity of ultra short throw (UST) projectors is the dominant trend in this segment. Already this year their range has expanded due to:
– Hisense PX1-Pro and L5G Laser TVs;
– JMGO U2.
UST projector
As known, their aspherical optics provide an image projection of 100 inches or more from a very short distance. In turn, placing the projector near the screen eliminates the problem of running wires across the floor in the living room or ceiling mounting.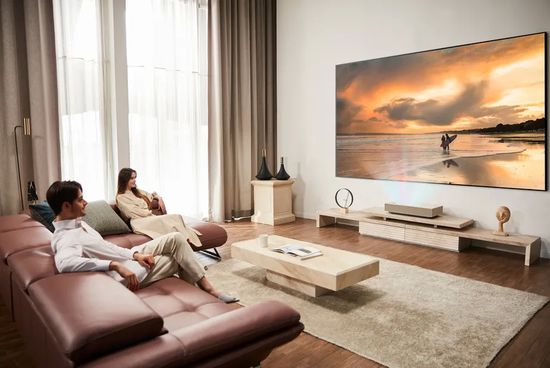 Several additional factors became additional arguments in their favor:
– screen mirroring technologies fixed a content issue for projectors;
– high performance of modern ALR screens significantly reduced the requirements for ambient light level;
– the progress of the semiconductor industry gave a powerful impetus to the development of solid-state light sources, including LEDs and lasers. Increasing their power and lowering prices has allowed developers to drastically reduce the size and noise level of projectors. As known, traditional lamps get very hot, requiring effective cooling. Accordingly, lamp projectors are quite bulky due to the large internal volume, and noisy due to the operation of powerful fans.
All these factors created the prerequisites for positioning UST projectors as an alternative to TVs. As a result, over the past few years, the market has even formed a new segment 'living room' projectors. Today, their brightness and, accordingly, HDR performance is significantly inferior to TVs. But HDR content is currently only available on the Disney Plus, Netflix, or on 4K Blu-ray. Satellite and cable television only offer SDR content that does not require high brightness.
However, providing a screen size of 100 inches or more, projectors are radically cheaper of huge TVs. For example, the price of the cheapest 98-inch TCL 98R754 4K reaches 'only' $ 8,000. Of course, this is a serious argument for fans of the huge screen, who mainly use satellite or cable TV.
Mid-focus projectors
Of course, manufacturers of traditional mid-focus projectors aren't going to give up without a fight. This year, the Home Theater projectors segment expanded with:
– JVC NZ series laser projectors;
– Epson LS12000 and LS11000 3LCD 4K projectors;
– Sony XW series 4K projectors.
In addition, the market has replenished with great Samsung Freestyle portable projector, compact Anker Nebula Cosmos 4K model, and BenQ X3000i 4K gaming projector.
JVC and Sony premium Home Theater projectors use LCoS (Liquid Crystal on Silicon) technology. As known, it was developed by JVC in 2013 as a hybrid of DLP and 3LCD technologies. Today it's used in three versions:
– JVC – D-ILA (Digital Direct Drive Image Light Amplifier);
– Sony – SXRD (Silicon X-tal Reflective Display);
– Canon – AISYS (Aspectual Illumination System).
Similar to OLED TVs, LCoS projectors are positioned as premium models, delivering great contrast due to deep blacks.

In OLED TVs, perfect blacks are achieved through the absence of backlight. LCoS projectors provide a similar result due to the tiny width of the gaps between the liquid crystals, through which very little light passes. Unfortunately, it's expensive to produce.
JVC has significantly revamped their Home Theater projector line with BLU-Escent laser-equipped 8K/e-shift DLA-NZ9, NZ8 and NZ7 (DLA-RS4100, RS3100 and RS2100) projectors. All models have 8K@60p and 4K@120p inputs, but they cost over $ 10,000.
Considering prices of Epson LS12000 ($ 5,000) and Sony VW5000ES ($ 6,000), JVC decided to create their own 'budget' version. In fact, the $ 7,000 lamp-based DLA-NP5 (DLA-RS1100) replaces the $ 6,000 NX5. But unlike new Epson, it's fully compatibe with 1080p 3D and supports dynamic tone mapping.
Main specs
The company positions the NP5 as a gaming Home Theater model.
Specs
– brightness – 1,900 ANSI Lumens;
– 4K (4,096 x 2,160) resolution;
– native contrast – 40,000:1 (full on/off);
– dynamic contrast – 400,000:1 (dynamic iris);
– display type – 2 cm D-ILA x 3;
– color processing – 10-bit;
– Full HD 3D;
– lamp type – 265W NSH bulb;
– included lens – 2x powered zoom and powered focus;
– lens shift (horizontal / vertical) ± 34% / ± 80%;
– Throw Distance – 3.7 m – 6.3 m;
– Image Size – 60″ – 200″ (151 – 509 cm);
– Throw Ratio – 1.40:1 – 2.80:1 (D:W);
– digital keystone – vertical only;
Features
– Frame Adapt HDR.
Frame Adapt HDR tone-mapping was first implemented in the DLA-NX9, NX7, and NX5 in October 2019. In essence, it acts as a metadata for Dolby Vision, providing frame-by-frame or scene-by-scene image optimization based on real-time content analysis.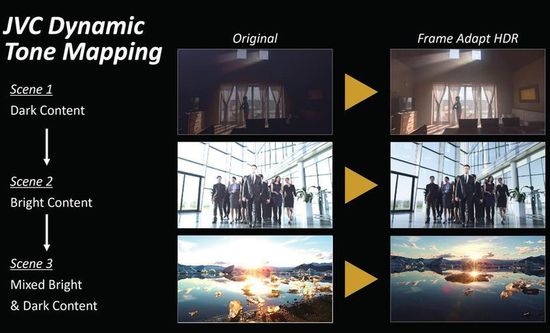 In fact, Frame Adapt replaces manual tuning while still providing very high accuracy. But manual calibration is also available;
– Anamorphic Ready.
The projector is compatible with anamorphic lens.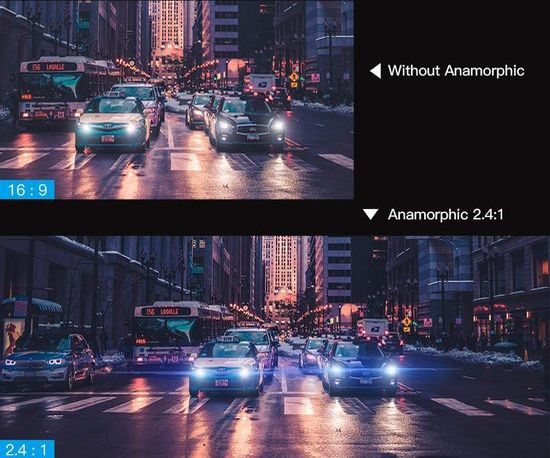 – the DLA-N5 uses a 17-element, 15-group all glass lens with 65 mm diameter, providing focusing to all screen corners.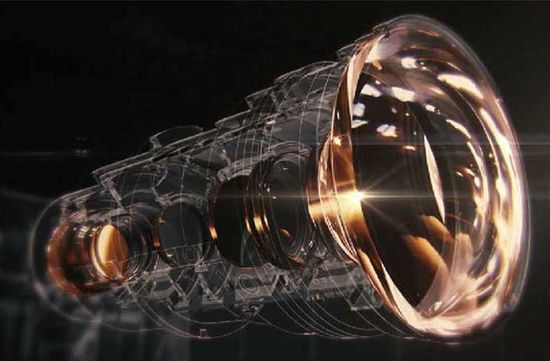 – 0.69-inch native 4K D-ILA device;
– 4K@120p input for Low Latency Mode in games;
– HDR10+ (content metadata processing with luminance information for each scene). By comparison, HDR10 uses only MaxCLL (Maximum Content Light Level) for maximum brightness of the content, and MaxFALL (Maximum Frame Average Light Level) for the brightest average frame;
– 2x 48Gbps HDMI 2.1 inputs to accept 8K/60fps and 4K/120fps signals;
– frame interpolation;
– lens memory.
Key Features
The projector uses 3x 0.69-inch 4K D-ILA devices with a native 4K (4,096 x 2160) resolution without pixel shifting.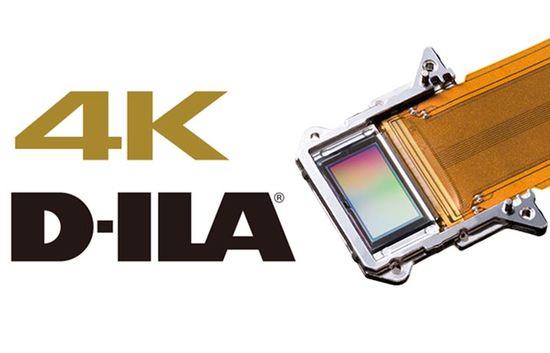 In fact, the lack of 8K/e-shift with support for 8K signals is its main difference from JVC's updated laser projector line.
The NP5 has Theater Optimizer feature in Frame Adapt HDR mode to fine tune the HDR image. But it requires data on screen diagonal, aspect ratio, and screen gain.
The remote with soft backlight has not changed.
DLA-NP5 offers Natural (most accurate 'out of the box'), Cinema (higher brightness of grays), and three User picture modes (User 1 / 2 / 3) for SDR.
HDR content:
– Frame Adapt HDR;
– HDR10;
– Pana-PQ for Panasonic DP-UB9000 UHD Blu-ray player;
– HDR10+ (automatically selected if HDR10+ signal is available);
– HLG for the HDR broadcasting standard;
– three User modes (User 4 / 5 / 6) with calibration for HDR10 and HLG signals.
But for most content, the difference in video processing between HDR10+ and dynamic tone mapping of Frame Adapt HDR is almost non-existent.
The calibration includes two-point grayscale and RGBCMY color points. However, the projector demonstrates great pre-setting 'out of the box'.
Color volume (HDR signal):
– more than 130% of Rec.709;
– almost 90% of DCI-P3;
– 60% of BT.2020.
For comparison, its competitor Epson LS12000 demonstrates 93% of DCI-P3. But in general, they are quite consistent with the modern premium level.
In games, the Low Latency setting in the Motion Control submenu reduces it to around 40ms. But it's only available for HDR10 picture mode. 3D performance is great.
JVC DLA-NP5 vs Epson LS12000
Despite the different light sources and projection technology, the DLA-NP5 will have to compete with the Epson LS12000.
Unlike a competitor, JVC has:
– 3D support;
– dynamic tone mapping;
– native 4K resolution without pixel shifting.
But Epson:
– cheaper ($ 5,000 vs $ 7,000);
– brighter (2,700 ANSI Lm vs 1,900 ANSI Lm);
– input lag 19.5 ms for 4K@60 vs 40 ms;
– life time of laser is 20,000 hours vs 4,500 hours of $600 bulb in Low mode.
Both projectors support HDR10+ for dynamic tone mapping with HDR content. But Frame Adapt HDR in JVC works in automatic mode. However, setting the HDR Dynamic Range slider in Epson somewhere in the middle is also not very troublesome and provides high HDR performance.
Conclusion
Pros
– great HDR with dynamic tone mapping;
– HDR10+ support;
– excellent black level and color accuracy;
– native 4K resolution without pixel shifting;
– 17-element, 15-group all glass lens;
– great 3D performance;
– 2x HDMI 2.1.
Cons
– $ 7,000;
– sometimes excessive brightness due to mechanical iris;
– no internal speakers;
– Bulb Lamp Life is only 4,500 / 3,500 hours in Low / High Lamp Power modes (replacement costs $ 600).
This year, manufacturers of Home Theater projectors have introduced new lines of their products at the bottom of the premium segment. As a result, the market has expanded with relatively affordable great models. This list includes:
– Epson LS12000 and LS11000 3LCD 4K projectors – $ 5,000 and $ 4,000;
– Sony XW series 4K projectors, including VW5000ES for $ 6,000;
-JVC DLA-NP5 4K projector for $ 7,000.
All models use efficient image processing algorithms to deliver excellent image quality.
Differences:
– Epson and Sony – laser (life span 20,000 hours), JVC – bulb (4,500 / 3,500 hours, replacement costs $ 600);
– Epson – 3LCD technology (same brightness of white and colors), Sony and JVC – LCoS technology (SXRD and D-ILA versions, great contrast due to deep black);
– Sony and Epson – 4K resolution with pixel shifting, JVC – native 4K resolution;
– Epson and Sony – no 3D, JVC – Full HD 3D.
Of course, the choice depends on individual preferences. JVC is ideal for 3D fans, Epson wins with a limited budget, Sony – 'golden' mean.
This video introduces JVC's 2022 projector line.