Probably, many people know Anker as one of the leaders in the charging technology segment. It successfully develops, manufactures and sells wireless and car charging, etc.
But in the past few years, the company has expanded its scope with portable smart projectors under the Nebula brand. This line includes the Nebula Mars and Nebula Capsule series. In November 2017 the company introduced the Nebula Capsule with an extravagant Soda-Can Design design.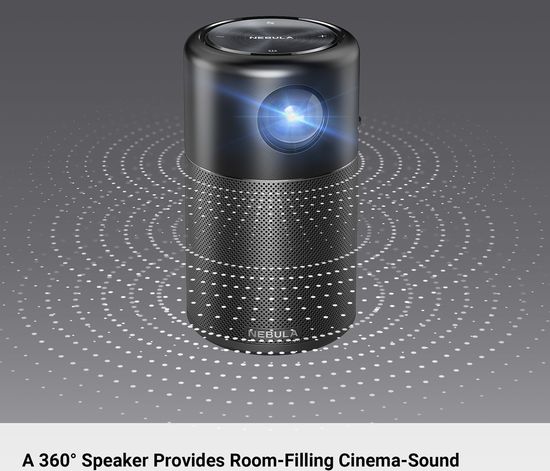 Measuring just 12 cm x 7 cm x 7 cm and 1.0 lbs in size and weight, Nebula Capsule with an extravagant Soda-Can Design can be positioned as a pico projector.
In the spring of 2018, the company introduced non-compact Nebula Mars Lite and Nebula Mars II with other design, size and weight (14 cm x 12 cm x 18 cm and 3.3 lbs).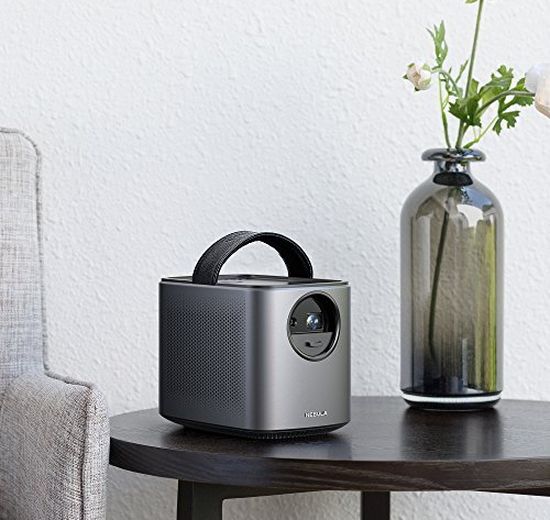 Their have 10.0 W × 2 speakers, delivering great sound.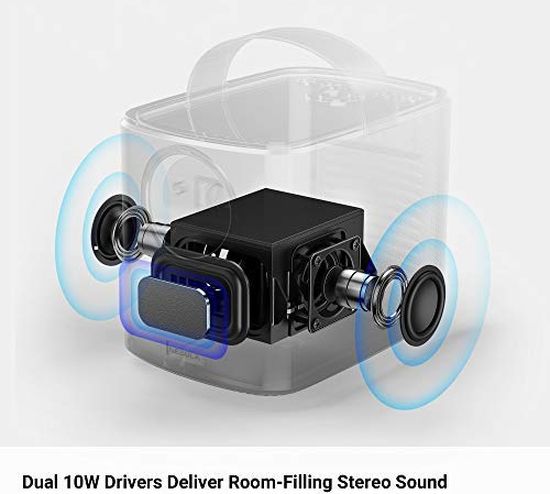 Excellent value for money provided them place among the bestsellers. The reaction of the developers to the success was adequate, and for several years the company introduced several new models. Today Anker's lineup includes:
– Nebula Capsule II and Nebula Mars II Pro LED projectors;
– Nebula Cosmos Max LED projectors (1080p and 4K).
The latest Nebula Cosmos 4K is first Anker's laser projector. Due to the almost identical name, some may confuse these models, but they are significantly different. Cosmos Max is a LED projector (RGB LED image engine) with a brightness of up to 1,500 Lm and a cost of $ 1,600. Cosmos Laser 4K is a new laser model (ALPD laser) with a brightness of 2,400 Lm and a cost of $ 2,200.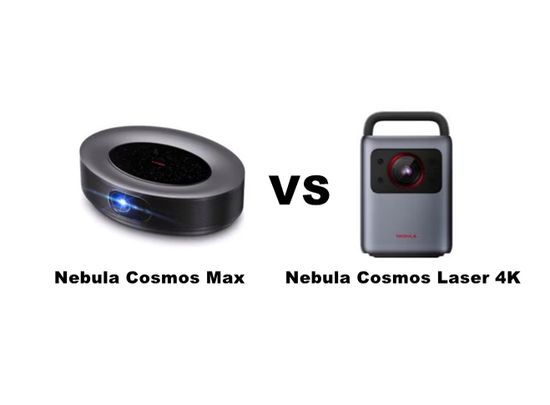 Specs
ALPD 3.0 Image Engine
Appotronics Corp developed its hybrid Advanced Laser Phosphor Display (ALPD) technology in 2007, and today it has four generations. ALPD combined pros & cons of phosphor and laser. In fact, ALPD is a fluorescent laser technology for image display that uses laser-excited fluorescent materials and mixed multi-color laser lines.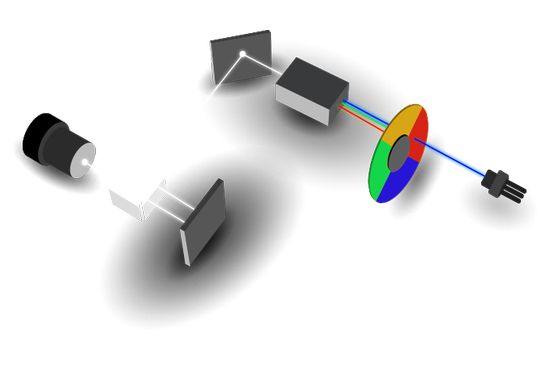 A brighter ALPD 2.0 version was developed in 2012 for laser TV.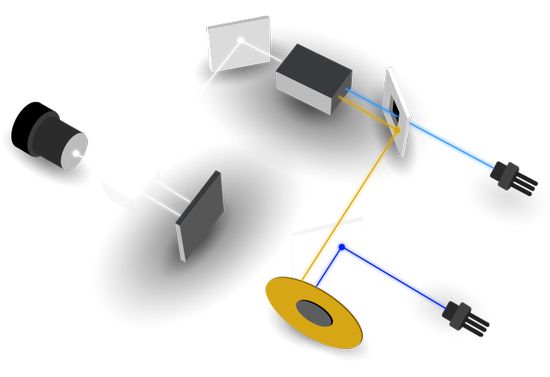 In 2015 the company introduced ALPD 3.0 version for cinemas. Basically, it uses red and blue two-color laser + phosphor technology.
Pros:
– light source efficiency increased by 20%;
– DCI P3 color gamut;
-100% color brightness.
Finally, in 2018 the company introduced ALPD 4.0 version (phosphor + laser, color gamut up to 98.5% of Rec.2020, cinema contrast of 2,500:1 and 30% more light efficiency).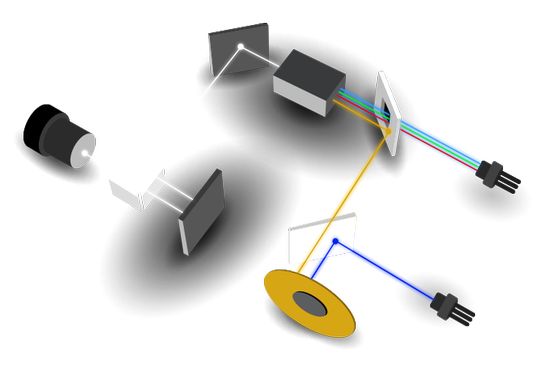 Today it's used, for example, in the $ 3,500 VAVA Chroma VA-SP003 projector.
Specs
– 2,400 ANSI lumens brightness;
– 4K UHD (3,840 x 2,160) resolution
– 1,500,000:1 dynamic contrast ratio;
– 60″ – 150″ (152 – 381 cm) Image Size with 5.51 – 13.85 feet (1.7 m – 4.2 m) Throw Distance at 1.27:1 Throw Ratio;
– 100% Rec.709;
– Full HD 3D;
– auto keystone correction (horizontal & vertical Digital Keystone), auto focus and auto screen fit;
– Android TV 10.0;
– Chromecast built-in;
– Streaming Apps, Google Assistant and Dolby Audio support;
– 2x 10.0W internal speakers.
4K resolution
Cosmos Laser 4K uses a 0.47-inch DMD DLP chipset with XPR technology. As known, it displays 4K (3,840 x 2,160) content, although the native resolution of chipset is only 1080p. In fact, the projector takes 4K content, splits it into four parts of 2 million pixels each, and plays 4 separate frames, transmitting the entire 4K volume with only 2 million pixels.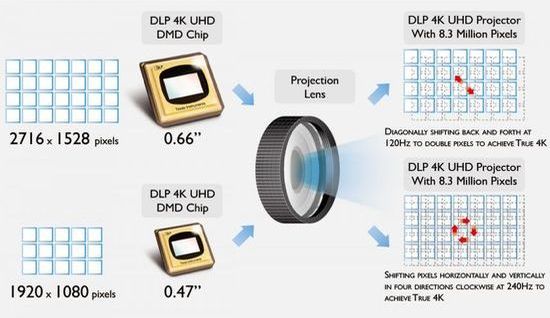 Strictly speaking, at any moment the image contains only 2 million pixels (1080p resolution). But our vision and brain do not perceive the micro delay between shifting and pixel playback. The pixel shift is carried out due to a small tilt of lens using four electromagnets in the XPR module.
A few years ago this technology has opened up a new segment of relatively cheap 4K-compatible DLP projectors. Moreover, last year Texas Instruments has already introduced a new 0.65″ DLP650TE chipset with four-phase pixel shifting and an increased micromirror pitch from 5.4 µm to 7.6 µm due to the reducing their number from (2,716 × 1,528) to (1,920 × 1,080). Today it's already used in the new gaming BenQ X3000i 4K. Increasing the micromirror pitch up to 7.6 µm should reduce noise, increasing image quality accordingly. The new chipset promises a significant increase in the competitiveness of DLP projectors.
But the new Anker series also includes Nebula Cosmos Laser 1080p with a chipset without XPR technology. Except for the resolution, it has similar specs but only costs $ 1,700.
Key Features
For SDR / HDR, the projector has Standard, Vivid, Soft, Movie, Game, and Picture Custom picture modes. The last mode offers adjustments for contrast, color saturation / temperature, sharpness, and gamma. Unfortunately, it does not support settings for grayscale and CMS (color management system).
'Out of the box' color balance shifted to blue, which is less pronounced in Movie and Picture Custom (Warm color temperature) modes. It's due to the increased color temperature up to 7,700K.
As known, industry standard is 6,500K. However, some companies deliberately set some modes to 7,500K for viewing in modest ambient light. But in the dark it gives a blue shift.
The measured color volume is:
– 108% of BT.709;
– 74% of DCI-P3;
– 50% of BT.2020.
Despite the compact, the projector provides good depth to the 3D image, and supports Side-By-Side & Over-Under 3D formats.
Unfortunately, the projector does not deliver the claimed 2,400 lumens. Realistically, max brightness only exceeds 1,700 ANSI lumens in Standard mode (with a blue tint). However, this is also a high result for a portable projector.
Sound is one of its main pros. The projector has Standard, Music, Movie and News modes. In addition, it offers Audio Custom with three sliders for treble, midrange, and bass. Music mode is tuned towards higher frequencies. Movie provides a more robust sound with extra bass and is more versatile.
The remote has four direct-access buttons for YouTube, Prime Video, Disney+, and even to Netflix. As known, many modern Android projectors do not offer Netflix.
Conclusion
Pros
– quick auto setup (auto keystone, auto focus, and auto screen fit);
– 3D support;
– great sound;
– Netflix.
Cons
– high price;
– no internal battery;
– color balance shift to blue;
– no access to settings via remote;
– no HDMI 2.1.
Until a few years ago, a price of around $ 2,000 for a 4K projector could be positioned as dumping. But DMD DLP chipsets with XPR technology have changed the situation significantly. For example, this year BenQ has already introduced gaming BenQ X3000i DLP 4K for only $ 2,000. At the same time, the model provides 3,000 ANSI lumens brightness, 100% DCI-P3 and Input Lag from 4ms for 1080p@240, up to 16ms for 4K@60.
The compact Nebula Cosmos Laser 4K has excellent setup features, 3D support, great sound and offers access to Netflix. But the MSRP of $ 2,200 seems a bit high. Of course, a price drop, for example, to the level of $1,500 (special offer for early orders on Kickstarter) radically eliminates this problem. But today the Nebula Cosmos Laser 4K is $ 200 more expensive than the BenQ X3000i.
New Ultra Short Throw (UST) LG CineBeam HU715Q priced at $ 3,000 is no less formidable competitor. With similar specs, it offers great LG's image processing algorithms and powerful sound. In addition, its optics provide a projection of up to 120 inches diagonally when placed close to the screen. Of course, such placement eliminates problems with wires on the floor or ceiling mount. Accordingly, like any UST projector, it can be positioned as an alternative to TV in the living room.
Video presents the compact Anker Nebula Cosmos Laser 4K projector.