Probably Sony BRAVIA XR A95K with innovative QD-OLED panel from Samsung Display can rightly be positioned as one of the main sensations of CES 2022. Of course, many expected a similar model from Samsung, but the South Korean giant has postponed the launch date. The main specs of Samsung S95B were announced in March and the TVs are already available.
Samsung S95B series includes two Quantum HDR 4K TVs. Its 'Laser Slim Design' has minimal bezel and an ultra-thin side profile, which is made with 'Bezel-less' technology.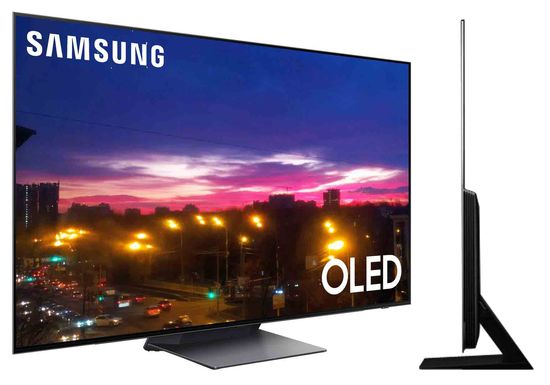 Unlike Sony, Samsung does not use the term 'QD-OLED', preferring 'Samsung OLED technology'.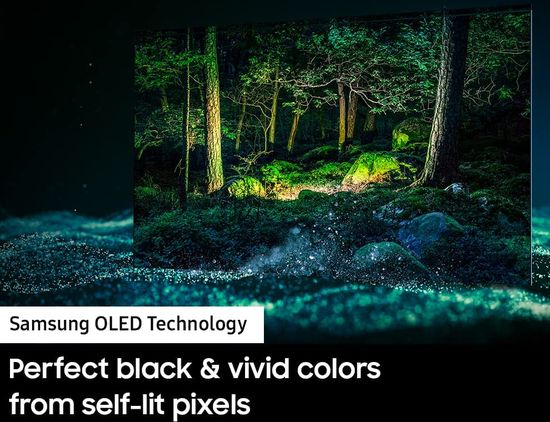 Perhaps the company initially positions this series as a competitor to LG OLED TVs. But unlike traditional OLED panels from LG, Sony and Philips with a W-RGB display (white, red, green and blue sub-pixels), the Samsung S95B uses a 'pure' RGB OLED display.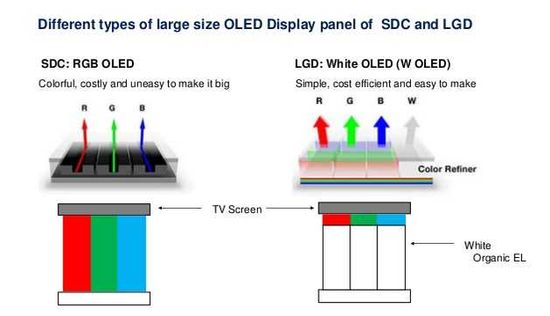 As known, LG W-OLED technology uses white organic light emitting diodes (OLEDs) to form colors using an RGB matrix and to increase peak brightness. Unfortunately, 'unfiltered' white reduces color accuracy by reducing them saturation.
RGB OLED without white provides red, green and blue sub-pixels for each pixel. Blue OLED emitters are the light source for green and red filters. In fact, they are a matrix with sputtered microparticles ('quantum dots'), the size of which corresponds to the wavelengths of green and red.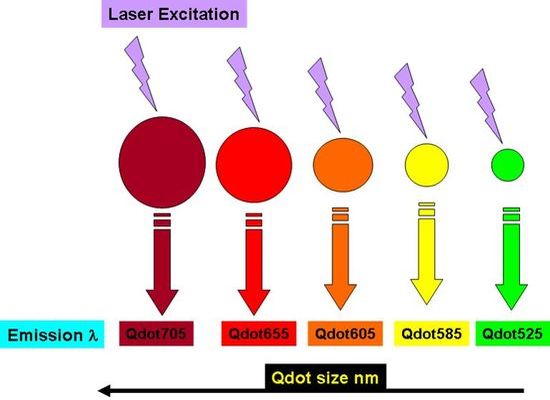 'Absorbing' blue, they re-emit red or green.
This architecture ensures maximum color fidelity even at the peaks of brightness.
Max refresh rate of the matrix reaches 120 Hz and is available for one of four HDMI 2.1 ports. The native frequency of the matrix can reach 144 Hz.
Key features
S95B
– 10bit OLED (RGB QD-OLED) matrix;
– new 'Neural Quantum 4K' w/ 4K upscaling and scene-by-scene optimization based on built-in color map.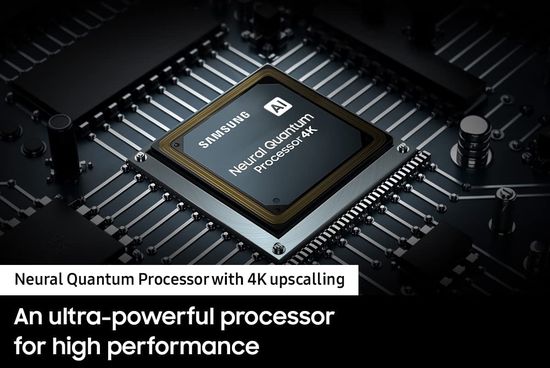 – Tizen 6.5 platform;
– 60W 2.2.2 CH audio system with Dolby Atmos support, 'Samsung Object Tracking Sound' and 'Q-Symphony';
– Quantum HDR OLED (expands the dynamic range).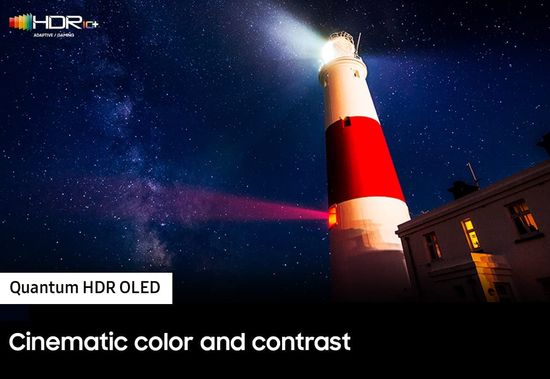 – Motion Xcelerator Turbo+ (up to 4K@120Hz);
– HDR10, HDR10+, HLG, HDR10+ Adaptive and HDR10+ Gaming (auto-calibration).
As known, HDR10+ Adaptive is a free, open standard for hardware and content manufacturers. Using the sensor, it analyzes the ambient light, integrates the result into dynamic metadata, and optimizes the brightness and contrast of the scene, ensuring optimal settings in any light;
– anti-reflective coating.
Screen glare is known to be one of the problems with OLED TVs. Samsung has developed and has been using a very effective anti-glare screen coating for QLED TVs for several years. Its use in the S95B virtually eliminated this problem;
– four HDMI 2.1 ports with ALLM, eARC and VRR support, built-in triple tuner, 2x USB 2.0, Ethernet, Wi-Fi, S/PDIF (digital output for audio) and CI (Common Interface) slot for CAM -module (Conditional Access Module for unlocking encrypted paid channels).
Calibration
'Out of the box' vs post calibration
– White Balance dE 1.75 / 0.26 (Good value < 3);
– Color dE 1.00 / 0.95 (Good value < 3);
– Gamma 2.13 / 2.19 (2.1-2.3);
– Color Temperature 6.505K / 6.564K (6.500K).
The Samsung S95B has full coverage of the DCI-P3 color space and reaches 90% for Rec. 2020. But 'Auto' Color Space setting is not available yet. Unfortunately, 'Native' mode for HDR content is less accurate.
Other
The ultimate goal of the new hybrid QD-OLED technology was to combine all the pros of OLED and QD (quantum dots) technologies. Comparison with the OLED (W-OLED) panel in LG C2/G2 demonstrates its efficiency. In particular, in the 2% window, the colors of Samsung are twice as bright compared to LG – red / green / blue (nits) – 200 vs 90 / 740 vs 320 / 54 vs 35.
Testing also shows high results. Peak SDR brightness ranges from 200 nits (cd/m²) in 100% window to almost 500 nits in 25% window. Wherein, max image brightness in 'Dynamic' Picture Mode, with 'High' Contrast Enhancer, 'Max' Contrast and 'Standard' Color Tone reaches almost 550 nits for a 2% window.
Peak HDR brightness ranges from 200 nits (cd/m²) in 100% window to over 1200 nits in 2% window. For small highlights, it briefly reaches even 1500 nits, but is only available in the 3% and 5% window. Of course, these values are not available for traditional W-OLED panels. Samsung once again proves that their TVs are the brightest.
Pros
– near-infinite contrast ratio;
– very wide color gamut;
– great reflection handling;
– wide viewing angle;
– very bright colors.
Cons
– dependence on ambient light (too deep black even with low level);
– no One-Connect-Box ('stand' for wires);
– excessive dimming of bright areas in some scenes due to too aggressive ABL (Automatic Brightness Limiter);
– no Dolby Vision.
Conclusion
Overall, the innovative hybrid has successfully combined the great contrast of OLED technology due to perfect blacks, and the wide color gamut, high color accuracy and vivid colors of quantum dot technology. These factors give it excellent marketing prospects.
Like the Sony XR A95K, the S95B series is available in 55″ and 65″, but the Samsung is substantially cheaper. Today their price is (Sony XR A95K vs Samsung S95B):
-55-inch – $ 3,000 vs $ 2,200;
-65-inch – $ 4,000 vs $ 3,000.
Of course, competitors use their brand's major innovations, for example, the latest Samsung Neural Quantum 4K and Sony Cognitive Processor XR. Both companies are traditionally famous for their efficient image processing algorithms and sound technologies. But the $ 1,000 difference is a significant bonus in favor of Samsung.
The new LG G2 / C2 OLED TVs are no less formidable competitors. The results of their comparison with Samsung S95B are ambiguous.
Samsung S95B vs LG C2 / G2 OLED:
– S95B has better color volume and brighter colors;
– black levels of LG are less dependent on ambient light;
– LG supports Dolby Vision and provides a slightly more accurate HDR experience.
Prices are almost identical (S95B vs C2 vs G2):
-55-inch – $ 2,200 vs $ 1,800 vs $ 2,100;
-65-inch – $ 3,000 vs $ 2,500 vs $ 3,200.
Curiously, after lowering the launch price, the Samsung S95B can become a competitor to last year's bestseller Samsung QN90A, the 65-inch version of which costs $ 1,700 today.
This video proving support for 4K 144Hz refresh rate by Samsung S95B QD-OLED, despite only being officially specced with a maximum refresh rate of 4K 120Hz.