For several years now, projectors have been one of the most dynamic consumer electronics segments. Even 10 years ago they were divided into expensive Home Theater models and 'kids' cartoon projectors. But progress in related industries has radically changed the situation.
Introduction
Main factors
– huge advances in the semiconductor industry have provided developers with powerful and relatively inexpensive LEDs and lasers, which have become the basis of a new generation solid-state light sources. Unlike traditional high pressure mercury UHP (ultra high performance) lamps, which were developed by Philips in 1995, they practically do not heat up. This factor allowed manufacturers to abandon powerful cooling fans, the noise of which reached 60 dB. In addition, they radically reduced the size of the projectors. In lamp models, a large internal volume is necessary for efficient heat dissipation. Finally, LEDs and lasers have a lifespan of over 20,000 hours, virtually eliminating the need to replace them;
– the screen mirroring technologies has practically eliminated the content problem for projectors;
– new projector screens radically increased the light reflection, reducing the requirements for the ambient lighting level;
– finally, the progress of optics for projectors has contributed to lower prices for ultra-short throw (UST) models. As known, they are placed almost close to the screen, eliminating the problem of wiring in the room center.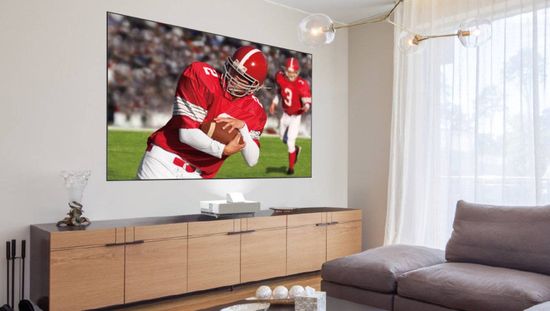 To solve this problem, traditional mid-focus models are often mounted on the ceiling, which requires additional costs. Of course, using a coffee table near the sofa is more convenient, but the wires on the floor in the living room are also hardly an ideal solution. UST projectors do not have these problems, providing screen sizes up to 130″ and even more from a distance of several tens of inches.
The combination of these factors created the prerequisites for the rapid growth in the popularity of projectors. Moreover, today the market has even formed a separate segment 'living room' projectors, which are positioned as an alternative to a huge TV.
Classification
Of course, a huge range of models is always a plus for the consumers, but it requires at least a simplified classification. Taking into account the functionality and price, companies very conditionally distinguish the following groups:
– portable (pocket, mini, pico, ets) – usually not very bright (500-700 ANSI lumens) and not expensive ($ 100 to $ 1,000) LED projectors. Great portable Samsung Freestyle LED projector for $ 900 with very wide functionality is one of the best models of this year.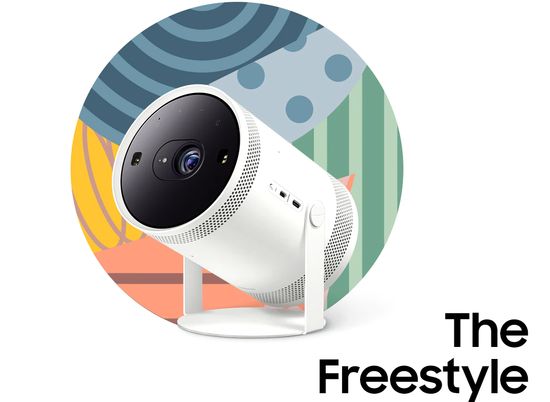 – gaming projectors optimized for gaming (very low input lag, special modes for different types of games, etc.) Today, a $ 2,000 BenQ X3000i DLP 4K LED projector with a new .65-inch chipset can be positioned as one of the best. In fact, it became an improved version of last year's very popular BenQ X1300i DLP 1080p projector, which costs $ 1,300 today;
– UST models, which are positioned as an alternative to TVs. This year's model list includes LG CineBeam HU715Q ($ 2,500), JMGO U2 ($ 3,000), and Hisense PX1-Pro ($ 3,500) with Trichroma technology based on triple laser. The company also introduced the Hisense L5G, which doesn't use triple laser, costs $ 5,000 and comes with screen;
– mid-focus Home Theater projectors, including Epson LS12000 / LS11000 3LCD 4K ($ 5,000 / $ 4,000) and Sony VPL-XW5000ES / 6000ES / 7000ES LCoS 4K ($ 6,000 / $ 12,000 / $ 28,000).
Of course, this classification is rather arbitrary, but it helps to simplify the choice at the first stage. Features of image projection technology and light engine are more informative and can be useful at the second stage.
For projection, modern projectors use DLP, 3LCD and LCoS technologies.
LEDs, lasers and their hybrid variations dominate the solid-state light sources today.
DLP projectors
All DLP projectors use the Digital Micromirror Device (DMD) with DLP chipset from Texas Instruments, which contains several million aluminum micromirrors. By controlling their tilt with a 2D array of 1-bit CMOS memory cells under the mirrors, the projector creates the colors of the image's sub-pixels.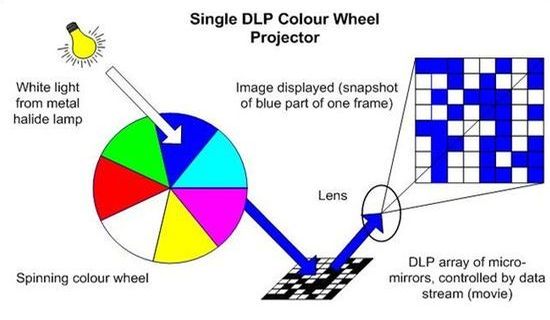 This technology uses the color wheel as a color filter to form red, blue and green. Unfortunately, filtering each color in each cycle is accompanied by a loss of color brightness of the other two, reducing the overall brightness. In addition, the reproduction of contrasting dynamic scenes may be accompanied by a rainbow effect.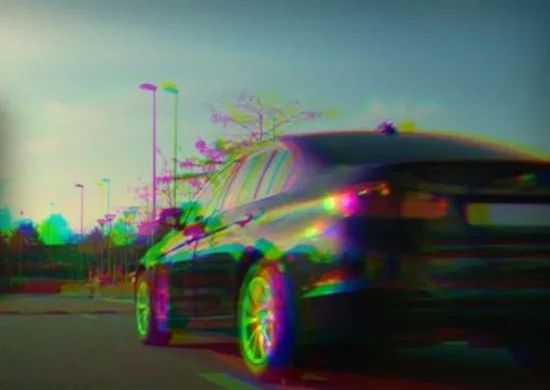 Today, this technology is most popular in the budget and mid-budget models. But the new 4K-capable TI DLP650TE chipset with four-phase pixel shifting and micromirror pitch of 7.6 µm creates excellent prospects for its further development. Previous chipsets:
– .47″ (1,920 × 1,080) chipset with four-phase pixel shifting and micromirror pitch of 5.4 μm;
– .66″ (2,716 × 1,528) chipset with two-phase pixel shifting and micromirror pitch of 5.4 μm.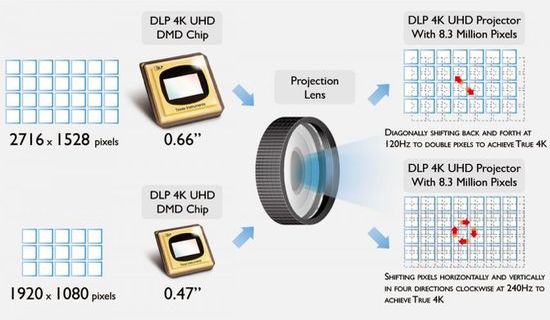 As a result, increasing the micromirror pitch to 7.6 µm reduces noise for sharper images. Wherein, the four-phase pixel shift allows the projector to reproduce 4K content with a 1080p-only chipset. In fact, this technology takes 4K content, splits it into four parts of 2 million pixels each, and plays 4 separate frames, shifting them relative to each other with the help of lens rotation. The lens is shifting 4 times per second using 4 electromagnets.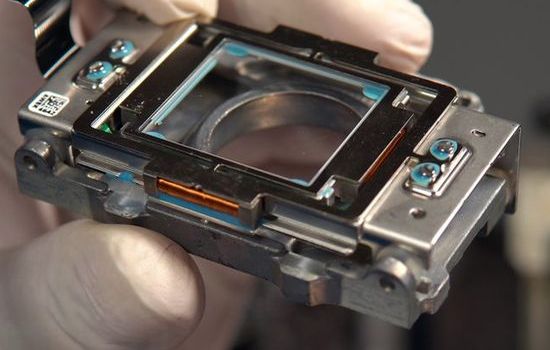 In fact, this technology has allowed companies to develop relatively inexpensive 4K-capable projectors on the 1080p chipset.
3LCD and LCoS projectors
Epson dominates the 3LCD projector segment. Their three-chip architecture does not use a color wheel, providing the same brightness of white and colors, which is one of the main pros of this technology.
Of course, the company focuses the attention of consumers on this aspect, indicating brightness of White and CLO (Color Light Output) in the specs, which are always identical.
In 2014, Japanese JVC developed LCoS (Liquid Crystal on Silicon) technology as a hybrid of DLP and 3LCD technologies. It uses reflective LCD matrices instead of transparent ones. A layer of liquid crystal on the reflective surface reflects or blocks light, creating a picture. Due to the tiny width of the gaps between liquid crystals, LCoS projectors deliver near-perfect blacks while letting in very little 'background' light. Unfortunately, they are significantly more expensive due to complex manufacturing.
Today LCoS exists in three versions:
– Sony – SXRD (Silicon X-tal Reflective Display);
– JVC – D-ILA (Digital Direct Drive Image Light Amplifier);
– Canon – AISYS (Aspectual Illumination System).
This technology is used in premium home theater models that typically cost over $ 10,000. Therefore, the new relatively cheap Sony VPL-XW5000ES 4K SXRD priced at 'only' $ 6,000 could be a nice sensation this year.
Light engines
The light engine determines the projector brightness, which directly affects HDR performance and ambient lighting requirements. As known, ambient light "makes" the image dull and faded. This problem is solved with:
– high projector brightness;
– room darkening;
– ALR or UST ALR (for UST models) screen.
Of course, high projector brightness is the simplest and most convenient solution to this problem. Therefore, companies are constantly improving this component. For example, the latest BenQ X3000i and BenQ X1300i projectors use 4LED light source (RGBB), including (red+green+blue) LEDs, and a blue 'pump' LED, which boosts overall brightness. The ceramic phosphor converts additional blue to green, the brightness of which is best perceived by the eye.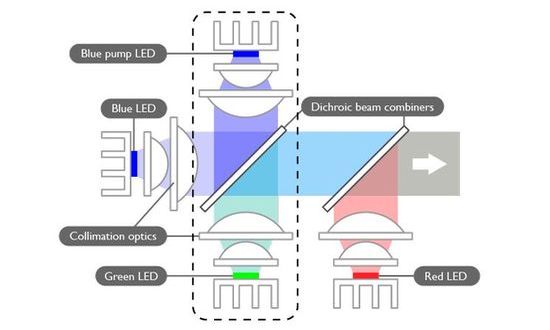 According to the company, the 'pump' LED increases the output of green light by 40%, increasing overall brightness by 8-12%.
Increasing the number of lasers has become another improvement direction of light engine improvement.
Single-laser model with color wheel uses a blue laser to generate blue. The green and red are created using phosphors. This architecture is cheaper, but the color wheel reduces the light output, worsening the color saturation. In addition, the "phosphor" color accuracy is significantly lower vs coherent laser radiation. Therefore, expensive professional models have been using three lasers without phosphors for a long time.
Triple laser projector vs single-color laser.jpg
A high price limited this solution in 'non-professional' models. But reducing the cost of lasers changed the situation, and in 2019 LG introduced HU85L projector with blue and red lasers. Last year, Hisense and JMGO presented L9G TriChroma and JMGO U2 using three lasers. This year, Hisense has expanded the TriChroma series with the PX1-PRO. These models provide an unparalleled color gamut, covering more than 107% of the BT.2020 color space.
TriChroma Laser TV
The Chinese giant calls the triple laser models 'laser TVs'. Perhaps it will make the physicist smile skeptically. But formally, any projector with a built-in TV tuner can be positioned as a TV with a screen outside the case. To be fair, Epson, BenQ, LG, Optoma and other industry leaders prefer to call similar models UST projectors.
Of course, the brightness of projectors is radically lower vs TVs. The last year's brightest 65-inch Samsung Neo QN90A delivers peak HDR brightness of almost 1,800 nits! By comparison, the brightest projectors typically deliver up to 200 nits on a 100-inch screen. This difference is due to the loss of brightness during the perception of the image reflected from the screen.
The screen size also affects the color vibrant. As known, the illumination directly depends on the screen area. Even a budget LED projector with a brightness of 500 ANSI lumens will provide a reasonable image quality for 50-inch screen size in a dark room. But the colors of a 100-inch projection will become dull and faded.
Therefore, even triple lasers projectors provide less vibrant colors when playing HDR content. But today it's only available on Disney Plus, Netflix or 4K Blu-ray. Cable and satellite TV only offer SDR content that does not require high brightness to play. But even premium UST projectors today cost about $ 4,000, which is half as much as the most 'affordable' 98-inch TCL R754 for $ 8,000.
Laser projectors use fairly powerful lasers. Of course, an adult is unlikely to look into a working projector, but curious children and pets may well. Therefore, almost all modern laser models have an additional motion sensor to turn off the laser if a person or pets approaches the projector at a dangerous distance.
Conclusion
The list of the best new gaming projectors includes BenQ X3000i DLP 4K ($ 2,000), and BenQ X1300i DLP 1080p ($ 1,300).
The list of mid-focus Home Theater 4K projectors expanded with great Epson LS12000 / LS11000 3LCD 4K ($ 5,000 / $ 4,000), and Sony VPL XW series LCoS 4K.
New UST projectors:
–LG HU715Q – $ 2,500;
–JMGO U2 – $ 3,000;
–Hisense PX1-Pro and L5G – $ 3,500 and $ 5,000 (L5G comes with screen).
In the portable projector segment, Samsung introduced the great $ 900 Freestyle LED projector.
Projection technology
– DLP technology – Optoma, BenQ, Hisense, LG, etc. It's inexpensive and provides a fairly high contrast. The loss of brightness on the color wheel and the rainbow effect in some action scenes are the main cons;
– 3LCD technology in Epson Home Theater projectors has no loss in color brightness due to the lack of a color wheel, and provides the same brightness of white and colors;
– LCoS technology provides perfect contrast, and is used in expensive premium Sony, JVC and Canon models.
Light engine
The solid state light sources are compact, do not heat up and have a lifespan of over 20,000. LEDs are used in budget models. Single-laser model uses a blue laser and phosphors. They are brighter and are often used in Home Theater models. Triple-laser light engine (Hisense TriChroma technology) is positioned today as the latest version with a color gamut of more than 107% for the BT.2020 color space.
This video shows how the XPR module works in DLP 4K projectors with XPR technology.