Sony is one of the leaders in the development and production of LCoS projectors and is constantly improving this technology in new models. This year was no exception and company launched new XW series with three new projectors.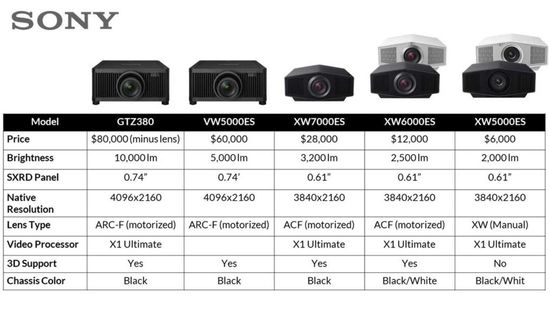 As known, LCoS (Liquid Crystal on Silicon) technology for projectors was developed as a hybrid of DLP and 3LCD technologies.
But unlike 3LCD technology, it uses reflective LCD matrices instead of transparent ones. In addition, by analogy with DLP technology, LCoS uses epi-projection (the light flux is reflected from the object being shown) instead of traditional dia-projection (projection of objects onto the screen).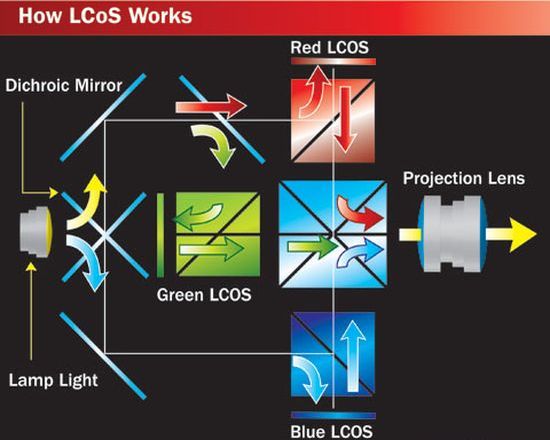 A layer of liquid crystal sitting on top of a reflective surface reflects or blocks light created by the source. Accordingly, managing it creates a picture.
Like OLED panels in TVs, this technology provides infinite black contrast. But in TVs, it's due to the lack of backlight, and LCoS projectors provide almost perfect blacks due to the tiny width of the gaps between the liquid crystals, through which very little light passes. Unfortunately, this technology is difficult to manufacture and LCoS projectors are significantly more expensive than DLP and 3LCD models. Of course, this factor significantly limits their popularity despite the high image quality due to the great contrast.
Today this technology has three versions:
– Sony – SXRD (Silicon X-tal Reflective Display);
– JVC – D-ILA (Digital Direct Drive Image Light Amplifier);
– Canon – AISYS (Aspectual Illumination System).
The new VPL-XW7000ES, XW6000ES and XW5000ES replace the laser VPL-VW1025ES & VPL-VW915ES, and lamp VPL-VW715ES & VW325ES.
All models are identical in design, but their sizes differ slightly.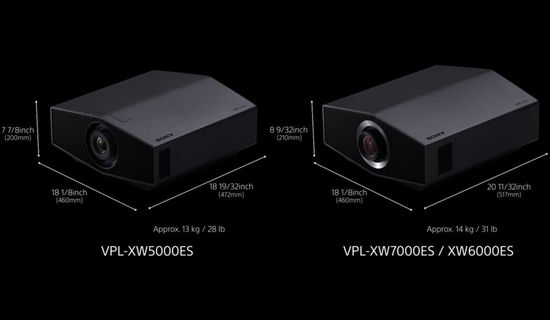 But VPL-XW5000ES and VPL-XW6000ES will be available in a black or white, while VPL-XW7000ES is offered in black only.
Key Features
List:
– infinite black contrast with LCoS technology;
– flagship-level X1 Ultimate processor with support for Sony's image processing tecnologies;
– native 4K SXRD – (3,840 x 2,160) resolution;
– Wide Dynamic Range Optics – 95% DCI-P3 wide color gamut;
– Picture Position Memory – stores lens focus, zoom, and shift settings for five screen formats;
– Motionflow – smooth and clear motion;
– Advanced Crisp-Focused (ACF) Lens in XW6000 and XW7000.
Main specs
VPL-XW7000ES vs XW6000ES vs XW5000ES
– Price $ 28,000 / $ 12,000 / $ 6,000.
For comparison, the prices of some new analogues:
– JVC LCoS 4K laser – DLA-NZ7/RS2100 – $ 11,000;
– Epson 3LCD 4K laser – LS12000 / LS11000 – $ 5,000 / $ 4,000;
– Brightness 3,200 / 2,500 / 2,000 ANSI Lumens;
– Resolution 3,840 x 2,160;
– Display Type 3 x 0.61" SXRD;
– Light Source Z-Phosphor laser.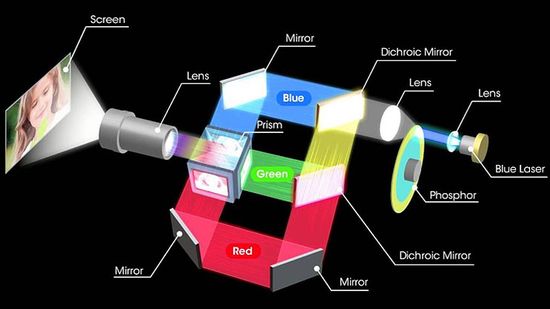 In 2017, the company used it for the first time in VPL-PWZ10 and VPL-PHZ10. Today it's positioned as one of the best in the industry;
– 3D Mode Full HD 3D (no in XW5000ES);
– Included Lens 2.1x motorized zoom & focus (1.6x manual zoom & focus for XW5000ES);
– Lens Shift
Horizontal & Vertical ±36% & ±85% (±25% & ±71% for XW5000ES);
– Throw Distance 6,5 ft – 20 ft (2.0 m – 6.0 m);
– Image Size 40″ – 200″ (102 cm – 509 cm);
– Throw Ratio 1.35:1 – 2.84:1 (1.38:1 – 2.21:1 for XW5000ES).
Sony X1 Ultimate for projectors
The Japanese giant is rightfully positioned as one of the innovative leaders in the consumer electronics segment. In particular, the company is constantly developing new and improving previous TV's technologies. For example, a few years ago the company introduced XR cognitive processor in the superb Sony Bravia XR A90J TVs. At CES 2022 the company showed Sony Master Series A95K with next-generation hybrid QD-OLED 4K panel.
Of course, the technologies for TVs and projectors are not identical, but many aspects, including image processing, contrast and resolution enhancement, etc, are common. Therefore, the company's strategy for their maximum effective use is quite obvious. But they require high CPU performance.
New Sony models have the latest X1 Ultimate for Projector processor, which was previously used for the $ 80,000 flagship GTZ380 only. In fact, this is a projector-optimized version of the Sony BRAVIA TV processor. Its use provides support for several innovative technologies, including enhanced object-based HDR and object-based database upscaling.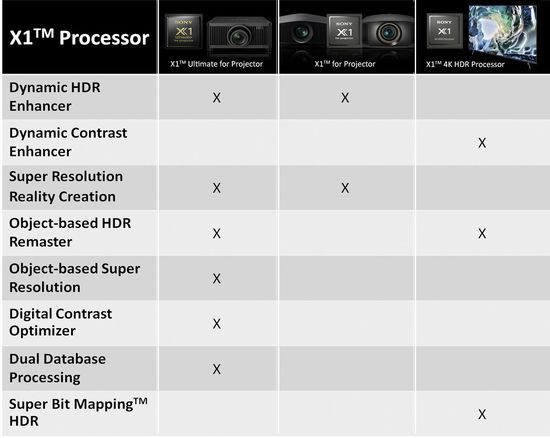 Complete list:
– Dual-Database Processing (object-based noise reduction and upscaling) – the processor corrects the image in real time using two databases with a huge number of reference records. One base is designed to reduce noise, the second increases the resolution, ensuring image clarity.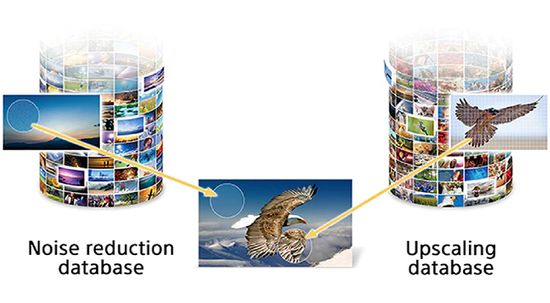 – Object-based Super Resolution technology – detection and preservation detail of individual objects images on screen;
– Object-based HDR Remaster analyses the color of individual objects on screen and adjusts the contrast;
– Digital Contrast Optimizer deepens black in image dark areas;
– Dynamic HDR Enhancer enhances HDR rendering using a combination of pixel-level processing, laser modulation, and a dynamic iris in some models.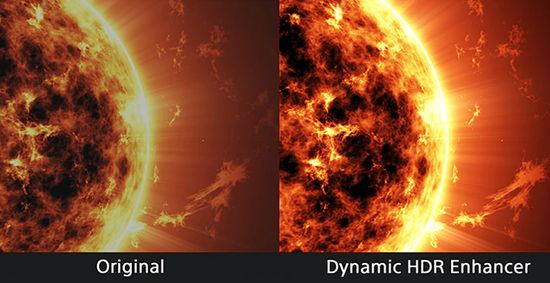 – Digital Focus Optimizer improves edge and corner focus by eliminating possible optical distortion in these areas.
Key Features
To improve HDR performance and reduce ambient light requirements, the company has increased the lumen output of the new models:
– XW5000 – 2,000 ANSI lumens (325ES – 1,500);
– XW6000 – 2,500 ANSI lm (VW715 – 1,800);
– XW7000 – 3,200 ANSI lm.
Unlike the previous series with 0.74-inch chips, the new models use 0.61-inch LCoS-based native 4K SXRD panels.
Instead of DCI (4,096 x 2,160), the new chipsets support 4K UHD (3,840 x 2,160) resolution. This replacement allowed the developers to reduce the size of the light engine and chassis size. For example, XW7000 and XW6000 are 20% smaller compared to VPL-VW915. The gain of XW5000 reaches 30%.
All projectors use the same blue laser+phosphor light engine, and new Wide Dynamic Range optics providing color gamut up to 95% DCI-P3 color space.
According to the company, the XW7000ES provides 200 nits on a 150-inch screen, which is 60% brighter than the previous VPL-VW915ES.
Unlike the XW6000 / XW7000, the VPL-XW5000ES has a manual 1.6x zoom lens (1.38-2.21:1 throw ratio) with lens shift of ±71% vertical and ±25% horizontal.
The VPL-XW7000ES / VPL-XW6000ES have new Sony's premium ARC-F (All Range Crisp Focus) lens called ACF (Advanced Crisp Focus).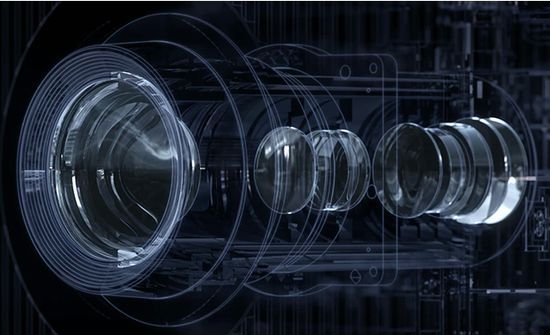 Features:
– a 70mm aspheric front lens provides great center-to-edge focus;
– a floating focus system moves two lens groups to optimize focus;
– an extra-low dispersion glass avoids color deviations across the full zoom range.
That lens has a 2.1x zoom at (1.85-2.84:1) throw ratio, and ±85% vertical & ±36% horizontal shift. For reference, the company previously used a similar lens in the $ 40,000 VW1025. It will now be available in the XW6000 for only $ 12,000.
Gaming and 3D
Unfortunately for gamers, two HDMI 2.0b ports with HDCP 2.3 do not support 4K@120Hz gaming. As known, connecting the latest consoles requires HDMI 2.1 with at least 32 Gbps bandwidth.
But Input Lag Reduction mode reduces latency to 21 ms for 4K@/60Hz, and to 13 ms for 2K@/120Hz signals. In comparison, BenQ X3000i 4K and X1300i 1080p, which are among the best gaming projectors today, provide:
– 4K@60Hz – 16.67ms (X3000i);
– 1080p@60Hz – 16.67ms;
– 1080p@120Hz – 8.33ms;
– 1080p@240Hz – 4.16 ms (X3000i).
At the same time, they cost $ 2,000 and $ 1,300, respectively.
Unfortunately, the projectors do not support VRR, ALLM or G-Sync, and do not have internal speakers. Overall, they are unlikely to be the ideal choice for gamers.
Of course, all models are HDR10 / HLG compatible and support Imax Enhanced content. But unlike the latest JVC and Epson premium models, Sony projectors are no support for HDR10+ dynamic tone mapping.
Unlike XW7000 and XW6000 with Full HD 3D playback support, XW5000 comes without 3D-mode.
For installation, Sony offers support of Control4, Crestron, Savant and AMX control systems, and OvrC & Domotz remote monitoring servcies.
Conclusion
High price due to complex manufacturing is the main problem of LCoS projectors. Therefore, the XW5000ES with a relatively affordable $ 6,000 price was a pleasant surprise this year. With few caveats, the list of its main competitors may include:
– Hisense PX1-Pro and L5G Laser TVs – under $ 4,000;
– LG CineBeam HU715Q – $ 3,000;
– JMGO U2 – $ 3,000;
–Epson LS11000 and LS12000 – $ 5,000 and $ 4,000.
The choice of competitors for the VPL-XW7000ES and XW6000ES is much more difficult due to their high prices of $ 28,000 and $ 12,000, respectively.
That being said, the $ 16,000 difference between the other two models seems very inadequate. With the exception of brightness (3,200 vs 2,500 ANSI Lumens), the projectors have virtually identical specs, components, and functionality. The visual color improviser in XW7000ES with skin-tone detection is also unlikely to account for the huge price difference. Perhaps the models use different image processing algorithms, but this version seems to be controversial.
Finally, the price difference may be due to the company's regional pricing strategy. For example, the XW7000ES will be available for $ 28,000 in the United States. But its announced price in the United Kingdom and Europe is only £ 15,000 / € 15,000, respectively. The XW6000ES will cost $ 12,000 in the United States but is not planned for sale in the United Kingdom. But the VW5000ES 'fairly' will cost $ 6,000 in USA, £ 6,000 in England and € 6,000 in Europe. Perhaps the company positions XW7000ES as an exclusive premium version only for the US market.
This video introduces the new Sony XW Series 4K Laser Projectors.