Of course, the Sony A95K 4K with the new hybrid QD-OLED panel from Samsung Display became one of the main sensations of CES 2022. Lack of Samsung-analogue surprised many, but already in the spring, the South Korean giant introduced the Samsung S95B 4K QD-OLED. However, the company prefers the S95B OLED name without the addition of 'QD'.
Introduction
In fact, the market has already formed a prototype of a new QD-OLED segment. As a result, the complete list of most popular models this year includes:
– LG OLED C2 and G2 (OLED panel);
– Sony A95K and Samsung S95B (hybrid QD-OLED panel).
– TCL C93K and Samsung Neo 90B and 95B (LCD panel with QLED and miniLED technologies).
In fact, these TVs are the premium segment of LCD technology, providing:
– wide color gamut, high brightness and great color accuracy due to QLED technology;
– excellent contrast due to local dimming technology based on miniLED backlight with a huge number of zones (from 1,000 or more in flagship 65-inch and more models).
Of course, the list is much longer, but its stripped down version is sufficient for a cursory analysis. Lots of great and different TVs generate healthy enthusiasm in the consumer market, but makes it a little more difficult to choose. Therefore, even a superficial understanding of the technologies used can be helpful.
Last year, experts actively compared QLED miniLED TVs (Samsung Neo, LG QNED, Hisense ULED miniLED, etc) vs OLED technology, predicting its final defeat.
But LG has successfully increased the brightness of the Evo panels, partially eliminating one of the technology's major problems.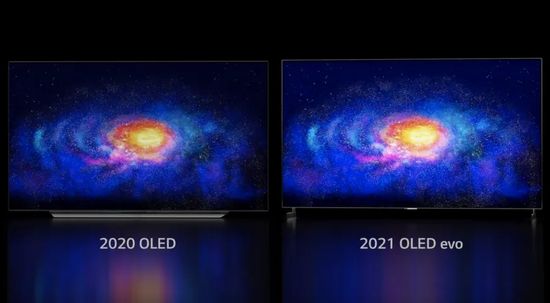 Moreover, the company has reduced prices. As a result, the new OLED TVs offer reasonably high brightness (over 1000 nits peak HDR brightness) at an affordable price. In addition, they traditionally provide perfect 'infinite' contrast due to the absence of light leakage from backlight (self-emitting diodes work without a backlight). Thus, predictions about the decline of the OLED era turned out to be greatly exaggerated. It successfully develops and even strengthens its positions.
QD-OLED has been added to the list of competing technologies this year.
QD-OLED displays
The LCD models use a blue backlight and a yellow phosphorous layer to create white light. Under its influence, the RGB filter creates red, green and blue. But only sunny color provides ideal white. Low white quality generated with phosphor layer cannot ensure high color accuracy.
The developers of QD (quantum dots) technology have found an elegant solution to this problem. In fact, they have created an analogue of a small sun in TV with perfect white for backlight.
QD technology uses a blue LED light source to illuminate film with nanocrystals deposited on it. Their size corresponds to the wavelengths of red and green. By absorbing blue, the microparticles re-emit red and green. The unabsorbed blue is then combined with the re-emitted red and green to generate high quality white. It's used to illuminate the RGB filter, providing higher color volume at high brightness. This technology radically improved the image quality of LCD panels.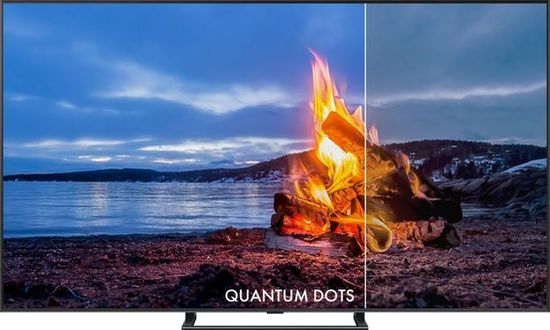 Traditional LG OLED panels use white OLED which forms red, green and blue with color filter.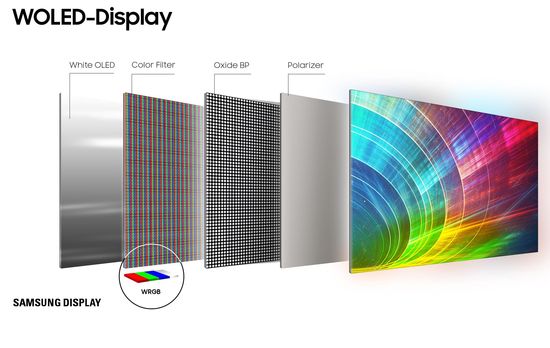 The hybrid QD-OLED panel produces colors without a color filter. It generates green and red using 3nm and 7nm 'quantum' nanoparticles on film.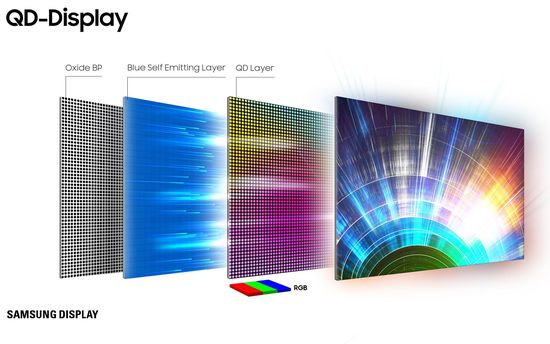 An additional blue OLED layer is a blue source.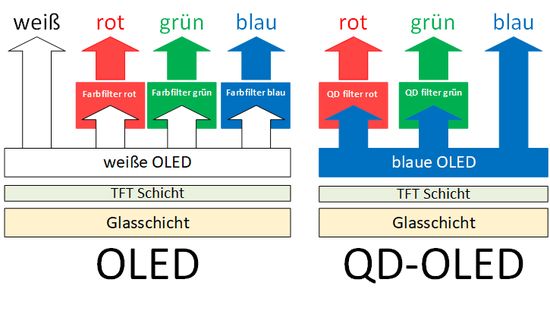 The lack of loss in the color filter increases the panel brightness.
Being lambertian emitters, QD-OLED panel has wide viewing angles due to uniform light distribution in all directions. Moreover, the it's glare-free even without anti-reflective coatings.
Self-emitting diode control method provides sub-1ms response time vs 10ms of QLED panel that is ideal for fast-paced games and sports.
But their brightness is still inferior to LCD panels due to the use of organic LEDs. In addition, they retain the risk of pixel burnout.
QD-OLED technology
The improving competitiveness is one of the main goals of any innovation in the consumer electronics segment. Of course, hybrid QD-OLED technology is no exception.
With some assumptions, its evolution is similar to the development of SSL (Solid State Light Source) in projectors. At the first stage, the segment was divided into low-brightness LED models, and professional triple-laser RGB projectors for advertising and installations. LED projectors (LED-based light engine) cost several hundred, producing a faded and dim image even in diffuse daylight. Professional triple-laser models cost tens of thousands, but they provided great quality even for huge projections.
Ultimately, the companies developed hybrid ALPD (Advanced Laser Phosphor Display) technology. It uses laser-phosphor (ALPD 3.0) or triple-laser RGB (ALPD 4.0) light engine. In the first case, the projector uses only blue laser. Green and red are generated by a wheel with a yellow phosphor layer. In the second case, all primary colors are generated using 3 lasers. As a result, the consumer market has found an acceptable compromise between relatively affordable ($ 2,000 – $ 3,000) laser phosphor projectors, and more expensive RGB laser models.
Competition has had a positive effect on manufacturers. Chinese giant already Hisense introduced ALPD 4.0-based TriCroma L9G and Hisense PX1 Pro costing only $ 3,150.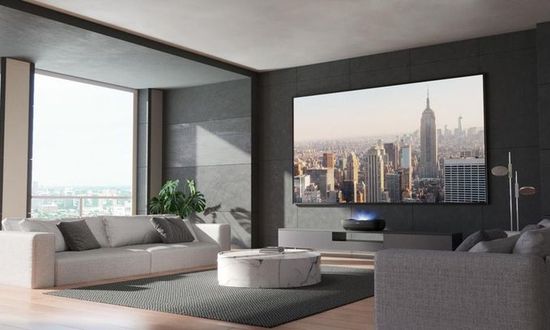 Today, it's rightfully included in the list of the most popular UST (Ultra Short Throw) projectors, which are positioned as an alternative to TVs.
Any hybrid innovative technology, including QD-OLED, has several goals:
– implement all the pros of previous technologies;
– reduce cost without sacrificing performance.
Accordingly, the evaluation of its effectiveness is based on the analysis of these factors.
QD-OLED vs OLED / QLED miniLED
The evolution of TVs has similar trends. For years, this segment has been divided between premium OLED TVs with great contrast, and cheaper LCD models. Of course, this technology still provides higher brightness, but it's mainly required for HDR mode, which has exploded in popularity only in recent years.
As known, LG dominates the development of OLED technology. For several years, the South Korean giant has significantly increased their competitiveness. First, last year's LG G1 used innovative OLED Evo panel. A double substrate with blue emitters, an additional green emitter layer between them, and replacing hydrogen with deuterium in blue emitters allowed the developers to increase the OLED Evo panel brightness to 1,000 nits. What's more, the new LG OLED G2 Evo is even brighter with an additional heatsink for heat dissipation.
Despite significant progress, the company is offering 65-inch models of the new LG OLED C2 and G2 for $ 2,100 and $ 2,900, respectively.
Gorgeous QLED miniLED LCDs deliver beautiful colors (QD technology, up to 2,000 nits peak HDR brightness in the QN95B) and excellent contrast (miniLED-based local dimming delivers over 20,000:1). Of course, their launch prices will be adjusted, but today the price of 65-inch models is:
– Samsung Neo QLED QN95B – $ 3,000;
– Samsung QN90B – $ 2,100 ($ 1,600 / $ 2,100 / $ 3,000 for 55″ / 65″ / 75″, respectively);
– TCL C935K- € 1,900 (mid-May – €1 ~ $1.04 ).
Of course, the new technology shows a slight increase in performance, but it only shows up in some specific scenes.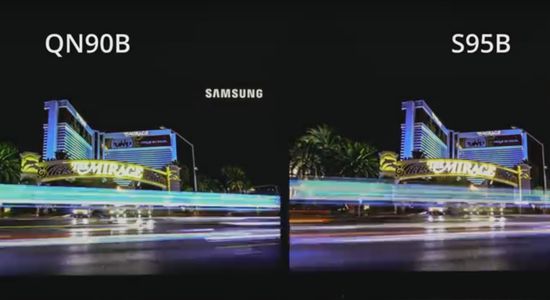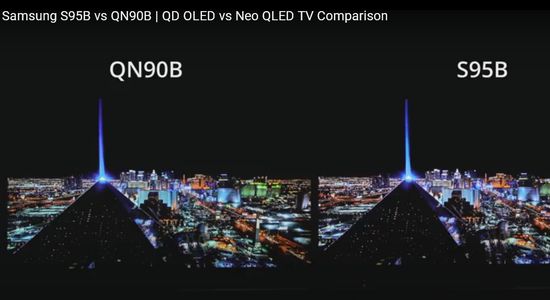 S95B is slightly brighter and more contrasty, but no more.
Conclusion
The comparison of launch prices is also not in favor of the latest hybrid QD-OLED technology. Traditionally, they differ significantly from different sellers and in different regions:
– Sony A95K – $ 4,000 – 65″, $ 3,000 – 55″ (US and Canada), £ 2,700 ($ 3,281) – 55″ (UK);
– Samsung S95B – £ 3,300 / $ 3,000 – 65″ and £ 2,400 / $ 2,000 – 55″ (UK and US).
In fact, their launch prices are substantially higher vs major competitors. At the same time, Sony is traditionally significantly more expensive than its South Korean competitor (~ $ 1,000). Curiously, the Samsung S95B QD-OLED is inferior to Samsung Neo QLED QN90B / QN95B. It's ~$ 1,000 more expensive vs Samsung QN90B. However, LG OLED C2 / G2 and TCL C935K also offer the best value for money.
Of course, the combination of high brightness and contrast, wide viewing angles and sub-1ms response time are a serious bonus, but it's hardly adequate for the price difference. Perhaps the traditional launch price dropping will change the situation. But anyway, new technology will give an additional impetus to competition between traditional OLED and QD miniLED directions.
The video shows a side-by-side comparison of Samsung S95B (QD-OLED) vs Panasonic 65LZ2000 (W-OLED).