The rapid development of technologies has virtually erased the difference between the picture quality of OLED and LCD TVs. On the one hand, the OLED Evo panel partially solved the problem of the limited brightness in OLED models, providing 1,000 nits and even more. On the other hand, local dimming based on miniLED backlight has significantly increased the contrast of LCD technology. As a result, the combination of quantum dot technology (QD provides a wide color gamut + high color accuracy) and miniLED backlight (great contrast) have raised the image quality of LCD TVs to the level of OLED technology. Unfortunately, their prices have also gone up. As a result, OLED and LCD miniLED QD TVs ended up in the same price range, delivering roughly the same picture quality.
According to the results of 2021, LG OLED C1 / G1 and Samsung Neo QN85A/90A/95A series took the first lines of the popularity ratings. Quite predictably, the South Korean giants continued the development of these series in 2022, introducing LG OLED C2 / G2 and Samsung Neo QN85B / 90B / 95B, respectively. Today they compete quite fiercely in the $ 2,300 to $ 2,600 segment for 65-inch models. But last year's LG's OLED C1/G1 and Samsung's Neo QLED have remained popular and compete in the $ 1,600 to $ 1,800 (65″).
Of course, such an abundance of premium TVs pleases consumers, but it complicates the choice. Therefore, even a simplified classification of one brand can be useful.
Introduction
Like some other global giants, Samsung uses a fairly complex regional and pricing strategy. In our case, series over '90' (92, 94, 95, etc) are developed and sold in the UK and Europe, 85 and 90 are for the US, Canada and Australia. Traditionally, the 85 series is cheaper compared to the 90 series, which provides higher image quality.
But the 90 series is almost identical to the 'European' 95 series. At the same time, their launch prices differ very significantly. In particular, the launch price of the QN90A in USA was $ 2,600, while for the QN95A in UK it was £ 3,000. A short list of their differences (QN95A vs QN90A):
– 4x HDMI 2.1 vs 1x HDMI 2.1 + 3x HDMI 2.0 inputs;
– 70W vs 60W sound system;
– One Connect Box in QN95A.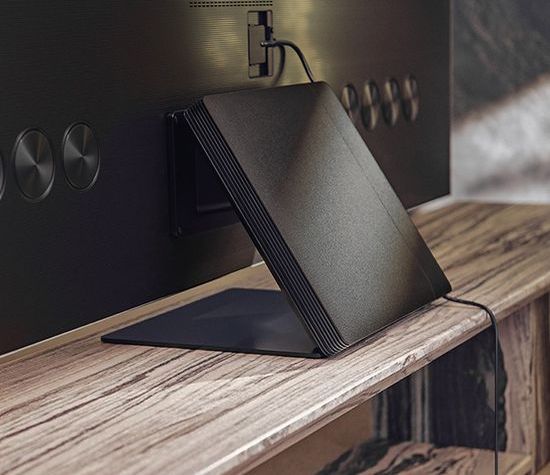 In fact, it frees the QN95A from cables.
However, after the autumn price fall, their difference has drastically decreased. For example, last year's 65-inch Samsung QN90A is now $ 1,600 in America, while the QN95A is £ 1,500 ($ 1,800) in the UK.
Perhaps the South Korean giant is using a regional strategy to motivate American high-end buyers to opt for more expensive 8K models (the QN900A 8K was originally available in America).
This year, a similar price ratio has developed with the new QN90B and QN95B. But unlike 2021, QN95B is available in USA. The difference between their launch prices is again impressive, reaching $ 900 (QN90B vs QN95B – $ 2,400 vs $ 3,300).
QN90B vs QN95B
Both models use:
– 10bit VA panel;
– ultra-precise Quantum miniLED – 792 local dimming zones in 65″ model;
– Quantum HDR 32X;
– Neo Quantum Processor 4K or Neural Quantum Processor 4K – analyzes content and its optimizes based on AI deep learning;
– 4K upscaling;
– Anti-Reflection technology and Wide Viewing Angle Layer (reduces contrast but improves the viewing angle).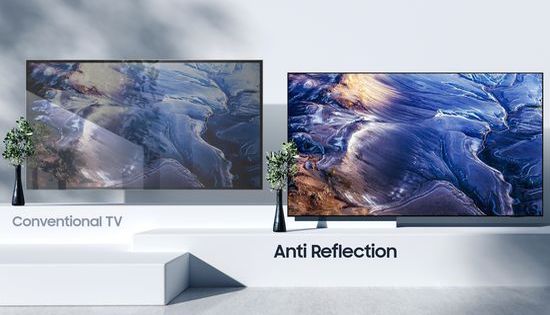 In fact, layer against reflections is a panel layer which is coated with tiny uniform bumps, just like a moth's eyes. They helps absorb or redirect external light that hits the screen, minimizing glare and reflection;
– built-in Bixby, Amazon Alexa and Google Assistant;
– Dolby Atmos (3D sound) and Object Tracking Sound+ (sound is 'shifting' depending on the location of its source on the screen);
– Motion Xcelerator Turbo Pro – 4K@120Hz (support up to 144Hz for PCs with powerful graphics card);
The list of their main differences is almost identical to last year's models:
– Infinity One Design with One Connect Box in QN95B (slimter than last year).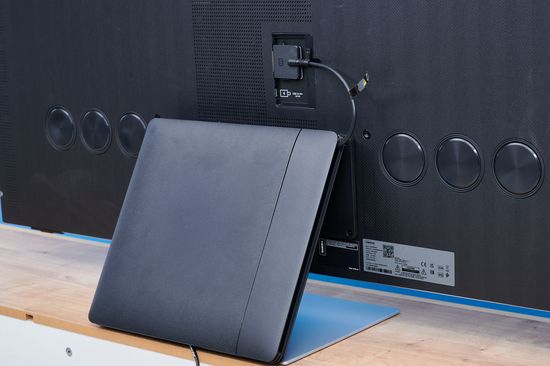 – QN95B has native Dolby Atmos and 4.2.2Ch 70W aodio system vs 60W in QN90B.
But it's possible the series use different processors, which could explain their price difference. In particular, some sources indicate Neo Quantum Processor in QN90B, and Neural Quantum Processor in QN95B. Despite the similar name, they differ significantly. In particular, the Neo version works with 16 neural networks, while the Neural processor supports up to 20.
Processors in Samsung TVs
As known, Samsung uses MediaTek SoCs, whose GPUs are designed to display 4K or 8K video. Until last year, the company used the commercial name Quantum Processor for them. Last year's Neo QLED series uses the new quad-core Neo Quantum 8K (MediaTek S900 – MT9950) and Neo Quantum 4K (MT9613 and MT9612), which support 120Hz. The cheaper 4K Lite version is used in the QN60A series. It only supports 60Hz and HDMI 2.1a.
According to Samsung, Neo Quantum Processor supports up to 16 different neural network models.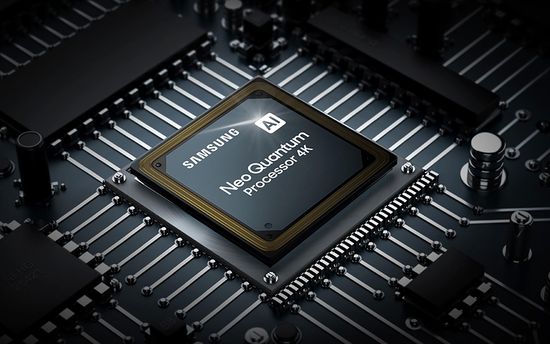 Specs:
– Samsung Neo Quantum 8K – (7,680 x 4,320) screen resolution, 4 x Cortex-A73@1.8 GHz, GPU Mali-G52 MC2 (0.8 GHz), 96-bit LPDDR4 memory (up to 8.5 GB) with frequency 3.7 GHz;
– Neo Quantum 4K (MT9613) – (3.840 x 2.160), 4 x Cortex-A73@1.4 GHz, GPU Mali-G52 MC1;
– Neo Quantum 4K (MT9612) – (3.840 x 2.160), 4 x Cortex-A55@1.5 GHz, GPU Mali-G52 MC1, 64-bit DDR3 memory;
– Lite – 4 x Cortex-A53@1.5GHz, GPU Mali-G52 2EE MC1, and 48-bit DDR3 memory (up to 2GB).
The Quantum Processor uses AI (Artificial Intelligence) with the integration of neural networks for the recognition. With the help of 'deep learning', it analyzes various image parameters to optimize video processing depending on the content.
For this purpose, each neural network is trained to recognize a certain digital image types, including surfaces, objects, faces, types of noise in a film, a cartoon, etc. Using multiple highly specialized neural networks, developers create algorithms that optimize video processing for any content.
This year's Neural Quantum Processor 4K is their new generation.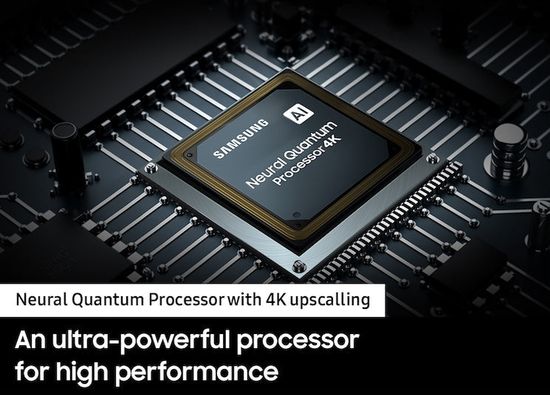 Unlike last year's New Quantum Processor with support for up to 16 neural networks, the Neural Quantum Processor can handle up to 20 neural networks, empowering developers.
Video processing technologies
The new processor has opened up several additional possibilities for improving video processing.
1-Shape Adaptive Light Control
Analyzing the frame, the processor creates a map of light / dark contrasts. Based on it, algoritm dynamically adjusts the intensity of each zone by controlling the miniLED backlight. Moreover, the processor analyzes the shape of the light emission profile, correcting the objects shape with light cone angle adjustments.
As a result, even light objects on a dark background have clear contours without smudging and halos in the black image areas.
2-Quantum Matrix Technology Pro
Quantum Matrix Technology Pro increased the control precision for miniLED backlight from 12 to 14 bits. As a result, the TV can generate up to 16,384 shades of gray, four times the capability of last year's Neo QLED.
By analyzing the brightness of every detail in every frame, the Neural Quantum Processor determines the max power for each zone, providing max peak brightness for HDR content.
3-Real Depth Enhancer
The next generation Neural Quantum Processor also distinguishes the foreground of the scene from the background. Then, TV increases the image depth by increasing the detail and contrast of objects in the foreground, creating the illusion of a three-dimensional image.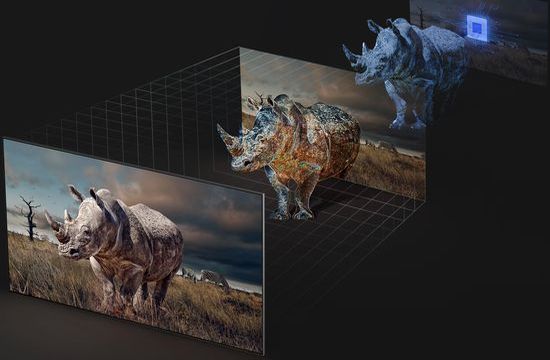 Conclusion
The next-generation Neural Quantum Processor with support for up to 20 neural networks instead of 16 in the previous New Quantum Processor should increase the efficiency of video processing technologies, including Shape Adaptive Light Control, Quantum Matrix Technology Pro and Real Depth Enhancer. In this case, the price difference of $ 900 may well be justified, especially considering the Infinity One Design with One Connect Box of Samsung Neo QN95B series.
On the other hand, even the great specs of the Samsung Neo QN90B seem excessive, for example for SDR video content via satellite or cable TV. Indeed, over 2,000 nits of peak brightness in a 10% window and nearly 20,000:1 contrast with local dimming ensure excellent image quality in all conditions, such as in the evening in the dark or during the day in a sunny living room. Perhaps viewing 4K HDR content from Blu-ray or Netflix will reveal subtle differences in image quality in some scenes. This factor can be decisive for perfectionists with a good budget.
In any case, given the drastically reduced price difference between last year's QN95A and QN90A, similar scenario for Samsung Neo QN90B and QN95B seems quite real.
However, Samsung 8K models can also surprise. Perhaps some remember the unprecedented price drop of the great Samsung Neo QLED QN900A 8K up to $ 2,700 for a 65-inch model. It instantly entered the top bestseller lists, ranking among the most popular TVs of 2021. Today, the QN900A costs $ 2,900 and successfully competes with many 4K models of 2022.
This video shows Neural Quantum Processor 8K with 20 neural networks support in Samsung Neo QLED 8K TVs.