Recently, the Samsung Neo QLED QN90A was the brightest TV on the market with a peak brightness of up to 1800 nits. Moreover, its nearly 20,000:1 contrast ratio with local dimming guaranteed it a place among the highest contrast LCD TVs. Now it's giving way to the Samsung Neo QLED QN90B and QN95B, which show a peak brightness of over 2,000 nits.
What's more, local dimming boosts native contrast of QN95B to an unprecedented nearly 30,000:1.
Probably, the constant growth of these basic specs will someday provoke a logical question about reasonable sufficiency. But today, LCD technology is still inferior to OLED panels with their almost infinite contrast due to the lack of backlight, which is not needed by self-emitting LEDs. Brightness increase will also be important with further increase in screen size.
In addition, high brightness and contrast reduce dependence on ambient light. For example, a bright and contrasting TV provides high quality in the evening in a dark room and on a sunny day in the living room.
Therefore, claims to developers about excessive brightness and contrast are still premature. To a greater extent, the question comes down to the cost of increasing them. Besides, the pros list of the new flagship is not limited to phenomenal brightness and contrast.
Its name is QN(55/65/75/85)QN95B for US or QE(55/65/75/85)QN95B for Europe.
Samsung Neo QLED QN95B
The new Neural Quantum Processor can process up to 20 neural networks compared to the previous New Quantum Processor with support for up to 16. This is an improvement increased the control precision for miniLED backlight from 12 to 14 bits for Quantum Matrix Technology Pro, providing a 4x increase in the number of shades of gray generated (16,384 vs previous 4,096). In turn, improved control accuracy provided an increase in peak brightness and contrast. As a result, the developers have improved almost all image parameters.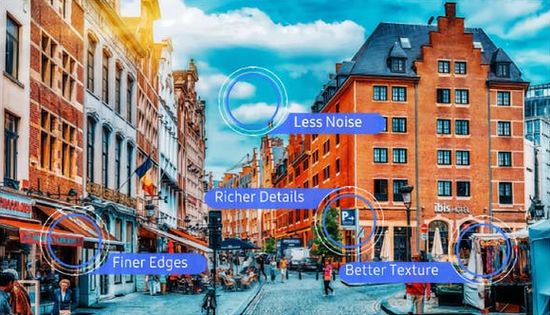 Anti-Reflection technology and Wide Viewing Angle Layer minimize glare and reflection while widening viewing angles. In fact, layer against reflections is coated with tiny uniform bumps that absorb or redirect external light falling onto the screen. Its performance was demonstrated by the company at CES 2022 in The Sero series.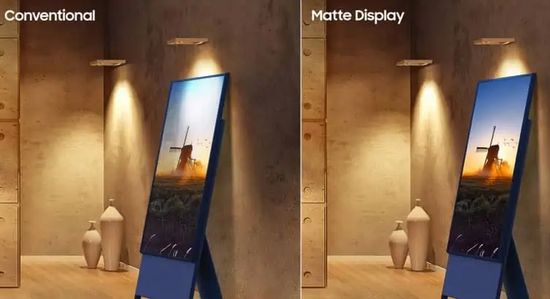 New QN95B supports native 144 Hz, but only with a sufficiently powerful graphics card of PC. Moreover, native Dolby Atmos became part of TV for the first time. Unfortunately, Dolby Vision is still not available, but the series supports HDR10+ Adaptive, HDR10+ Gaming, and has a new gaming hub to stream directly onto the panel.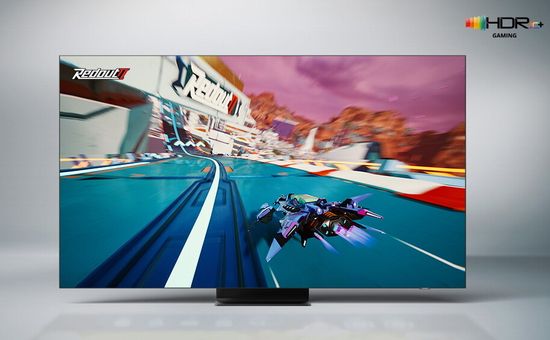 In fact, the technology provides the creation of HDR graphic effects without manual calibration and automatically activated when receiving a signal from the console or PC. It optimizes color reproduction, enhances detail in dark areas of an image, provides optimal brightness, etc.
The backlight's frequency of 960 Hz ensures smooth playback without blur and judder, but sometimes stutters during slow camera movements due to low response time. When needed, the Black Frame Insertion feature can enhance image clarity without sacrificing excess brightness.
Key Features
The series offers the popular Infinity One Design with an almost gapless wall mounting. Infinity One concept with an ultra-thin aluminum frame was first introduced in last year's Samsung 8K series. A ultra-thin display profile (17.8mm) and flat back panel are ideal for 'no-gap' wall mounting.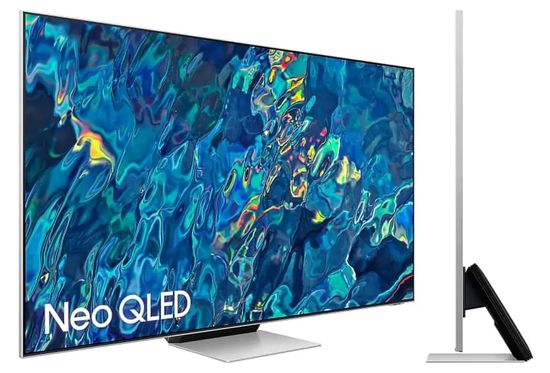 One Connect Box eliminates the hassle of connecting and aesthetically arranging cables.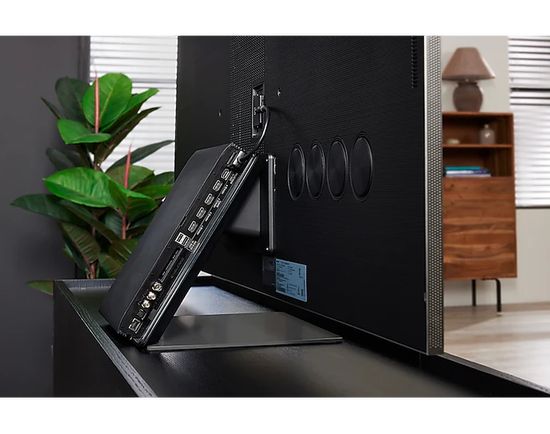 Independently controlled local dimming zones (576 in 55″, 792 – 65″, 1320 – 75 and 85″) provide ultra-precise control of miniLED backlit with 16,384 illumination levels, reducing blooming. The company calls this technology Quantum HDR 2000. It's based on 14-bit color depth instead of the previous 12-bit. At the same time, the TV uses a 10-bit VA panel.
The new Real Depth Enhancer feature simulates a 3D effect by increasing the scene depth. In fact, the processor recognizes the background and foreground objects, highlighting them with the help of increased sharpness, clarity and texture.
Four speakers on both sides at the bottom provide native Dolby Atmos.
Full-screen display of new Tizen 7.0 is divided into Media, Game and Ambient sections. A video chat in a second window provides real-time chat while watching a movie. The list of integrated voice assistants includes Samsung Bixby, Amazon Alexa and Google Assistant. SmartThings app connects additional devices to the TV.
Smart Calibration function offers quick calibration (few seconds) and fine tuning (10 minutes) with calibration app on phone.
Ambient Mode+ displays the interior background on the screen.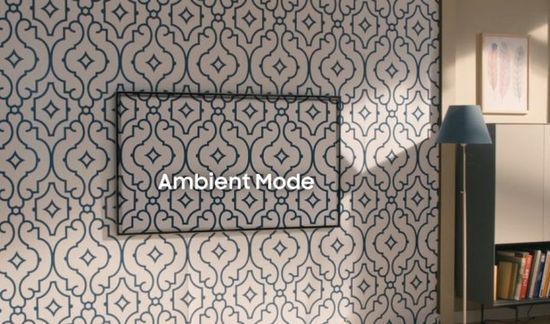 The Premium Solar Smart Remote efficiently charges from ambient light sources and does not require batteries.
Mobile Tap Mirroring (mirror phone's screen on TV screen) is activated with a simple touch between phone and TV.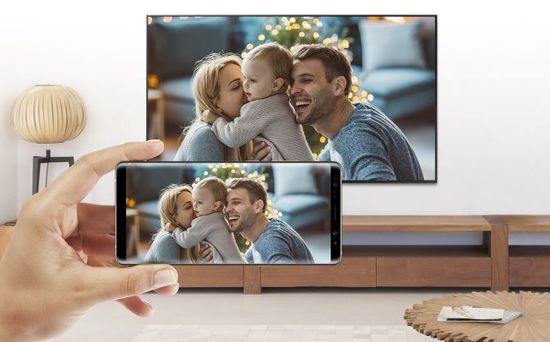 Audio
Features
– 4.2.2ch 70W;
– HDMI eARC (Enhanced Audio Return Channel – lossless transmission of audio signal to external audio devices);
– object Tracking Sound+ (sound shift following the source shift on the screen);
– Q-Symphony (to tune with compatible soundbar);
– native Dolby Atmos (built-in speakers radiate to the sides and up, creating a 3D effect);
– SpaceFit (immersive sound).
From 2021 premium Samsung models support SpaceFit Sound. This technology analyzes the room and calibrates the settings, automatically optimizing the sound for its geometry. Strictly speaking, SpaceFit is a marketing name. Ultimately, this technology increases the sound immersiveness.
Immersive sound is created by reflected sound waves from various objects in a room, including walls, ceilings, floors, furniture, and other interior items. Echo when talking in an empty room is the simplest example of it. Of course, this effect is a problem, for example, in a recording studio, because they will contain echoes. Therefore, studios deal with immersive sound waves by, for example, covering walls with sound-absorbing material. But when controlled, it becomes useful in TVs, providing a 3D audio scene.
To create it, developers use speakers that generate audio waves in different directions. Unfortunately, this is severely limited by the ultra thin design of modern TVs. In addition, the creation of high-quality immersion sound is possible only for sound in 5.1 and more format.
Its operation principle is quite simple. Reflected sound waves are returned to highly sensitive microphones in the TV or soundbar and analyzed by special algorithms, taking into account their direction.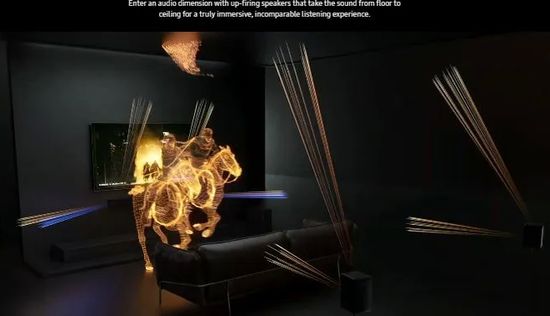 Then the system programmatically adjusts the sound power for each channel, boosting the frequencies that are most absorbed.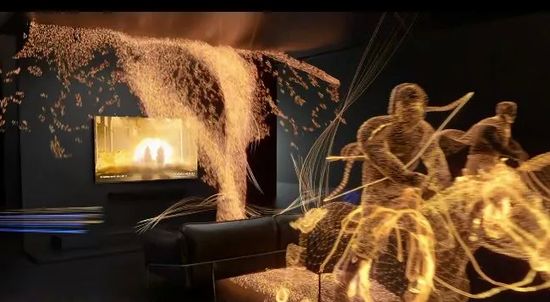 Gaming
QN95B can rightly be positioned as one of the best gaming TVs. Firstly, the QN95B is the first TV with support for 144Hz frame rate. Unfortunately, the Xbox Series X and the Playstation 5 are limited to a maximum of 120 fps. But this mode is available with a PC that has a sufficiently powerful graphics card.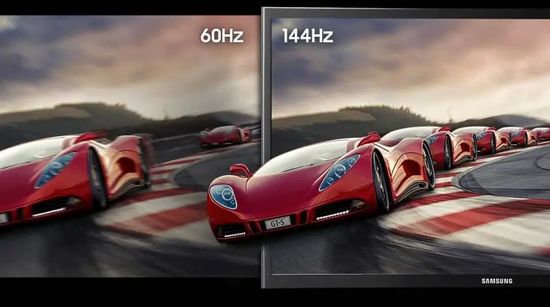 Pros list also includes:
– 4x HDMI 2.1 (4K@120Hz);
– HDR10+ Gaming;
– ALLM (Auto Low Latency Mode) auto-switches TV in Game Mode with minimal latency);
– Panoramic Gaming Mode;
– Gamebar 2.0.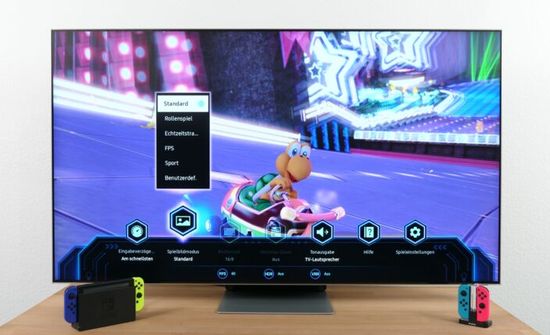 It displays gaming setting on the screen;
– Free Sync Premium Pro;
– Cloud-Gaming.
This series also offers Cloud-Gaming with stream games directly to the TV panel via GeForce NOW, Stadia or Utomik with the new Gaming Hub (not yet available).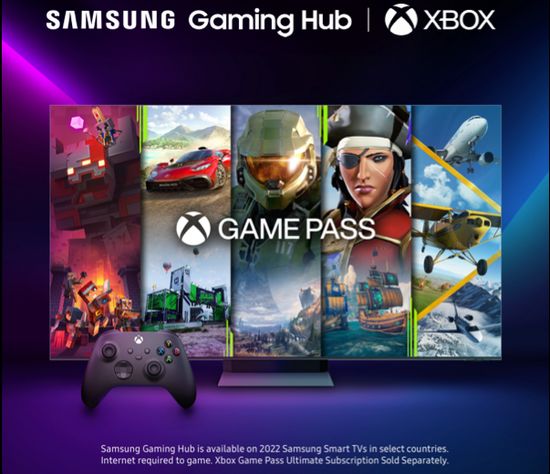 This feature does not require a console. As an official Xbox partner, Samsung Gaming Hub offers games from Xbox and other top game streaming partners.
Pros & Cons
Pros
– phenomenal brightness and contrast with bright 10 bits VA panel and 14-bit HDR mapping (up to 2,200 nits and 29,500: 1 contrast ratio with local dimming);
– miniLED backlight;
– Neural Quantum Processor;
– Infinity One Design;
– One Connect Box for cables;
– native 144 Hz;
– 4 ms response time;
– HDR10+ Gaming (no Dolby Vision Gaming);
– 4x HDMI 2.1;
– Google Duo app (face-to-face video calling with support up to 32 participants in group call);
– native Dolby Atmos.
Cons
– price;
– no Dolby Vision and DTS;
– weak bass.
Of course, the flagship Samsung Neo QN95B is a great TV and can rightfully be positioned as one of the best LCD 4K TVs on the market. Phenomenal brightness and contrast, new Neural Quantum Processor with support up to 20 neural networks, full set of Samsung technologies, including Shape Adaptive Light Control, Quantum Matrix Technology Pro, Real Depth Enhancer, Object Tracking Sound+, Q Symphony 2.0, SpaceFit Sound, etc, a huge number of modern innovative solutions (Mobile Tap Mirroring, Smart Calibration, etc) can impress the most unflappable buyer.
Conclusion
Unfortunately, all this magnificence is not free. Its launch price is $ 3,300. But no less great TVs, including Samsung Neo QN90B and LG OLED C2 / G2 (bright OLED Evo panel) cost only $ 2,400 / $ 2,300 / $ 2,600 for 65″. Of course, they are less bright and contrasty, but the difference of almost $ 1,000 is very significant. Perhaps we can argue about the pros & cons of Samsung vs LG, but Samsung Neo QN90B and QN95B have almost similar pros.
There is also an additional aspect. Basically, consumers receive SDR content via cable or satellite television. 4K HDR content is available via Netflix or Blu-ray discs. But the performance of even the QN90B or LG OLED C2/G2 are already overkill for perfect playback of SDR content. In fact, the unprecedented brightness and contrast of QN95B only really affect the dependence of playback quality on ambient light. In particular, the bright QN90B performs well even in bright daylight, the OLED C2/G2 with 'infinite' contrast is ideal for viewing in the dark, and the QN95B delivers maximum image quality in all conditions. In general, the assessment of their price / quality ratio depends significantly on the buyer budget.
In addition, half a year ago, the South Korean giant made a great gift by dropping the price of the Neo QLED QN900A 8K from $ 4,000 to $ 2,700 for a 65-inch model. As a result, this high-end TV instantly moved to the top of many top-lists. Perhaps in the autumn we will receive a similar gift for QN95B.
This video shows the lineup of Samsung Neo QLED TVs 2022.