Probably most coffee lovers are familiar with Delonghi coffee machines. Along with the Swiss Jura, the Dutch Philips (Saeco) and the German Bosch-Siemens, this Italian giant has long been among the industry leaders. Traditionally for innovative leaders, the company annually expands its product range. Of course, the abundance of great models expands consumer choice, but requires at least a simplified classification.
Today, the company offers Nespresso models, drip coffee makers, including the latest Clessidra ICM17210, and more. But fully automatic coffee machines remain a favorite in the consumer market.
Delonghi automatic coffee machines
They use an ESAM, ECAM or ETAM platforms. The list of major differences between them includes heater power, frother (manual Panarello/auto LatteCrema system), controls (buttons, dials, symbolic/intuitive screen), water tank / coffee bean hopper capacity, settings and programs. The ESAM platform is designed for large models with increased reliability and longevity. The ETAM series contains compact coffee machines with relatively small tanks for water and coffee grains. ECAM is the most popular universal platform.
By price, Delonghi espresso machines are conditionally divided into very 'budget' (Caffe Corso and Caffe Venezia series), budget and mid-budget (Magnifica, Dinamica and Autentica), and premium (PrimaDonna, Eletta Explore and Maestosa).
In addition, the lines have some specialization. For example, Magnifica is ideal for making black espresso, PrimaDonna Soul offers innovative Bean Adapt technology, Eletta Explore has 40 pre-programmed recipes and additional LatteCrema Cool milk system.
All series are successful in the market. But the mid-budget Magnifica and Dinamica are the most popular. Of course, the company's management does not ignore consumer preferences, actively expanding these series. In particular, last year the company introduced Dinamica Plus. In turn, Magnifica line expanded with entry-level DeLonghi Magnifica Start and with more expensive Magnifica Evo.
Magnifica Start claims to repeat the incredible success of the legendary Magnifica ECAM 22.110 (Magnifica S), which has been successfully competing in the market since 2014. With a launch price up to € 450, it offers an improved cup stand, new 'Long' / 'Doppio+' programs, and the classic preparation of 'Americano' with hot water added to espresso.
Magnifica Evo ECAM 290.21 with manual steam wand was introduced last year. This year the series has been expanded with new $ 900 Magnifica Evo ECAM29084 with auto LatteCrema system and $ 800 ECAM29043 with a manual frother.
ECAM29084SB vs ECAM29043SB
Both coffee machines use the reliable Delonghi's built-in conical burr grinder with 13 settings.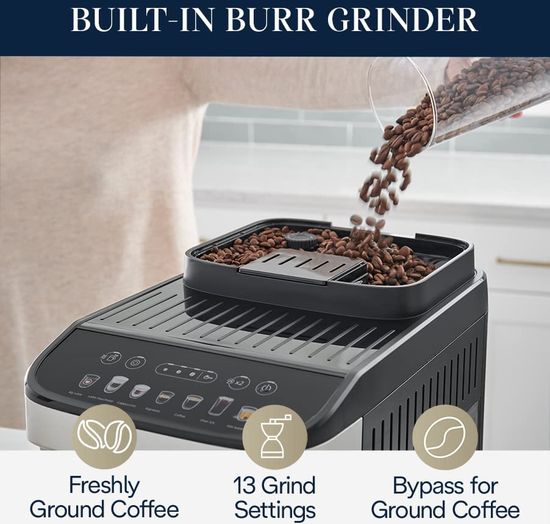 Large and bright color touch icons are very comfortable and unmistakably responsive to touch.
The dimensions of the models are identical and match those of the new Delonghi Magnifica Start (17.32 x 9.45 x 14.17 inches or 44 x 24 x 35 cm).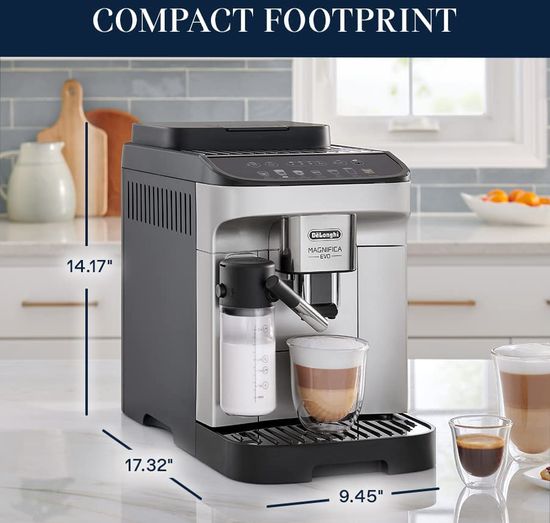 In fact, the milk system is the main and only difference, which in turn affects the price and supported programs. In particular, the ECAM29084SB costs $ 900, has a LatteCrema system with automatic cleaning function, and offers 7 one-touch recipes, including:
– Espresso;
– Coffee;
– Over Ice;
– Latte Macchiato;
– Cappuccino;
– My Latte (customization to personalize and save your own coffee and milk recipes);
– Hot water.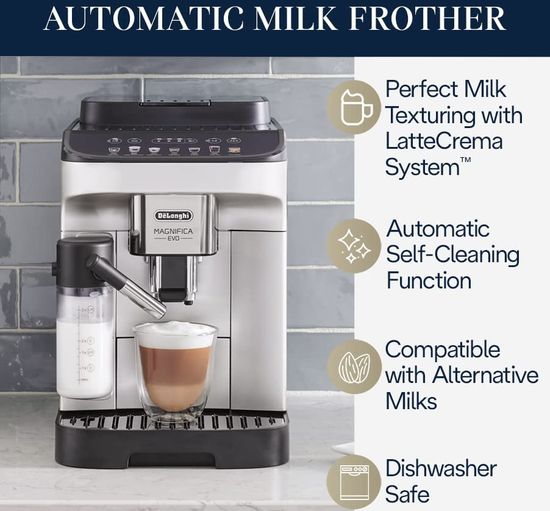 The company patented the LatteCrema system in 2014. As known, making a classic cappuccino requires:
– density – finely dispersed foam with the optimal size of 'bubbles';
– the foam volume is 1.5 times the milk volume (LatteCrema system provides 1.6);
– temperature 60-65°C.
In fact, the special LatteCrema carafe precisely mixes steam, air and milk in the correct proportions, whipping up foam of optimal consistency.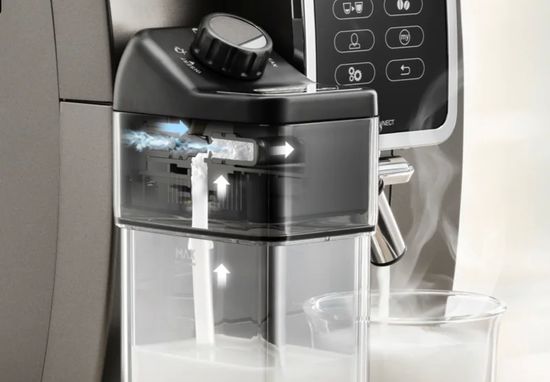 ECAM29043SB with manual steam wand is $ 100 cheaper ($ 800 vs $ 900) but only supports 6 one-touch recipes, including:
– Espresso;
– Coffee;
– Long;
– Americano;
– Over Ice;
– Hot water.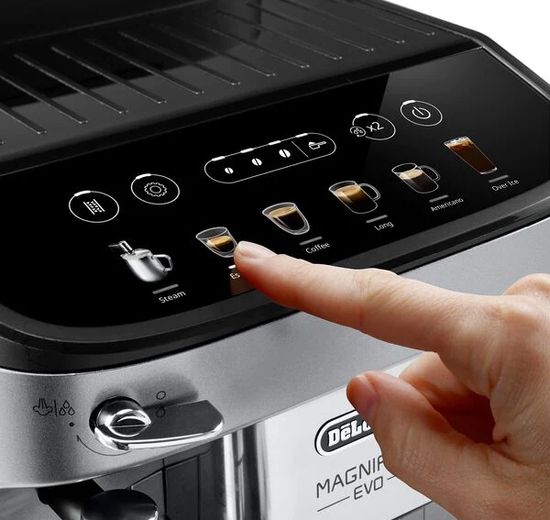 In fact, Latte Macchiato, Cappuccino and My Latte in 29084 are replaced by Long and Americano in 29043. Taking into account the programs, Evo 29043 can be positioned as a more expensive version of Delonghi Magnifica Start. It's ideal for black espresso lovers.
Conclusions
The list of latest Delonghi novelties includes:
– ECAM Dinamica Plus – $ 1,700 for ECAM37095TI;
– DeLonghi Clessidra ICM17210 drip coffee maker with a precise temperature range (92-96°C) an infusion time control – from £ 100 up to $ 180;
– DeLonghi ECAM Eletta Explore with additional LatteCrema Cool milk system and 40 pre-programmed coffee recipes – $ 1,800 for ECAM45055S.
New entry-level DeLonghi Magnifica Start series expands the budget model line.
Finally, the new $ 900 Magnifica Evo ECAM29084 with LatteCrema system and $ 800 ECAM29043 with a manual frother complement the mid-budget segment.
The Evo ECAM29084 is almost twice expensive vs Magnifica Start series. In principle, it's quite adequate to LatteCrema system and wider functionality due to milk recipes. But the price difference of up to $ 350 ($ 800 vs $ 450) between Magnifica Evo ECAM29043 and Magnifica Start with a manual frother is bewildering. In principle, both models are ideal for black espresso and have roughly the same specs and functionality. But perhaps the correction of launch prices will eliminate this misunderstanding.
In general, the traditionally good value for money promises excellent marketing prospects for both new series of the Magnifica family.
These two videos show the operation of the LatteCrema system in Magnifica Evo ECAM 290.81.TB and using the steaming / hot water dial in models with manual milk frother.