The innovation boom in TV segment has been going on for several decades. Almost every year, companies introduce new technologies. Some of them cannot compete and disappear, like 3D technology, for example. Others are developing successfully. However, their rates of development differ significantly. For example, fantastically expensive Micro LED panels with amazing image quality have been used mainly for advertising for many years.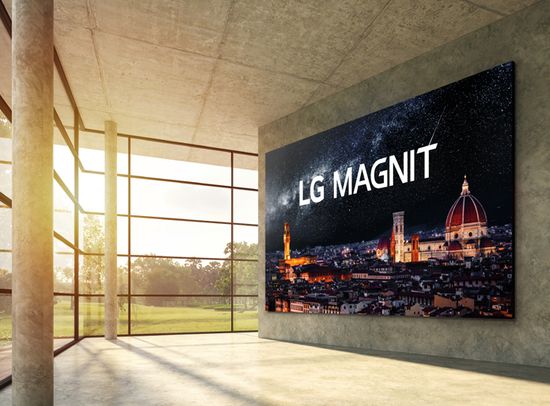 This technology uses small modules with magnetic mounts.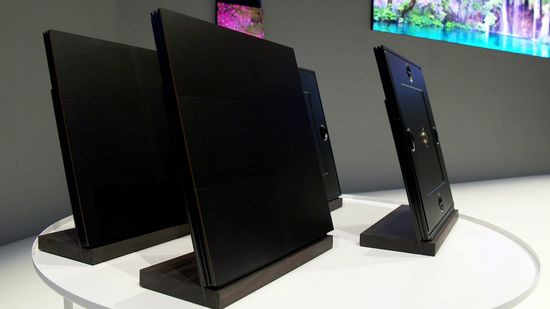 The modular design virtually eliminates their size limitation. Of course, companies are constantly improving this technology. For example, from 2019 to 2022, Samsung significantly reduced the size of the micro-LEDs used to 50-100 microns (the company does not indicate the exact dimensions).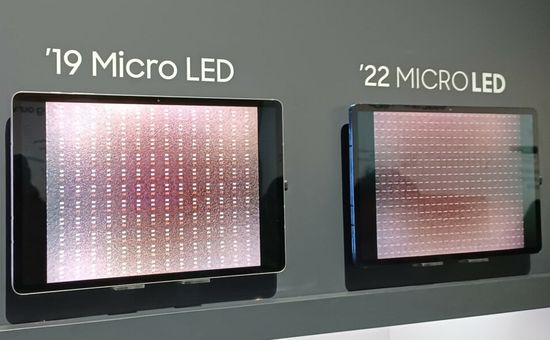 Unfortunately, the huge price tag of $100,000 and up drastically limits their popularity.
Fundamental TVs technologies
OLED (self emitting organic light-emitting diode) panels without the backlight
The absence of stray light from the backlight ensures perfect blacks and thus 'infinite' contrast.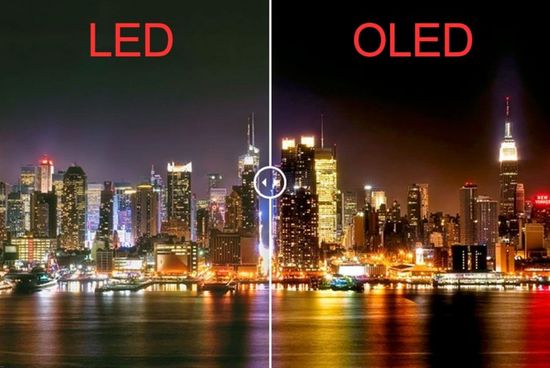 Quantum dot (QD) technology
It forms colors using microparticles, the size of which matches the wavelengths of red and green. Illumination from the blue LEDs is directed onto an array of 'quantum dots'. The re-emitted green and red are combined with the blue that partially passes through the quantum layer. These primary colors generate near-perfect white, which is sent to the color LCD filter for the final formation of pixel colors.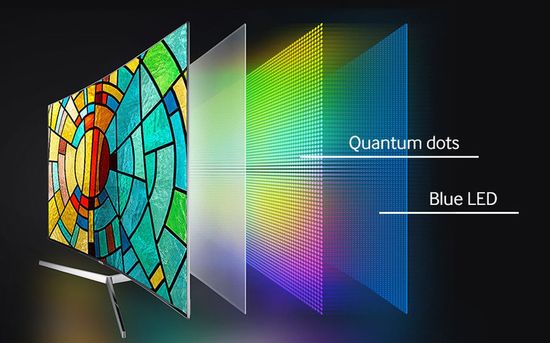 In fact, the developers have created an analogue of a small sun in TV, providing a perfect white for backlight. QD significantly expanded the color gamut, radically increased the colors brightness and color accuracy.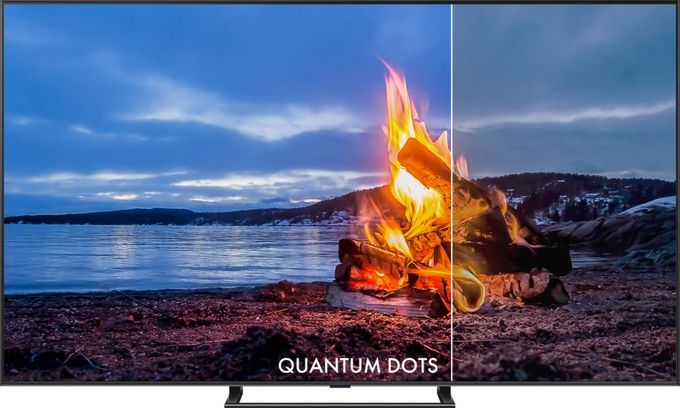 Local dimming technology
Depending on the scene, it controls the backlight intensity in different areas of the frame, providing an increase in overall contrast.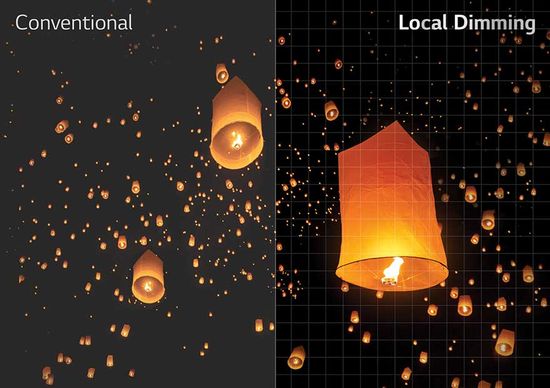 Today this backlight is called FALD (Full-Array Local Dimming);
It has become one of the main innovations of the past year. By using miniature LEDs, developers have drastically increased their number.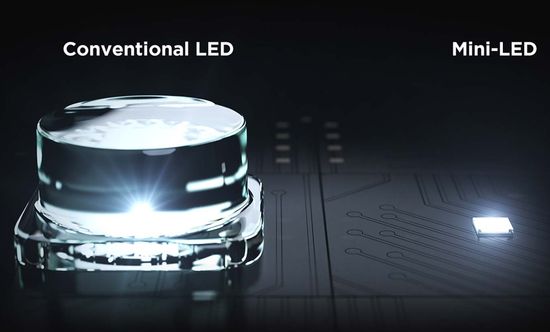 Grouped into hundreds and even thousands of arrays, they dramatically increase the accuracy of backlight intensity control in individual screen areas depending on the scene content. As a result, the dynamic contrast of LCD TVs with miniLED backlight almost reached the 'infinite' OLED-contrast. For example, local dimming with miniLED backlight of last year's Samsung Neo QN90A enhances its dynamic contrast ratio up to an unprecedented 26,000:1.
Today, several versions of this technology are actively used, including TCL OD-Zero and OD5 version, Samsung Neo series and LG QNED model range.
Hybrid QD-OLED panel
Of course, an increase in image quality is accompanied by an increase in price. As a result, OLED TVs and LCD models with a QD panel and miniLED backlight are in the same price segment. The most intense competition has unfolded between LG OLED vs Samsung Neo QLED miniLED. In particular, the specifications and prices of the great Samsung Neo QN85A/QN90A with QLED panel are almost identical to superb LG OLED G1 and LG OLED C1.
This year's Asian giants unveiled Sony BRAVIA XR A95K and Samsung S95B with Samsung Display's hybrid QD-OLED panel, which was announced a few years ago. This technology combines OLED contrast with the brightness, color accuracy and wide color gamut of quantum dot technology.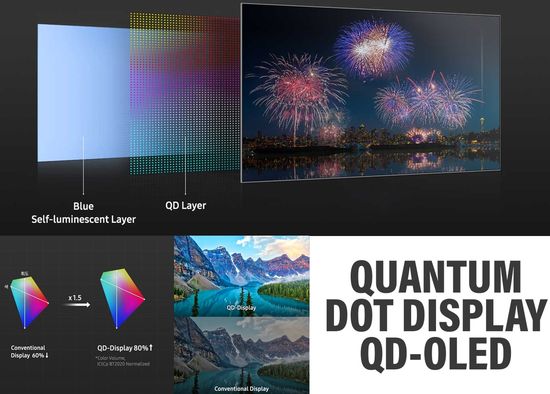 Instead of white, it uses an additional blue OLED stack to illuminate green and red 'quantum' microparticles.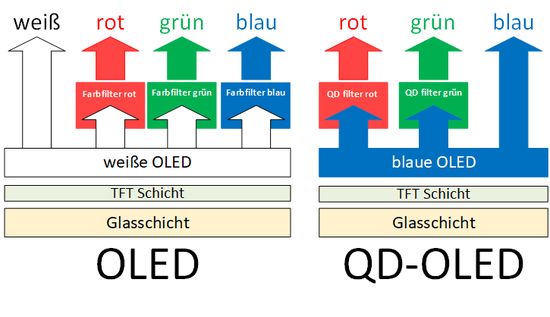 As known, organic LEDs in OLED panels directly emit a red, blue and green light under the influence of current. The colors of sub-pixels in LED LCD TVs are formed by liquid crystals that transmit light depending on the polarization. In fact, they work like color filters.
Hybrid QD-OLED panels generate blue from the main blue OLED stack. Green and red are generated by appropriately sized 'quantum' microparticles, which are illuminated by an additional blue OLED stack. The absence of a liquid crystal color layer, which reduces the overall image contrast due to the partial passage of light, is one of the main goals of this technology. At the same time, it retains all bonuses of QD technology.
But its objective assessment requires comparison with traditional technologies, including the new Samsung Neo QLED miniLED QN90B/QN95B TVs, and LG OLED Evo G2/C2 models.
LG G2 OLED Evo vs Samsung S95B QD-OLED
Unlike Sony, Samsung prefers to position the S95B as an OLED model, which, however, is not important.
G2 vs S95B
– price – $ 2,200 vs $ 2,000 for 65 inch model;
– contrast – 'infinite' :1;
– peak brightness – 1170 nits vs 1250 nits;
– reflections – no layer against reflections vs layer against reflections. Visible reflections of models ~83% vs 93%;
– SDR / HDR performance (movies & sport) – identical (~100% / 90%);
– color gamut (DCI-P3 / Rec. 2020) – ~80% / 60% vs ~90% / 90%;
– OLED Evo and QD-OLED panels provide very wide viewing angles. But the LG OLED image loses a little color saturation at an angle. The S95B reproduces virtually no loss of saturation or color distortion even with a significant deviation from the screen axis;
– 4.2ch@60W vs 2.2.2ch@60W;
– supported video formats – HDR10, HLG, Dolby Vision, Dolby Vision IQ vs HDR10, HLG, HDR10+, HDR10+ adaptive.
As known, Dolby Vision IQ was introduced at CES 2020 and is an improved version of the HDR standard. This system uses built-in sensors to automatically calibrate the image on the screen depending on the ambient lighting. In fact, it optimizes brightness and contrast for high quality reproduction of HDR content, even in broad daylight.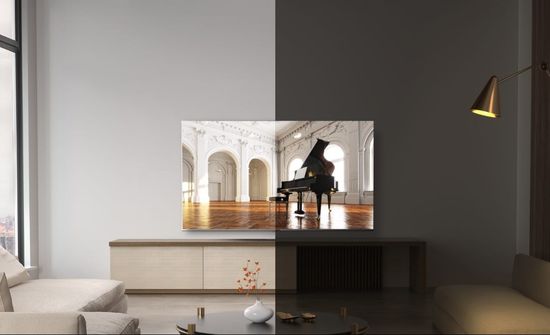 Unfortunately, it's only compatible with HDR Dolby Vision content, which is currently available mainly on Netflix and iTunes.
In turn, a year later Samsung introduced HDR10+ adaptive, which also optimizes the viewing for HDR10+ content in all lighting conditions.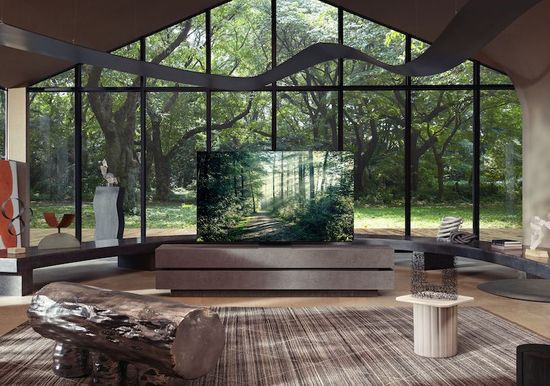 Like Dolby Vision IQ, Samsung Neo QLED TVs use built-in sensors to intelligently analyze ambient light. These results are integrated into dynamic metadata and used to optimize the scene's brightness and contrast.
Specs
Both models are fully consistent with the modern premium level, offering (G2 vs S95B):
– model range – 55″ / 65″ / 77″ / 83″ vs 55″ / 65″;
– Twin Tuner for receiving two channels (PiP or 'picture-in-picture' feature divides TV screen between the two channels);
– Dolby Atmos and Dolby Digital support and HDMI ARC/eARC connectors for lossless digital audio transmission to external devices;
– display frequency 120Hz;
– response time ~ (0.2ms vs 0.3ms);
– 4x HDMI 2.1;
– VRR (variable refresh rate), FreeSync & G-Sync.
As known, G-Sync doubles frequency when it falls below the minimum, preventing screen stuttering. FreeSync only reduces this effect;
– Input Lag (4K@120Hz / 4K@60Hz +HDR) – ~6ms / 13ms vs ~5ms / 10ms;
– webOS 22 vs Tizen 7.0;
– Bluetooth (Samsung's Gaming Hub with Bluetooth controller supports cloud gaming without a console);
– USB recording PVR (recording to an external storage device via USB);
– Timeshift (a pause during which the TV records content for later viewing).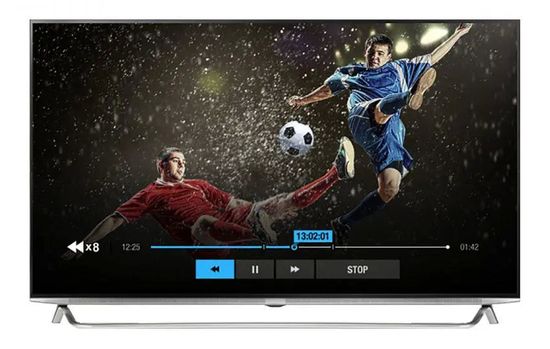 – Apple Airplay (wireless media streaming);
– Apple Homekit (control via Apple devices) – yes vs no;
– voice control – Google Assistant + Amazon Alexa.
Conclusion
Sony BRAVIA XR A95K and Samsung S95B with hybrid QD-OLED panel have taken their rightful place in the premium segment. $ 3,000 for a 65″ Sony A95K may be a bit pricey, but $ 2,000 for a 65″ Samsung S95B promises superb marketing prospects for this model. It's competitive even with its own great Samsung Neo QN90B/QN95B TVs, which rightfully claim a place among this year's bestsellers.
Compared to the new LG OLED Evo G2, it's $ 200 cheaper ($ 2,000 vs $ 2,200), slightly brighter (1250 nits vs 1170 nits peak brightness), and has a wider color gamut due to QD technology.
Support for Dolby Vision/Dolby Vision IQ (LG) vs HDR10+/HDR10+ adaptive (Samsung) formats is approximately equivalent. But, in fairness, Dolby Vision content is less accessible today. In general, the models offer about the same value for money. Therefore, the choice between them depends on the personal attitude to the brands and the conditions of sale.
Curiously, the less bright LG OLED Evo С2 is a more dangerous competitor for the Samsung S95B. In fact, the lower peak brightness (860 nits vs 1100 nits) is its main difference from the flagship G2. But 65″ model costs only $ 1,700. Given the approximate identity of other specs and functionality (SDR/HDR performance, viewing angles, contrast, smart functionality, gaming performance, etc), the LG OLED Evo C2 offers the best value for money. As a result, it confidently enters most of the top lists among the most popular TVs.
This video offers LG OLED C2/G2 vs Samsung S95B QD-OLED comparison.