For many decades, innovative technologies have been the main competitive tool in the consumer electronics segment. High-tech TVs perfectly demonstrate this trend. In just the last few years, industry leaders have introduced:
– mini LED backlight (TCL – OD-Zero and OD5 version, Samsung and LG – Neo and QNED series);
– Dual Cell technology – Hisense;
– OLED Evo panel – LG;
– hybrid QD-OLED panel (Sony A95K and Samsung S95B.)
In addition, companies are constantly improving video and audio processing, expanding smart functionality, etc. A very incomplete list of recent innovations includes:
– Samsung TV Real Depth Enhancer – algorithm increases the image depth by increasing the foreground contrast;
– Sony Dynamic Contrast Enhancer – algorithm makes the bright parts brighter and the dark parts darker, boosting the contrast;
– LG Dynamic Tone-mapping Pro – algorithm 'divides' the screen by about 10 into discrete areas for increased detail.
But, of course, it's much longer.
Mini LED backlight, Dual Cell and OLED Evo panels
The use of miniature LEDs has allowed developers to radically increase their number from a few hundred to tens of thousands.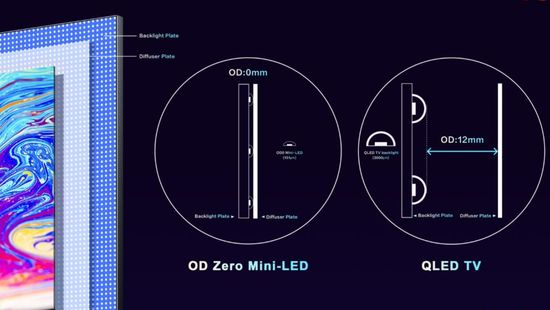 Grouped into thousands of local dimming zones, they dramatically increase the accuracy of backlight intensity control in individual screen areas depending on the scene content. As a result, the dynamic contrast of LCD TVs with mini LED backlight almost reached the 'infinite' OLED-contrast. For example, local dimming based on mini LED backlight of last year's Samsung Neo QN90A enhances its dynamic contrast ratio up to unprecedented 26,000:1. In comparison, traditional models usually provide only (3,000-6,000):1.
Hisense Dual Cell technology uses an additional monochrome layer that adjusts the backlight intensity in different screen areas. In fact, its every pixel acts as a primitive local dimming zone.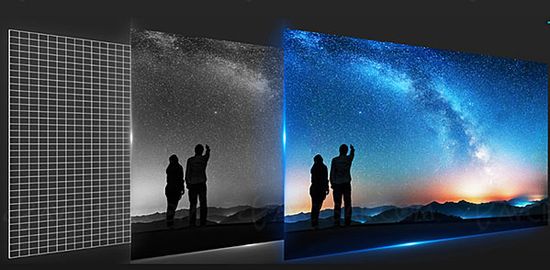 Accordingly, TV with 1080p additional layer uses about 2,000,000 primitive Local Dimming zones. Moreover, the company promises to increase the resolution of the additional matrix to 4K, increasing the number of primitive local dimming zones to 8,000,000. It's scary to imagine the contrast ratio of this TV!
The elegance of this idea is almost aesthetic pleasure. Last year, the company introduced Hisense 75U9DG with this technology. Unfortunately, this year its development did not follow.
OLED Evo panel was first introduced in last year's LG OLED G1. Using an additional substrate with blue emitters, a third green emitter layer between two blue emitters, and deuterium instead of hydrogen to make blue emitters, the developers increased the brightness of the Evo panel by about 20% or up to of 1,000 nits (cd/m2).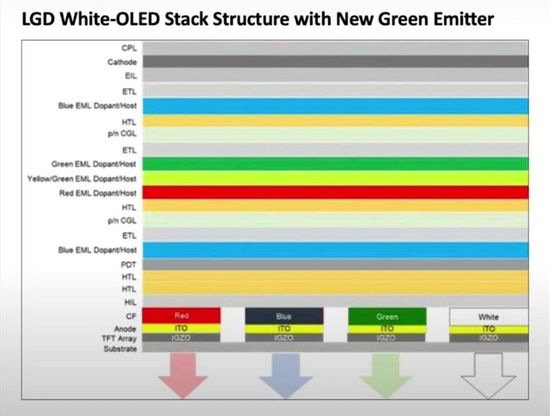 QD-OLED panel
The development of a hybrid QD-OLED panel was announced by the South Korean giant a few years ago. The idea of combining the high brightness, color accuracy and wide color gamut of quantum dot technology in relatively inexpensive LCD panels with the 'infinite' OLED-contrast is quite obvious. But, of course, its development required the solution of a huge number of technological problems. However, Samsung Display has successfully solved them. As a result, the premium TVs segment has expanded this year with the Sony A95K and Samsung S95B with QD-OLED panels. However, Samsung prefers to position its TV as OLED.
Briefly, the new hybrid panel uses an additional blue OLED stack instead of the traditional white for backlight the 'quantum dot' layer.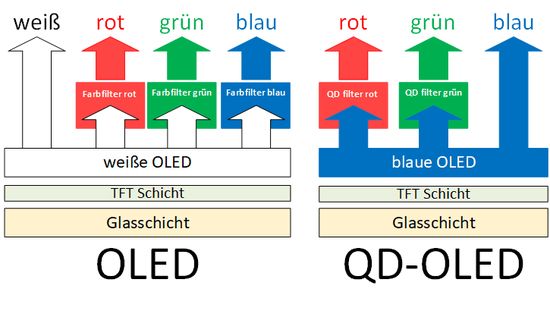 Probably, the slogan 'OLED-contast at the QLED price' is quite adequate to the result.
Curious, but today Samsung S95B with QD-OLED panel competes with Samsung Neo QLED series (QN90B/95B) based on mini LED backlight. Given the identical smart-functionality and the same Samsung's video and audio processing technologies, their comparison most objectively demonstrates the differences between technologies. All models offer:
– standards – HDR10, HDR10+, HLG and HDR10+ adaptive;
– Tizen 7.0 OS;
– Bluetooth;
-Twin Tuner supports receiving two channels at the same time. PiP (picture-in-picture) feature divides TV screen between the two channels;
– USB recording PVR (personal video recorder) allows you to record programs to an external storage device. It directly connectes to TV via USB, and external HDD acts as a video recorder;
– 4x HDMI 2.1 and 2x USB 2.0, Ethernet RJ45, digital optical, but no HDMI 2.0 and USB 3.0;
– Timeshift (a pause during which the TV records content for later viewing).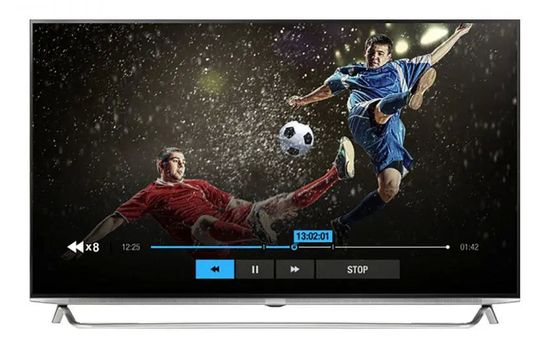 – no Ambilight mode (background light function).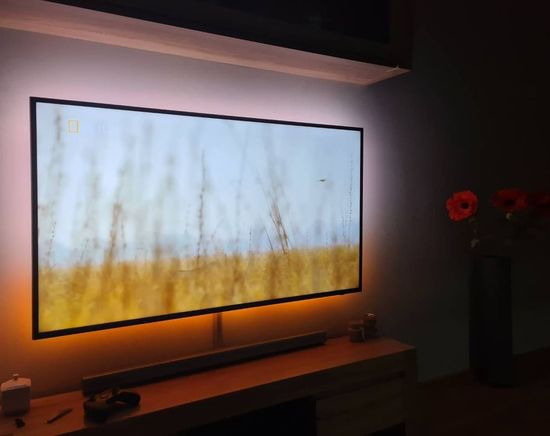 Samsung S95B vs Neo QLED QN90B / 95B
Neo QLED TVs with miniLED-based FALD (Full Array Local Dimming) use 720 local dimming zones for 65″ model.
S95B vs QN90B vs QN 95B
– price – $ 1,980 vs $ 1,600 vs $ 2,400;
– contrast – 'infinite' :1 vs 19,000 :1 vs 29,500 :1;
– peak brightness – 1,250 nits vs 1,800 nits vs 2,200 nits;
– all TVs have layer against reflections, but its performance is max in S95B (conditionally, more than 90% vs 85-90%);
– viewing angle – almost perfect up to 100% vs up to 80%.
Neo models have an additional Wide Viewing Angle Layer that reduces color distortion when deviating from the screen axis. But in any case, panel angle increase reduces the color saturation.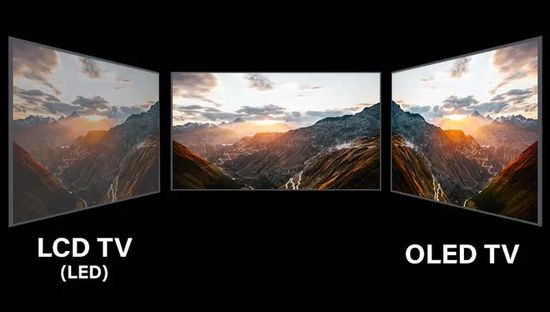 – color gamut – 89% vs 83% vs 91% for DCI-P3 and 89% vs 70% for Rec.2020. This specification is almost identical in S95B and QN95B for DCI-P3. DCI (Digital Cinema Initiatives) color space standard is used in digital cinemas, Rec. 2020 or BT.2020 is the ultra high definition television (UHDTV) standard. Rec. 2020 is wider, but DCI is much more commonly used.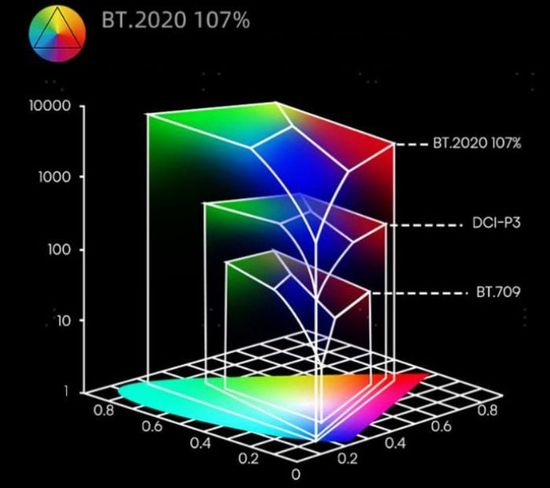 – 'movie' performance – 97% vs 90% (SDR image) and 89% vs 86% (HDR image). S95B reproduces SDR content almost perfectly, but there is almost no difference when playing in HDR mode;
– 'sports' performance – 87% vs 75% (S95B offers more uniform colors);
– audio – 2.2.2 channels / 60W vs 4.2.2 ch / 60W vs 4.2.2 ch / 60 W.
All models support Dolby Atmos and Dolby Digital, have HDMI ARC/eARC, but come without a built-in soundbar. Unlike the Neo series, the S95B has a 3.5mm jack.
Gaming and additional features
All models support 120Hz with VRR via AMD FreeSync and are G-Sync compatibility. G-Sync is considered the best vs FreeSync. It doubles the number of Hertz when they reach below the minimum, preventing screen stuttering. FreeSync only reduces these effects.
Samsung's Gaming Hub with Bluetooth controller supports cloud gaming without a console, but without Dolby Vision color space support.
Input lag of all models is ~10ms for 4K@60Hz +HDR and ~5ms for 4K@120Hz. But unlike other models, QN95B supports 144 Hz with powerful PC.
Tizen OS has internal voice assistant Bixby, supports Amazon's Alexa and Google's voice assistant. In addition, all TVs support Apple Airplay (wireless media streaming), but without Homekit (control via Apple devices).
What is important, QN95B comes with a very convenient One Connect Box (connection case for cables).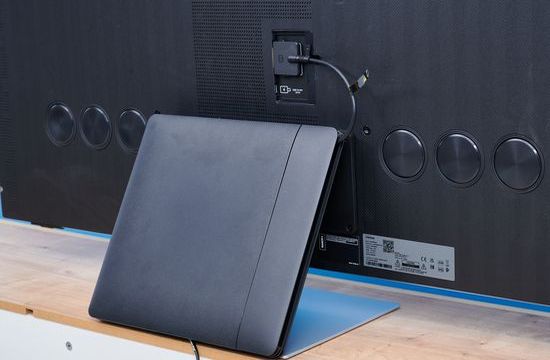 Moreover, Samsung Neo QLED models offer ultra-slim Infinity One design with frameless screen and flush mounting on wall.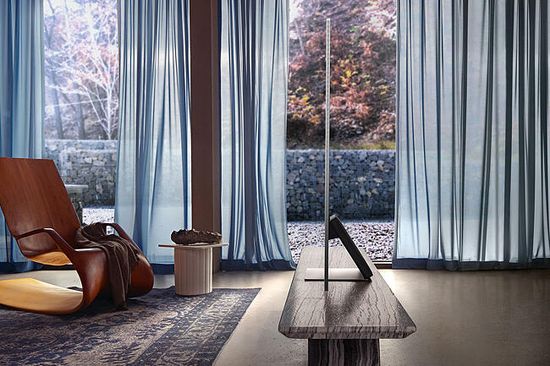 Pros:
S95B QD-OLED
– 'infinite' contrast;
– max viewing angles;
– SDR image is ideal;
– headphone 3.5mm jack.
Theoretically, a QD-OLED panel retains the burn-in risk, but in recent years this problem has become almost irrelevant.
Neo QLED
– high brightness;
– Neo QLED QN90B without One Connect Box is $ 400 cheaper;
– ultra-slim Infinity One design with frameless screen;
– One Connect Box and 144Hz support in QN95B.
To be fair, 3.5mm jack, ultra-slim design and connect box do not depend on the type of panel, and their use is due only to marketing considerations of the company's management.
Conclusion
The S95B with QD-OLED panel is priced between Neo QLED 90B and 95B models with mini LED backlight ($ 1,980 for S95B vs $ 1,600 for QN90B and $ 2,400 for QN95B). The $ 800 difference between Neo models is due to One Connect Box, 144Hz support, 29,500:1 vs 19,000:1 contrast ratio and 2,200 nits vs 1,800 nits peak brightness. But the specs and price of the flagship QN95B are less typical compared to QLED 90B.
Comparing with it shows a slight improvement in image quality for a small increase in price. In fact, the value for money of the new TV is almost identical to the previous Neo series with an innovative mini LED backlight and QLED panel with quantum dot technology.
In general, the TV segment has successfully expanded by new QD-OLED panel. Unlike the competition between OLED and QLED, the difference in price, contrast and brightness has been reduced even more. Of course, their image quality varies slightly depending on the ambient light and content (SDR/HDR, sports, movies, games, etc). But in most cases, the perception of difference requires eagle's vigilance.
Formally, the S95B QD-OLED with better contrast ratio is ideal for viewing in a cozy apartment in foggy Albion with moderate ambient light. Brighter Neo QLED with high peak brightness better resist glare and other light sources. It's probably ideal in sunny California. But in general, the price remains the main selection criterion.
Today the Internet contains a large number of videos demonstrating TVs with QD-OLED, NEO QLED and OLED panels. This video offers a side-by-side comparison of the specs and key features of Samsung QN90B NEO QLED vs S95B QD-OLED.