The digital revolution at the end of the last century was accompanied by the rapid invasion of consumer smart electronics into our lives. Today, multicooker, coffee machine, robotic vacuum, etc have become an indispensable attribute of the interior in almost any apartment.
Outdoor media devices
Of course, the segment of high-tech media devices did not stand aside. Today this list includes TVs, smartphones, tablets, soundbars, projectors, etc. Many modern people can no longer imagine a relaxation without these entertainments.
As a result, many of us prefer to relax on the veranda or by the pool with a smartphone or TV remote in hand, which harmoniously complements a cup of aromatic coffee or a glass of cold beer. Of course, companies quickly grasped the new trend and flooded the market with various outdoor versions of entertainment devices. For example, projector manufacturers have even formed a segment of inexpensive mini LED projectors for watching movies on your lawn.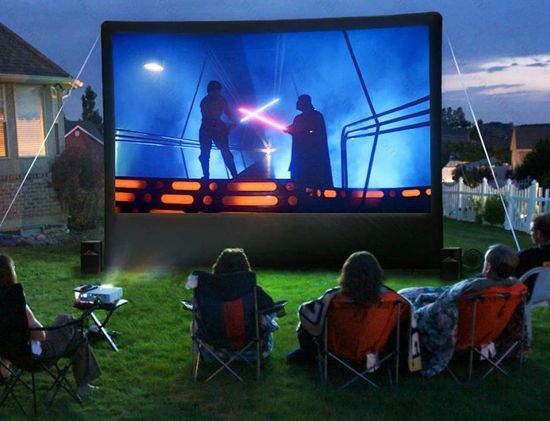 Moreover, several years ago, smartphone manufacturers actively tried to implement the projector option in their models. This list contains, for example, very popular Blackview Max 1 and Moviphone (Voga-V) projector phones with an integrated laser projector and MEMS (micro-electromechanical systems) technology.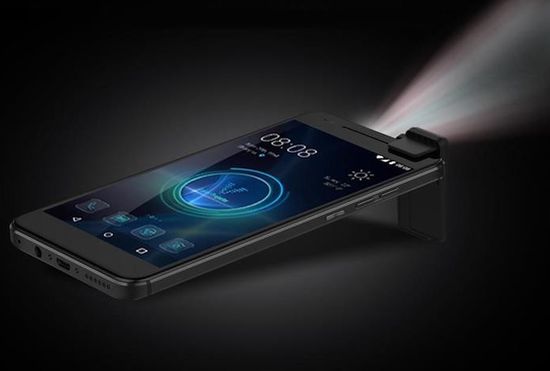 Unfortunately, this direction has lost the competition compared to the combination of traditional mini projectors + smartphone, which provide significantly higher quality at a significantly lower price.
But outdoor TVs have several key features. These models are significantly more expensive and are used mainly for commercial use in outdoor cafes, etc.
In principle, companies offer an alternative relatively cheap solution to this problem with additional waterproof outdoor TV enclosure.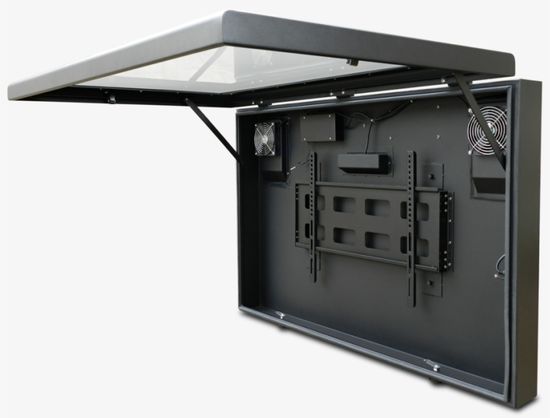 It costs about $ 50 and effectively protects the TV from moisture, dust, insects and temperature changes. In this case, an ordinary TV with the required specs is placed in a waterproof enclosure and used as an outdoor TV. A list of modern models with well-suited specs for this purpose includes, for example, LG C1 OLED TV, Sony OLED A80J, or Samsung QN85A QLED TV.
Outdoor TVs
As known, the contrast and brightness images deteriorate sharply in direct sunlight, so outdoor TVs have enhanced brightness, highly effective anti-reflective coating, specialized filters. Expensive models often use auto picture adjustments that adapt to sunlight intensity.
In addition, audio in regular TV is designed for reflections from walls, ceilings and floors. In open space, the sound quality deteriorates significantly. Therefore, they usually use the soundbar.
As a rule, outdoor TVs are intended for large number of viewers, and must provide sufficiently wide viewing angles. Unfortunately, IPS panels or their improved ADS version with wide viewing angles are less bright compared to VA panels, which in turn have narrow viewing angles.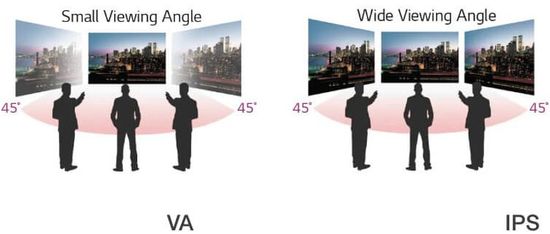 Of course, all outdoor TVs and their accessories have very high level of weatherproofing (IP55 rated and above).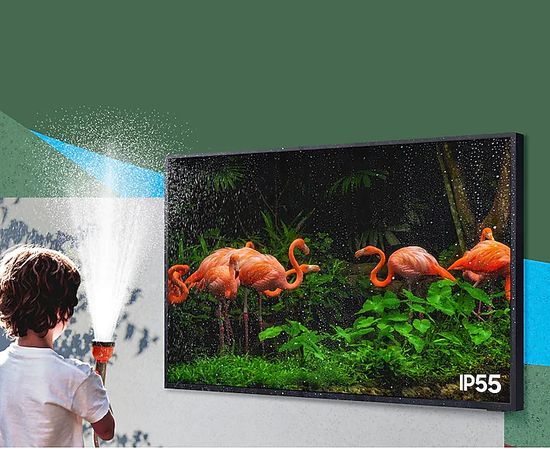 For example, soundbars use sealed woofers and tweeters that are resistant to temperature changes, and TV mounts use anodized coatings and industrial-strength paint.
The requirements for tightness are due to obvious reasons. First, the moisture destroys electronic components in an unprotected enclosure very quickly, and companies usually mention this aspect in their manuals. For conventional models, the manufacturer will usually void the warranty in this case.
Also, the combination of dark narrow aisles and the warmth from the electronics makes the inner space of regular-body TVs a great spot for insects. The bugs, spiders and wasps are happy to build nests in such places.
Therefore, outdoor TVs usually have full-metal enclosures with rust-resistant powder coating, display of impact resistant glass, weatherproofed ports, and use sealed vents, speaker grilles, seams and screw holes.
They also use active built-in heating and cooling to maintain the required temperature for electronic components.
Modern waterproof TVs
Today companies offer outdoor TVs in three price segments, including the cheapest models for full shade only, medium – for partial sunlight, and expensive – for full sunlight.
Curiously, until 2020, all major manufacturers were located in America. This list includes SunBriteTV, LLC, Charlotte, North Carolina (develops and sells outdoor TVs since November 2004), Peerless-AV, LTD, Aurora, IL (since 2013), Furrion Ltd, Elkhart, IN (since 2004), Séura, Green Bay, Wisconsin (since 2003) and SkyVue, Rock Hill, SC (since 2010).
But last year, Samsung expanded its TVs lineup by unveiling the new The Terrace series of outdoor TVs at CES 2020. The emergence of the eminent South Korean giant is unlikely to please these companies, but it's useful for the consumer market.
Samsung currently offers two models in this series. More affordable The Terrace Partial Sun include:
– 55-inch – $ 2,800;
– 65-inch – $ 4,000;
– 75-inch – $ 5,000.
But The Terrace Full Sun Outdoor TVs are twice as expensive:
– 65-inch – $ 8,000;
– 75-inch – $ 10,000.
Basically, the price difference is justified, but it may seem excessive. Full Sun models are designed to work in the sun and use Direct-Sun protection, which protects the panel up to 6 hours in sunlight at 700 watts and 104 degrees Fahrenheit.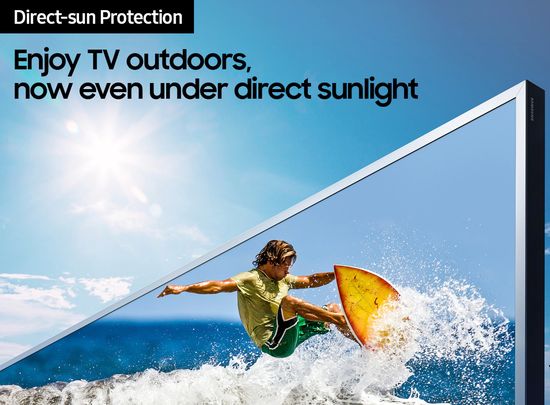 This TV provides automatic decrease in brightness to protect the panel when the temperature is too high. In addition, the Full Sun panel is brighter. Its peak brightness exceeds 1,500 nits. Other specs are nearly identical. In addition, Full Sun & Partial Sun TVs support almost all of Samsung's innovative technologies.
Samsung Quantum HDR 32x technology
List of main specs:
– 4K QLED;
– IP55 rating;
– Voice control;
– Alexa compatible;
– Tizen 6.0;
– QLED 4K – 100% Color Volume technology (Quantum-dot display technology with wide color gamut and accurate colors).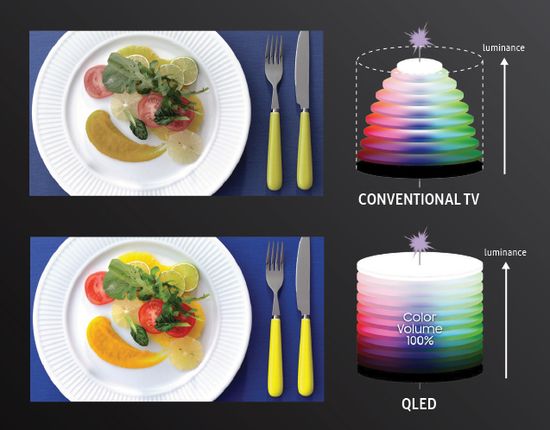 Quantum HDR 32x technology is one of the main innovative pros of the new Samsung TVs, which provides detail and brightness enhancement.
Unfortunately, Samsung did not disclose the technical details of this technology.
Apparently, Quantum HDR is a mix of HDR and Quantum Dots technologies. Accordingly, TV with Quantum HDR has QLED screen and supports for HDR technology. But what do the indices 12x, 16x, 24x, 32x and 64x mean?
According to one version, it's a multiplier for the coefficient '100', which determines the peak brightness. In this case, for example, Quantum HDR 12x provides the peak brightness 12 x 100 = 1,200 nits, and 16x – 1,600 nits, respectively. But, in this case, the peak brightness of models with Quantum HDR 32x and 64x should reach 3,200 and 6,400 nits, which causes quite reasonable skepticism.
However, the technology does show significant improvements in HDR performance.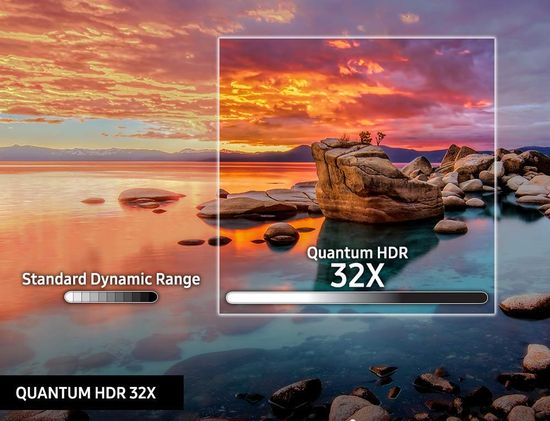 Other technologies
– Motion Rate 240 – Clear Motion Rate (framerate interpolation or black frame insertion to improve motion clarity). For example, the 'Motion Rate 120' option simulates 120 fps refresh rate on the 60Hz native refresh rate display. As known, a high refresh rate cuts out the blur between fast-paced images, providing an ultra-smooth playback of high dynamic scenes in gaming or when watching sports, movies, and more.
– Anti-Reflection – The Terrace series uses high-performance anti-reflection technology, greatly reducing TV reflection and glare while also enhancing picture contrast level.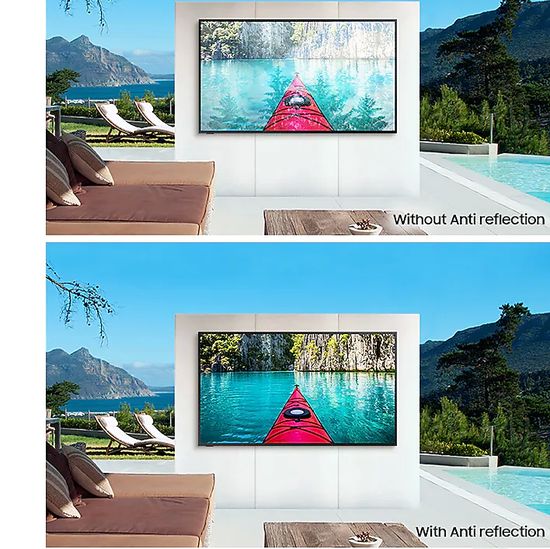 – Direct Full Array 16x technology uses concentrated zones of precision-controlled LED backlight arrays, providing deeper contrast for richer blacks and brighter whites.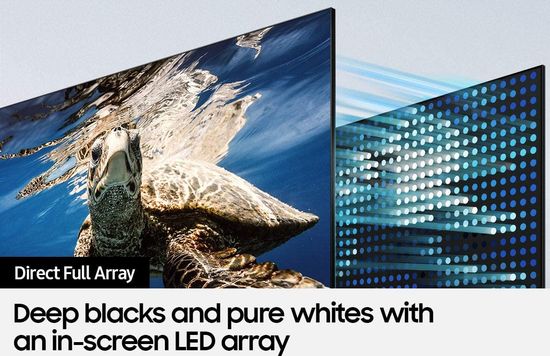 – 4K AI Upscaling with a powerful quantum processor automatically analyzes the input source, reduces image noise, restores lost details and definitions the edges around objects.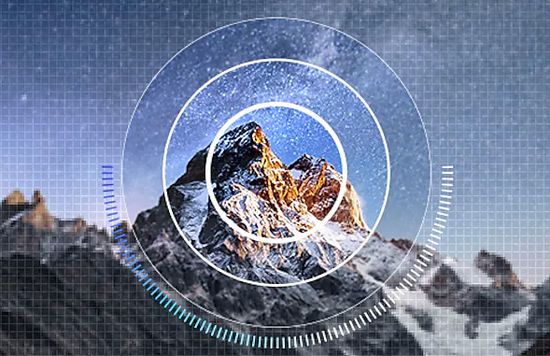 – Adaptive Picture – adapts to the viewing environment by automatically brightness adjusting.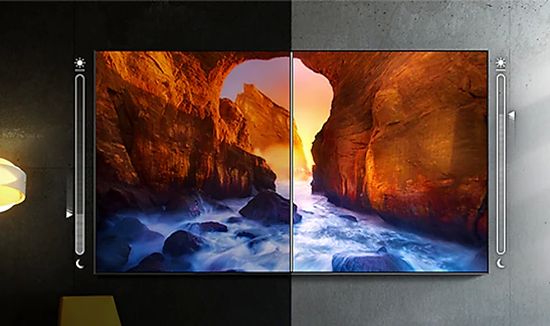 – Tap View – mirroring movies or music from smartphone to TV. The device automatically activates this mode by touching the smartphone to the TV.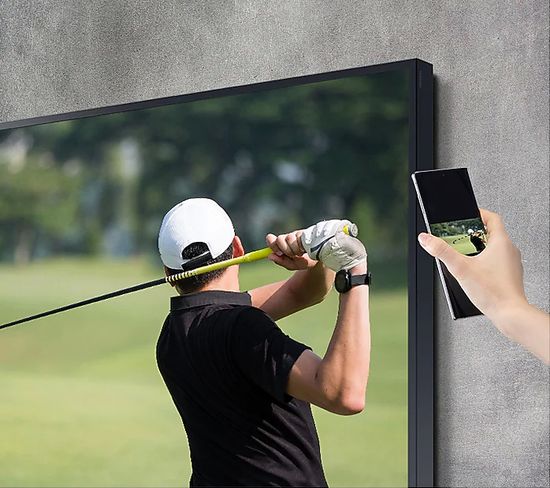 – Multi View – 2-screen mode.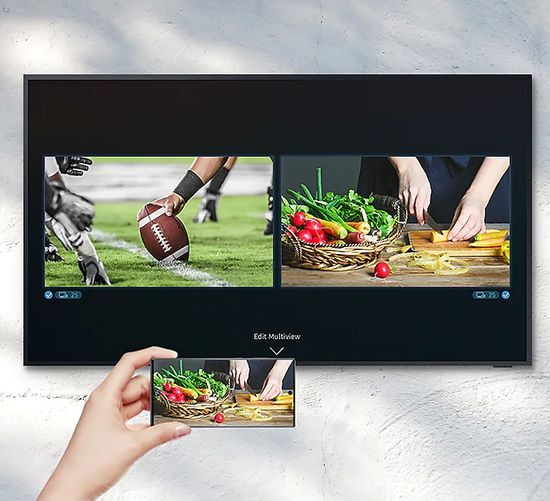 – Built-in HD Base-T Receiver – to connect with external devices with one cable.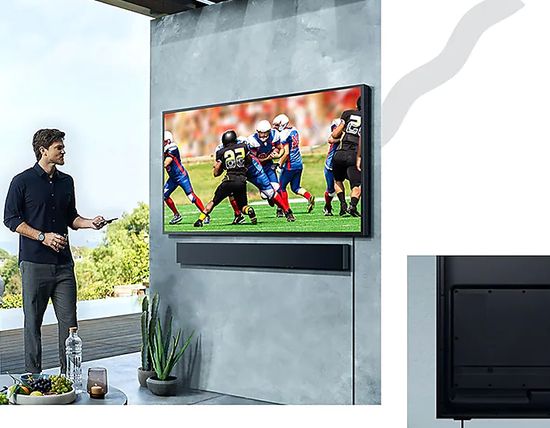 Conclusion
Probably, autumn is not the best time to equip the gazebo with household appliances, but autumn discounts provide significant savings on expensive planned purchases. Therefore, choosing and buying outdoor TV during this period is quite reasonable.
Today companies offer two options.
1. An ordinary TV with the required specs is placed in a waterproof outdoor TV enclosure. A list of models with well-suited specs includes:
– LG C1 OLED TV ($ 1,900 / 65″);
– Sony OLED A80J with innovative cognitive processor XR ($ 2,200 / 65″);
– Hisense ULED U8G ($ 985 / 65″);
– Samsung QN85A QLED TV ($ 1,500 / 65″).
They are behind in terms of image quality in sunlight, but they clearly win in price. For example, the great 65-inch LG C1 OLED with waterproof enclosure costs less than $ 2,000 vs $ 4,000 for the 65-inch The Terrace Partial Sun.
2. Outdoor TVs.
Today Samsung The Terrace series competes successfully with Sunbrite weatherproof TVs due to its good value for money.
In turn, this series is divided into budget Partial Sun models and brighter premium Full Sun models with Direct-Sun protection, which provide high quality images even in direct sunlight. Of course, hardly anyone will place TV in the field, and verandas and terraces provide shade by default. Therefore, this option is a bit redundant. On the other hand, the difference of several thousand dollars is unlikely to embarrass the owner of a villa with a luxurious pool in the yard.
This video showcases the new Samsung The Terrace Full Sun LST9 QLED 4K outdoor TV.