As a result of the digital revolution, smart devices have quickly filled our lives. As a consequence, most modern people no imagine relaxing without a smartphone or TV remote in hand even in the courtyard of their house. Of course, companies quickly grasped the high potential of consumer demand, filling the market with various outdoor media devices, including waterproof TVs.
Outdoor TVs
Using traditional model as outdoor TV is almost impossible due to several reasons:
– viewing in sunlight requires high brightness and effective anti-reflective coating;
– evening viewing in the dark requires high contrast with good black depth;
– viewing in a large company requires wide viewing angles;
– audio is practically not re-reflected in the open space, so outdoor TVs usually use soundbars;
– the moisture destroys electronic components in an unprotected enclosure very quickly;
– the combination of dark narrow aisles and the warmth from the electronics makes the inner space of regular-body TVs a great spot for insects. The bugs, spiders and wasps are happy to build nests in such places.
Companies solve these problems as follows:
– waterproof TVs and their accessories have IP55 rated and above. For example, soundbars use sealed woofers and tweeters that are resistant to temperature changes, TV mounts use anodized coatings, etc. TVs use full-metal enclosures with rust-resistant powder coating, display of impact resistant glass, weatherproofed ports. In addition, they have sealed vents, speaker grilles, seams and screw holes;
– weatherproof model also use active built-in heating and cooling to maintain the required temperature for electronic components;
– to compensate for sunlight, they use highly effective anti-reflective coating and specialized filters. Some models support an automatic brightness and contrast adjustment to adapt to the sunlight intensity.
Of course, these solutions substantially increase the price. But in principle, companies have long been offering a much cheaper solution using waterproof outdoor TV enclosure.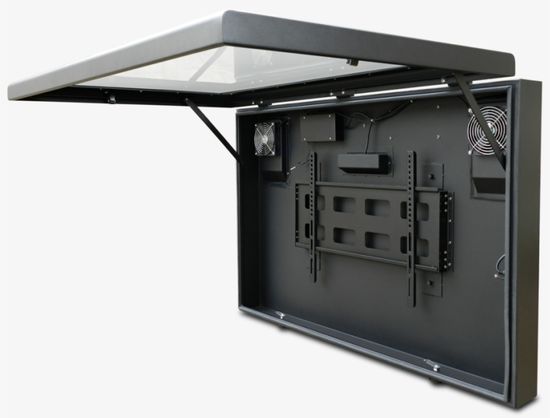 It costs about $ 50 and effectively protects the TV from moisture, dust, insects and temperature changes. In this case, an ordinary TV with the required specs is placed in a waterproof enclosure and used as an outdoor TV.
Samsung outdoor TVs
Until last year, the major manufacturers of weatherproof TVs were based in America. This list includes SunBriteTV, LLC, Charlotte, North Carolina (develops and sells outdoor TVs since November 2004), Peerless-AV, LTD, Aurora, IL (since 2013), Furrion Ltd, Elkhart, IN (since 2004), Séura, Green Bay, Wisconsin (since 2003) and SkyVue, Rock Hill, SC (since 2010).
But at CES 2020 Samsung announced their new Partial Sun outdoor TVs of The Terrace series. The appearance of the South Korean giant in this segment hardly aroused the joyful enthusiasm of other companies, but significantly expanded the choice of consumers. This year, the company has expanded this series by premium Full Sun models.
Today the company offers:
Partial Sun (2020)
– 55-inch – $ 2,800;
– 65-inch – $ 4,000;
– 75-inch – $ 5,000.
Full Sun (2021)
– 65-inch – $ 8,000;
– 75-inch – $ 10,000.
The brighter Full Sun TVs use Direct-Sun protection, which protects the panel up to 6 hours in sunlight at 700 watts and 104 degrees Fahrenheit. They provide high quality images even in direct sunlight. Otherwise, all The Terrace TVs use the same technologies and have the same specs.
Main specs:
– IP55 rating;
– Voice control;
– Alexa compatible;
– Tizen 6.0;
– QLED 4K – 100% Color Volume technology (Quantum-dot display technology with wide color gamut and accurate colors).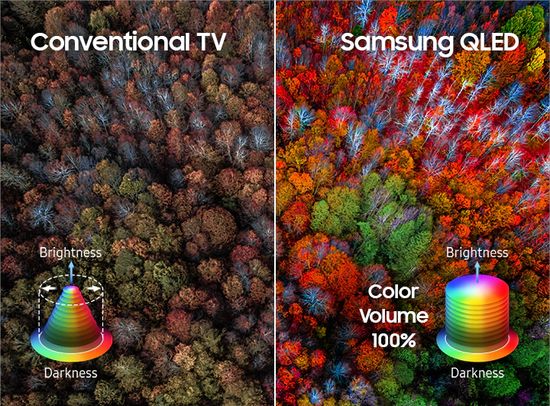 Technologies:
– Quantum HDR 32x;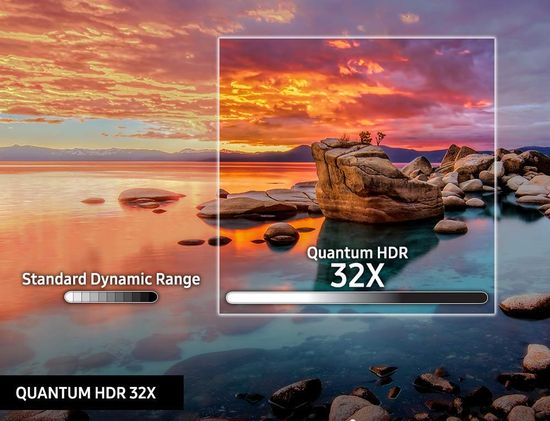 – Motion Rate 240;
– high-performance anti-reflection technology;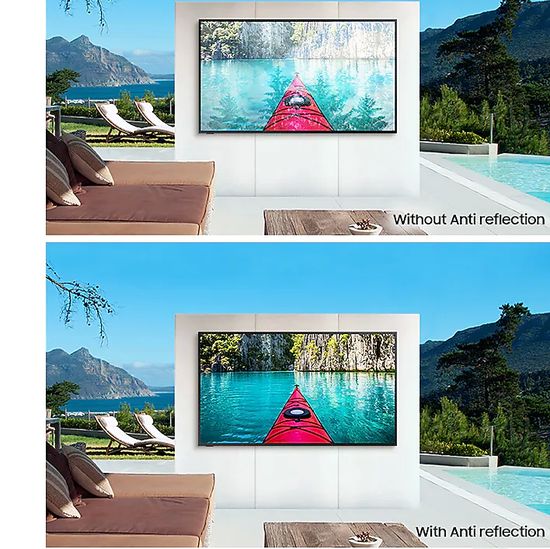 – Direct Full Array 16x technology;
– 4K AI Upscaling;
– Adaptive Picture;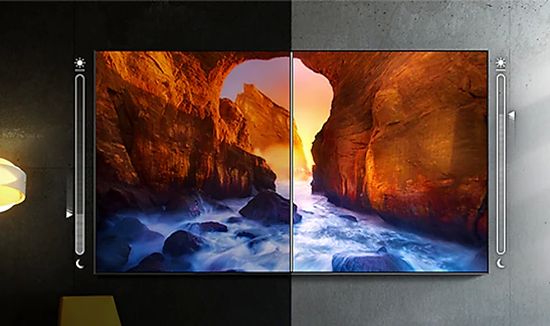 – Tap View, Multi View modes, and HDBaseT standart (to connect with external devices with one cable).
Samsung The Terrace Partial Sun
These models have good marketing prospects due to their excellent value for money. Their high bright provides good visibility in daylight, and its high contrast ratio produces deep blacks when viewing at night. Model has a fast response time and uses a Black Frame Insertion feature to enhance motion clarity in highly dynamic scenes, which is important for watching sports or for gaming. The low input lag and a 120Hz refresh rate are also great for gaming. Unfortunately, TV does not support variable refresh rate (VRR) to minimize screen tearing between frames.
Its wide color gamut, vey high peak brightness, and effective full-array local dimming (FALD) provide excellent HDR performance with vibrant colors.
Unfortunately, traditionally for VA panels, this model has narrow viewing angles, which is not very convenient for viewing in a big fun company. In addition, the model is designed only in a wall-mounted version, and comes without a wall-mount or a stand.
Today Samsung The Terrace Partial Sun TV is sold in the US under the name QN LST7 TAFXZA, Canada – QN LST7 TAFXZC, UK – QE LST7 TAUXXU, and Germany – GQ LST7 TAUXZG.
PROS
– high contrast ratio;
– very high brightness;
– great HDR performance;
– very efficient reflection handlin;
– 120Hz refresh rate;
– low input lag.
CONS
– traditionally high price for outdoor TVs;
– narrow viewing angles;
– comes without a wall-mount;
– does not support variable refresh rate (VRR);
– minor vignetting.
As known, vignetting is a reduction of an image's brightness or saturation toward the periphery compared to the image center.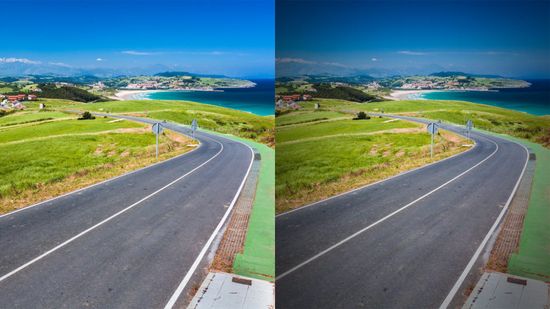 Contrast and brightness
TV provides deep rich blacks with great native contrast 6,499: 1, which increases to 7,906: 1 with local dimming. As a result, the TV provides excellent picture quality even in the evening without additional lighting.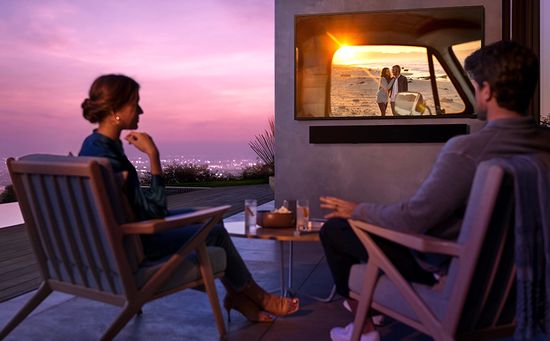 In general, the FALD feature quite effectively eliminates blooming, but its level is closer to the average due to slow switching between zones.
High brightness has long been one of the main pros of Samsung QLED TVs. But The Terrace's brightness stands out even among Samsung models.
This series has become the first in the TV industry to be verified by Underwriters Laboratories (UL) for outdoor visibility performance.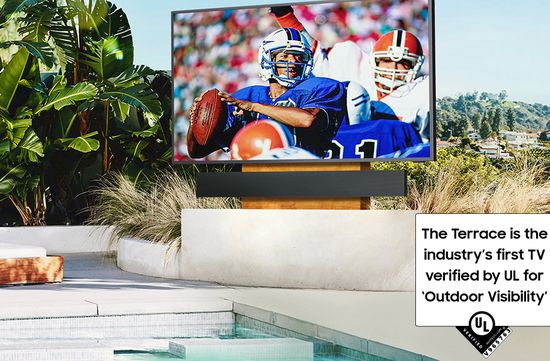 As known, UL is a global safety science company. It's the largest and oldest independent testing laboratory in the United States.
In 'Movie' Picture Mode, with 'Max' brightness, 'High' local dimming, and 'Warm 2' color temperature, TV delivers unprecedented SDR Brightness across all ranges, including:
– Peak 10% Window – 1,668 nits (cd / m²);
– … 50% Window – 1,787 nits;
– … 100% Window – 1,681 nits.
As a result, the model easily suppresses glare even in direct sunlight. Moreover, it exceeds 2,000 nits in 'Dynamic' Picture Mode, with 'High' for local dimming and contrast enhancer. But, of course, this mode reduces image accuracy.
HDR Brightness is also great and reaches ('HDR Movie' Picture Mode, with 'High' local dimming, and 'Max' brightness and contrast):
– Peak 10% Window – 1,729 nits;
– … 50% Window – 1,852 nits;
– … 100% Window – 1,893 nits.
The maximum settings ('Dynamic' Picture Mode, 'High' local dimming and contrast enhancer) increase peak to almost an unprecedented 6,000 nits in the 10% window, but of course reduce image accuracy.
Testing
As known, viewing angles of bright VA panels are significantly inferior to IPS or their improved ADS version.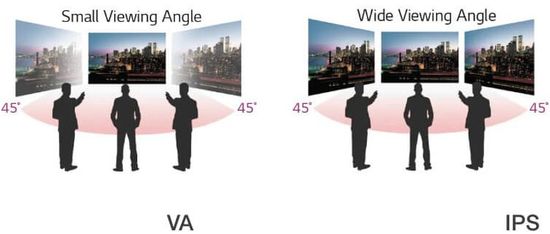 The Samsung Terrace TVs with VA panels are no exception and only has sub-par viewing angles. Measurements show:
– Brightness Loss – 30°;
– Black Level Raise – 19°;
– Gamma Shift – 19°.
Therefore, even a slight deviation of the viewer from the screen axis is accompanied by a decrease in image clarity, saturation and color accuracy.
But series has great reflection handling, providing 2.1% of total reflections (in all directions from screen, 4.5% – good value) and 0.2% of indirect reflections (reflected light amount without direct or mirror-like reflections, 1.0% – good value).
Unfortunately, the tested model only showed an average Pre Calibration level, including:
– White Balance dE – 3.33 (good value <3);
– Color dE – 3.07 (<3);
– Gamma – 2.29 (2.1- 2.3);
– Color Temperature – 6.019 K (6500 K).
Too 'warm' color temperature gives the image a slight reddish tint.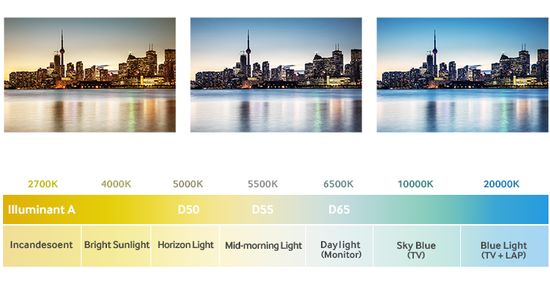 But the calibration provides almost perfect settings:
– White Balance dE – 0.22;
– Color dE – 0.74;
– Gamma – 2.21;
– Color Temperature – 6,500 K.
4K AI Upscaling works equally well with 480p content (for example, from DVDs), 720p content from cable boxe, and 1080p picture from Blu-rays.
Of course, the series supports Wide Color Gamut, providing over 90% coverage of DCI P3 color space and around 70% of the wider Rec. 2020.
Response Time is 3.0 ms for 80% Response Time (80% of a full transition from one color to another, good value <6 ms) and 14.2 ms for 100% Response Time (good value <14 ms). This parameter is important when playing highly dynamic scenes.
Conclusion
Of course, hardly anyone equips their veranda in the fall with a TV, but autumn discounts provide significant savings on planned purchases. Therefore, choosing and buying the outdoor TV during this period is quite reasonable.
Today Samsung The Terrace series offers Partial Sun & premium Full Sun outdoor TVs. Full Sun TVs are brighter and use Direct-Sun protection. They provide high quality images even in direct sunlight. But hardly anyone will place TV in a field, and gazebos and terraces provide shade by default, reducing the importance of this technology. Moreover, basic specs and the list of technologies of The Terrace models are identical. Therefore, Partial Sun with great value for money wins in terms of marketing prospects.
In fact, these TVs today compete with conventional models with well-suited specs in a waterproof case, including:
– LG C1 OLED TV ($ 1,900 / 65″);
– Sony OLED A80J with innovative cognitive processor XR ($ 2,200 / 65″);
– Hisense ULED U8G ($ 985 / 65″);
– Samsung QN85A QLED TV ($ 1,500 / 65″).
Slightly inferior in image quality in sunlight, they clearly win in price. For example, the great 65-inch LG C1 OLED with waterproof enclosure costs less than $ 2,000 vs $ 4,000 for the 65-inch The Terrace Partial Sun. On the other hand, the difference of several thousand dollars is unlikely to embarrass the owner of a villa with a luxurious pool in the yard.
This video demonstrates Samsung The Terrace Partial Sun outdoor TV.