As known, OLED (organic light-emitting diode) technology uses the diode's own radiation and provides "infinite" contrast due to the lack of LED-backlight. Simplistically, the signal absence at the corresponding diode provides absolutely black. In LED TV the light from the backlight partially passes onto the screen, providing only grayscale. But high price and relatively low brightness of OLED models limit their dominance over traditional LCD LED technology. In addition, QLED, NanoCell, FALD (full-array local dimming), and other innovations have dramatically improved the picture quality of LED TVs, sharpening competition between technologies. Moreover, Samsung's success in developing hybrid QD-OLED, QD-MicroLED and QDEL technologies may conclude this discourse in favor of a third hybrid solution.
Maybe that's why LG is simultaneously developing OLED and NanoCell technologies. But today OLED continues to dominate the premium segment of LG TVs. This year, the company has unveiled several 4K OLED series. The CX series aroused particular interest from experts, because it's positioned as a continuation of the legendary C9 series, which is rightfully considered the best OLED TV of 2019.
Traditionally for OLED technology, the LG CX OLED uses an ultra thin design up to 1.8 inches thick.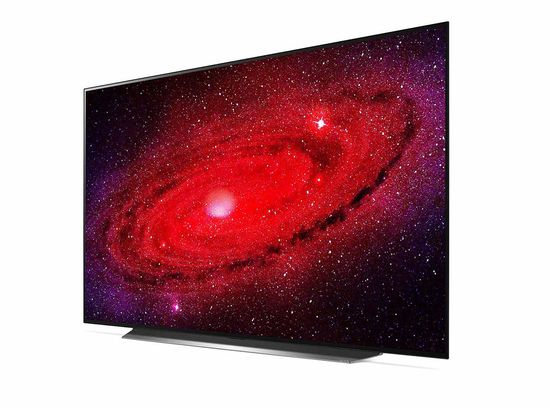 The TV is installed with included table-top stand or wall mounted using a standard VESA 300 x 200 bracket. In addition, the CX has four HDMI 2.1 ports.
The CX series uses the latest Alpha 9 Gen 3 processor and AI ThinQ software, which provide AI 8K upscaling, AI Picture Pro, etc in new LG TVs.
In particular, AI Picture Pro improves the clarity of the facial features and the accuracy of the reproduction of skin tones. AI Sound Pro technology analyzes and classifies sound into five categories, choosing the optimal playback mode.
Features
The series includes LG 4K OLED 55″ (65″ and 75″) CX PUA TVs priced at $ 1,700, $ 2,500 and $ 4,000, respectively. Of course, CX supports the popular HDR (high dynamic range) formats, including HDR10, HLG (hybrid log gamma) and Dolby Vision IQ. Today they are often used in streaming services, including YouTube or 4K broadcasts from the DirecTV.
In fact, new Dolby Vision IQ from Dolby Laboratories can be positioned as a logical development of Dolby Vision standard. As known, unlike HDR10, Dolby Vision supports passing content with dynamic metadata for brightness control in each scene. The Dolby Vision IQ content playback uses a light sensor in TV. Based on the ambient light level, an algorithm automatically adjusts the brightness and color gamut of the TV, ensuring consistent picture quality regardless of the ambient light.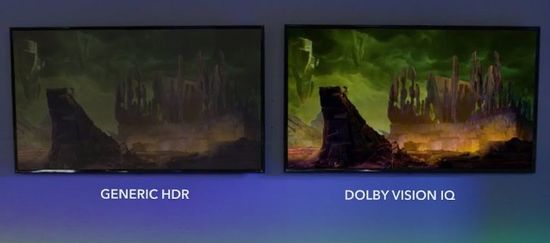 When identifying Dolby Vision content, the TV will automatically activates Dolby Vision IQ mode. Previous LG models also use AI Brightness to adjust brightness based on ambient light.
Besides the custom settings, the TV offers preset modes, including sport, movies, gaming, vivid pictures, HDR effects, and new Filmmaker Mode. As known, it was first announced this year. Filmmaker Mode does not use some video processing algorithms, including motion smoothing, reinstating the original aspect ratio, colors and frame rates, etc. As a result, TV creates the most realistic image, but at the expense of its quality. Modern models have a corresponding option in the menu, but in the future, the company promises to automatically activate it via video content metadata.
Calibration
As known, LG has partnered with CalMAN since 2018, expanding the hardware calibration of its models. For example, in 2019, this feature expanded with a built-in template generator. Calibration has become more available this year, but still requires an X-Rite i1 colorimeter and CalMAN software.
In addition, improved dynamic tone mapping provides continuous adjustment of brightness and contrast in HDR format depending on the scene. In fact, the algorithm adjusts the Perceptual Quantizer (PQ) transfer function.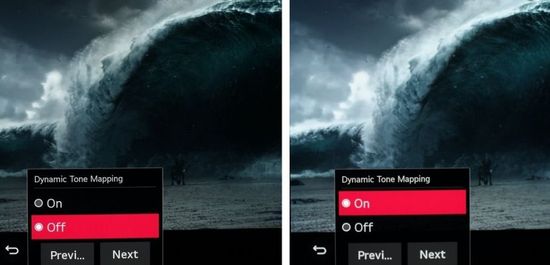 It increases brightness in highlights with white clouds and saturation of colors throughout the frame for improved detail. As a result, the picture looks brighter, but the eye perceives its color temperature as colder. LG CX uses dynamics processing even in director mode.
OLED Motion Pro setup has also improved over last year.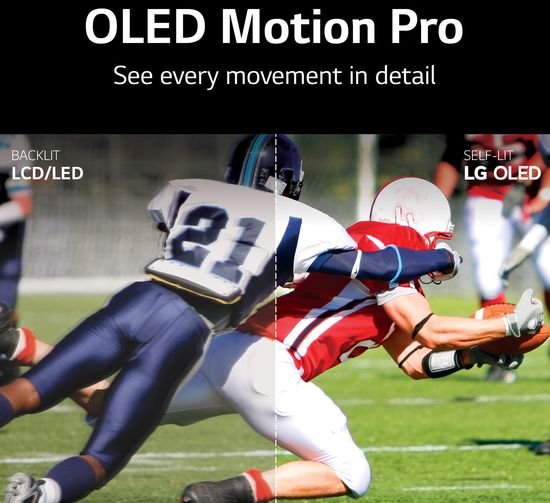 It now inserts a black frame into video, simulating an increase in frame rate. OLED Motion Pro in CX offers five settings, including off / low / medium / high / auto. But a high level is often accompanied by screen flickering. Medium level is very effective at smoothing out action scenes, but black insertion reduces brightness. The auto level is roughly between low and medium. In addition, OLED Motion Pro extends the lag time to 22ms.
TruMotion (frame interpolation) has a new Cinema Clear mode. Unlike traditional TruMotion, it uses less aggressive image smoothing while maintaining realism.
Finally, like all the latest LG models, the TV periodically provides a pixel refresher operation to deter their burn in.
Color rendering
Traditionally for OLED models, the LG CX provides accurate color rendering, maximum viewing angles and smooth color gradations without noise or distortion, even when scaling.
According to the test results, the Delta-E score is 1.95. In comparison, the Sony Bravia A8H OLED scores 1.54, and the Samsung Q90 QLED – 1.51. But in reality, the human eye is unlikely to perceive this difference.
The color gamut is undoubtedly a large plus for the series, reaching over 130% of the Rec 709 color space (96% DCI-P3 and 71% Rec. 2020).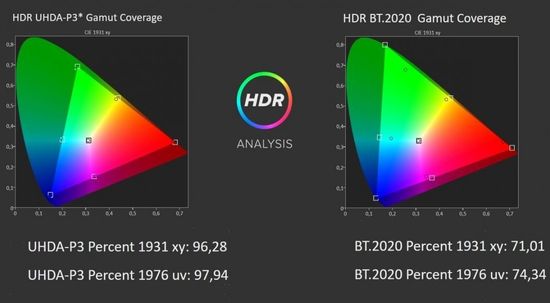 In comparison, the Sony Bravia A8H OLED scored less than 110% and the Samsung Q90 QLED less than 100%.
Traditionally, OLED TVs do not perfectly reproduce shadowy details in darker scenes due to their relatively low brightness. But CX good job with this task, showing in some segments of the image up to 740 nits of peak brightness in HDR mode.
Smart TV and audio
Today LG webOS smart TV with flexible tabs and intuitive graphics is rightfully considered one of the best. The models 2020 use webOS 5.0 for the first time.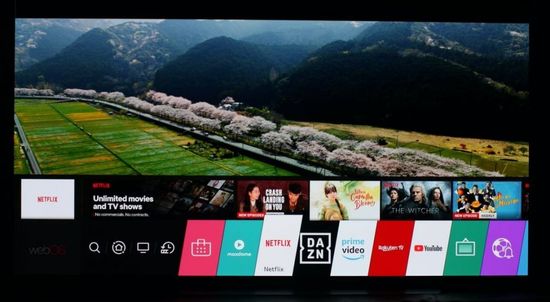 In addition, the LG remote supports a floating on-screen cursor.
Of course, CX supports popular apps from Showtime, Hulu, Disney +, etc. But for the sake of fairness, their range is significantly inferior to Android TV-based. Unfortunately, the inaccessibility of updates for the previous models remains a disadvantage of the webOS platform.
Thanks to a partnership with Apple, the latest versions of webOS come with AirPlay 2, HomeKit and Apple TV preinstalled. As known, AirPlay 2 provides wireless content transfer from iOS and macOS devices to TV, AirPlay 2 and Apple TV support video transmission in 4K Dolby Vision format. The company is also promising support for Dolby Atmos surround sound through a separate update.
The new version also offers a Sports Alert feature that provides notifications about upcoming matches and the results of past games with your favorite team.
Usually, average sound quality is problem of the big ultra thin panels due to the lack of space for speakers. Typically, companies are solving this problem with the help of new technologies.
AI Acoustic Tuning setting in LG TVs 2020 use the microphone of remote to calibrate the audio in each specific room. Setting up is very simple and only takes a few seconds, improving the soundstage. In fact, it offsets the audio to the center. Unfortunately, the extra bass and treble settings require some skill.
Despite only a 2.2 circuit, the series effectively supports Dolby Atmos. Several preset sound modes will suffice for most users. However, TV also offers a five-band equalizer with frequencies from 100 Hz to 10,000 Hz for music lovers.
Games
Of course, the playback of dynamic scenes is one of the main criteria for evaluating a model for games. As known, game console manufacturers announced this year support for 4K / 120Hz resolution and VRR technology, which provides synchronization of the TV refresh rates and the connected device. All LG TVs 2020 come with HDMI 2.1 ports to connect them and support Nvidia G-Sync technology.
The company also promises compatibility with AMD's FreeSync technology in a firmware update.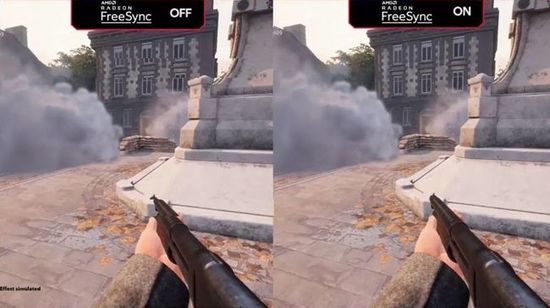 As such, LG OLED 2020 TVs will support all variable refresh rate standards including HDMI VRR, G-Sync and FreeSync.
Game mode also showcased CX's outstanding capabilities, with a lag time of only about 13ms for 1080p SDR, 4K SDR and 4K HDR. According to the company, VRR support will limit it to 6ms for 4K / 120Hz signal. For comparison, the Sony Bravia A8H shows 18 ms and the Samsung Q90 – 24 ms.
In addition, CX supports HGiG (HDR Gaming Interest Group), ensuring colors matching requirements from manufacturers game consoles and eliminating the image processing duplication on the console and on the TV.
Conclusions
Pros
– amazing image quality;
– ultra thin;
– many innovative technologies (Dolby Vision IQ, AI Acoustic Tuning, OLED Motion Pro, Sports Alert feature, etc);
– native 120 Hz refresh rate;
– calibration with CalMAN software;
– amazing gaming potential (minimum lag time, G-Sync, VRR, ALLM, FreeSync);
– excellent smart TV feature;
– great color gamut.
Cons
– very expensive;
– no webOS 5.0 update for the previous models;
– brightness is inferior to Quantum Dots.
In recent years, the company has managed to significantly reduce the prices of OLED TVs. Unfortunately, they are still significantly higher compared to LED TVs. For example, the 77-inch LG 4K OLED CX PUA costs $ 4,000, the 65-inch – $ 2,500, and the 55-inch – $ 1,700. But the superb picture quality, the huge amount of innovation and the amazing gaming experience are well worth the price. Considering the high level of LG's after-sales service, this series has great prospects, especially among the fans of the brand.
This video offers an overview of the LG CX OLED TV.