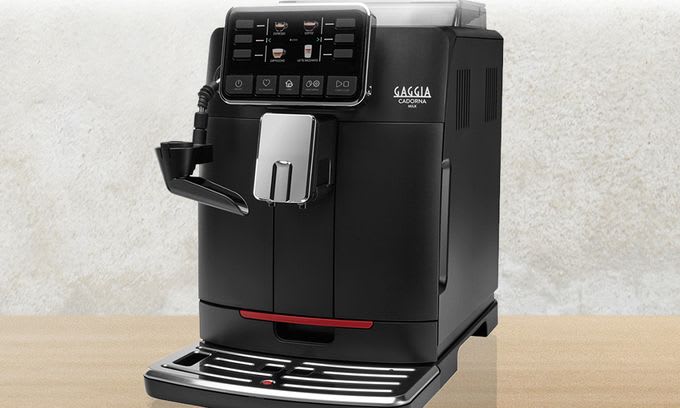 As know, the Gaggia company was founded in 1948 by Giovanni Achille Gaggia. On September 5, 1938, he received a patent for a coffee machine that made espresso without steam. In 1977, the company began producing household espresso coffee makers. The first models provided pressure using a piston and a lever.
Later, they evolved into fully automatic coffee machines with a built-in grinder, dispenser, cappuccino maker, touch display, automatic brewing programs, etc.
Further, Gaggia expanded its range with multifunctional steam cleaners, ironing systems and other small kitchen appliances in the premium segment.
In 1999, the Italian Saeco bought the company. In turn, in 2009 it was acquired by Philips. Today Gaggia uses its own production line, but often uses Saeco technology in its models.
Gaggia Cadorna
Gaggia Cadorna series appeared in 2019. Unlike Gaggia Anima or Babila, which actually copy Saeco Incanto and Exprelia, Gaggia Cadorna is significantly different from Saeco counterpart. Of course, the chassis and main components are also almost identical to the Saeco Intelia Deluxe (Gaggia Velasca), but the control panel and programs have been significantly updated. In particular, they use:
– a flat ceramic coffee grinder with 10 grind levels. Unfortunately, the new series still uses a mechanical regulator instead of electronics. However, some users consider this an advantage;
– flow-through thermoblock with a power of 1850 W;
– ULKA pump 15 bar;
– removable Saeco brew group for 7-11 grams with 5 degrees of coffee strength;
– hopper for beans for 300 g with a bypass for ground coffee, a water tank for 1.5 liters, and a container for cake for 10 portions;
– cappuccino maker – manual with pannarello or automatic (jug included).
The series includes Prestige, Milk, Plus and Style models.
The control panel is a protruding block with a full color non-touch 3-inch TFT screen around which 11 keys are located.
Six buttons on the sides provide selection of a drink, navigation between menus, selection of coffee strength, temperature and volume. Five buttons below the screen correspond to on / off, user profiles, quick return to the main menu, device maintenance and start / stop.
The intuitive interface and high display resolution correspond to a high level. Drinks icons are displayed on the screen using side buttons. Each screen offers 4 recipes. Unfortunately, the order of paging does not change.
List of new features:
– separate setting of strength and temperature for each recipe;
– portion counter;
– four user profiles.
Gaggia Cadorna Style and Cadorna Plus
The Gaggia Cadorna Style with a manual cappuccino maker with a plastic pannarello nozzle practically does not differ from the Gaggia Velasca Black.
The model offers:
– espresso – from 30 to 70 ml, preset – 40 ml;
– lungo – from 60 to 110 ml, preset – 80 ml;
– big lungo – from 100 to 200 ml, preset – 120 ml;
– hot water – from 60 to 420 ml;
– steam;
– Americano – espresso from 40 to 80 ml, preset – 40 ml, water from 60 to 160 ml, preset – 110 ml;
– Ristretto – from 20 to 40 ml, preset – 30 ml.
Gaggia Cadorna Plus accommodates cups up to 6.7 inches (17 cm) high. Accordingly, its body height has increased to 15 inches or 38 cm. In addition, Cadorna Plus uses metal panarello instead of plastic.
Otherwise, it's identical to the Cadorna Style.
Gaggia Cadorna Milk and Cadorna Prestige
The Gaggia Cadorna Milk became the most popular model in the series.
It uses an innovative automatic cappuccino maker, which the company calls the Capp In Cup (CAPPinCUP) System.
This system pours the foam directly into the cup from milking system, which is located on the side.
In addition to the Style and Plus range, but excluding steam, the model can cook:
– cappuccino – froth milk from 80 to 200 ml, preset -120 ml, espresso from 20 to 70 ml, preset – 40 ml;
– latte macchiato – froth milk from 120 to 340 ml, preset – 240 ml, espresso from 20 to 70 ml, preset – 40 ml;
– Cafe au lait ("correct cappuccino with one touch") – lungo 50 to 150 ml, preset – 90 ml, froth milk from 50 to 150 ml, preset -90 ml;
– froth milk – 180 ml, max 340 ml.
Icons for making espresso, coffee, cappuccino and latte macchiato are located on the first page of the menu. The second page contains lungo, americano, cafe au lait and hot water. The third screen is for ristretto and froth milk.
In addition, the model has a quick milk clean, which is automatically requested after each cycle.
Gaggia Cadorna Prestige comes with an integrated milk carafe.
In addition to the Cadorna Milk programs, Cadorna Prestige offers:
– cappuccino XL – 180 ml milk + 70 ml lungo;
– latte macchiato XL – 300 ml milk + 50 ml lungo;
– coffee cortado – 40 ml espresso + 30 ml milk;
– flat white – 80 ml espresso + 80 ml milk.
Conclusion
Pros
– good brewing technology;
– great drink range;
– big bright screen with a friendly intuitive interface;
– high quality of all components.
Cons
– price of Cadorna Prestige.
Gaggia expresso coffee machines traditionally belong to the premium segment. But the Gaggia Cadorna includes the mid-range Style and Plus with a manual cappuccino maker and 6 automatic programs. Today some on-line stores offer them for around $ 600 (€ 500). Milk and Prestige models with an automatic cappuccino maker and 14 automatic programs are more expensive, but quite affordable. In general, the Gaggia Cadorna series can be positioned as a mid-budget. Considering the high reputation of the brand and the excellent quality of coffee, the popularity of the series is quite justified.
This video showcases the fully automatic espresso coffee machines in new Gaggia Cadorna series.