Samsung The Freestyle was first introduced at CES 2022. Briefly, The Freestyle concept can be formulated as 'multifunctionality, convenience and flexibility'. With relatively modest basic specs (1080p resolution, 550 LED lumens brightness, ~ 80% color gamut of DCI-P3 ), the developers have equipped this model with a huge number of basic and additional features. This list includes:
– Horizontal & Vertical digital keystone;
– Pur Color, Contrast Enhancer, Auto Motion Plus and Film Mode for image processing;
– Dolby Digital Plus, Adaptive Sound, Multiroom Link, Bluetooth Audio and eARC (HDMI 1.4) – sound;
– Bixby / Amazon Alexa support;
– swiveling 180° design;
– fast phone-based auto-calibration via Samsung SmartThings app;
– Ambient Mode and lighting effects for creating fancy light shows with perforated lens cover (Lava Lamp and Starry Night).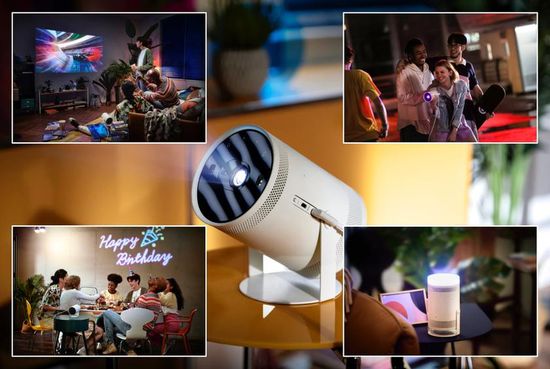 – Portable Monitor mode with autofocus for screen up to 30 inches;
– Microsoft Office 365 support and optional bulb socket adapter ($ 80) turn the projector into a Home office in 'top-down' projection mode.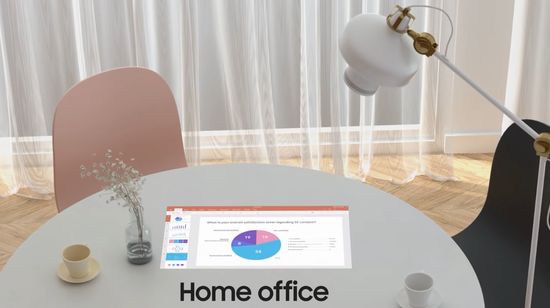 – Samsung skin ($ 28) – Forest Green / Blossom Pink / Coyote Beige;
– TV screen mirroring.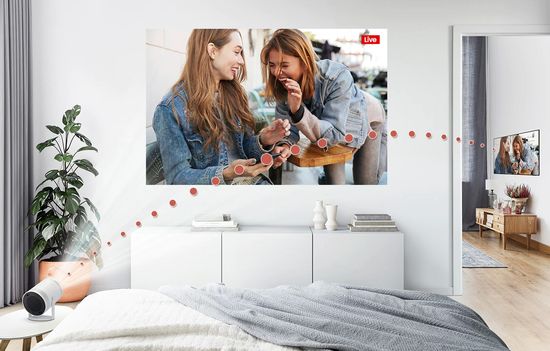 Despite a rather high launch price of ~ $ 900 for 1080p LED model with 550 LED lumens brightness, the projector quickly became popular. Today it has dropped to ~ $ 800. As a result, the company presented new The Freestyle 2023 edition at CES 2023. The expansion of functionality has become its main difference. In particular, it offers:
– Smart Edge Blending;
– Gaming Hub on the built-in Tizen OS software.
Also at CES 2023, Samsung presented the updated Samsung Premiere 8K projector, the max projection diagonal of which reaches 150″.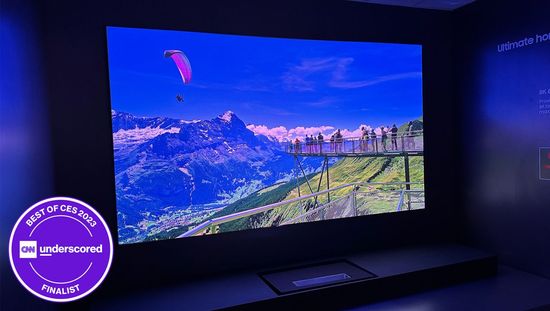 Smart Edge Blending
As known, image quality mainly depends on resolution (sharpness), brightness (rich colors), and color gamut (color shades). The latter factor mainly depends on the light engine (lamp / LED / laser-phosphor / triple RGB laser) and projection technology (DLP / 3LCD / LCoS or Liquid Crystal on Silicon).
The most popular mid-budget and premium DLP models usually use an ALPD-based light engine with a single-laser (laser + phosphor) or triple RGB laser. Single-laser projectors use ALPD (Advanced Laser Phosphor Display) 3.0 version. ALPD 4.0 version was developed for triple-laser light engine. It's more expensive, but provides a much wider color gamut (107% of BT.2020 color space vs 80-90% of DCI-P3).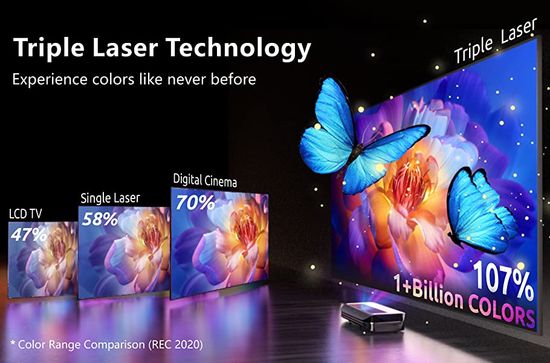 Brightness and resolution are highly dependent on projection size. Even a budget LED model can provide a fairly bright and sharp image, for example, on a 32-inch screen. But its quality drops sharply as the screen size increases, becoming dull and faded. Accordingly, reducing the image size reduces the brightness and resolution requirements of the projector.
Combining images from multiple projectors allows developers to reduce the projection size of each projector. Conceptually, this solution is similar to using 13-inch modules in Samsung Micro LED panels. They form an ideal image up to 200 inches diagonally, but are fantastically expensive.
Samsung first introduced the Smart Edge Blending function for The Freestyle at the IFA Berlin 2022 show last September.
For The Freestyle 2022, the company promises the Firmware update in 2023. In this case, its lucky owner will be able to buy a second Freestyle, combine two projectors and enjoy a ratio 21/9 image or 'Cinemascope at home'.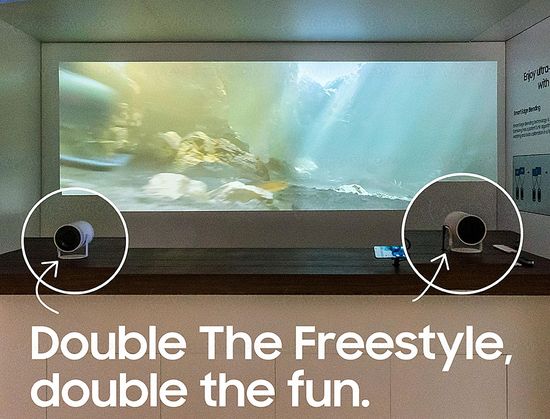 Importantly, a new option automatically calibrates projectors without alignment or prior adjustments.
Pixel Shift vs Edge Blending
Today, companies improve image quality with various technologies, including pixel shifting, multi-system with Edge Blending technology.
Pixel shift increases the number of displayed pixels compared to the chipset's native resolution. In fact, it increases the pixel density per unit screen area. In particular, 4K resolution in DLP models with 1080p chipset is achieved with TI DLP XPR (Xpanded Pixel Resolution) technology, which uses 2 or 4 phase pixel shifting.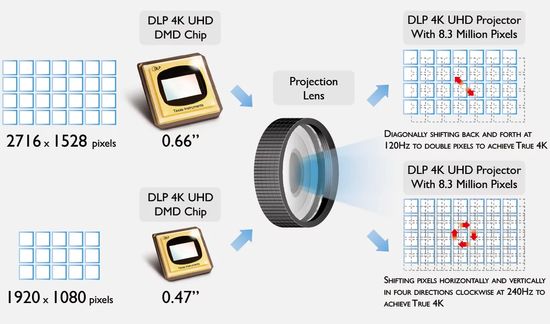 The XPR module changes the lens tilt with the help of 4 electromagnets. Essentially, the projector displays multiple images by shifting them diagonally by half a pixel. Due to the high frequency, the human eye and brain perceives them as a single image. Physically, a 4-phase pixel shif projector divides 8 million pixels of 4K content into 4 parts and displays them sequentially with a diagonal shift of half a pixel. As a result, a relatively inexpensive chipset with native 1080p resolution (2M pixels) can reproduce 8M pixels of 4K content.
Edge Blending combines multiple projectors into a multisystem by synchronizing the edges of their images. This reduces the projection size of each projector, increasing pixel density. In turn, a high pixel density increases the image resolution and brightness.
But the multisystem requires synchronization of the images in order to exclude the visualization of the borders between them. Edge Blending solves this problem by reducing the hard transition from one projector to another.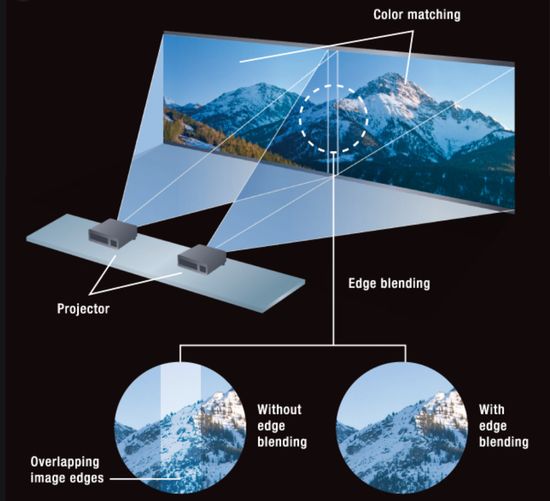 As a result, the mixed image is almost identical to the picture by a single projector.
Of course, the use of additional projectors multiply the price. Moreover, Edge Blending is not compatible with pixel shifting.
Freestyle vs Freestyle 2023 Edition
Revamped Freestyle 2023 has become an updated version of last year's Freestyle with extended smart functionality. In fact, Freestyle / Freestyle 2023 are a continuation of the popular Samsung's Lifestyle brand which also includes The Frame / Terrace TVs for the outdoors.
So far, Samsung has just announced changes at the hardware level without details. According to the company, the new model will have a tower-like shape that will be slightly different from can-like design of last year's prototype.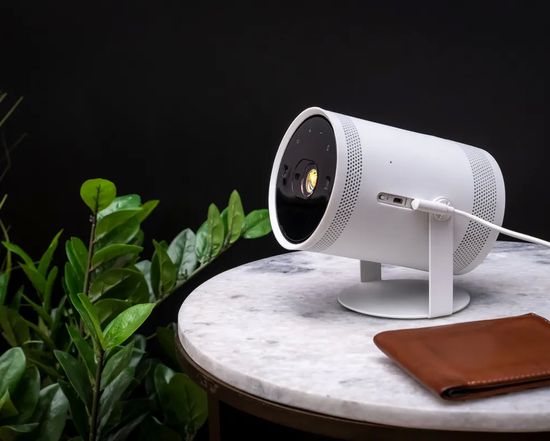 Key features of both models:
– 1080p;
– Tizen TV OS;
– SmartThings;
– Samsung Health;
– auto keystone and autofocus;
– image warping (geometric correction or distortion correction) provides the correct projection visualization on a non-planar screen.
Smart EDGE Blending in the new model provides an ultra-wide angle screen with a 21:9 aspect ratio when using two projectors.
Samsung Gaming Hub in Freestyle 2023 supports cloud gaming. With a fast enough internet connection, members of cloud gaming services will be able to stream their games directly on the Freestyle.
As known, Freestyle 2022 has only a Micro-HDMI connection. In this case, option will require a Micro-HDMI-to-HDMI adapter.
The list of cloud gaming partners includes Xbox, NVIDIA GeForce Now, Amazon Luna (in the US) and Utomik. It has no storage limits and does not require downloads or physical consoles. Also, updated version offers:
– MiniMap Sharing – mini-map of your game on any display;
– Virtual Aim Point – more visible crosshair in FPS (first-person shooters).
Unfortunately, its input lag is sufficient only for casual games, but too high for dynamic complex graphics. The input lag for the new The Freestyle 2023 is still unknown.
Conclusion
Unfortunately, Freestyle 2022 comes without a battery, which is a significant disadvantage of any portable model. The optional battery provides up to 3 hours and costs $ 190. In comparison, the Xgimi Halo Plus with 900 ANSI Lumens costs less than $ 700 and comes with a built-in battery that lasts ~ 2.5 hours. While the company does not comment on this aspect for the new model. Of course, a portable battery can solve the problem. But a 50W USB-C battery would be bulky.
As usual, the marketing prospects of the new model will traditionally depend on its value for money. In fact, the company has further enhanced the superb smart-functionality of Freestyle 2022 with upgraded Samsung Gaming Hub and Smart EDGE Blending. The Gaming Hub is ideal for gamers, but high input lag can reduce this bonus. To be fair, 'Cinemascope at home' with aspect ratio of 21/9 requires a second projector, which of course doubles the cost. But in any case, the expansion of choice is always pleasant for the consumer. Generally, the projector has a good future if its specs and price remain at the level of last year's Freestyle.
Of course, the projector will have a tough competition with new portable projectors, including Nebula Capsule 3, ASUS ZenBeam Latte L2, BenQ HT2060, Formovie Fengmi V10, etc. However, it's unlikely that any of them will be able to offer a similar smart-functionality.
The Freestyle capabilities are demonstrated in this video.