High-tech projectors are traditionally the focus of attention at the annual CES (Consumer Electronics Show) in Las Vegas, and this year was no exception.
Portable 1080p LED projectors
The Intelligent Screen Adaptation (ISA) system in last year's XGIMI Horizon and Halo+ models made a strong impression. It includes:
– super-fast auto-focus;
– auto-keystone;
– auto-edge detection for placement on screens;
– auto-obstacle avoidance (shifts the image image when obstacles on the wall are detected).
Unfortunately, calibrating with the flashing a test pattern when the projector is first placed or moved slightly complicates this superb function.
New portable XGIMI Mogo 2 Pro 1080p LED projector with 350 ISO Lumens offers next-generation ISA 2.0 without test pattern by using a more sophisticated 3D ToF (Time of Flight) sensor.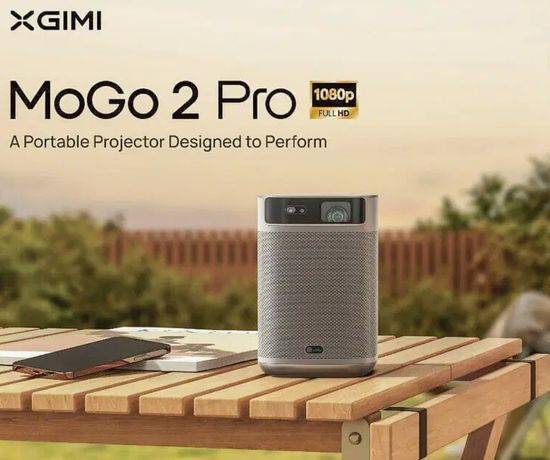 In addition, the company added intelligent eye protection (instant reduction in laser power). Of course, an adult is unlikely to look into the laser beam, but additional protection for the eyes of curious children and pets is unlikely to be superfluous. Previously, it was offered only in premium models. The function uses an infrared sensor that generates a command when it detects someone near the projector.
At the Pepcom Digital Experience pre-show Anker was showing the new Nebula Capsule 3, which was announced late last year. This portable 1080p model with 300 ISO lumens brightness is placed into a cylinder with 3.3-inch diameter and 6.7-inch height.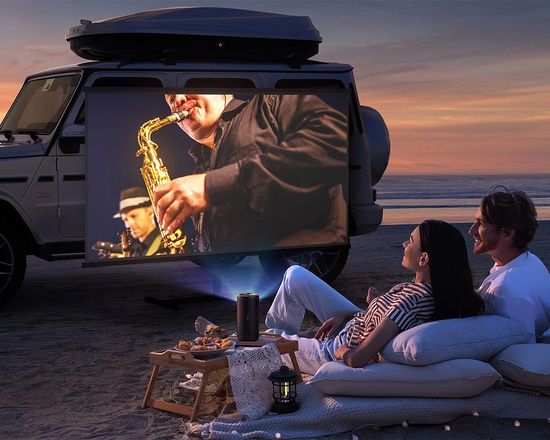 ASUS showed ZenBeam Latte L2.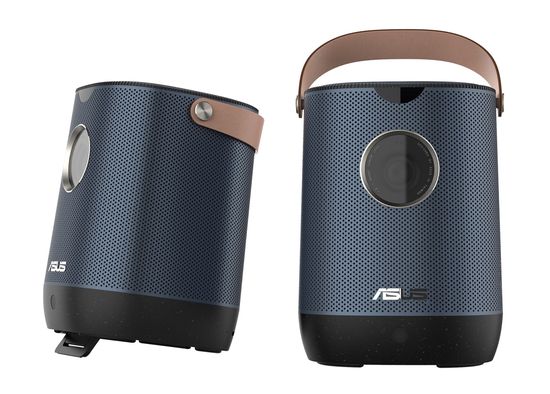 Compared to the previous Latte L1, the company has increased the brightness from 300 LED lumens to 600 LED lumens and the resolution from 720p to FHD 1080p. In addition, ASUS has replaced the Android-based Aptoid system in the L1 with a Google-certified Android TV.
BenQ HT4550i 4K gaming projector
BenQ showed 4K HT4550i, which replaces the previous lamp-based HT3550. It has a powerful RGBB light engine, which was used in last year's X1300i and X3000i gaming projectors with 3,000 ANSI Lm brightness. According to the company, the brightness of new projector reaches 3,200 ANSI lumens. In addition, it covers 100% DCI-P3 color space for HDR. Finally, the RGBB LED light engine greatly improves dynamic contrast control. In particular, in real time the projector divides the image into 1,204 cells for fine adjustment of gamma by zone.
The rest of the features also correspond to the premium level, including:
– HDR10+ compatibility;
– 11-point grayscale for white balance adjustment;
– 17.9ms input lag in game mode for 4K/1080p@60Hz;
– Netflix-certified Android TV streaming dongle included.
The company promises the HT4550i for April with a launch price of $ 2,799 MSRP.
In addition, the company announced the HT2060 1080p LED gaming projector for under $ 1,000, which will replace the very popular HT2050A. As known, this 1080p model with a brightness of 2200 Lumens has been successfully competing since the beginning of 2018. It costs ~$ 650 today.
BenQ GP500
Finally company introduced the box-like GP500 4K LED Home Theater model with 360° sound field and CinemativColor technology (90% DCI-P3 color gamut). This mid-focus projector costs $ 1,800 and provides image sizes from 100″ to 150″.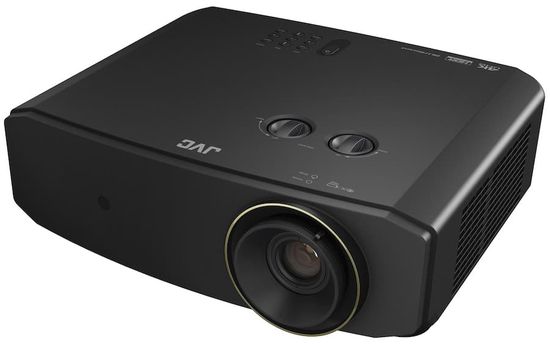 GP500 uses four drivers at the bottom, providing 4-directional sound output. According to the company, they provide surround sound anywhere in the room from every angle.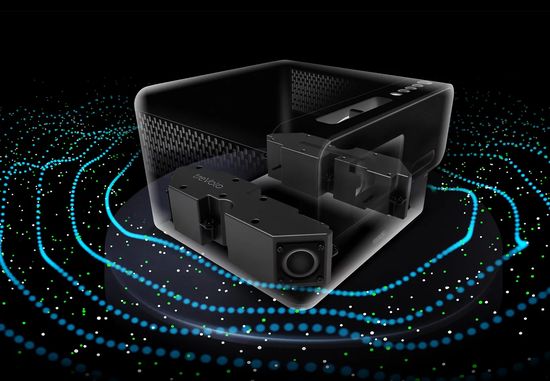 Other features are also premium, including:
– true 4K (3,840 x 2,160) HDR pictures;
– CinemativColor technology – super-wide DCI-P3 color gamut (90% DCI-P3);
– HDR10 and HLG;
– dynamic contrast – 100,000:1;
– Auto Color Calibration increases color accuracy;
– Auto Focus;
– Object Avoidance – automatic projection shift when objects are found on the wall;
– Screen Fit – automatic projection size adjustment depending on the screen size;
– auto 2D keystone – radically simplifies the projector placement, automatically compensating for the angle between the axes of the light flux and the screen;
– 360° sound field with 4 drivers;
– Google Assistant support;
– BenQ audio technology automatically adapts sound to your viewing location (suggested distance is 3-7ft or 1-2m);
– Android TV 9.0 (Prime Video, Hulu, YouTube, and more streaming apps, but without Netflix);
– mirroring your phones and tablets with Apple AirPlay and Google Chromecast;
– connectivity – dual HDMI 2.0b (HDCP 2.2), USB Type-A (USB 2.0), ARC / SPDIF 5.1-channel audio out, dual band 2.4 / 5G Wi-Fi and Bluetooth.
Brightness of 1,500 ANSI lumen is superb for LED projectors, but lower vs laser models. Therefore, its image may be too dim and faded in diffused daylight. However, ALR screen, evening viewing or blackout curtains will eliminate this problem.
Hisense
Of course, many experts with interest expected new products from Hisense, and the Chinese giant did not disappoint their expectations. The company introduced L9H/L5H Laser TVs, PX2-Pro/PL1/PX1H Laser Cinema series, and Smart Mini projector. But the announced 120LX 8K UST projector is the crown jewel. Together with Samsung 8K Premiere, it form a new segment of 8K UST (Ultra Short Throw) home projectors.
As known, current Hisense projectors use 0.47 and 0.66-inch DLP chipsets for 4K UHD projection. Last December at a Global Partner Conference in China, the company announced a new laser display technology with TI 94-inch DLP chipset for its first 8K Laser TV. But so far 0.94-inch DLP is missing even in the TI's catalogue. Perhaps Hisense will become their launch customer.
In December, the official best offering from Texas Instruments contained a 0.78-inch DMD chip with a 4K UHD (3,840 x 2,160) native resolution. However, according to the press release, it can display more than 33 million pixels (8K resolution). Unfortunately, more detailed information is not available. It may be using TI DLP XPR technology with four-phase pixel-shift to achieve 8K@60 Hz resolution on-screen. Otherwise, the price of a projector based on DMD chipset with 8K native resolution can be fantastic.
Of course, a larger DMD chip allows the developer to pack more micromirrors for higher native resolution, or provide higher brightness by increasing the micromirror pitch. In fact, the 120LX claims to achieve 8K resolution in a DLP projector. It's currently only available in JVC's top 3-chip LCoS-based laser projectors. But JVC DLA-NZ9 8K is a mid-focus and costs $ 26,000.
The demo unit contained an Atmos- and DTS:X-capable Harman Kardon-built sound system.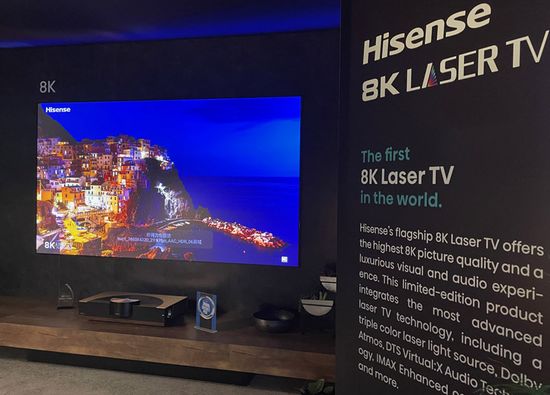 A 120-inch fresnel screen with gain helped the system achieve a claimed 400 nits brightness.
JVC
JVC unveiled its flagship JVC DLA-NZ9/RS4100 8K LCoS-based projector and LX-NZ30 4K which replaces LX-NZ3 DLP laser projector.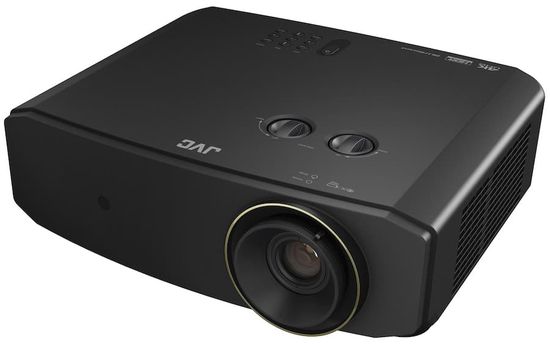 With a launch price of $ 3,500, the company positions it as a more budget entry-level model, which, however, is logical for this brand.
New BLU-Escent laser light source uses a 105W blue laser assembly to provide a 10% increase in brightness (3,300 ANSI Lumens vs 3,000 ANSI Lumens). The 0.47″ DMD chipset with four-phase pixel shift ensures 4K-resolution with 8 million addrssable pixels. The 1.6x zoom lens with wide lens shift (±60% vertical & ±23% horizontal) makes it easy to install. The model supports HDR10 / HLG content and has automatic setting adjustments. This mid-focus projector creates a 100-inches image from ~15.7 ft / 4.8 m. The LX-NZ30 supports 1080p@240Hz with input lag up to 6.25 ms. Finally, it features a DisplayPort 1.2a input for connecting to gaming PCs and has a USB-C Direct Connect input. This gaming projector will delight the most demanding gamers.
According to preliminary data, the JVC LX NZ30 will be available in America in late March 2023.
Samsung
Like Hisense, Samsung announced one of the first 8K UST DLP projector.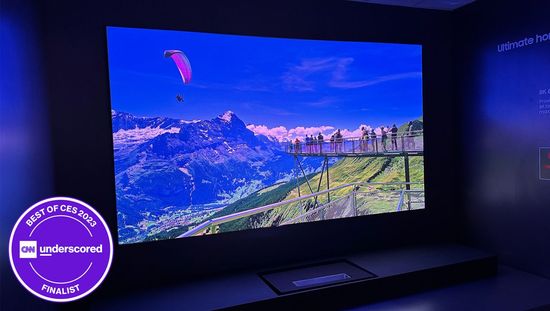 The version about using the new 'secret' 0.94-inch DLP chipset, which was co-developed by Texas Instruments and Hisense, has not yet been officially confirmed. But apparently, 8K resolution with 33 million pixels on-screen is achieved with four-phase pixel shifting by DMD chipset with a lower native resolution.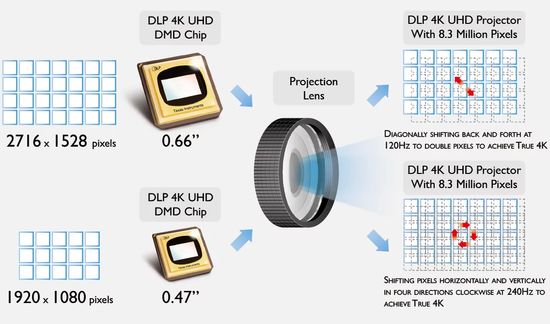 Like most modern premium UST projectors, the Samsung 8K Premiere uses a triple-laser RGB light source that delivers up to 4,000 ANSI lumens of brightness and covers over 100% of BT.2020 color space. Its optics produces a 150-inch image from 12.2 inches from the wall. The auto focus/keystone/leveling make installation easy. The built-in Dolby Atmos 5.0.2 channel system designed by Harman Kardon supports extension to 7.4.1.
The new version of last year's portable LED projector The Freestyle aroused no less interest. The South Korean giant has equipped its model for the first time with the Smart Edge Blending function, which can combine the images of several projectors on the screen. As a result, when using 2 projectors, Freestyle 2023 version can form a wide 21:9 image.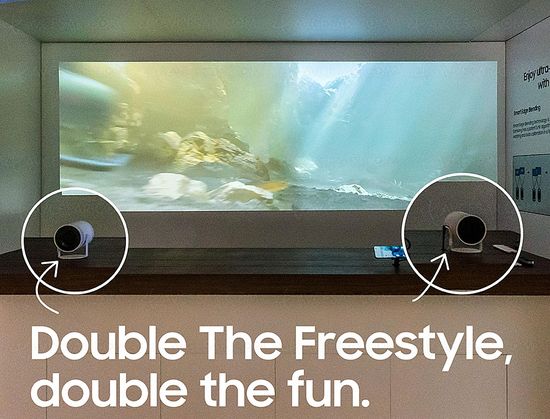 Formovie Fengmi V10
Formovie projectors are a new product in the US market. But this brand has an excellent reputation. Formovie is a joint venture between Xiaomi and Appotronics. Chinese giant Xiaomi needs no introduction. Appotronics has long and successfully develops ALPD (Advanced Laser Phosphor Display)-based laser light sources for projectors. In particular, it designs light engines for Barco commercial models.
In autumn, the company introduced superb Formovie Theater Dolby Vision 4K laser UST projector worth $ 3,800.
Formovie V10 costs ~ $ 1,500 and belongs to the family of portable gaming projectors. This a circular 4K LED projector offers 2,500 ANSI lumen brightness, extremely low input lag of 12 ms, and a 360-degree sound system with a built-in 15-watt subwoofer for bass.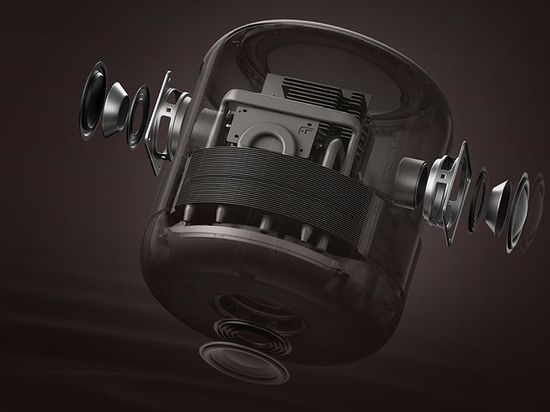 The projector uses 0.47″ DMD with 4K UHD (3.840 x 2.160) resolution and Android 9.0-based FengOS. Additionally, it supports automatic keystone ±45°, auto focus, MEMC (smooth motion), HDR10+/ HLG, color depth of 10 bits and 240 Hz refresh rate.The connection list includes WiFi 2.4/5GHz, Bluetooth 5.0, and wireless AirPlay/DLNA/Miracast.
Conclusion
At CES 2023, companies once again demonstrated impressive innovation success. A non-exhaustive list includes:
– Samsung Premiere and Hisense 120LX UST 8K DLP projectors with triple-laser RGB light engine;
– Smart Edge Blending in Samsung Freestyle 2023 version (combining images of two projectors);
– 2-gen ISA (Intelligent Screen Adaptation) in XGIMI Mogo 2 Pro;
– new BLU-Escent laser light source in JVC LX-NZ30;
– 360˚ sound field in BenQ GP500.
An impressive line of new BenQ and Hisense projectors, and new portable LED models with increased specs are also impressive.
The range expansion is traditionally accompanied by increased competition, stimulating companies to improve value for money. Of course, launch prices are unlikely to be low, but the consumer market has the right to count on their decline closer to autumn.
This video offers a demo of the Samsung 8K Premiere Laser TV at CES 2023.