DeLonghi has long and confidently occupied a place among the innovative leaders in the coffee maker segment. The company produces models of almost all types, including fully automatic and semi-automatic coffee machines. In terms of range, the company is radically superior to its main competitors, offering today about 40 such models.
Of course, a wide selection is a big plus, but it makes the choice a little more difficult. Therefore, even a simplified classification can be useful.
Today the company offers 6 families including Magnifica, Dinamica, PrimaDonna, Eletta, Maestosa and La Specialista. Conventionally, Magnifica can be positioned as an entry-level series. For example, the most expensive Magnifica Evo ECAM290.84SB with LatteCrema system is available for $ 895. Dinamica is more of a mid-budget segment. PrimaDonna, Eletta and Maestosa correspond to the premium class. The hybrid semi-automatic La Specialista with portafilter is classified separately.
In addition to functionality, the prices of models significantly depend on the region, chassis, display and color.
The name of DeLonghi models includes platform code and number (ECAM/EC/EPAM/ESAM xxxx) and color (Titanium – TB, Black – B, Black and silver – SB, White – W, and Gray – G).
Except for Magnifica 4200 (ESAM), Maestosa (EPAM 960.75) and hybrid La Specialista with portafilter (EC 9155 / 9355 / 9665), all DeLonghi current models are built on the ECAM platform.
The lineup
Each familie contains several series:
– Magnifica – S (21.117 and 22.110 platforms) / Evo ( 290.21, 290.22, 290.31, 290.61, 290.81, 290.84, 292.33 and 292.81) / Smart (230.13, 250.23, 250.31 and 250.33) / Start (220.22 and 220.31).
The legendary ECAM 21.117 and ECAM 22.110 have been successfully competing in the market for many years. Their impeccable quality is confirmed by positive reviews, the number of which on Amazon almost reaches a phenomenal 50,000.
New Magnifica Evo (290.61 / 292.81 / 290.81) automatically prepare coffee-milk drinks using the LatteCrema System.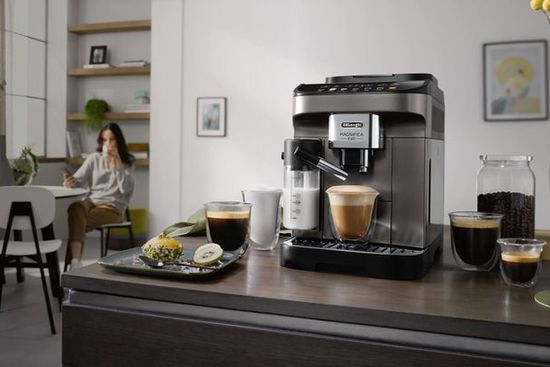 – Dinamica – Dinamica (350.15, 350.35, 350.50 and 350.75) / Dinamica Plus (370.70, 370.85 and 370.95).
In 2022, many experts included Dinamica Plus in their lists of the best coffee machines;
– PrimaDonna – Elite Experience (650.85) / Soul (610.55, 610.74, 610.75 and 612.55) / Class (550.65 and 550.85) / Elite (650.75) / S Evo (510.55);
– Eletta – Cappuccino (43.466, 44.660 and 45.760) / Explore (452.57).
Eletta Cappuccino also has been on the bestseller lists for several years and has a huge amount of rave reviews. Last year's Eletta Explore has become one of the most innovative models, offering an unprecedented 40 pre-programmed coffee recipes and LatteCrema Cool milk system.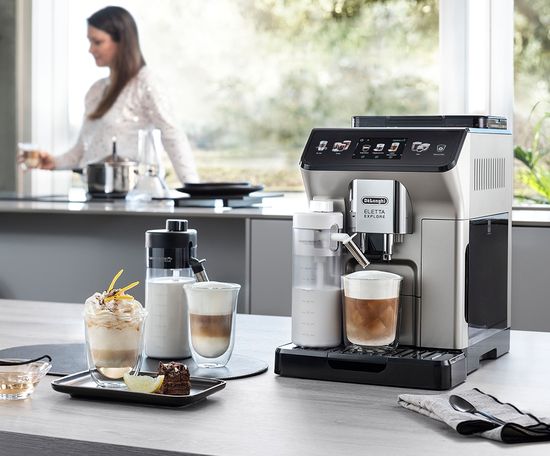 Today, models in this series cost from € 900 and more;
– Maestosa – EPAM 960.75.GLM – premium model with two coffee grinders on an EPAM platform;
– La Specialista – semi-automatic Arte EC9155 ($ 500-600) / Prestigio EC9355 ($ 650-800) / Maestro EC9665 ($ 1,300-1,400). Stylish retro design is their key feature.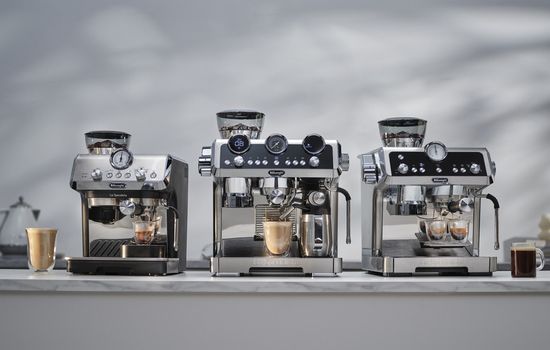 The many settings are ideal for coffee lovers with barista skills. Today this series competes with Australian Breville Barista, but the Italian brand is significantly cheaper.
DeLonghi technologies
Functionality and price directly depends on the technologies used. Of course, many Delonghi models support popular options, including:
– To-Go function – several drinks in a row;
– My Latte – settings for foaming milk;
– My Menu – custom recipes;
– Coffee Link App (control via smartphone);
– LatteCrema System – automatically makes milk-based coffee drinks, etc.
But the company also develops and offers unique innovations.
Bean Adapt technology
PrimaDonna Soul was the first series to feature Delonghi's innovative Bean Adapt technology.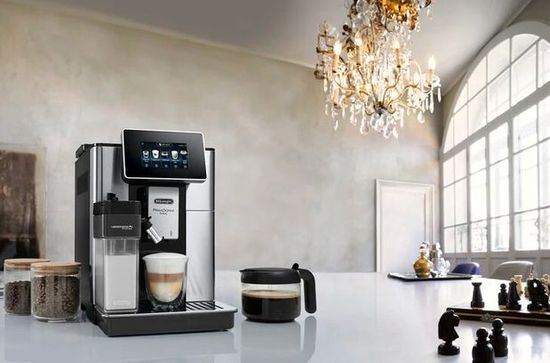 As known, it improves extraction by optimizing the grinding and brewing settings depending on the selected beans.
Virtual online Coffee Lounge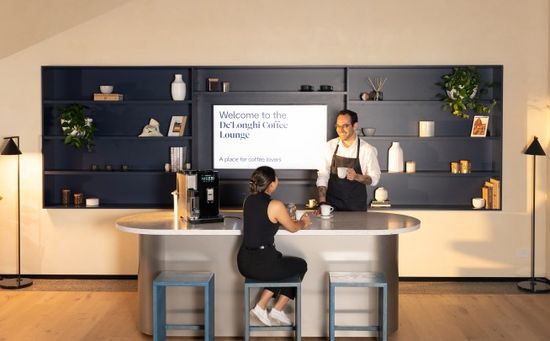 This comfortable and convenient platform gives access to qualified advice from professional baristas, news from the world of coffee, and communication between coffee lovers around the world.
Cool coffee
Probably cold espresso won't find many fans on a frosty morning in Canada, but a cool cappuccino might be just right on a hot Australian afternoon. Therefore, the popularity of cold coffee drinks has been growing for several years. Of course, industry leaders are not ignoring consumer market trends. For example, Swiss Jura introduced Jura Z10 with Cold Extraction Process (Jura 3D brewing technology). DeLonghi also keep up with the eminent competitor. In particular, she developed the TrueBrew Over Ice technology (Iced Coffee program). Moreover, in September at the Melbourne International Coffee Expo (MICE) the company officially launched new DeLonghi ECAM 450.55 S Eletta Explore with LatteCrema System, that uses LatteCrema Hot and the LatteCrema Cool milk carafes.
LatteCrema Hot
LatteCrema Hot makes traditional hot crema for milk-based coffee drinks. As the name suggests, the extra jug is designed to create cool milk foam. DeLonghi calls the new feature the LatteCrema Cool system. When replacing a carafe, the machine automatically determines its type.
The cold milk frothing technology is based on the Venturi Effect (decrease in pressure of a liquid or gas flow with a decrease in its cross section). At a certain ratio of steam and milk, aeration in mixture is accompanied by the active generation of many tiny microbubbles, which provide a dense, velvety texture.
Functionally, carafe lowers the milk temperature and froths it almost instantly due to the special design of head and stalk shape. In fact, LatteCrema Cool carafe properly textures the milk to give it a full-bodied creaminess.
Curiously, choosing a traditional color can save you several hundred dollars. For some unknown reason, some coffee machine manufacturers take this aspect very seriously. For example, Breville Oracle Touch Damson Blue costs $ 4,200. The brushed stainless steel Oracle Touch with identical specs costs only $ 2,600. The huge price difference is due to its color, which corresponds to the elite Damson Blue Luxe collection.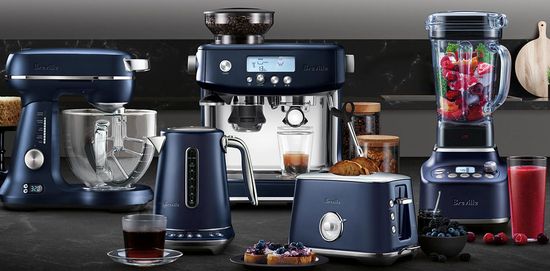 Of course, the prices of DeLonghi models depend less on color, but the difference can also be significant. For example, the metallic La Specialista Arte is more than $ 200 more expensive than the similar black La Specialista Arte ($ 792 vs $ 583).
Conclusion
Traditionally for leaders, DeLonghi is actively expanding the range of its coffee machines, equipping them with innovative technologies. A partial list of the most popular new products includes:
– Magnifica Start and Evo series;
Moreover, the company has implemented many innovative solutions, including Bean Adapt technology and LatteCrema Cool system.
In fact, the company offers fully automatic coffee machines in all price ranges, starting at $ 400 and up. Given the brand's impeccable reputation and the superb value for money of its models, even the most demanding customer will be able to easily choose the best model based on their budget.
This video shows the LatteCrema Hot carafe, 'MY' option and other innovative features in DeLonghi coffee machines.