Australian Breville Group Limited hardly needs an introduction. Curiously, the popularity of the Breville brand begins with a sandwich toaster. Since the 1960s, the company has specialized in the design, manufacture and sale of kitchen appliances. On US marke Breville entered in 2003 and over 20 years has built an impeccable reputation for its products. Today, it's sold under the brands Breville (excluding Europe), Gastroback, Kambrook, Ronson, Sage by Heston Blumenthal, Solis, Stollar, Catler, Bork and Riviera & Bar.
Coffee makers are one of the most successful areas of its activity. As one of the innovative leaders in this segment, Breville has pioneered many technologies. The hybrid semi-automatic espresso machines with portafilter can be positioned as the company's most successful project.
The first such model was developed in Europe under Gastroback brand. The consumer market enthusiastically accepted the novelty. Their popularity is largely due to much greater control over your coffee-making. This concept is known as 'home barista'. It's ideal for experimentation and is very popular among lovers of leisurely ritual coffee preparation.
Indeed, fully automatic models have virtually eliminated coffee lover from this process. But many perceive the leisurely preparation of a cup with aromatic coffee as a way to relax. Semi-automatic models became a reasonable compromise and quickly gained popularity among lovers of experiments.
Technically, they differ in the coffee brewing way. In particular, coffee extraction in fully automated espresso machines takes place in the internal brew group. The semi-automatic model uses an external portafilter with a filter for this purpose.
Breville Barista
The model range:
– Breville Barista Express (BES870XL/USA, Sage BES875UK Barista Express/UK, Gastroback Advanced Pro S 42612 GS – Germany) – $ 750;
-'- Barista Pro – $ 850;
-'- Impress – $ 900;
-'- Touch – $ 1,000;
– Dual Boiler (BES920XL, 2 thermoblocks, no grinder) – $ 1,600;
– Breville Oracle – $ 2,200;
-'- Oracle Touch – $ 2,600.
According to some experts, Breville models are too expensive. But this aspect has nuances. Indeed, the company uses an extra charge for several colors from collections. For example, Breville Oracle Touch from Damson Blue Luxe collection costs at $ 4,200 vs $ 2,600 for brushed stainless steel Oracle Touch with identical specs.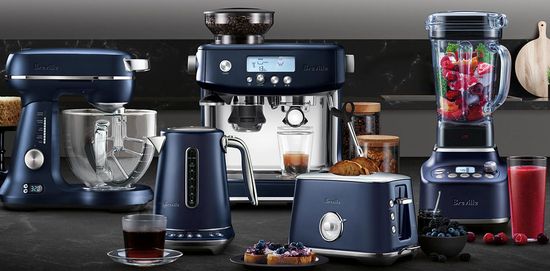 But the price of the models with traditional colors is almost identical to the semi-automatic DeLonghi La Specialista, which is actually their only competitor.
Main Breville innovations
A high level of innovation is traditional for Breville models. This list includes:
– PID Temperature Control.
In general, PID (proportional-integral-derivative) provides feedback in any control loop.
Breville coffee makers also use PID temperature control, providing a highly accurate extraction temperature (200°F or 93ºC by default). This setting is adjustable from 187ºF (86ºC) to 205ºF (96ºC) in 2ºC.
In addition, more expensive models use the improved ThermoJet, which is a more precision cycling/forcing system.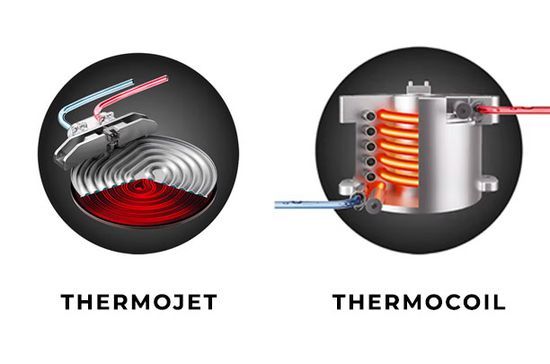 – optimal water pressure.
OPV (Over Pressure Valve) limits the maximum pressure throughout the extraction, preventing bitter flavors in the coffee shot;
– pre-infusion.
Pre-infusion is a process of pre-soaking the coffee puck in a portafilter. It lasts 2-8 seconds and improves the extraction uniformity throughout the volume of ground coffee. In fact, the coffee maker smoothly increases the pressure from 3 to 9 bar. It can adjust the pressure in several ways. For example, models with removable water tank often use a specially chamber with a piston and spring, which, after turning on the pump, diverts part of the water flow, reducing pressure to ~ 3 bar;
– dual boiler (simultaneous heating the water for espresso and steam for frothing milk foam).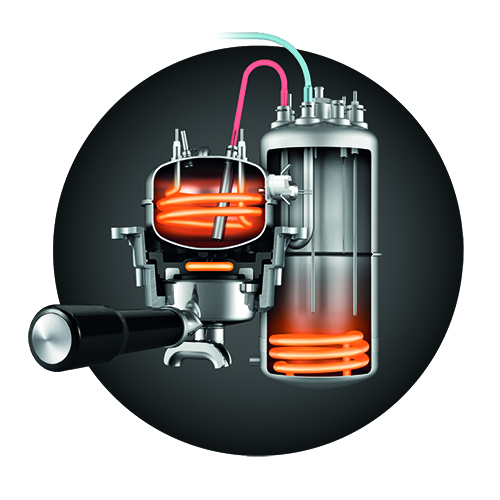 – Microfoam Milk Texturing – adjustment of milk foam consistency by setting its temperature from 104°F to 167°F (40°C – 75°C);
– pressurized double-wall / non-pressurized single-wall baskets.
According to the company, the double-wall basket is optimal for a pre-ground coffee, beginner barista, or when a coffee scale is not available. The single-wall basket provides max control over the espresso making;
– 'assisted tamping'.
Breville baskets
Breville models come with 4 filter baskets, including two pressurized double-wall baskets and two non-pressurized single-wall baskets.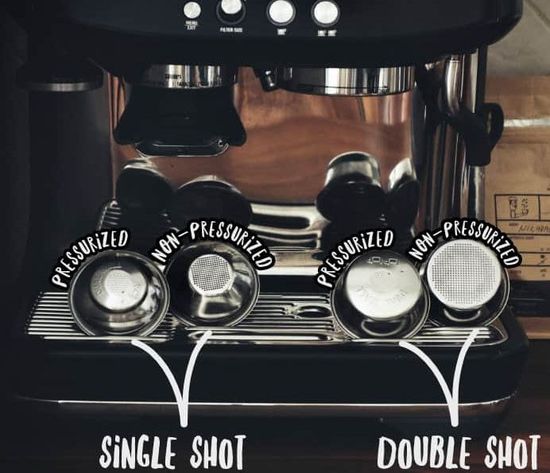 The smaller baskets are for preparing one cup or single shot espresso. The double shot (two cups) espresso is made with the help of larger baskets.
The coffee making with non-pressurized baskets is largely dependent on the selected settings. The double-wall basket creates a proper brewing pressure by compensating for incorrect settings in the grind size, dose, or tamping. To solve this problem, it uses only one small hole in the bottom of the filter. Its small diameter increases the brewing pressure when the resistance of the coffee tablet is not enough. As a result, the coffee maker prepares espresso with a thick crema even with incorrect settings.
A single-wall basket has multiple holes spread across the filter bottom and has no effect on brewing pressure.
Breville experts advise using double-wall baskets for pre-ground coffee, the grind size of which you do not control. Non-pressurized baskets are best when using the built-in grinder.
In general, pressurized double-wall basket is optimal:
– for a pre-ground coffee;
– no a coffee scale and a palm tamper;
– for a beginner barista to compensate for sub-optimal settings.
Non-pressurized single-wall basket:
– grinding fresh whole coffee beans;
– max control over the taste and aroma of your espresso.
Breville Oracle Touch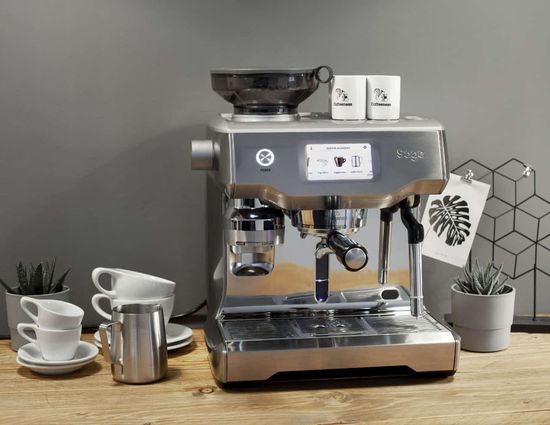 This model is rightfully positioned today as the best among semi-automatic espresso machines. The company offers the BES990(BST/BTR/BSS/DBL)1BUS1 models in Black Stainless Steel ($ 2,600) / Black Truffle ($ 2,800) / Brushed Stainless Steel ($ 2,600) / Damson Blue ($ 4,200) colors.
Platform
– milk frother – steam wand;
– touchscreen display;
– 84.5 fl oz / 2.5 l water reservoir capacity;
– 15-bar pump;
– 2 thermoblocks;
– triple temp control (dedicated steam boiler with integrated heat exchange for frothing milk, espresso boiler and heated group head with PID control);
– 4.0 in / 10.2 cm max cup height;
– stainless steel conical burr grinder with smooth grind adjustment;
– 8.1 oz / 230.0 g bean hopper capacity;
– 2 cup function.
In fact, Breville Oracle Touch uses two automatic systems, including:
– built-in grinder with automatic tamping;
– integrated touchscreen with pre-settings and menu.
The integrated grinder and auto-tamper provide ideal grind size and optimal compression, which is very important for the beginner barista. They affect the water passage duration through the basket, which in turn affects the extraction and thus the coffee flavor and aroma. But, of course, the variety of coffee beans and their roasting are equally important.
The touchscreen provides control of grinding, brewing and milk frothing.
In the first step, the beans are automatically ground and compacted in a portafilter installed under the coffee grinder. The portafilter is then inserted into the brewing unit. The second thermoblock allows the home barista to start milk frothing at the same time.
Key features
Pros
– authentic espresso;
– the coffee machine comprehensively takes into account the settings of key variables, including grind texture, tamping, water temperature and pressure;
– the choice of automation level provides optimal compromise for skilled barista and beginner coffee drinker;
-separate dispenser for hot water is very handy for tea, Americano and the pre-warming of cups. The last option is useful for lovers of very hot espresso;
– easier to clean and operate;
– superb espresso, long black, latte, flat white and cappuccino;
– automatic or manual milk frothing.
The milk foam consistency adjustment is one of the coffee maker's bonuses. In fact, choosing a setting from 1 to 9 sets the temperature that affects the foam stiffness. 'Level 3' is ideal for Latte Art (creating patterns on the surface of the coffee).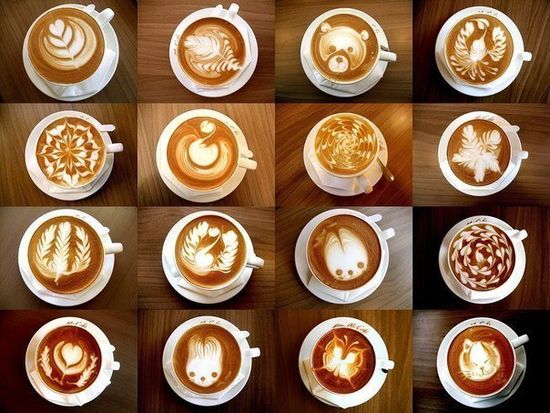 Importantly, the steam wand can swivel 360 degrees, which is very convenient for Latte Art.
After completion, the steam wand is automatically cleaned with steam.
The absence of latte macchiato in the pre-programmed recipes may seem like a disadvantage. But perhaps the developers decided not to risk their reputation, because its proper preparation requires careful creation of layers in the cup.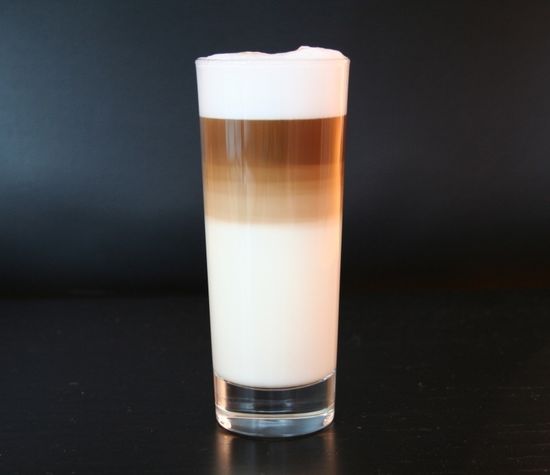 However, six customizable profiles eliminate the problem of self-configuring for latte macchiato.
Breville Barista Express
The huge popularity of this model is due to its superb value for money. In different regions it's sold under the name Breville Barista Express BES870XL (USA), Sage BES875UK Barista Express (UK) and Gastroback Advanced Pro S 42612 GS (Germany).
Platform:
– 67.6 fl oz / 2.0 liter water reservoir capacity;
– one boiler;
– 15-bar Italian pump;
– 4.0 in / 10.2 cm max cup height;
– precision stainless steel conical burr grinder with 16 adjustment levels.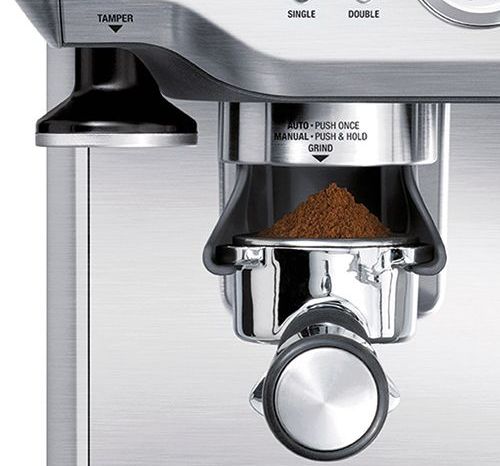 – 8.1 oz / 230.0 g bean hopper capacity (~ 30 shots of espresso);
– superb microfoam milk with powerful 266°F (130°C) steam;
– 2 programs;
– 2-cup function;
Model comes with:
– 500 ml (17-ounce) milk jug;
– 54 mm stainless steel portafilter for dose of 18g ground beans with single- and double-wall filter baskets.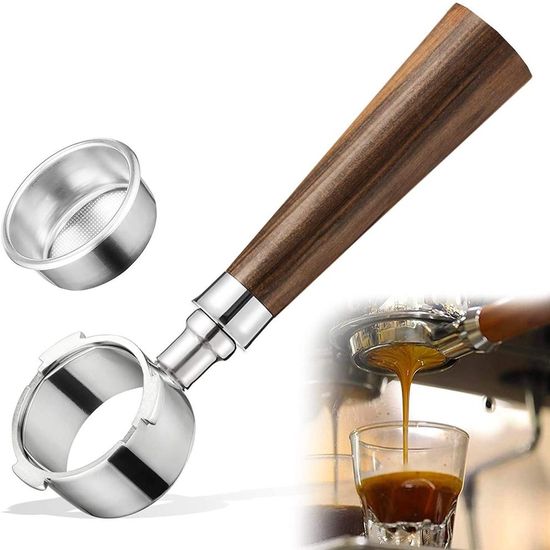 – magnetic tamper.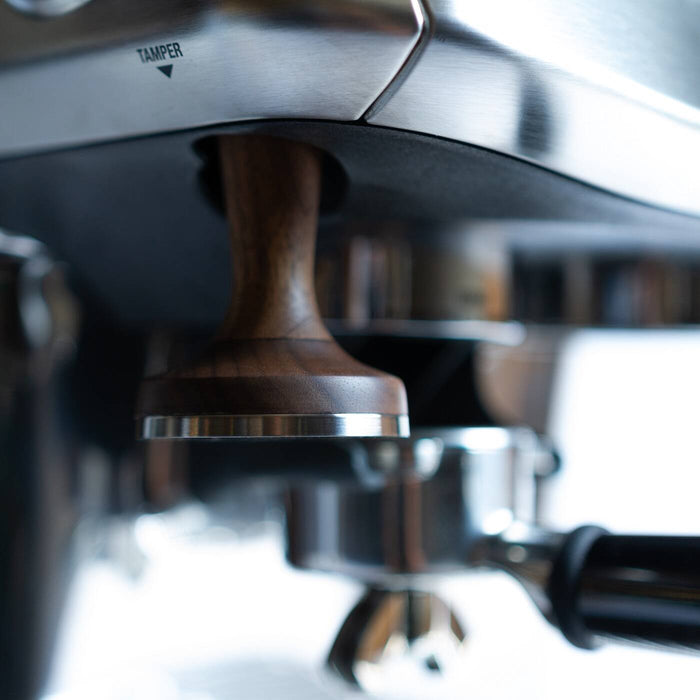 Of course, the magnetic mount is convenient, but it limits the weight of the tamper. In particular, this model seems too light;
– dose-trimming 'Razor' tool.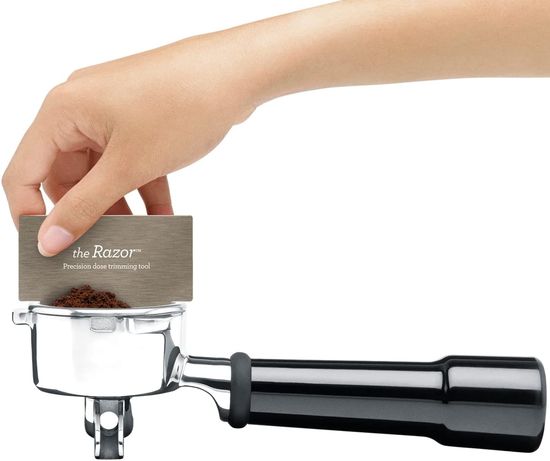 – the portafilter dosing funnel prevents coffee grinds from overflowing.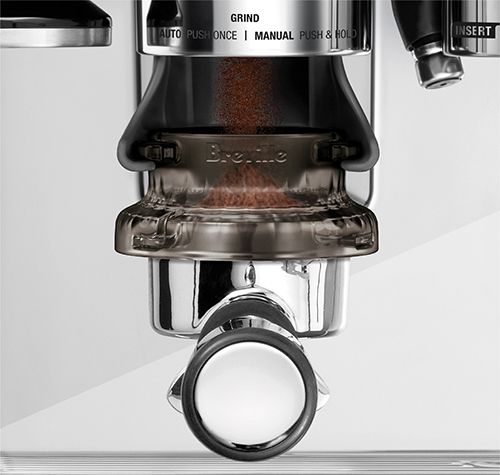 The pressure gauge on the front is needed not only for the creation of retro design. It immediately displays the correctness of the settings in terms of ensuring enough brewing pressure. Moreover, its readings are based on the calculation of the complex effect of all settings. Of course, this option is an important bonus for a beginner barista.
Breville Barista Express vs Pro vs Barista Touch
The list of their differences is very short.
Barista Pro vs Barista Express
– $ 850 vs $ 750;
– screen.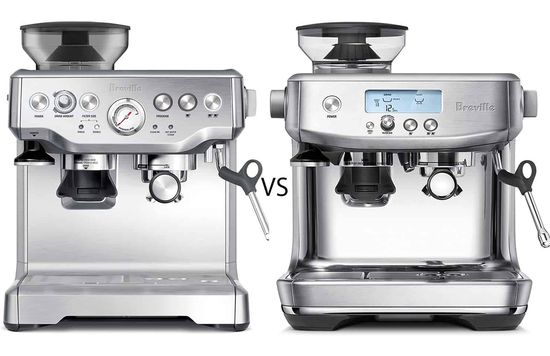 – wider range of grind settings (30 vs 16);
– ThermoJet heating system with a 3-second heat-up time vs 30 second recovery time.
The SP FTS ThermoJet is a precision-controlled temperature cycling/forcing system. It's rated for flow rates of up to 20 standard cubic feet per minute (SCFM) and provides precision temperature control in the range from 80°C to +225°C.
Barista Touch vs Barista Express
– $ 1,000 vs $ 750;
– more modern design with a touch screen.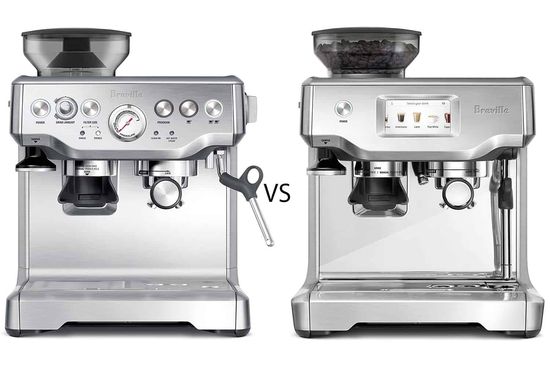 – steam wand with a built-in thermometer;
– ThermoJet system;
– 5 vs 2 pre-programmed drink recipes and 8 customizable user profiles.
In addition, at SCA (Specialty Coffee Expo) 2022 Breville presented latest Barista Express Impress.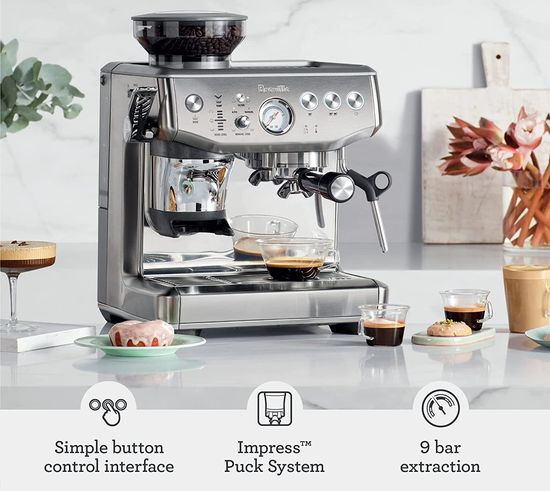 It costs $ 900 and offers:
– a built-in 25-step conical burr grinder;
– thermocoil heating system with PID temperature control;
– assisted tamping with a 7 degree 'barista twist' finish and a consistent 10kg of pressure.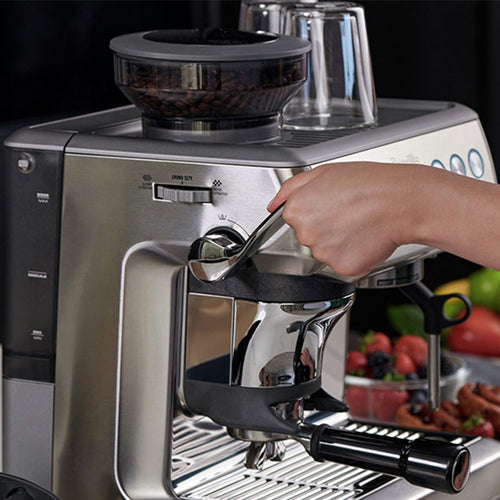 It mimics the action of a professional barista, providing a perfectly flat tablet surface;
– a new intelligent dosing system with adjustment based on previous cycles;
– 250g bean hopper and 2L water tank.
Conclusions
In fact, today the hybrid semi-automatic Breville espresso machines with portafilter is only competing with DeLonghi La Specialista series.
But the widespread opinion about their too high price seems to be slightly exaggerated. Indeed, Breville Oracle Touch Damson Blue costs $ 4,200. But too high price is due to its color, which corresponds to the elite Damson Blue Luxe collection. The brushed stainless steel Oracle Touch with identical specs costs only $ 2,600. But its functionality is much wider vs La Specialista Maestro, which costs $ 1,380.
Comparing Delonghi La Specialista Arte/ Prestigio vs Breville Barista Express/Pro/Touch shows approximately equal value for money. To be fair, unlike the eminent Italian competitor, the Breville's lineup covers the entire price range from $ 750 to $ 2,600.
But a model of any brand will bring a lot of pleasant minutes to lovers of the leisurely preparation of delicious aromatic espresso.
This video illustrates the operation of Pre-Infusion in Breville coffee makers.