DeLonghi La Specialista is a hybrid espresso machine with coffee tablet holder (portafilter). They are often positioned as semi-automatic models. The first hybrid was developed in Europe under the premium Gastroback brand. Today it's owned by the famous Australian Breville Group Limited, which has specialized in the design, manufacture and sale of kitchen appliances since the 1960s. Its products are also sold under the brands Breville (worldwide excluding Europe), Kambrook, Ronson, Sage by Heston Blumenthal, Solis, Stollar, Catler, Bork and Riviera&Bar. The consumer market enthusiastically accepted the novelty and soon Breville introduced the semi-automatic Oracle Touch.
Of course, DeLonghi adequately responded to market conjuncture and introduced the La Specialista hybrid at IFA (Internationale Funkausstellung Berlin) 2018. Today this series is cheaper compared to the Breville Oracle Touch, and includes La Specialista Arte (~ $ 500-600), Prestigio (~ $ 700-800) and Maestro (~ $ 1,300-1,400) models.
Arte and Prestigio have preset 3 coffee recipes, including coffee, espresso, and an americano. The Maestro also offers cappuccino, latte macchiato, and a flat white.
For espresso, the machine offers settings from 1 ounce to 3 ounces (1.2 ounces preset by default). Water for coffee варьируется between 1.7 and 4 fluid ounces. Americano is prepared in 2 stages. The machine first brews an espresso and then adds hot water. This process does not require moving the cup because the hot water spout is located alongside the coffee dispenser.
In addition to black and metallic colors, the company offers a stylish red version.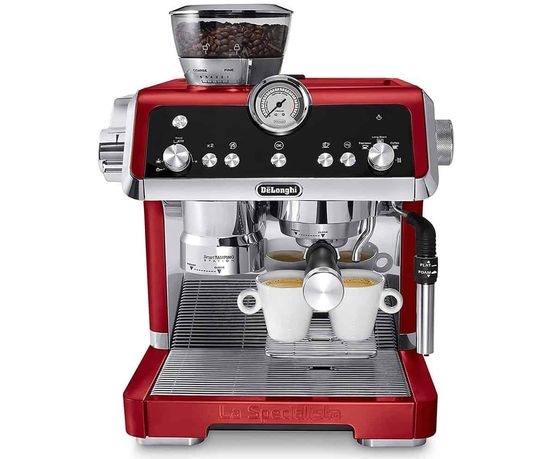 Traditionally for hybrids, its design is conditionally divided into 2 parts. The left one is for grinding beans, compacting and dosing. The brew head, automatic milk wand and hot water outletwhile are on the right.
Delonghi La Specialista
Traditionally for DeLonghi, La Specialista use many innovations.
This list includes:
– Sensor Grinding Technology.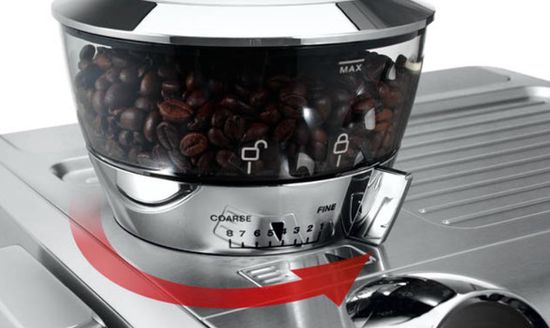 The advanced stainless steel conical burr grinder with 8 grind adjustment levels uses two sensors to precisely control the amount of coffee per serving;
– Dual Heating System with 2 thermoblocks.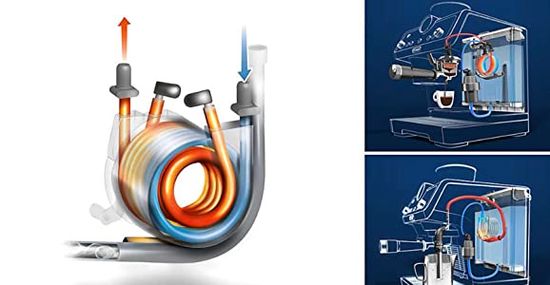 Two independent circuits provide temperature stability. Of course, it also reduces the preparation time for coffee milk recipes by simultaneously heating water for espresso and steam for frothing milk;
– Smart Tamping Station.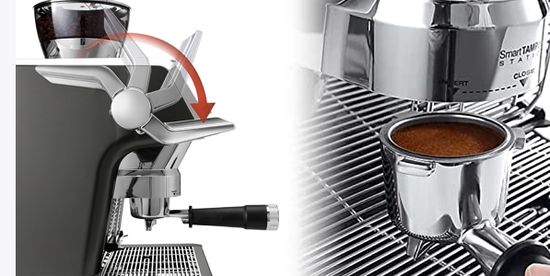 It provides auto setting of tamper pressure with electronic control and 3 settings;
– Advanced Latte System with Flat and Foam modes.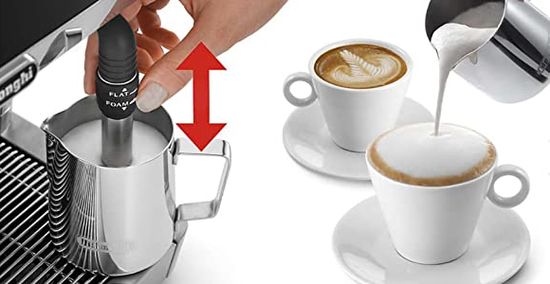 The adjuster of foam consistency and height provides optimum preparation of superb micro-foam for Latte Art or rich froth for cappuccino;
– pre-wetting for maximum extraction;
– 1 second quick start;
– Hot Water Spout for Americano or tea.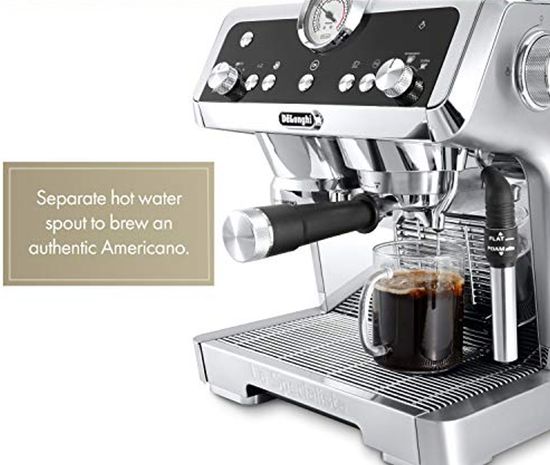 – adjustable cup height (max up to 120 mm).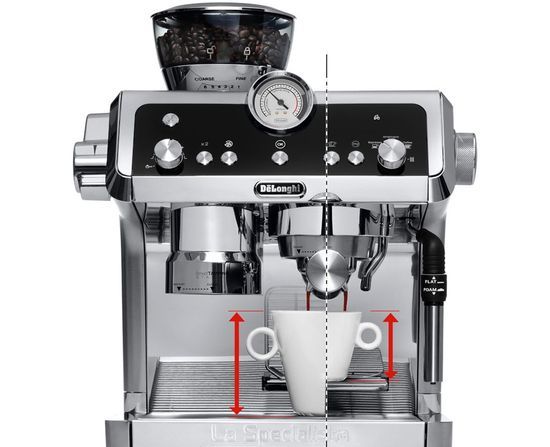 Main specs:
– 250-gram bean hopper (8.8-ounce);
– bean sensor;
– powerful 19 bar pump;
– 84.5 fl oz (2.5 liter) water tank;
– stainless steel milk pitcher.
In general, the list of main pros includes:
– intuitive setting options;
– superb milk frost;
– easy cleaning and operation;
– almost silent operation.
But, frankly, all semi-automatics are based on the 'home barista' concept and la Specialista is no exception. Therefore, for novice coffee lovers, fine tuning coffee makers requires a user manual.
La Specialista Arte vs Prestigio vs Maestro
The list of their differences is very short. To control, all La Specialista use the dials and buttons:
– rotary dials – setting coffee volumes and specialties;
– buttons – a double dose of grounds, rinsing, initiating brewing, hot water and customized profiles.
But of course, the entry-level Arte uses significantly fewer controls vs flagship Maestro.

Arte and Prestigio have 3 preset recipes, Maestro offers six programs. In addition, Prestigio and Maestro support 'My function' (user profiles).
La Specialista Arte does not have a 'smart tamping station' and only offers a hand tamper.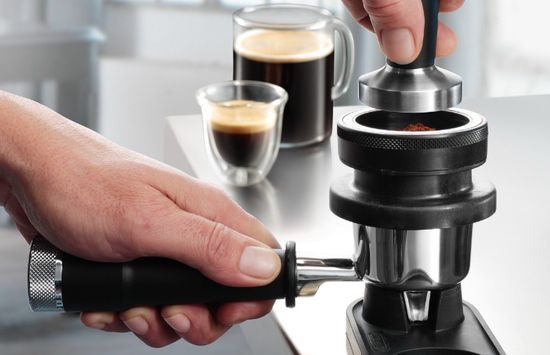 Models also prepare coffee-milk drinks differently. Arte uses steam wand and a button, Prestigio has dial on the side.
Like Arte and Prestigio, Maestro can use steam wand to manually froth milk. But it's also compatible with LatteCrema system, which is installed onto the milk pitcher and automates the preparation of coffee-milk recipes.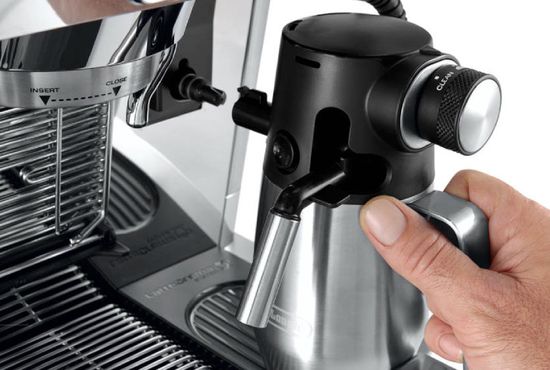 Given these differences, the price difference between Arte ($ 500-600) vs Prestigio ($ 700-800) vs Maestro ($ 1,300-1,400) may seem excessive. On the other hand, the company provides the consumer with a wide choice depending on his budget. Arte is ideal for students and newlyweds, Maestro will harmoniously fit into the interior of the office.
Conclusions
Traditionally for industry leaders, DeLonghi is actively expanding its product range. A partial list includes:
– expansion of the ultra-popular Dinamica series with DeLonghi Dinamica Plus;
– premium DeLonghi Eletta Explore with unprecedented 40 pre-programmed coffee recipes and additional LatteCrema Cool milk system;
– innovative DeLonghi Clessidra ICM 17210 drip coffee maker, which provides a precise coffee brewing temperature and uses pulse pouring water flow.
Stylish semi-automatic series harmoniously fits into this list. Of course, the semi-automatic model is hardly ideal for fast coffee preparation. It will be the good choice for lovers of stylish design and leisurely ritual coffee preparation. In addition, La Specialista opens up superb opportunities for experimentation. But beginners will need user manual.
Today the company offers a choice between Arte (~ $ 500-600), Prestigio (~ $ 700-800) and Maestro (~ $ 1,300-1,400) versions. They vary in degree of automation. Starting La Specialista Arte has a built-in grinder and steam wand. Prestigio and Maestro automatically tamp the coffee tablet with Smart Tamping Station. Finally, Maestro is compatible with LatteCrema system, which automatically froths the milk. The affordable price, stylish design, superb coffee flavor and aroma, quiet operation, and perfect milk foam have made La Specialista popular among coffee lovers.
Today this series competes with Breville Barista which are its main competitor. The flagship Breville Oracle Touch offers a very high level of automation, but is significantly more expensive vs the premium Maestro. Breville Barista Express and La Specialista Prestigio are almost identical in price.
This video shows the first setup of La Specialista.