Hybrid espresso machine with coffee tablet holder (portafilter) are positioned as semi-automatic models. The first such model was developed in Europe under the premium Gastroback brand, which is today owned by the famous Australian Breville Group Limited.
Introduction
The Breville brand initially earned its reputation with a sandwich toaster. Since the 1960s, it has specialized in the design, manufacture and sale of kitchen appliances. Today the company is one of the leaders in this segment, selling products under the brands Breville (worldwide excluding Europe), Kambrook, Ronson, Sage by Heston Blumenthal, Solis, Stollar, Catler, Bork and Riviera & Bar. Coffee machines are one of the most successful activities of the company. Breville entered the US market in 2003, and over 20 years, its products have achieved an impeccable reputation.
The consumer market enthusiastically accepted first hybrid Gastroback coffee maker. Their success was largely due to the popularity of the 'home barista' concept, based on the increased participation of the coffee lover in the coffee making. Indeed, fully automatic models have virtually eliminated humans from this process. But many perceive the leisurely preparation of aromatic coffee as a way of relaxation. The semi-automatic models offered a reasonable compromise and quickly gained popularity among lovers of experiments and leisurely ritual coffee preparation.
The coffee brewing is the main and only difference. In fully automated model the coffee is extracted in the internal brew group. In semi-automatic coffee maker the shot (slang name for espresso) passes through the externally attached portafilter basket under water pressure.
Of course, the industry leaders responded adequately to the conjuncture of consumer demand and soon Breville and DeLonghi introduced the Breville Barista Express and DeLonghi La Specialista series of semiautomatic coffee machines. Today the Oracle Touch is the latest generation of semi-automatic Breville espresso machines. In Europe it's sold under the Sage brand.
Delonghi La Specialista
The Italian giant's series includes entry-level Arte ($ 500-600), mid-budget Prestigio ($ 700-800) and premium Maestro ($ 1,300-1,400).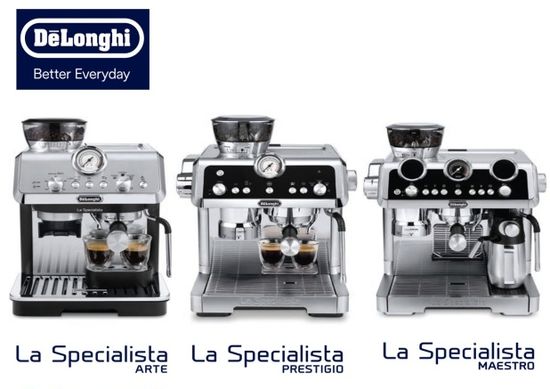 La Specialista use many innovations, including:
– the advanced stainless steel conical burr grinder with two sensors to precisely control the amount of coffee per serving;
– Dual Heating System with 2 thermoblocks;
Two independent circuits provide temperature stability and reduce the preparation time for coffee-milk drinks by simultaneously heating water for espresso and steam for frothing milk;
– Smart Tamping Station with electronic 3-step adjuster;
– advanced Latte System with adjuster of foam consistency and height.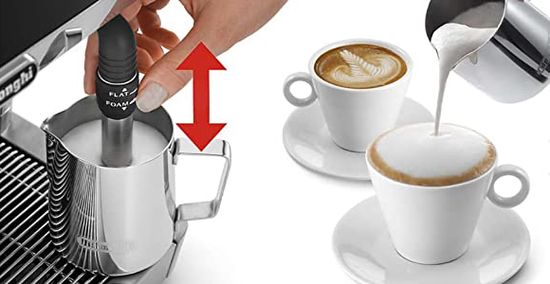 – Hot Water Spout for Americano or tea.
Arte and Prestigio offer 3 preset recipes vs six programs in Maestro. 'My function' in Prestigio and Maestro support user profiles. Arte uses only a hand tamper, Prestigio and Maestro have a 'smart tamping station'. All models have 2 thermoblocks and a steam wand, but Maestro also is compatible with LatteCrema system, which is installed onto the milk pitcher.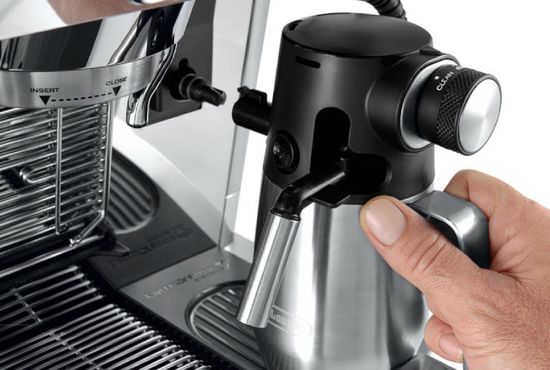 Breville Barista
The model range of the Australian company is much wider. It includes Breville Barista Express / Impress / Touch / Pro, Dual Boiler (no grinder), compact Bambino Plus, and Oracle / Oracle Touch. In fact, they cover all price segments from ~$ 500 for Bambino Plus to $ 2,800 for Oracle Touch. What's more, the price of model from Breville Damson Blue Luxe collection reaches $ 4,200.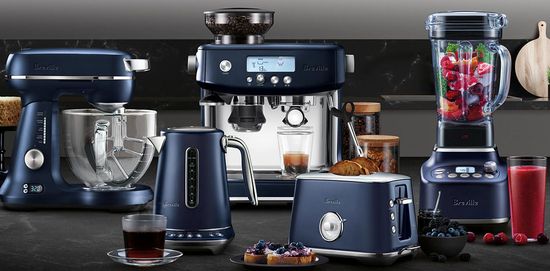 Innovations:
-PID Temperature Control
Breville coffee makers use PID temperature control or improved ThermoJet system, providing an accurate extraction temperature (200°F or 93ºC by default).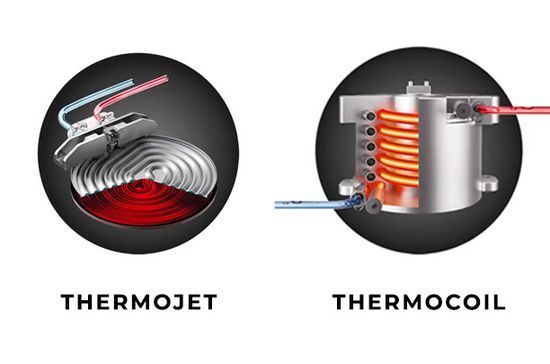 What's more, it's adjustable from 187ºF (86ºC) to 205ºF (96ºC) in 2ºC;
-optimal water pressure with the OPV (Over Pressure Valve) limits the maximum pressure throughout the extraction, preventing bitter flavors in the coffee shot;
-pre-infusion.
Pre-infusion lasts 2-8 seconds and improves the extraction uniformity throughout the volume of ground coffee. In fact, the coffee maker smoothly increases the pressure from 3 to 9 bar;
-dual boiler.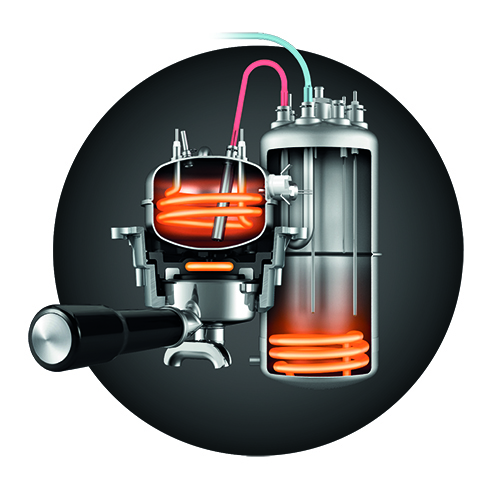 -adjustment of milk foam consistency in the range 1-9 by setting its temperature from 104°F to 167°F (40°C – 75°C);
– pressurized / non-pressurized double-wall / single-wall baskets;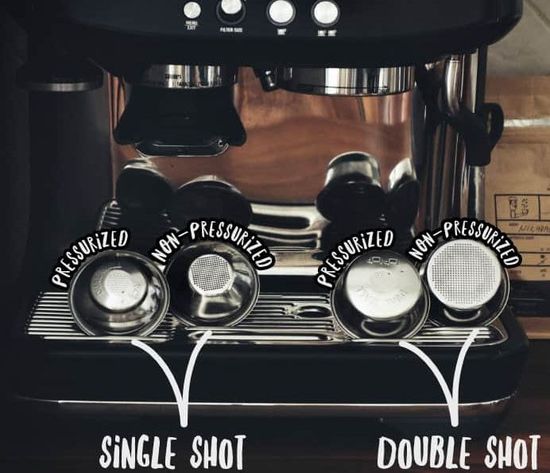 The double-wall basket is optimal for a pre-ground coffee, beginner barista, or when a coffee scale is not available. The single-wall basket provides max control over the espresso making;
-Breville 'assisted tamping' mimics the action of a professional barista, providing a polished tablet surface.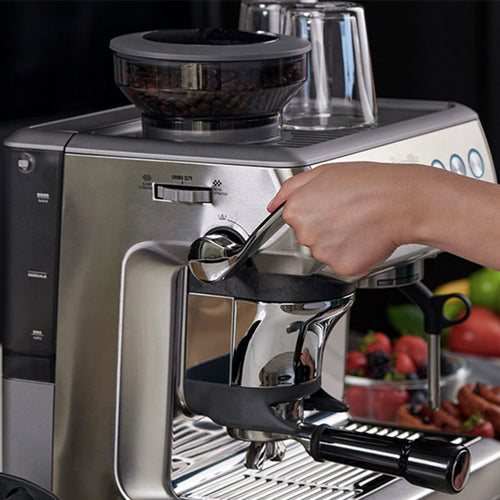 But, of course, the list of technologies used depends on the price of the model. For example, dual boiler and ThermoJet are available in models starting at $ 1,000, while 'assisted tamping' is only available in the new Barista Express Impress.
Barista Pro / Touch vs Delonghi La Specialista Maestro
Of course, comparing DeLonghi La Specialista Arte vs Breville Oracle is unlikely to be correct due to their different class. But the prices, specs and functionality of the Breville Barista Pro / Touch are quite comparable with DeLonghi La Specialista Maestro.
– Barista Pro – $ 750 – 850 (depending on color);
– Barista Touch – $ 1,000 -1,650;
– Delonghi La Specialista Maestro – $ 1,380.
Compared to Barista Pro, Barista Touch has a touchscreen display with 5 pre-programmed coffee recipes and automatic steam wand.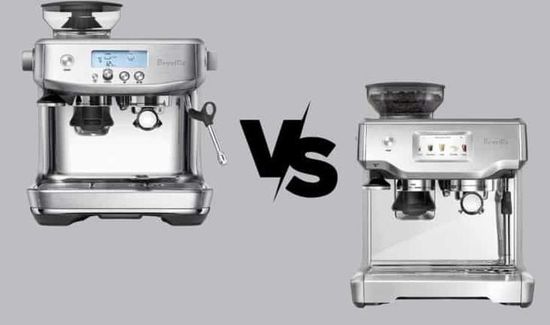 Barista Pro has very good illuminated controls and offers the setttings of pre-infusion, temperature, grind size and amount. Barista Touch is very user friendly.
Compared to competitors, La Specialista Maestro offers:
– 2 thermoblocks;
– built-in grinder with precision sensor control;
– Smart Tamping Station;
– superb milk foam with Advanced Latte System by adjusting the milk froth consistency;
– 6 pre-set coffee recipes;
– auto frothing due to compatibility with LatteCrema system.
For cold coffee lovers, the La Specialista Maestro with Cold Brew cold extraction technology makes cold-brew coffee within five minutes.
Of course, Maestro is more functional. But, in fairness, it's significantly more expensive without taking into account the colors. In particular, the brushed stainless steel Barista Touch costs only $ 1,000.
Conclusions
Overall, value for money of Delonghi La Specialista and Breville Barista coffee makers are about the same. But Breville Barista offers a much wider range.
The widespread opinion about the high price of Breville models seems to be slightly exaggerated. Indeed, Breville uses an extra charge, for example, on the Damson Blue Luxe collection. As a result, models of some colors are significantly more expensive. For example, Breville Oracle Touch Damson Blue is priced at $ 4,200 vs $ 2,800 for brushed stainless steel Oracle Touch with identical specs. But the price of Breville coffee makers with traditional colors is very close to La Specialista.
The differences between La Specialista Arte / Prestigio and Breville Barista Express / Impress / Pro are minimal. Of course, the use of 2 thermoblocks is a significant bonus of Delonghi models. The Australian company offers dual boiler only in expensive models. La Specialista is more in line with the 'home barista' concept, providing ample opportunity for experimentation. Breville is better for beginner espresso drinkers. The company even offers double-wall / single-wall baskets, the use of which directly affects the control level of coffee brewing.
Therefore, the choice between models under $ 1,000 depends on the individual attitude towards these brands.
In the premium segment, choosing between the Breville Barista Touch ($ 1,000), Delonghi La Specialista Maestro ($ 1,380), Breville Oracle ($ 2,000) and Oracle Touch ($ 2,800) is more about budget. But the difference in their prices is quite consistent with the difference in functionality.
Video offers side-by-side comparision of Breville Barista Pro vs Delonghi La Specialista Prestigio vs Barista Express.