About a decade ago, the LED industry came up with fairly powerful and cheap LEDs. They became the basis for solid-state light (SSL) sources in projectors. According to the light source type, modern projectors are divided into LED projectors and laser models, which use more expensive high-performance laser LEDs. Simplistically, a laser LED is an LED with an optical resonator (Fabry-Perot resonator).
LED light source
Low price, huge life time (20,000-25,000 vs 5,000-6,000 hours) and low heat became their main pros vs lamp light sources. The latter factor allowed the developers to radically reduce the projector size. Indeed, the high lamp temperature requires a powerful fan and a large internal volume for efficient heat dissipation. As a result, lamp projectors are bulky. Moreover, the powerful fan noise often exceeds 50 dB, making viewing uncomfortable. Modern LED and laser projectors do not have these cons.
Unfortunately, the light output of LED light engines is limited, providing brightness up to several hundred LED Lumens. For comparison, the brightness of modern laser and lamp projectors reaches several thousand ANSI Lumens.
As known, the projector brightness affects the image quality. With insufficient brightness, it's dull and faded. In addition, brightness compensates for ambient light, reducing room darkening requirements.
Modern LED projectors are conventionally divided into low power mini LED projectors and brighter models with more powerful LEDs.
Mini projectors have been enthusiastically received by consumer market. Adequately responding to demand, companies quickly filled this segment with a huge number of pico-, pocket-, portable models. However, this criterion is very subjective. But the huge pocket can hold even 4 lb projector.
Traditional LED models have quickly become very popular due to their low price. Companies today offer a wide range of DLP LED projectors. Moreover, DMD chipsets with XPR (pixel shift) technology from Texas Instruments allowed companies to develop relatively cheap 1080p chipset-based 4K projectors. This technology takes 8 million pixels of 4K content, divides them into 4 parts of 2 million each, and displays them sequentially on the screen using only 2 million micromirrors of 1080p chip.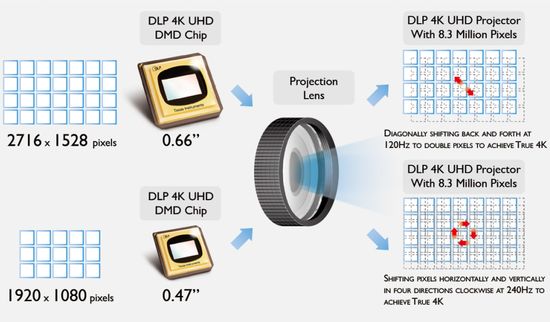 Image shift is achieved by tilting the lens using 4 electromagnets of XPR module.
LED projector brightness
Given the brightness importance, it has long been a subject of debate. For example, Epson specifies the Color Light Output (CLO), which is always equal to white color in Epson 3LCD projectors.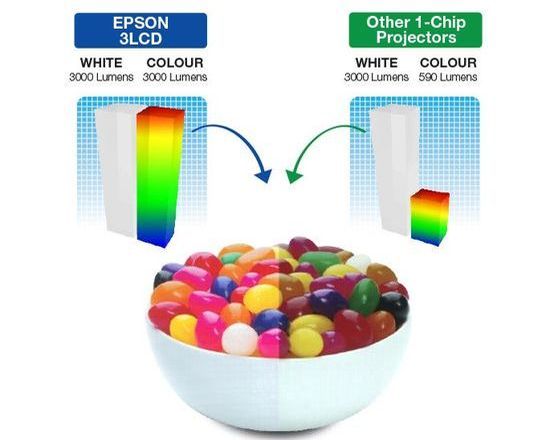 In turn, manufacturers of LED projectors offer to take into account the Helmholtz-Kohlrausch effect. It takes into account the perception of highly-saturated colors as brighter by the eye.
Finally, the industry's lack of a standardized measuring point adds further confusion.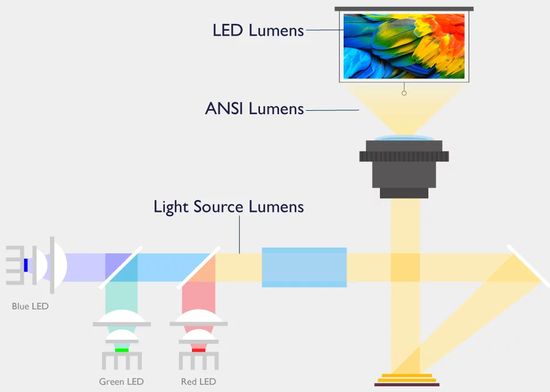 Basically, companies today use ISO (International Organization for standardization, ISO21118) lumens, ANSI (American National Standards Institute, 9-point test ) lumens, and LED lumens. Approximate ratios:
– 1 ANSI lumen ~ 0.8 ISO lumens (based on industry practice);
– 1,000 LED lumens ~ 417 ANSI lumens (~2.4 conversion).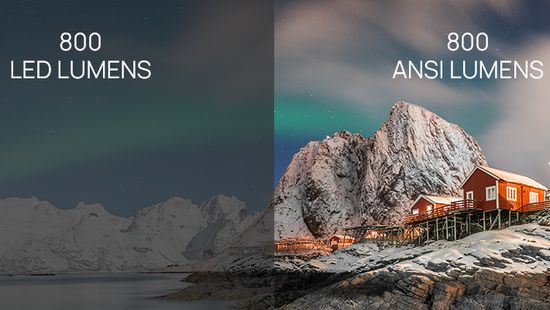 To avoid ambiguity, some companies do not specify brightness of their models. But in any case, manufacturers of LED projectors successfully solve this problem. For example, ViewSonic introduced last year X2 UST (Ultra Short Throw) projector with 3rd generation of LED light engine. Its brightness reaches of 3,100 LED Lm (~ 1,500 ANSI Lm). It was developed based on new LEDs from OSRAM Licht AG company, which is one of the leaders in the semiconductor components segment. Using six chips of the same color per LED, the company has achieved an unprecedented 3,000 LED Lm. According to the company, the performance jump was mainly achieved through improvements in chip and package technology based on third-generation LED curing lights.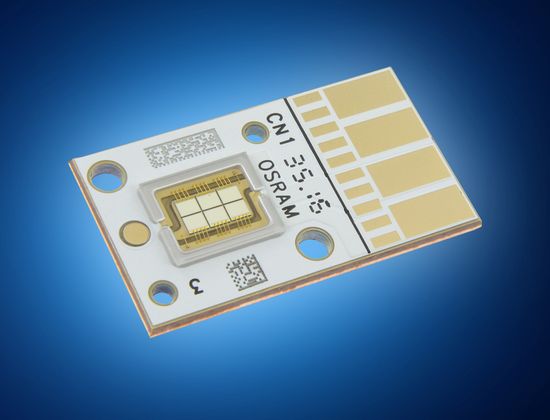 BenQ didn't stand aside either, last year presenting gaming BenQ X3000i with innovative 4LED (RGBB) light engine. Additional blue pump LED boosts overall brightness by 8-12% providing up to 3,000 ANSI Lm.
Portable LED projectors
Portable LED models do not claim high brightness, but they offer a low price and compactness. This year, the list of the most interesting models has expanded with Anker Nebula Capsule 3, ASUS ZenBeam Latte L2, Formovie V10, XGIMI Mogo 2 Pro and Yaber.
Anker Nebula Capsule 3 was announced late last year at the Pepcom Digital Experience pre-show ahead of CES 2023. Today it costs $ 800.
Main specs:
– laser light source with brightness up to 300 ISO lumens;
– FHD (1,920 x 1,080) resolution;
– 120-inch picture (100″@3.18m);
– 3.3″ diameter x 6.7″ height at 2,1 lb (950 g).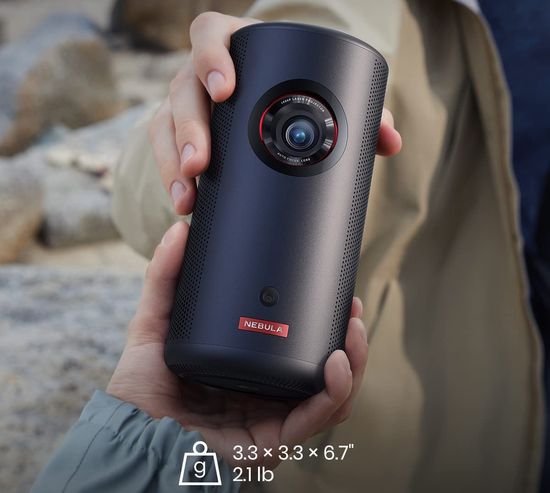 Model offers superb features, including:
– auto keystone correction;
– autofocus;
– 8W DD+ speaker (Dolby Digital Plus – audio codec for creating multi-channel sound);
– CAIC technology (frame-by-frame adjustion of red, green and blue);
– Dolby Digital;
– Android TV 11.0;
– Google Assistant and Chromecast;
– Netflix;
– built-in battery (2.5 hours playback).
Thus, the list of available Nebula Capsule includes:
– Anker Nebula Capsule – 100 ANSI Lumen, FWVGA (854 x 480) resolution, 100-inch picture – $ 250;
– Capsule Max / Capsule II – 200 ANSI Lumen, HD (1,280 x 720) resolution, 100-inch picture – $ 376 / $ 530 (different smart features);
However, the portable Nebula family also includes Apollo (200 ANSI Lm / 480p / 100″ – $ 350) and Mars II Pro (500 ANSI Lm / 720p / 100″ / 3.95 lbs – $ 550).
In addition, the company offers a brighter laser Cosmos model with 4K support, but it's quite large, weighs more than 11 lbs, and can hardly be positioned as portable.
All models use identical optics that provide:
– 100″@2,87m;
– 80″@2,29m;
– 60″@1,72m;
– 40″@1,14m.
Formovie V10
Formovie is a joint venture between Xiaomi and Appotronics. Appotronics has long and successfully develops ALPD-based (Advanced Laser Phosphor Display) laser light sources.
New V10 (Xiaomi VX) 4K DLP projector may well become this year's bestseller. It has elegant design which will blend harmoniously into any interior.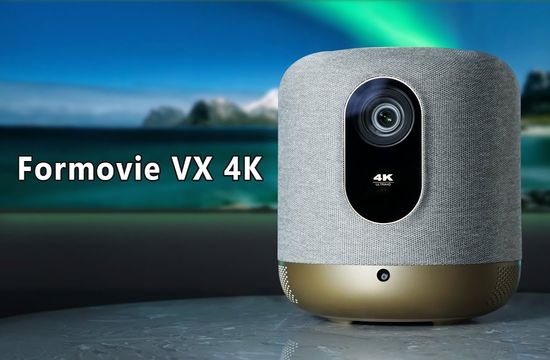 Despite portability, the model has almost premium specs and superb smart functionality.
AI features:
– auto focus;
– automatic keystone correction (±45°);
– screen auto alignment;
– screen intelligent obstacle avoidance (projection shift when the switches or a painting are detected on the wall).
Considering the 12ms low latency, the company rightly positions the V10 as a gaming projector.
According to the specs, its LED light source provides brightness of 2,500 ANSI at color gamut of 118% for DCI-P3 (1.07 billion colors). To be fair, they are unprecedented for an LED light engine.
Other specs:
– 0.47″ XPR DMD chipset with 4K (3,840 x 2,160) resolution;
– 55-180″ image size;
– AI image quality enhancement technology with high-performance MediaTek MT9669 flagship Al chip (content recognition and color optimization depending on the scene);
– far-field voice control;
– 2.1ch audio.
Given its compact size, the model has a superb audio system, including two 7.5W full-range speakers and a 15W independent subwoofer at the bottom. Probably, Formovie V10 today is one of the few portable projectors with support for 360° Dolby surround sound.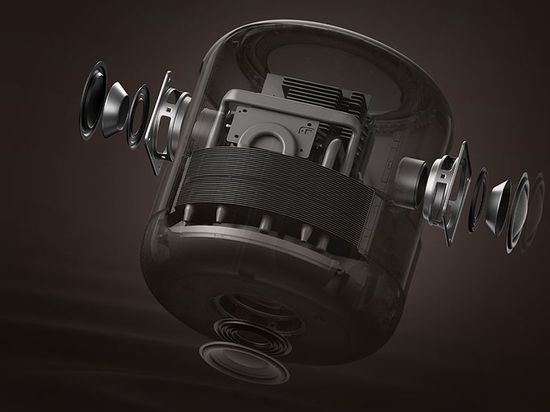 – HDR10+ and HLG support;
– MEMC (Motion Estimation, Motion Compensation);
– 240Hz refresh rate;
– HDMI 2.1 (4K gaming), Ethernet, HDMI (ARC), 2x USB 2.0 ports + 3.5mm audio jack;
– Android 9.0-based FengOS (TV stick and TV box support);
– WiFi 2.4/5GHz, Bluetooth 5.0, and wireless AirPlay/DLNA/Miracast.
Depending on the region, its price varies from $ 1,100 to $ 1,500.
Pocket Yaber Pico T1
A few years ago, consumers received the Blackview Max 1 projector phone with great enthusiasm. The reaction of the companies was adequate, and at CES 2018 Wireless Mobi Solutions introduced Moviphone. Despite a vigorous start and expectations of the consumer market, this direction slowed down and then stopped altogether. This was probably due to the too low price-quality ratio. At priced ~ $ 600, they offered very modest specs of phone and projector. When purchased separately, the same money allowed the buyer to choose models with significantly higher specs. As a result, the combi-projector in the phone today is only available in Motorola Moto Z with Moto Insta-Share Projector Mod. In 2021, Samsung and Nokia announced Samsung Galaxy Beam 3 (2021) and Nokia Projector Phone 5G. Unfortunately, there was no continuation. However, demand for ultra-compact projectors in the smartphone form factor has remained. Therefore, Yaber-Pico T1 at CES 2023 is quite logical.
Yaber (Shenzhen, China) was founded in 2018 and specializes in the development of low cost entertainment projectors. For several years, the company has introduced 10 models priced between $ 200 and $ 300.
Specs:
– DLP;
– 110 ANSI Lm with RGB LED light engine;
– manual focus;
– qHD (960 x 540) resolution;
– vertical auto keystone;
– (10-100″) image from (0,3 – 2 m) with 1.2 :1 Throw Ratio (100″@6.6ft);
– 350:1 contrast ratio;
– 10,000mAh powerbank;
– mini-HDMI & USB-C ports;
– screen mirroring (Miracast, AirPlay, EShare);
– BT 4.2 Bluetooth and 2.4/5GHz WiFi;
– (150 mm x 75 mm x 13,1 mm) dimentions and 150 g weight.
Price ~ $ 290, 150 g weight, 0.52″ (13.1 mm) thickness and simple intuitive controls are its main pros.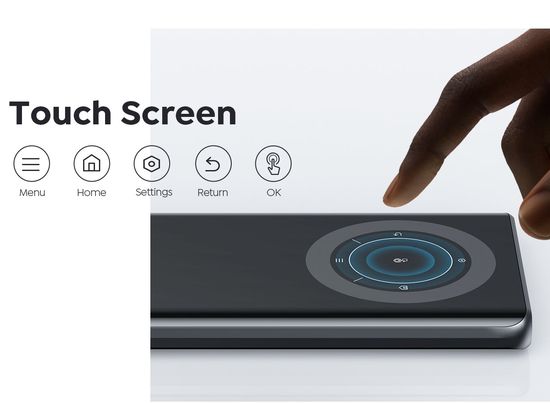 ASUS ZenBeam Latte L2 and XGMI MoGo Pro 2
ASUS has introduced an improved L2 version of the popular portable ZenBeam Latte L1 LED projector.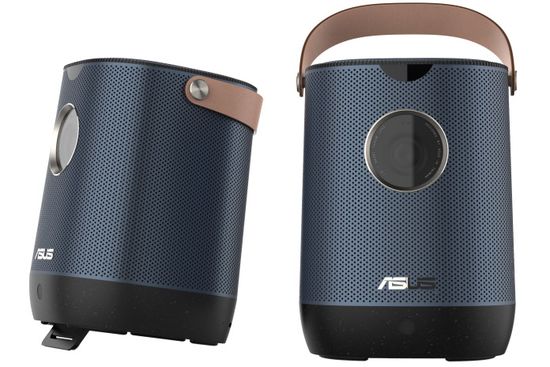 Company increased the brightness from 300 LED lumens to 600 LED lumens and the resolution from 720p to 1080p. Its short-throw lens provides from 40″@1m to 120″@3m. In addition, ASUS has replaced the Android-based Aptoid system in the L1 with a Google-certified Android TV.
Options:
– ASUS Light Wall function (26 built-in content options for wall decoration;
– autofocus with built-in sensor, which measures the distance between the projector and the screen;
– geometric and four-corner corrections with horizontal and vertical keystone adjustments;
– Harman / Kardon – calibrated 10W sound with movie / gaming / music / outdoor modes;
– ZenBeam L2 as a portable speaker when connecting smartphone via Bluetooth;
– built-in Chromecast for wireless mirroring and bundled TV box (Android TV for Netflix, Disney+, Amazon Prime Video, etc with remote);
Today L1 costs ~ $ 400. The L2 price has not yet been announced.
XGIMI Mogo 2 Pro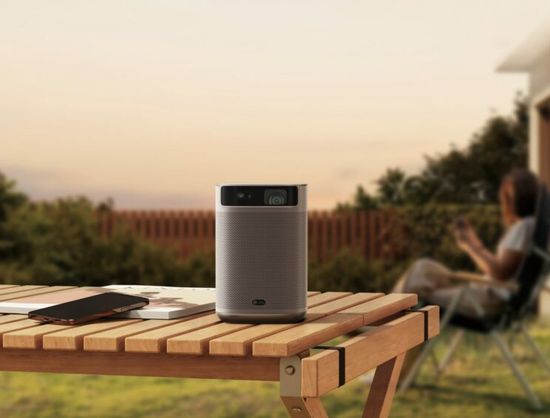 In last year's Horizon and Halo+ models XGIMI introduced a very handy Intelligent Screen Adaptation (ISA) system that includes:
– auto keystone;
– fast autofocus;
– auto-edge detection for screens;
– auto obstacle avoidance (image shift away from obstacles on the wall).
New portable Mogo 2 Pro 1080p LED projector with 350 ISO Lumens uses next-generation ISA 2.0. Its calibration uses data from a more sophisticated 3D ToF (Time of Flight) sensor instead of the inconvenient flashing test pattern.
In addition, the company added intelligent eye protection (instant reduction in laser power). It will protect the eyes of curious children and pets from the laser beam if they get close to the projector.
Conclusion
The article does not consider Samsung Freestyle 2023, which was one of the CES 2023 sensations. This superb portable 1080p LED projector offers some new smart options. For example, it can combine images from multiple projectors with Smart EDGE Blending technology and offers Samsung Gaming Hub for cloud gaming. Unfortunately, the company has not released more complete specs yet.
However, other novelties are no less interesting. This list includes:
– Anker Nebula Capsule 3 (laser, 1080p, 300 ISO lumens) with Android TV 11 – $ 800;
– Formovie V10 (LED, 4K, 2,500 ANSI lumens) with 12ms low latency – $ 1,100 – $ 1,500 (depending on the region);
– Yaber Pico T1 (LED, 540p, 110 ANSI lumens) with 150 g weight and 0.52″ (13.1 mm) thickness – $ 290;
– ASUS ZenBeam Latte L2 (LED, 1080p, 600 LED lumens) with wide functionality;
– XGIMI Mogo 2 Pro (LED, 1080p, 350 ISO lumens) with next-generation ISA 2.0.
The cheapest pocket Pico T1 is ideal for student outdoor parties. The specs of the most expensive Formovie V10 are amazing. In fact, 4K resolution, 2,500 ANSI lumens brightness, color gamut of 118% for DCI-P3 and 12ms input lag correspond to the premium segment. Priced between $1,100 and $1,500, the V10 offers excellent value for money.
The marketing prospects of ASUS ZenBeam and XGIMI Mogo 2 Pro will become clearer after the announcement of their prices.
This video introduces the Yaber Pico T1 projector.