The popularity of fully automatic espresso coffee machines has been growing for several decades. Of course, companies are responding adequately to consumer demand, filling the market with the superb models. A partial list of modern popular brands includes Italian DeLonghi, German Miele, Bosch/Siemens, Krups and Nivona, Dutch Philips/Saeco (Philips bought Saeco in 2009, and owns the Gaggia brand), Swiss Jura and Australian Breville. But Miele, Jura, Nivona and Breville are focusing more on the premium segment. Bosch/Siemens and Krups offer a wide range of entry-level coffee makers. DeLonghi and Philips/Saeco offer a wide range in all segments. In particular, DeLonghi lineup includes the Magnifica family with entry-level models (S, Start and more expensive Evo), mid-budget Dinamica (Dinamica and Dinamica Plus), and premium PrimaDonna, Eletta, Maestosa. Of course, this classification is rather conditional. For example, Magnifica Evo ECAM 292.81 has LatteCrema system and costs $ 895. Wherein, Dinamica ECAM 350.15.b with classic milk frothing nozzle costs only £ 440 ($ 530). But in general, the functionality and price of Dinamica is higher than Magnifica.
The Philips, Saeco and Gaggia use identical components and differ only in functionality (Philips – entry-level and mid-budget, Saeco – top-mid and premium, Gaggia – premium).
Traditionally, any entry-level model is optimal with a limited budget. The premium segment offers advanced features at an additional cost. Mid-budget models usually combine reasonable sufficiency with a relatively affordable price, often offering the best value for money. Perhaps their popularity is due to this factor.
DeLonghi Dinamica and Philips 3200 LatteGo exemplify this aspect perfectly. In fact, these series offer a premium milk system (integrated jugs for DeLonghi LatteCrema and Philips LatteGo) at a relatively affordable price of up to $ 1,000.
Philips vs DeLonghi
General differences (Philips/Saeco vs DeLonghi):
– espresso temperature ~ 160°F (71.11°C) vs 166°F (74.44°C) – for example, most North Americans prefer hotter coffee;
– DeLonghi offers advanced customization options;
– Philips / Saeco – neutral taste without bias towards bitterness and sourness;
– Delonghi – the taste profile is slightly shifted towards bitterness;
Platform (Philips/Saeco vs DeLonghi):
– coffee grinder – flat ceramic burrs with min noise, 5-12 grinding degree vs conical steel burrs, 13 (Soul & Maestosa – electronically controlled flat steel burrs);
– removable brewing unit – 7-11 g vs 6-14 g coffee (more rich espresso with max strength settimg);
– water heater – 1 vs 2 thermoblocks.
An additional thermoblock increases brewing temperature stability and makes milk-based coffee drinks faster due to simultaneous preparation of coffee and milk frothe;
– pump – 15 vs 15 or 19 bar;
– milk frother – built-in jug or hose for milk container (GranAroma and Xelsisс – with adjustable foam height) vs built-in jug with adjustable foam height;
– milk jug (~ $ 50) – Philips LatteGo vs DeLonghi LatteCrema.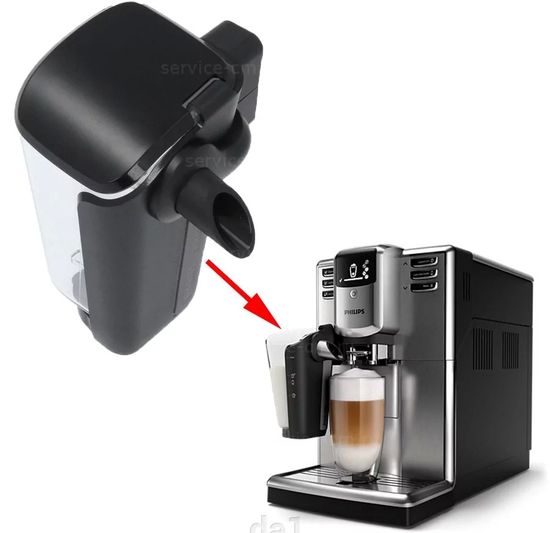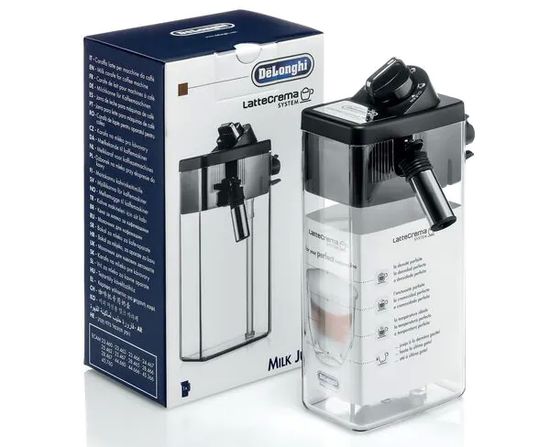 – Caffe Americano – hot water in espresso vs Delonghi Long program (longer extraction times);
– enhanced pre-wetting – PicoBaristo Deluxe & Xelsis vs Doppio+.
Philips 3200 LatteGo
3200 LatteGo is a new $ 800 version of 2200 series, which today costs $ 550.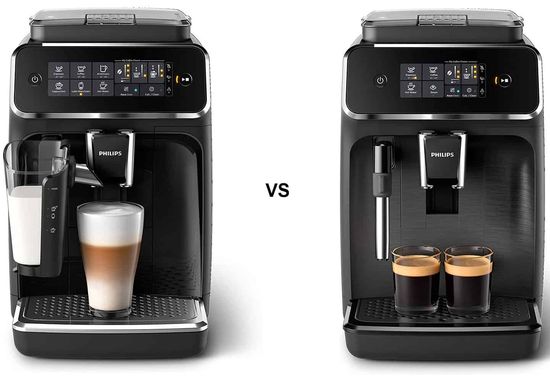 It has LatteGo jug and five preset program:
– espresso;
– cappuccino;
– black coffee;
– latte macchiato;
– americano.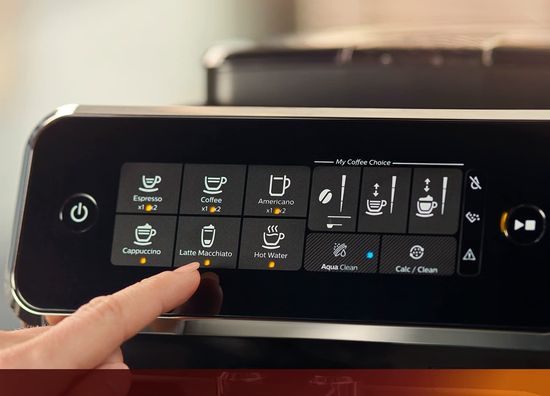 My Coffee Choice menu offers settings of water / coffee strength / milk foam and their saving.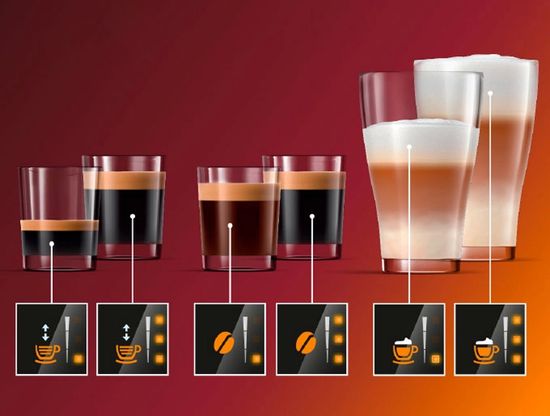 Pros
– good espresso;
– compact.
Cons
– slightly noisy;
– too dense milk froth.
Delonghi Dinamica
The Dutch company offers several colors at about the same price, regardless of region. Specifically, the Philips 3200 LatteGo, Black (EP3241/54) / Silver (EP3246/70) costs ~$ 800 in US, ~ £ 500 ($ 600) in UK, and ~ € 530 in Europe.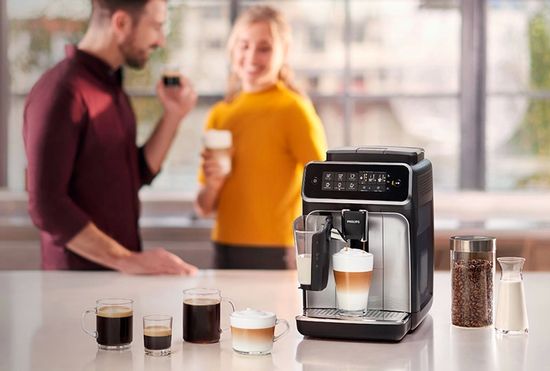 The marketing strategy of the Italian giant is much more complex and confusing. Initially, the LatteCrema system was available only in the ECAM 350.55, flagship Dinamica ECAM350.75.S, and the much cheaper ECAM350.50.SB. Other models in this series, including ECAM350.15.B and 350.35.W, use the manual milk frother (metal pipe for Panarello nozzle).
All newer Dinamica Plus ECAM370.70.B / 370.85.SB / 370.95.S/T also have LatteCrema jug.
Today LatteCrema system is supported by all Dinamica Plus (370.xx) and two Dinamica models, including 350.50.B and 350.75.S.
But comparing Philips 3200 LatteGo with Dinamica Plus is hardly correct due to their different class and price. They are much closer to Dinamica 350.50.B.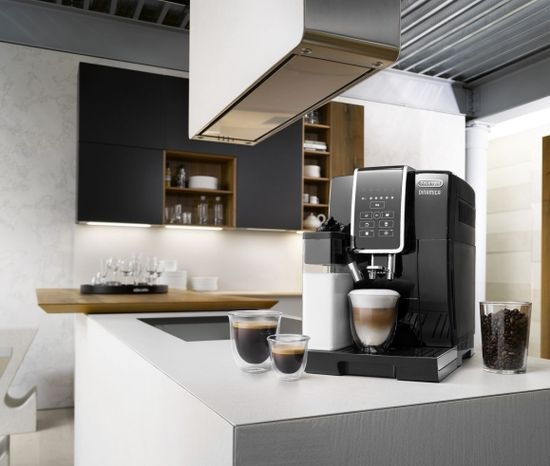 In Europe it costs just over € 500, in the UK from £ 440 (~ € 500).
Of course, the 350.50 is inferior to the more expensive Dinamica models. This list includes:
– only one thermoblock for water and steam;
– LED-symbol display (without shots counter);
– no second profile for 'MY' drinks;
– only four recipes and water / milk without LONG (Americano analog) and Doppio+ (rich espresso).
However, the list of programs is quite consistent with the entry-level top:
– espresso (default – 40 ml, standard 1 sec pre-wetting) – 20 – 180 ml adjustable volume;
– coffee (lungo, 180 ml, without prewetting) – 100 – 240 ml;
– cappuccino (140 ml milk + 60 ml espresso) – 20 – 180 ml;
– latte macchiato (160 ml milk + 40 ml espresso) – 20 – 180 ml.
ECAM350.75 / ECAM370.70
Unfortunately, 350.50 is not available in US. The Dinamica range in this region includes:
– ECAM370.95TI Dinamica Plus and ECAM350.75SI Dinamica (with LatteCrema) – $ 1 ,700 and $ 1,400;
– Dinamica ECAM350.20 and ECAM35025 (Iced-Coffee, without LatteCrema) ~ $ 1,000.
Philips 3200 LatteGo is closest to Dinamica ECAM350.75.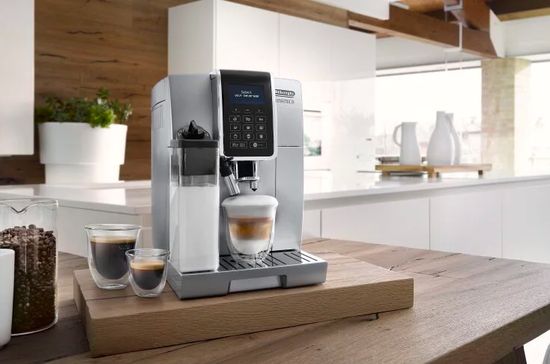 Philips EP3241 vs DeLonghi ECAM350.75:
– glossy black / silver vs silver;
– milk frother – LatteGo vs LatteCrema;
– display – touchscreen vs LCD display with backlit touch buttons;
– setting – My Coffee Choice (coffee strength / volume / milk froth) vs 'MY MENU' (grinding / coffee strength / volume / milk froth);
– water reservoir – 60.9 fl oz / 1.8 l (both);
– boiler – 1 vs 2;
– pump pressure – 15 bar (both);
– max/min cup height – 6.9 in (17.5 cm) / 3.3 in (8.4 cm) vs 5.3 in (13.5 cm) / 3.3 in (8.4 cm);
– grinder – ceramic flat burr grinder (12 steps) vs stainless steel conical burr grinder (13 steps);
– bean hopper capacity – 9.5oz (270g) vs 10.6oz (300g);
– waste container – 12 vs 14 serving;
– programs – 5 vs 12;
– 2-cup function – non-milk drinks only (both);
– technologies – Aroma Extract system (194°-208°F) / (90°-98°C) brewing temperature vs Aroma function (longer brewing cycle).
But the $ 600 difference ($ 800 vs $ 1,400) is hardly adequate for a second boiler and a few additional 'in-one-touch' programs.
In addition, in Europe DeLonghi also offers Dinamica Plus ECAM370.70 with 3.5 inch TFT color display, LatteCrema milk system, 19 bar pump, 4 user profiles, 12 programs and coffee pot option.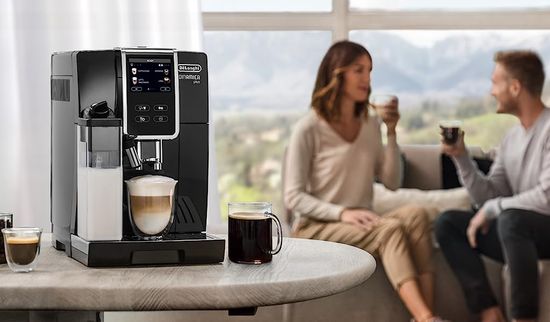 It costs £ 830 / £ 600 (black or white) in UK, and only up to € 600 in Europe.
Conclusions
In Europe, Delonghi positions seem preferable by the Dinamica ECAM350.50 (~€500) and Dinamica Plus ECAM370.70 (~ € 600). Philips 3200 LatteGo (~ € 530) and ECAM350.50 have almost identical price, specs and functionality. But both models are significantly inferior to the new Dinamica Plus ECAM370.70, which is only 15-20% more expensive.
But in the US the situation is different. The limited Delonghi Dinamica range includes only the ECAM370.95 Dinamica Plus and Dinamica ECAM350.75 with LatteCrema for $ 1,700 and $ 1,400, respectively. Dinamica ECAM350.20 and ECAM35025 with Iced-Coffee option cost up to $ 1,000 but do not have a milk system. In fact, Philips 3200 LatteGo only competes with Dinamica ECAM350.75. But the $ 600 difference is more than a compelling bonus in favor of Philips, even with the extra boiler and a few additional programs of Delonghi coffee machine.
This video introduces Delonghi Dinamica Plus ECAM370.70.B.