About 10 years ago, robot vacuums were primarily a fun, expensive toy for pets who liked to ride on them.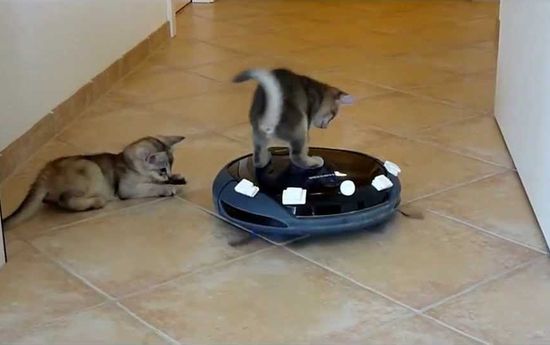 Indeed, the short runtime, lack of auto-recharging, low suction power and not very efficient overcoming obstacles required the owner to control cleaning, providing not very high-quality vacuuming on only hard floors. At the same time, the price of models started at $ 500.
Introduction
But their evolution rates is amazing. Quite acceptable suction power, Lidar-based (light detection and ranging) navigation, auto recharging, voice vontrol, efficient and simple apps, etc have turned them into real helpers. Moreover, the improved mop-option and auto-empty base, which was first implemented in Roomba i7 + (2018), significantly expanded their functionality and increased the automation level.
However, companies do not stop there. The automation level of last year's Xiaomi Roborock S7 MaxV Ultra amazed the most unflappable. His
the docking station automatically pours water into the onboard robot tank, washes and dries the mop's wipe. Other options are also impressive. Build-in LED spotlight keeps the navigation system working in the dark. Reactive AI 2.0 system with RGB camera can detect flat obstacles a few cm high.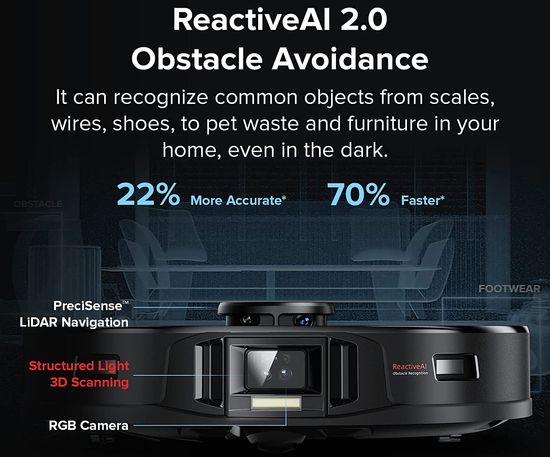 But its price reaches $ 1,400, which is quite in line with its functionality.
Like all consumer electronics, modern robotic vacuums are divided into entry-level, mid-budget and premium segments. Low cost robots for dry vacuuming cost between $ 150 and $ 350 and have low suction power. They are optimal for hard floors at a limited budget.
Premium segment prices range from $ 650 to $ 1,400 (Roborock S7 MaxV Ultra). The list of premium options includes:
– auto-empty base;
– high suction power from 2,000 Pa;
– vacuum & mop;
– Lidar navigation;
– obstacle overcoming system (for example, an additional RGB camera detects flat objects on the floor);
– surface type definition (turbo mode with increased power for carpet cleaning);
– LED spotlight (cleaning in the dark);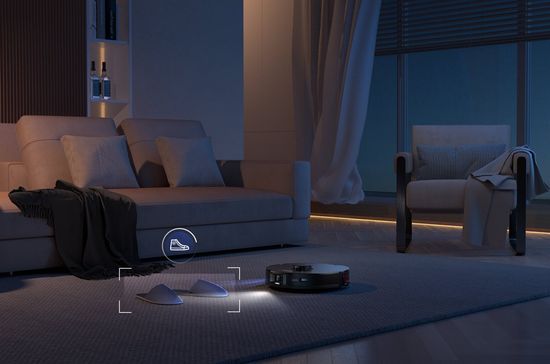 – additional mopping options, voice control, etc.
Premium entry-level robots
Mid-budget models are the most popular due to their superb value for money. In these models, companies often offer premium options at an affordable price due to reasonable sufficiency. For example, at prices ranging from $ 350 to $ 650, some models come with auto-empty base, have Lidar navigation, suction power over 2,000 Pa, and support mop mode.
Incomplete list of such models:
– Dreametech DreameBot D10 Plus;
– Shark AI Ultra;
– Eufy Clean G40 Hybrid+.
Shark and Anker Eufy brands hardly need an introduction. For example, Euro-Pro Operating LLC with UK registration began to sell its robotic vacuums under the Shark brand since 2013. In 2017 the company was acquired by CDH Private Equity. CDH Investments, Beijing, China is a large Chinese alternative asset management company. Today Shark products are sold by SharkNinja (SharkNinja Operating LLC), Needham, Massachusetts, which is an American marketer and distributor of home devices and appliances.
Eufy range includes the ultra-popular RoboVac series, with legendary RoboVac 11S. At just 2.85 inches height, the $150 11S Max is the best robot for cleaning under low-profile furniture today.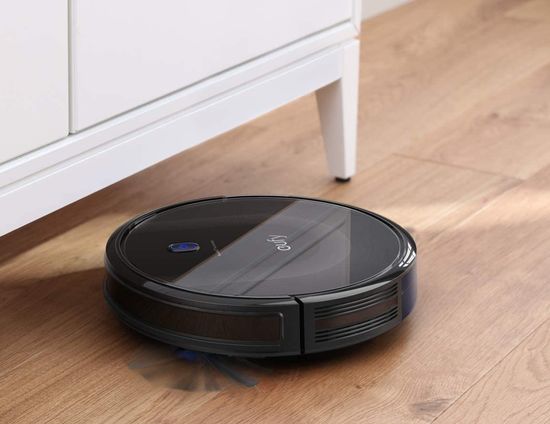 Dreame Technology is less known in the US and Europe, but its reputation is also high.
Founded in Shanghai, China in 2015, it's a technology company designs and manufactures high-end cleaning appliances, including cordless vacuum cleaners, robot vacuum and mops, and more. Since 2017, the company has entered the ecological system of Xiaomi Corporation. To a certain extent, today it can be positioned as one of the Xiaomi divisions, whose impeccable reputation is confirmed by the superb Roborock lineup. In this case, Dreametech robots can be considered as a cheaper version of the premium Roborock lineup.
Dreametech models
Today the company offers several models in all price segments. Dreametech lineup:
Dreametech L10s Ultra (2022) – $ 1,000.
Specs:
– 5,300Pa suction with DualBoost 2.0 system (to blow air into the robot's dust box);
– 2.5L water tank;
– 60 days with 3L dust bag;
– multifunctional base.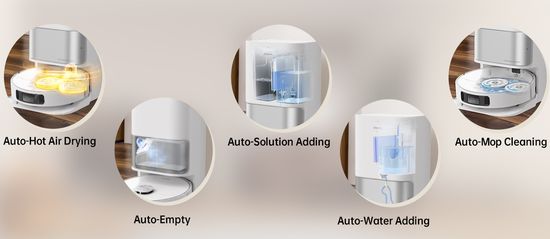 Base washes and dries mop pads after cleaning.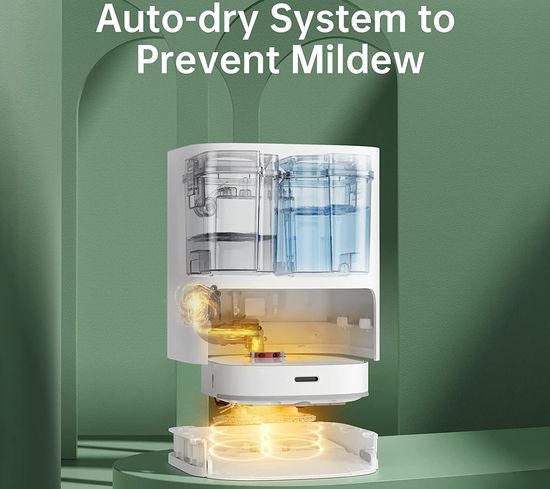 – AI+3D navigation with RGB camera and 3D structured light.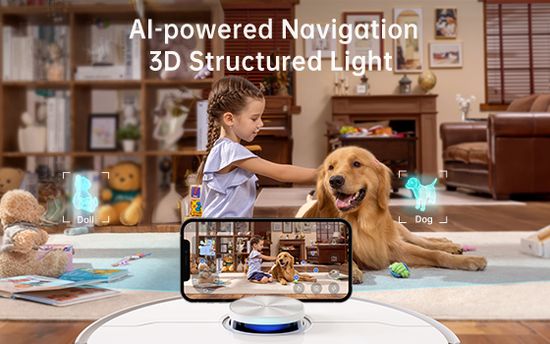 W10 (2021) – $ 900 (upgraded 19.2cm ultra-long roller brush, 4L water tank);
Z10 Pro (2021) – $ 600;
D10 Plus (2022) – $ 400;
D9 Pro without auto-empty base (2021) – $ 250.
In fact, Dreametech D10 Plus is the cheapest robot in the Dreametech lineup with a full range of modern premium options, including:
– adjustable mopping (150mL water tank , 3 settings for water usage and mop dampness depending on floor dirty).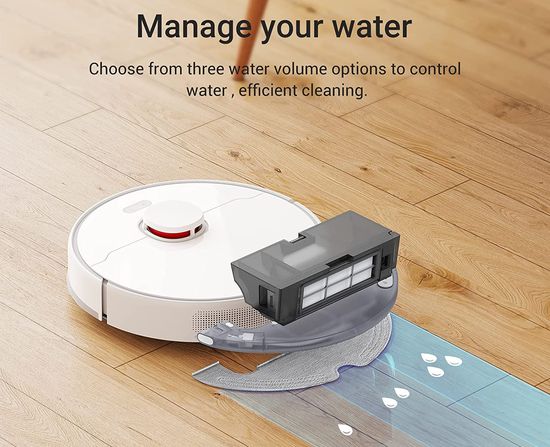 – auto-empty base with 2.5L dust bag (~ 45 days);
– self-refilling;
– 4 suction modes with max up to 4,000 Pa suction;
– 5,200 mAh battery, 180min runtime (270м² / 2,900ft²) and auto recharging;
– intelligent Lidar navigation (fast scanning and accurate dynamic mapping with advanced SLAM algorithm and precision obstacle detection).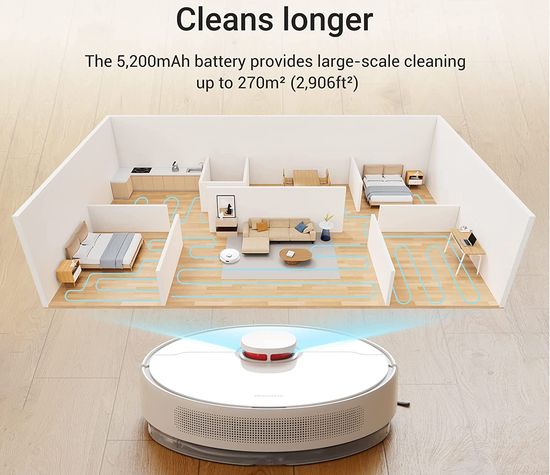 – auto carpet detection;
– voice control with Alexa support and 2.4G Wi-Fi;
– DualBoost technology (two air circulation paths for blowing and suction).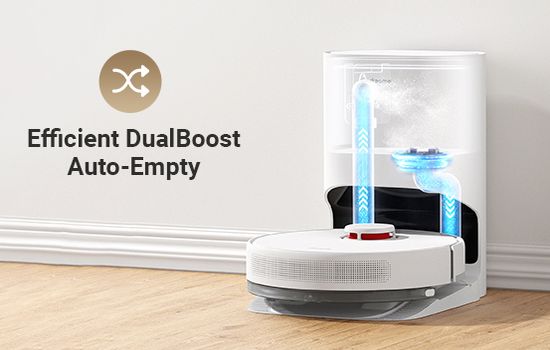 – customized cleaning (virtual wall, no-go zone, schedule cleaning, multi-floor map, and more).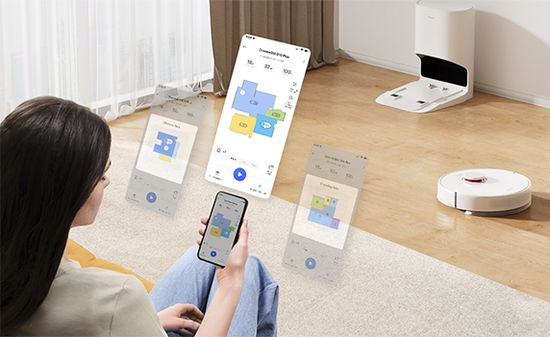 For comparison, Roborock S7+(2021) offers 2500Pa suction poewr, self-empty dock, sonic mop, auto lifting mop, ultrasonic Carpet Detection, dust bag on 60 days, and costs $ 700.
Shark AI Ultra and Eufy Clean G40 Hybrid+
New Shark (AV2610WA) offers:
– Sonic Mopping (more efficient cleaning with ultrasound);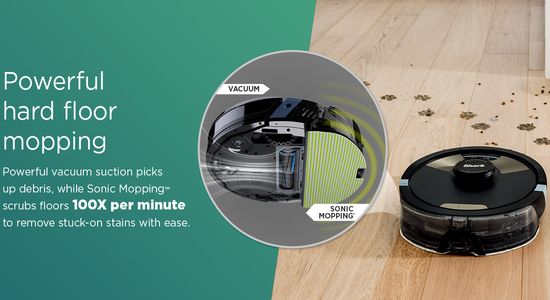 – Lidar and Matrix Cleaning Navigation (more thorough cleaning due to multi-pass trajectory);
– CleanEdge technology (air flow from the additional hole blows out debris from corners and edges).
– self-emptying base with HEPA filtration (99.97% of dust down to 0.3 µm) – up to 60 days capacity.
Shark does not list the suction power, which is typical of many well-known companies, including, for example, iRobot. This is due to the dependence of the result on the point and measurement technique. Not wanting to risk their reputation with controversial data in the specs, some companies list the robot suction power in comparison with their previous models (for example, 'new model is 60% more powerful than the previous one').
But in general, testing of Shark robots confirms their sufficient power for high-quality cleaning even of mid-pile carpets. Overall, the model offers a few additional innovative technologies, but its price reaches $ 650.
Eufy Clean G40+ with ultra-slim design (2.85″ height vs 5.7″ of Shark and 3.79″ of D10) is most effective for cleaning under low profile furniture.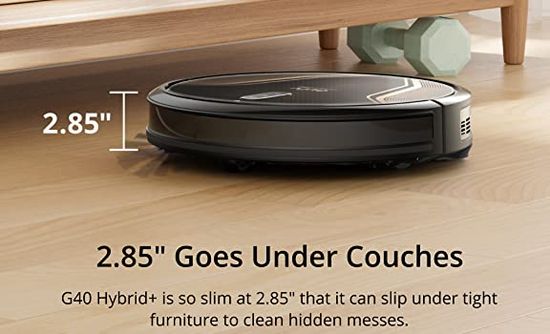 However, this is due to the lack of Lidar and, as a result, less efficient navigation.
Its max suction power reaches 2,500 Pa. In addition, Eufy Clean G40+ uses SuctionBoostIQ technology to increase suction power on carpets.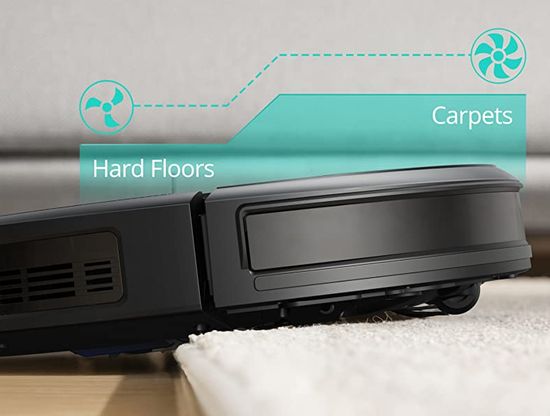 The self-empty station with triple-filtration Allergy Care system has 3.2L dust bag, providing up to 60 days of debris storage. The auto-locking dust bag simplifies its replacement.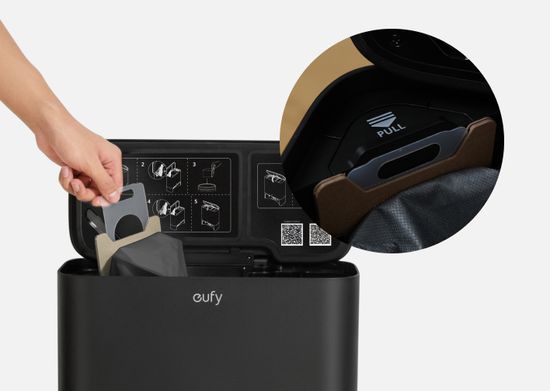 This model costs $ 430.
Conclusions
In general, all models have a superb price-performance ratio, offering auto-empty base and mop mode in the middle price segment. But Dreametech D10 Plus looks better. Of course, a few additional options of the Shark AI Ultra, including Sonic Mopping, Matrix Cleaning Navigation and CleanEdge technology, improve cleaning performance. But the $ 250 difference ($ 650 vs $ 400) is a too convincing argument in favor of D10.
The price of Eufy Clean G40+ is almost identical to the D 10 ($ 430 vs $ 400). Its low profile (2.85″ vs 3.79″ of D10) is ideal for cleaning under low profile furniture. This aspect will be a significant bonus for those who do not like to crawl on all fours. In addition, its base provides 60 days of debris storage vs 45 of D10. But its navigation without lidar is less efficient. In addition, the D10 offers adjustable mopping (3 settings), self-refilling and DualBoost technology.
Considering these factors, Dreametech D10 Plus has a superb marketing perspective. Moreover, some authoritative experts already call it one of the best models of the year in the mid-budget segment.
This video presents the Dreame D10 Plus robotic vacuum.