Multinational giant Hisense designs, manufactures and markets a wide range of high-tech consumer electronics. In America, it is popular thanks to Hisense USA Corporation, which was founded in 2001 and is its subsidiary.
TVs and projectors are among the company's most successful activities. It has long and deservedly occupies a place among the innovative leaders in this segment. Its premium ULED TVs make many top lists every year. The innovative Hisense Dual Cell technology used in the 75U9DG (2021) also has superb promise.
The success of Hisense UST projectors is also impressive. In 2021, the company first introduced the L9G TriChroma model with an RGB triple-laser light engine. In last year, Hisense introduced TriChroma PX1-Pro, which today costs ~ $ 3,000. The ultra wide color gamut is one of its main pros. Projector covers an unprecedented 107% BT.2020. By comparison, X-Fusion-based (blue laser + phosphor) light engine in Hisense PX1 offers only 83% DCI-P3.
Of course, the company takes an active part in the annual CES exhibitions, and this year was no exception. Hisense's UST projector list includes 120LX 8K, L9H/L5H Laser TVs and PX2-Pro/PL1/PX1H Laser Cinema models. In addition, the company introduced a short-throw Smart Mini model.
Hisense Laser TV
Of course, the idea of replacing the traditional TV with a projector with a huge screen has long been in the air. But its use as an alternative to a TV has several significant limitations.
As known, the TV screen emits a direct light flux. When using a projector, our eyes perceive the light reflected from the screen. Therefore, TVs are much brighter than projectors. In turn, the brightness is necessary to compensate for the ambient light, which makes the image dull and faded.
Therefore, previous Home Theater projectors were placed in carefully darkened, windowless rooms. Increasing their brightness by using more efficient laser light sources partially solved this problem.
Modern single-laser projectors with laser-phosphor light engines and more expensive RGB three-laser models offer brightness from 2,000 ANSI Lumens and above, which is quite enough even for diffused daylight.
Secondly, the wires on the floor when placing a mid-throw projector in the living room center are not very convenient. Of course, a ceiling mount solves this problem, but it's troublesome and complicated. The companies adequately responded to consumer demand. Within a few years, the market quickly filled with Ultra Short Throw (UST) projectors. Their aspherical optics form a projection of 100″ or more from a distance of several tens of inches.
As a result, a new segment of UST laser projectors has formed on the market.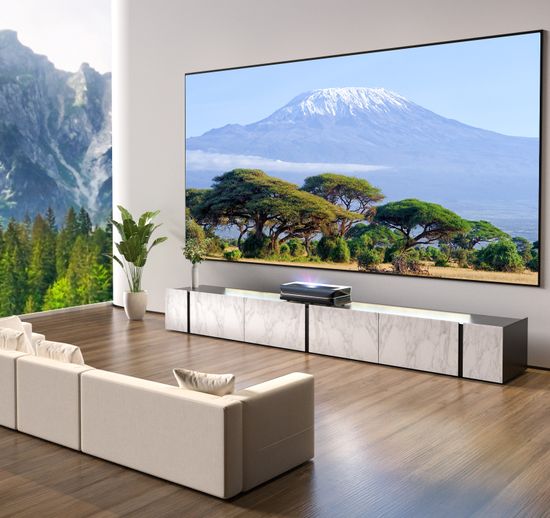 Hisense uses 'Laser TV' name for its UST models. In principle, any projector with a built-in TV tuner can formally be positioned as a TV with a screen outside the case. But Epson, LG, Optoma, Samsung, BenQ and other major manufacturers of these devices still prefer to call them projectors.
Hisense Laser TV vs Laser Cinema
This year, Hisense has divided its UST projector lineup into Laser TV and Laser Cinema. This classification is due to a completely objective reason and depends on the presence of a screen in the model's delivery set.
A few years ago, some major manufacturers sold UST projectors with only ALR (ambient-light rejecting) screens. This was due to their unwillingness to risk their reputation. Indeed, advertised image quality varies with lighting conditions, and ALR screens effectively compensate for ambient light, reducing dimming requirements.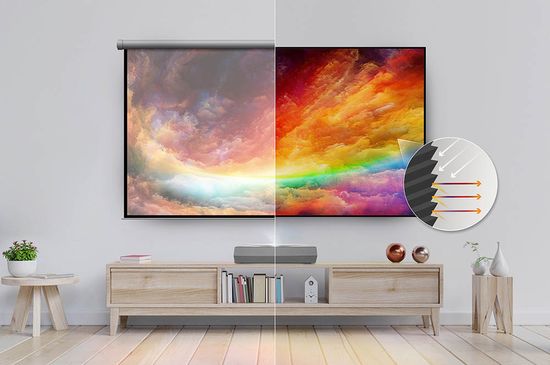 Unfortunately they are expensive. Depending on the size, ALR screen prices range from $ 600 to $ 2,000 or more. Accordingly, models with a screen are significantly more expensive. But the happy owner of a UST model can have a screen from a previous projector, win it in a lottery or inherit it. Finally, he can postpone the purchase until the next bonus. As a result, this practice has gradually lost its relevance. Today, most companies only offer the optional UST ALR screen. However, some companies' lineups still contain models that come with/without a screen. The division of Hisense projectors into Laser TV (screen included) and Laser Cinema (without screen) takes into account this aspect.
Hisense projectors 2023
With German pedantry and perseverance, Hisense is consistently strengthening its position in the UST laser projectors segment and this year is no exception. At CES 2023, the company introduced several new models.
1- L9H TriCroma Laser TV (replaces L9G 2021) – 3000 ANSI lumens, 100″/120″ screen included.
L9H vs L9G ($ 4,000 with 100″ screen):
– Google TV, NEXTGEN TV, free Over The Air (OTA), Wifi 6e, Airplay 2;
– new high-gain ALR screen has easy image calibration and newly designed frame.
2- L5H Laser TV (replaces L5G 2022) – single X-Fusion laser light source, 2700 ANSI lumens, 100″/120″ screen included.
3- PX2-Pro TriCroma Laser Cinema (replaces PX1-Pro 2022) – 2400 ANSI lumens, 90-130″ adjustable projection size;
4- PL1 Laser Cinema – single X-Fusion laser light source (blue laser + phosphor color filter), 2100 ANSI lumens, 80-120″ adjustable projection size;
5- Hisense Smart Mini projector.
Except Smart Mini, all models offer Google TV platform.
Thus, the company today offers:
– Laser TV models that come with 100″ or 120″ ALR screen;
– cheaper Laser Cinema projectors without a screen included. They have a powered digital lens focus system to adjust the screen size in the range (90-130) / (80-120) diagonal inches.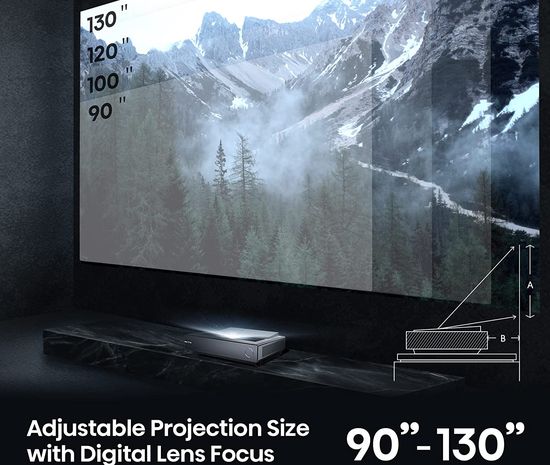 In addition, they are divided into:
– more expensive models with RGG triple-laser light engine (ALPD 4.0-based TriChroma technology with 107% coverage of the BT.2020 color space);
– projectors with single X-Fusion laser light source (blue laser + phosphor color filter) – ALPD 3.0-based technology with ~ 85% coverage of the DCI-P3 color space.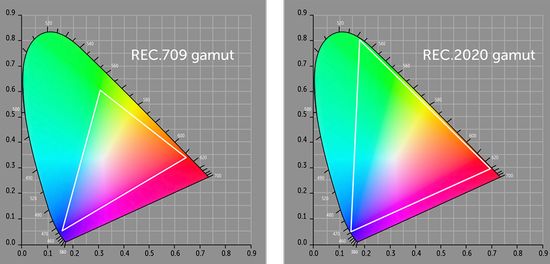 As known, a wide color gamut provides a rich colorful image.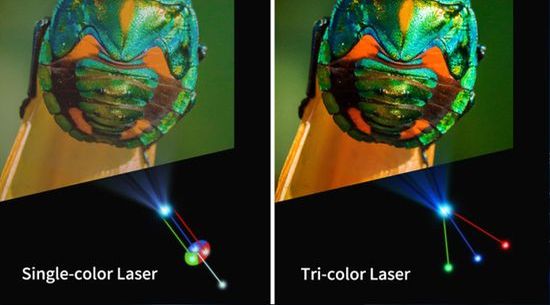 In fact, today Hisense range covers all price segments of UST projectors.
Key Features
The flagship L9H TriChroma Laser TV has 4K resolution, 2,000,000:1 dynamic contrast ratio, 40W built-in speakers, 3x HDMI (2 x 4K@120hz,1 x eARC), VIDAA U6 OS, and supports Dolby Vision / Dolby Atmos, Chromecast and AirPlay.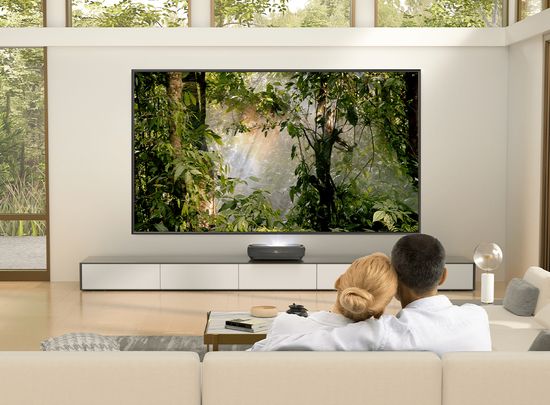 According to Hisense, ALR screen blocks 85% of unwanted light and is precisely calibrated to each model. The preliminary price for the Australian market will be AUD$ 7,499 (~ $ 5,000) for L9H & 120-inch screen, and AUD$ 6,499 (~ $ 4,340) for L9H with 100-inch screen. The model will be available this summer.
Like the flagship L9H, single-laser L5H has 40W speakers, FilmMaker mode, NextGen TV, Wi-Fi 6e, Airplay 2, and HDMI with ARC/eARC.
Triple-laser PX2-Pro supports screen size from 90 to 130 diagonal inches.
PL1H Laser Cinema and PX1H TriChroma Laser Cinema are Australian versions and have similar functionality.
Wherein, PL1H has launch price ~ AUD$ 4,000 / $ 2,700 (RRP) and provides 2,100 ANSI lumens.
Hisense Smart Mini became the company's first portable model. According to Hisense, its image size ranges from 65 to 150 inches, which is a lot even for 8K laser projectors.
Like the L9H and PX2-Pro, it uses a triple-laser light engine, providing brightness up to 1,600 ANSI lumens and coverage of 107% for BT.2020 color space. It also has Amazon Alexa built-in, supports 4K resolution with Dolby Vision / HDR10, AirPlay 2, and offers two 20W JBL speakers that are compatible with Dolby Atmos and DTS audio.
It has VIDAA Smart TV OS platform, which supports Netflix, Disney Plus and Apple TV.
But unlike other new products, this short throw model has a throw distance of several meters, and is not a UST projector.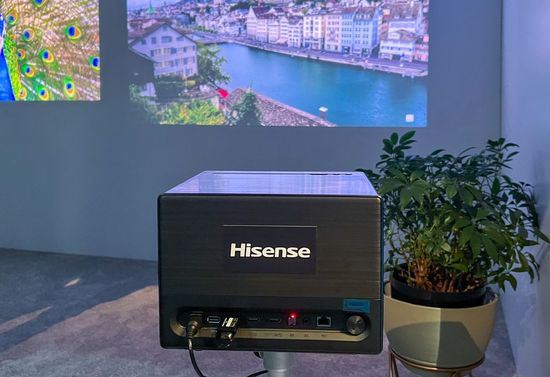 In addition, it does not have a built-in battery.
120LX 8K UST projector
The announced at CES 2023 Hisense 120LX 8K UST projector will compete with the Samsung 8K Premiere.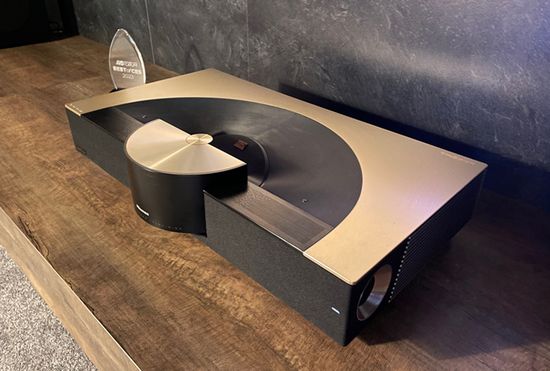 These models open a new segment of 8K laser TVs.
Hisense 120LX features:
– 8K (7,680 x 4,320) resolution (~ 33 million pixels);
– RGB triple-laser light source (107% coverage of BT.2020 color space);
– 3850 ANSI lumens brightness (~ up to 400 nits);
– 120″ UST daylight screen included;
– built-in Harman Kardon speakers;
– Dolby Atmos, DTS Virtual:X Audio Technology, Dolby Vision and HDR10 support;
– Imax Enhanced certified;
– 3,000:1 native contrast ratio;
– Google TV and NEXTGEN TV (including Netflix);
– Wifi 6e (streaming) + Airplay 2;
– 2.1 HDMI;
– ATSC 3.0 OTA tuner built-in.
As with 8K TVs, their owners will be faced with a very limited range of 8K content. However, the 4K video to 8K image option has already proven its relevance in TVs. Ultimately, their marketing success will directly depend on the upscaling quality and the price, which will increase significantly.
The South Korean giant has not yet indicated the 8K resolution technology. Perhaps similar to JVC NZ series it will be using the 4K 0.67″ DLP chipset, using 4 phase shifting instead of 2 phase. Hisense also has not yet commented on 8K technology in its model.
The built-In Harman Kardon speakers should provide quite premium sound without an external soundbar.
According to preliminary estimates, the price of the novelty may vary in the range of $ 10,000 – 16,000. By comparison, the launch price of the 8K JVC NZ7 Home Theater projector was $ 11,000. However, the price of JVC NZ8 и NZ9 reaches $ 16,000 and $ 26,000, respectively. Until Q4 2023, the 120LX is unlikely to be on sale.
Conclusion
At CES 2023, the Chinese giant once again managed to impress the audience. Superb premium ULED X TVs and ULED U6K / U7K / U8K series promise to compete successfully with new Samsung S90C/S95C with hybrid QD-OLED panel, Neo QN90C / QN95C series, and LG OLED G3 / C3 TVs.
The marketing prospects for Hisense projectors seems brighter. Of course, 120LX will face Samsung Premiere 8K laser UST. But competitors for UST laser TV/Cinema series are not yet visible. Of course, Epson, Sony, LG and other famous brands are unlikely to give peace to the new Hisense L9H/L5H/PX2-Pro/PL1/PX1H models. But so far, their specs and marketing prospects are excellent. Anyway, a final assessment of their competitiveness will directly depend on the ratio of price and quality, and will be clear no earlier than spring.
This video offers Hisense 2023 CES press conference.