The annual international Consumer Electronics Show (CES) has long been one of the best platforms for demonstrating the innovative successes of consumer electronics. Of course, high-tech TVs are always in the spotlight.
CES 2021 opened up a new generation of LCD TVs with mini LED backlit to the consumer market, boosting their contrast to almost OLED levels. CES 2022 unveiled the first TV with a hybrid QD-OLED panel that combines 'infinite' OLED- contrast with the accurate, rich colors of Quantum Dot (QD) technology. CES 2023 was no exception.
Traditionally, Samsung TVs are in the spotlight. This year, the South Korean giant presented:
– Micro LED CX;
– Samsung S90C/S95C with hybrid QD-OLED panel;
– Neo QLED TVs 2023.
New Samsung QN TVs will support Relumino Mode for people with vision impairment. As known, company announced it in 2017 as an app for Samsung smartphone. In fact, it improves image sharpness that is recorded using the optional Samsung Gear VR device. According to the developers, this video processing highlights outlines, sharpens contrast and enhances colors, making content clearer and easier to enjoy.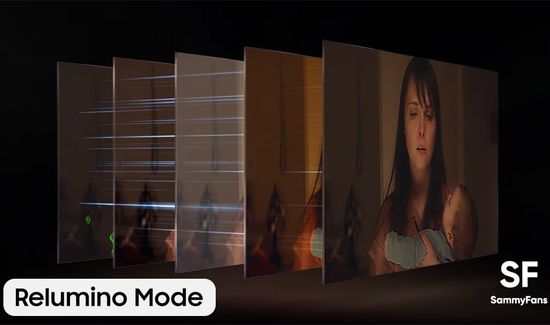 But if this is true and without side effects, then Relumino Mode should be the main and only picture mode in all TVs. Of course, discussion of its impact on image quality in TVs is still premature. Perhaps it uses video processing settings with maximum clarity at the expense of color accuracy and image realism. But in any case, it will become a very significant bonus for people with low vision.
Gaming in Samsung TVs 2023:
– Samsung Gaming Hub – unlimited access to Xbox, NVIDIA GeForce NOW, Amazon Luna and Utomik;
– GameBar 3.0 with MiniMap Sharing and Virtual Aim Point for first-person shooters (FPS).
Micro LED CX
As known, Samsung introduced the first modular 219-inch Micro LED panel 'The Wall Micro' at ISE 2018. Its sheer size and impeccable playback quality made a splash among viewers and experts.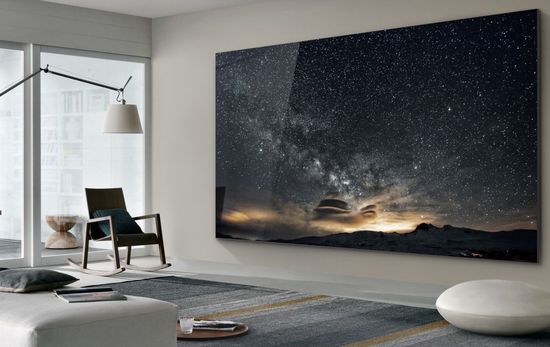 In addition, the company presented a compact 75-inch 4K panel and 13-inch MicroLED modules, which are assembled using brackets with powerful magnets.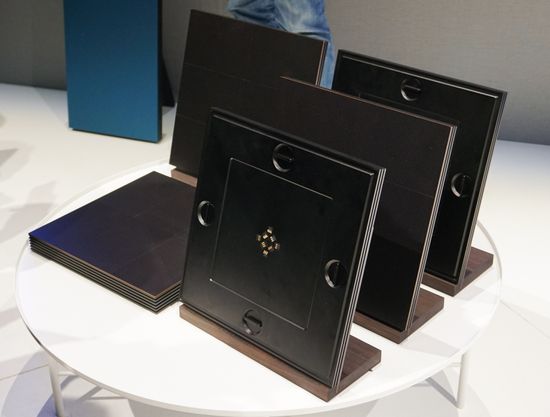 Unfortunately, the 75-inch version did not appear on the market. Until 2022 Samsung offered only 99 and 110-inch panels. Last year, their range expanded with an 89-inch version.
The 2023 Micro LED TV range will include premium CX panels with a high refresh rate of 240Hz and multiview functionality (up to 4 HDMI inputs at the same time), and some non-CX models. But all Micro LED TVs will have 4K UHD resolutions and 6 HDMI inputs.
Samsung is positioning the new 77″ CX panel as the smallest and most affordable Micro LED TV to date.
In fact, Micro LED technology uses separate GaN-based self-emitting LEDs for each pixel. The high brightness and phenomenal contrast ratio provide impeccable image quality. In turn, the high contrast is due to the perfect black by pixel-by-pixel brightness control. But managing them requires a very complex control system.
Today the company is actively improving this technology. In particular, Samsung Advanced Institute of Technology is successfully developing multiple-sapphire nanomembrane (MSNM) technology, which can drastically reduce the cost of micro-LED manufacturing.
The announced 76-inch MicroLED CX has a 99.9% screen-to-body ratio with zero-width bezel.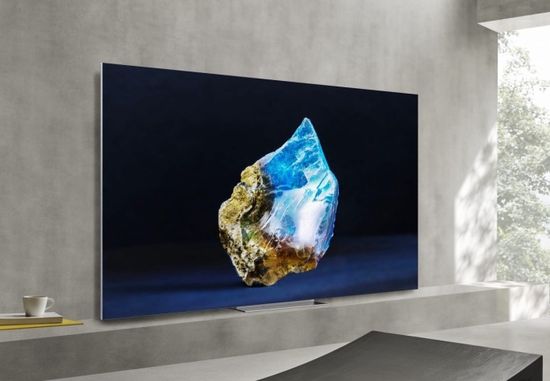 Claimed specs include a 240Hz refresh rate, the response time of 2 ns (0.000002 ms), and 20-bits black-level depth. The panel does not require professional installation.
In addition to the 76-inch panel, the company promises 50- and 63-inch versions.
S95C and S90C with a QD-OLED panel
As known, last summer Samsung introduced its first S95B model with hybrid QD-OLED panel from Samsung Display. In fact, it became the only competitor for the presented at CES 2022 Sony A95K with similar panel. Today they successfully compete with, for example, Samsung Neo QN90B/QN95B with miniLED/QD and LG C2/G2 with OLED evo panels.
Of course, the further development of this one of the most promising areas is logical and predictable. In fact, the hybrid QD-OLED panel combines excellent contrast of OLED display with perfect black, and great color accuracy, high brightness and wide color gamut of QD technology in LCD TVs.
This year, Samsung introduced the S95C and S90C with a QD-OLED panel, whose brightness exceeds 2000 nits in 3% window. To be fair, testing for the less extreme 10% window shows just 1500 nits.
According to Samsung, the increase in brightness is due to use of advanced optimization algorithm IntelliSense AI and new OLED HyperEfficient EL material. In particular, algorithm collects real-time data about each pixel and uses it to precisely control the backlight. The new material improves the efficiency of the blue emitting layer.
Unlike the WRGB pixel structure in LG OLED TVs, they use the standard RGB sub-pixel layout.
Flagship S95C comes with One Connect Box.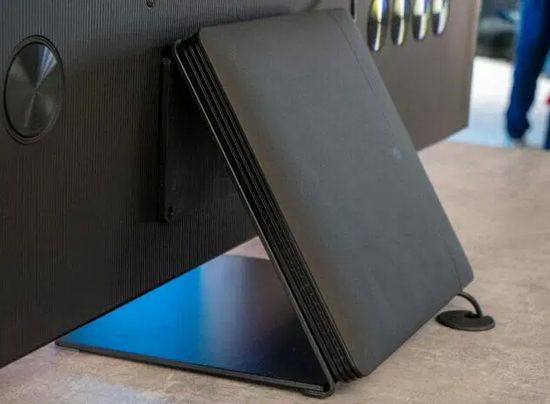 Accordingly, it's thinner due to the lack of built-in connectors.
Both television support 144Hz refresh rate, Samsung Gaming Hub feature, and are certified with AMD's FreeSync Premium Pro (VVR and HDR while gaming).
As known, today the QD-OLED family includes 55-, 65-, 34-inch displays and a 49-inch ultra-wide monitor.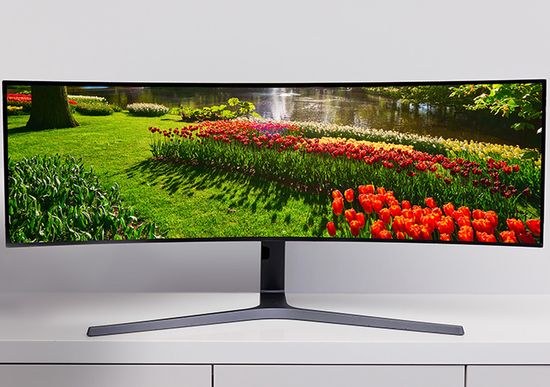 But this year the company is promising an additional 77-inch model.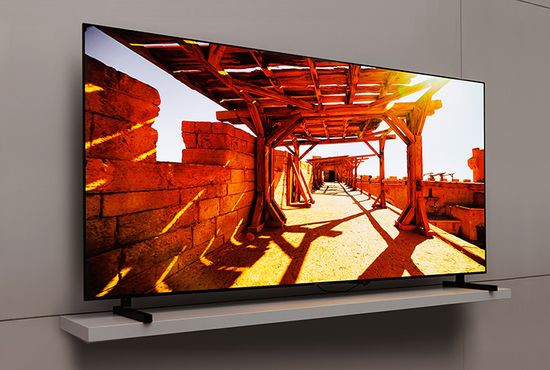 New Neo QLED
The innovative mini LED backlit was first presented in TCL (OD-Zero), Samsung Neo and LG QNED series at CES 2021. But only Samsung Neo QN90A 4K with peak HDR brightness ~ 1,600 nits in 25% window and a phenomenal 25,000:1 contrast ratio became one of the best models of the year. Today it costs $1,600 for a 65-inch model and still makes many top lists.
Last year's Samsung Neo QLED QN90B/QN95B continued this success. They offer superb HDR peak brightness ~ 2,000 nits, and 20,000:1 / 30,000:1 contrast with local dimming at a current price of $ 1,800 / $ 2,500 for the 65″ model. As a result, the great value for money makes them hugely popular.
This year, the company expands its Neo series with QN90C/QN95C 4K and QN800C/QN900C 8K.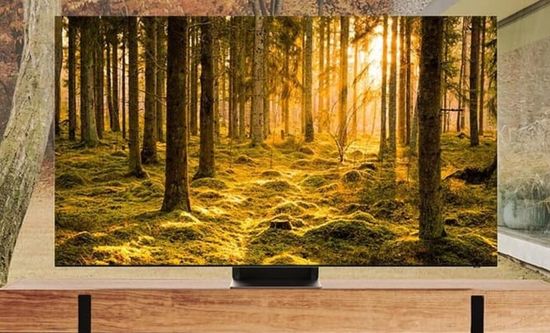 They will use:
– advanced Neural Quantum Processor (14-bit processing and AI upscaling) with support Shape Adaptive Light Control and Real Depth Enhancer Pro (3D depth).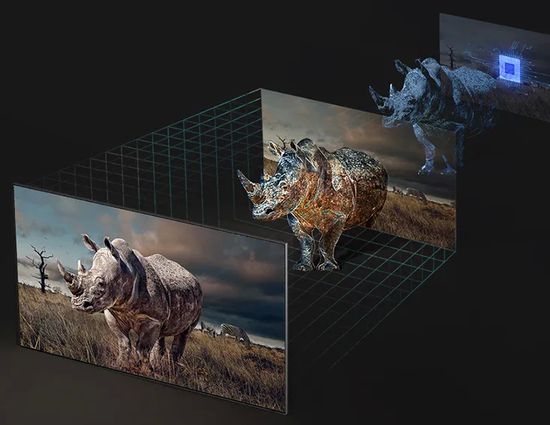 – new Auto HDR Remastering with AI deep learning technology that analyzes and applies real-time HDR effects to SDR content on a scene-by-scene basis.
It can eliminate the shortage of HDR content by improving the playback quality of SDR content. For example, 8K-upscaling for 4K-content today successfully solves a similar problem for 8K TVs.
From 2023, Samsung TVs will come with a built-in SmartThings Zigbee & Matter Thread One-Chip module. It provides TV compatibility with smart home devices using the Matter, Zigbee and Z-Wave protocols.
New options:
– Chat Together – a live chat group while watching the same content;
– ConnectTime – a larger platform for video calls on the TV;
– 3D Map View – home and all SmartThings devices bird's eye view.
Conclusion
As known, the first CES exhibition was held in June 1967 in New York. Since then, it has been one of the main annual event where companies can demonstrate their innovative successes.
The fantastic 97-inch LG Signature OLED M3 with wireless signal transmission up to 4K@120Hz and 76-inch Samsung Micro LED CX can be positioned as the main sensations of CES 2023. Once again, they are expanding the most promising concepts in this segment. It's unlikely that these models will become this year's bestsellers. But in the future, wireless TVs and affordable Micro LED panels will become more real in our homes.
This year, Sony broke with a long tradition and did not introduce new TVs at CES 2023. Therefore, there is no information about the new version of last year's Sony A95K with a QD-OLED panel. Accordingly, the new Samsung S95C and S90C with a hybrid panel are still in splendid isolation and without competitors.
The new Samsung Neo QN90C / QN95C 4K QD with miniLED backlit will traditionally compete with the new LG OLED C3 / G3.
Last year's battle LG OLED vs Samsung Neo QLED ended in a draw. Today the price of their 65-inches models is:
– LG OLED evo C2 / G2 – $ 1,900 / $ 2,200;
– Samsung Neo QLED QN90B / QN95B – $ 1,900 / $ 2,500.
At the same time, all TVs provide superb image quality, but have slightly different functionality. With an almost identical price-quality ratio, the choice depends only on the individual attitude towards these brands.
However, Chinese ULED X / U8K and TCL Q-series are no less dangerous competitors.
This video presents Relumino Mode.