The multi-national giant Hisense needs no introduction for a long time. It designs, manufactures and markets a wide range of high-tech consumer electronics, including the very popular TVs and projectors. Hisense USA Corporation was founded in 2001 and is its US subsidiary.
Hisense TVs
Company has long earned a place among the innovation leaders. This list includes:
– ULED technology.
It's based on QD (quantum dot) technology, which was introduced by Samsung over 10 years ago. But its aesthetic grace is still impressive.
It works in the following way. A stream of light from an array of blue LEDs is directed to an additional matrix with deposited microparticles, the size of which corresponds to the wavelengths of red and green. Some of the blue passes through the film and combines with the re-emitted reds and greens to generate an almost perfect white. In fact, the developers have created an analogue of a small sun in TV. White enhancement has significantly increased brightness, expanded color gamut, and improved color accuracy in LCD TVs.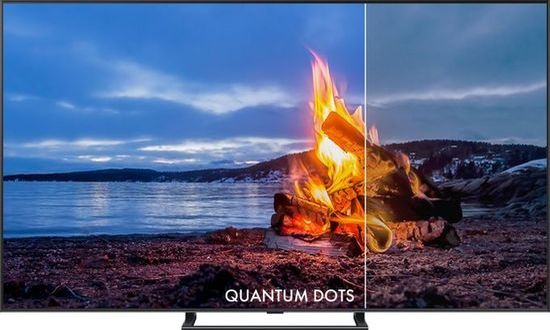 Today it's implemented in Samsung QLED, Hisense ULED (Ultra LED), LG NanoCell, Sony Triluminos and Sharp Q-Colour versions;
– Hisense Dual Cell technology.
This idea was implemented in Hisense 75U9DG (2021).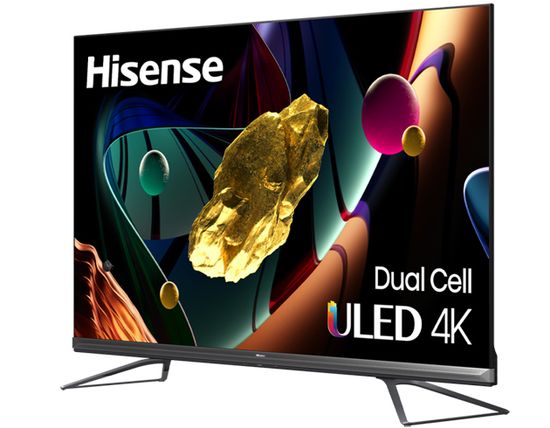 It uses an additional monochrome layer, each pixel of which works as a primitive local dimming zone. Unfortunately, there is no information about its further development.
Of course, the company takes an active part in the annual CES in Las Vegas, periodically impressing the public with its new products. CES 2023 was no exception. Hisense's list of new products includes:
– Hisense 120LX 8K laser UST projector;
– L9H/L5H Laser TVs and PX2-Pro/PL1/PX1H Laser Cinema models;
– premium ULED X TVs;
– ULED U6K / U7K / U8K 4K series.
Hisense ULED X TVs
ULED X series has become the main innovation of this year from the Chinese giant. The company positions it as a new generation of LED LCD TVs with QD technology and miniLED backlight.
At CES 2023, it unveiled 110-inches (~279 cm) flagship 110UX 8K model and 85-inches 85UX 4K TV. Probably today 110UX is the biggest LED TV.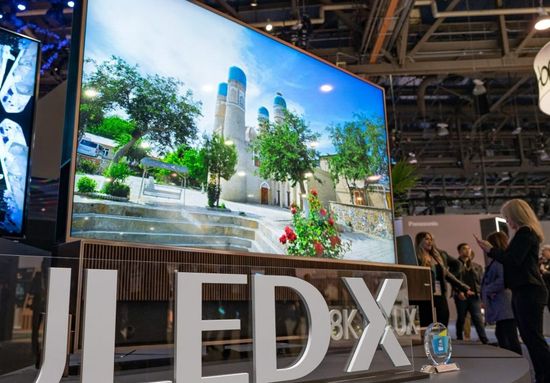 The 85UX is a 4K display with a 30% expanded viewing angle.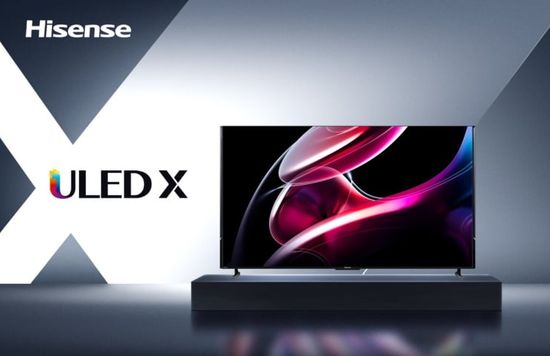 According to Hisense, the ULED X series will use:
– Hi-View Engine X chipset with increased performance;
– AI Hi-View Engine X algorithm (frame-by-frame image optimization);
– over 20,000 mini LEDs grouped into 5000+ local dimming zones. By comparison, popular U8G had 1,200 zones. According to the company, the industry's first-ever 16-bit light control algorithm will provide a contrast ratio of 150,000:1;
– Dynamic X-Display (five times less reflection);
– peak brightness up to 2,500 nits for 110UX 8K and 1,500 nits for 85UX;
– ultra low reflection screen with a 30% wider viewing angle;
– support for Dolby Vision, Wi-Fi 6e, NEXTGEN TV, Freesync Premium Pro, 144 Hz VRR for gaming, ultra-high speed HDMI ports, and more;
– 80W 4.1.2 multi-channel audio system with 7 speakers (Dolby Atmos support).
ULED 4K miniLED lineup
The premium ULED lineup has expanded with U6K, U7K and U8K series.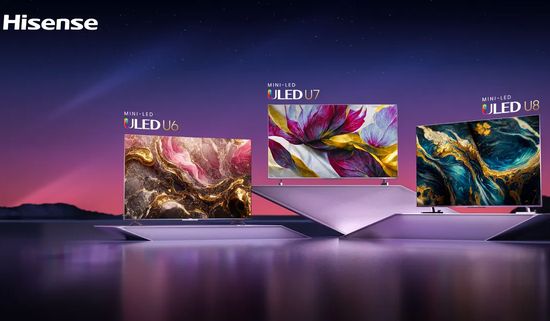 Except entry-level U6K, all ULED TVs 2023 will use:
– mini LED backlit (superb contrast) and quantum dot (QD) technology (wide color gamut + high brightness and color accuracy);
– Google TV smart interface;
– gaming features, including up to 144Hz refresh rate, VRR, ALLM, and FreeSync Premium Pro;
– Wi-Fi 6E standard support (speedy streaming);
– HDR (high dynamic range) formats – Dolby Vision IQ and HDR10+;
– built-in ATSC 3.0 tuners (4K video with HDR and Dolby Atmos audio support, etc).
– Filmmaker Mode and Dolby Vision IQ.
U8K series has 1,500 nits of peak brightness and uses over 1,000 local dimming zones, which is double vs last year's U8H. Their screen sizes range from 55 up to 85 inches. All TVs have anti-glare screen with a low reflection, and a built-in 2.1.2 audio system with up-firing speakers. They perfectly reproduce Dolby Atmos soundtracks without a separate soundbar. Like all 2023 Hisense miniLED TV line, the series also supports IMAX Enhanced and Filmmaker picture modes.
Unlike last year's U7H, the new U7K series uses miniLED backlit with up to 500 local dimming zones, and delivers up to 1,100 nits peak brightness. It also includes models from 55″ to 85″.
The cheaper entry-level premium U6K series offers models with 50- to 85-inch screen sizes. Up to 200 local dimming zones and a 60Hz refresh rate are their main differences. According to the company, some models in this series will cost less than $ 500.
All new TVs should be available in spring.
Conclusion
Once again, Hisense has successfully confirmed its status as one of the innovative leaders in the high-tech consumer electronics segment.
In fact, the announced Hisense 120LX and Samsung Premiere create a new segment of 8K laser UST projectors.
L9H/L5H Laser TVs and PX2-Pro/PL1/PX1H Laser Cinema models will continue their assault on the consumer market as an alternative to TVs in the living room.
The Premium ULED X series can rightly be positioned as a new generation of LED LCD TVs.
The ULED U6K / U7K / U8K 4K series successfully expand the popular ULED lineup of affordable premium TVs.
But, of course, their marketing prospects are not cloudless. Probably, the announced wireless 97-inch LG Signature OLED M3 and 76-inch Samsung MicroLED CX panel can be positioned as promising concepts for the time being. But the South Korean giants also introduced:
– Samsung S90C/S95C with hybrid QD-OLED panel and Neo QN90C / QN95C;
– LG OLED G3 / C3 4K and Z3 8K OLED series.
TCL Q-series will be an equally formidable competitor.
Judging by the specs, all of them can successfully replace their predecessors in the top lists. Therefore, competition will hardly be easy. But of course, the success of any company will traditionally depend on the price and quality ratio, but it will not be known until spring.
This video showes Hisense products at CES 2023.