The annual international Consumer Electronics Show (CES) has long been one of the best platforms for demonstrating the innovative successes of companies. Of course, high-tech TVs are always in the spotlight.
Introduction
CES 2021 gave us mini LED backlight and OLED evo panel.
The use of a huge number of miniature LEDs, combined into local dimming zones with separate control, has radically increased the accuracy of backlight intensity control. As a result, it has enhanced the overall contrast of LCD TVs. For example, the contrast ratio of the Samsung Neo 4K QN90A reached a phenomenal 25,000:1. In fact, it almost reached the 'infinite' OLED-contrast, which uses self-lit LEDs without backlight. The Samsung Neo QLED QN90B and QN95B continued the success of the Neo series with mini LED backlight by becoming one of the best LCD TVs 2022.
OLED evo panel in LG OLED G1 was no less of a success. Using an additional third green emitter layer and deuterium instead of hydrogen in blue emitters allowed the developers to increase the peak brightness of the panel by increasing voltage. As a result, the G1 became the first OLED TV with a peak brightness of over 1,000 nits. As known, it directly affects HDR performance in ambient light.
Sony A95K with hybrid QD-OLED panel from Samsung Display became the innovative sensation of CES 2022. In the summer, Samsung S95B with a similar panel expanded this list.
The fantastic 97-inch LG Signature OLED M3 with wireless signal transmission up to 4K@120Hz claims to be one of the CES 2023 sensations. It comes with Zero Connect box which wirelessly sends video and audio signals to 97-inch self-lit OLED screen.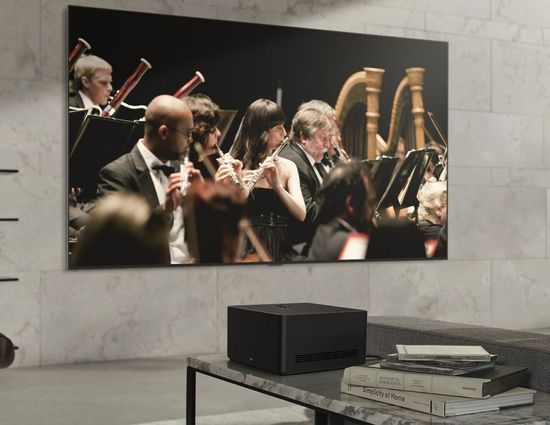 This is probably the first TV without video input. Box has 3x HDMI ports for cable or satellite set-top boxes and gaming consoles. In addition, it offers antenna, two USB, Ethernet, optical digital out and a serial port.
Wireless 97-inch LG Signature OLED M3
According to LG, the range of the box is ~ 9 m or up to 30 feet from the TV. This wireless connection is identical to standard Wi-Fi routers. Importantly, TV traffic does not affect other Wi-Fi connections. TV supports signal up to 4K@120Hz, which is sufficient for modern games. In fact, it's the highest resolution / framerate for modern 4K OLED models.
In addition, the Zero Connect can connect wirelessly to compatible soundbars.
A sophisticated but effective algorithm ensures optimal transmission with minimal disruption and no transmission errors. To do this, for example, it detects the movement of people or pets between Zero Connect and the TV. Moreover, the box's internal antenna in the tab at the top can be easily rotated and tilted, providing max signal depending on their relative position.
Finally, Zero Connect box recognizes voice commands.
Due to the integrated bracket, panel sit flush against the wall with no visible gap.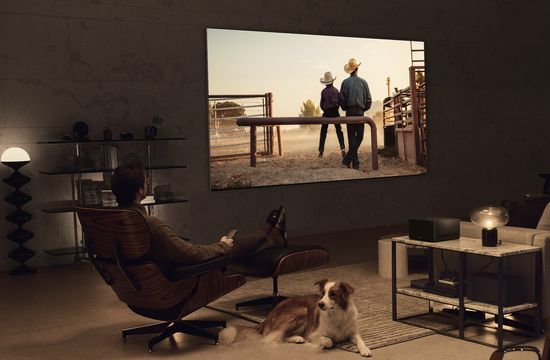 The company calls it One Wall Design. The TV's power cord is artfully hidden. When you place the AV-transmitter into cabinet, only a panel on the wall reminds of TV in the living room.
To be fair, companies have previously offered wireless models or wireless HDMI extender kits for up to $ 100. But their bandwidth was significantly lower. This novelty may well be positioned as a breakthrough in wireless TV on a huge screen by expanding the bandwidth.
The LG OLED M3 series will also include 83″ and 77″ models. According to the company, they will become available during 2023, but prices are still to be determined. Unfortunately, considering the $ 25,000 price tag for a wired 97-inch LG OLED TV, the M3 is unlikely to be cheap.
LG OLED TVs 2023
This year the company is also introducing G3 / C3 4K and Z3 8K OLED series.
The G3 series is traditionally positioned as a flagship. According to LG, it's ~70% brighter vs G2. Increasing its peak brightness is achieved through improved light-boosting algorithms and new light control architecture. Simply put, image quality improvements continue to drift towards pixel-by-pixel brightness control. As a result, the combination of a new picture processing engine and improved optical filters boosted peak brightness to an unprecedented ~1,800 nits for an OLED panel. The company called this technology Brightness Booster Max.
As known, last year's Brightness Booster verion in the G2 uses a heat sink on the back of the TV. The additional heat dissipation allowed the developers to increase the panel brightness without the risk of pixel degradation due to overheating. However, Panasonic HZ2000 and Sony OLED A90J have already used similar radiators before.
The G3's HDR performance is unlikely to match the Samsung QN90B or Hisense U8H with mini LED backlighting, but it could beat Sony and Samsung models with a hybrid QD-OLED panel.
Considering the experience of previous years, the price and release date will be announced in early spring. As known, last year's 65-inch G2 had a launch price of $ 3,000. The new G3 is unlikely to be cheaper.
The company abandoned the Gallery Series design. But the sleek metal frame and zero-gap mount design comes very close to that concept.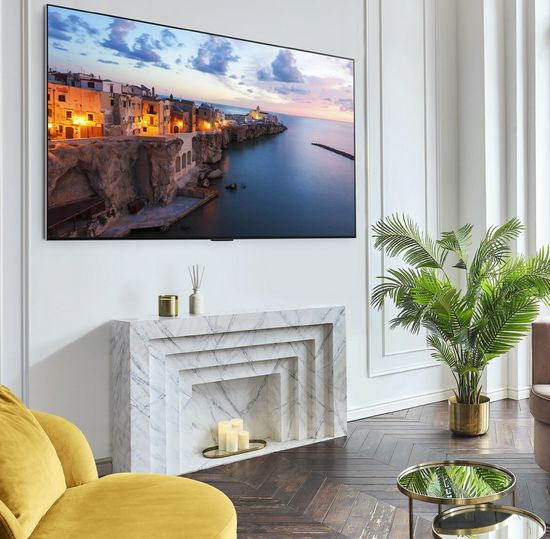 Of course, G3 has ATSC 3.0 4K tuner for NextGen TV and 4x HDMI 2.1 inputs.
Unfortunately, the TV comes without a floor stand.
The brightness of C3 4K is unchanged, but Z3 8K will be ~30-40% brighter.
WebOS 23 and UltraGear OLED gaming monitor
New models runs improved webOS 23.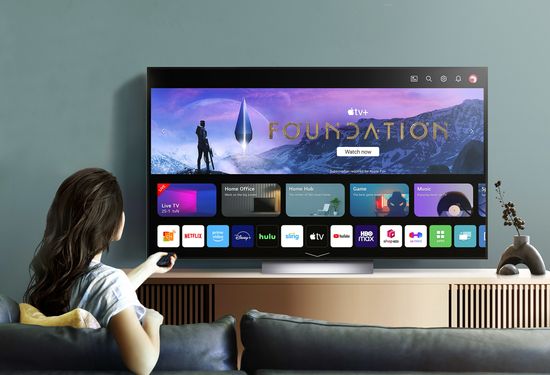 It offers:
– All New Home – user interface (UI) with advanced personalization options;
– new quick settings menu – simplifies picture mode switching;
– personalized picture wizard analyzes and remembers the previous settings to further optimize them according to individual preferences;
– AI Concierge – content list based on past searches;
– more convenient navigation through streaming services without scrolling down;
– new 'quick cards' – easy access to the content and services, which are grouped into logical categories (Home Office, Gaming, Music and Sports);
– 'dynamic sports card' with live scores of teams.
The company also announced a new α9 AI Processor Gen6 with deep learning tech. Better performance promises improved AI Picture Pro (more lifelike HDR picture, better upscaling and more accurate dynamic tone mapping) and AI Sound Pro with support for 9.1.2 surround sound.
In addition, LG OLED TVs 2023 will be certified for the first time by the HDMI Licensing, LLC for QMS (Quick Media Switching)-VRR (variable refresh rate). This support eliminates 'black screen' when switching between different devices connected via the HDMI 2.1a ports. But this feature can only be useful when using QMS-VRR source.
LG UltraGear OLED gaming monitors
This series includes:
– 27" OLED QHD (2,560 x 1,440) – $ 1,000;
– curved 45" OLED WQHD (3,440 x 1,440) – $ 1,700.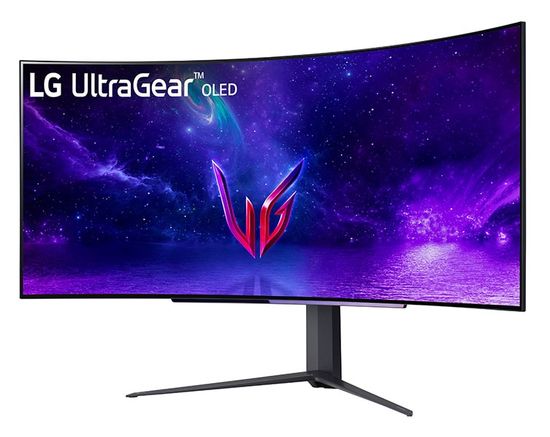 Specs
– HDR10 / DCI-P3 98.5%.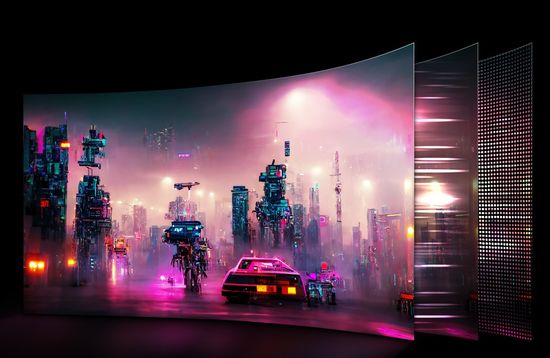 – anti-glare/low reflection;
– 240Hz refresh rate;
– .03ms response time.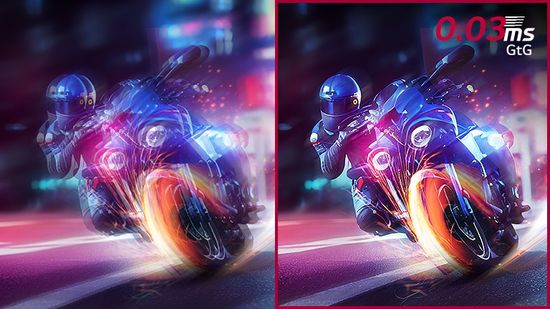 – 1,500,000:1 contrast ratio;
– NVIDIA G-SYNC and AMD FreeSync Premium.
Conclusion
The South Korean giant once again confirms its status as one of the technology leaders. A partial list of the company's innovative achievements includes:
– fantastic 97-inch LG Signature OLED M3 with wireless signal transmission up to 4K@120Hz;
– LG 240Hz UltraGear OLED gaming monitors with .03ms response time;
– OLED G3 with peak brightness up to 1,800 nits;
– α9 AI Processor Gen6;
– LG WebOS 23.
Last year's LG OLED C2 и G2 are rightfully positioned as one of the best TVs of 2022, successfully competing with superb Samsung Neo QLED TVs. Judging by the declared specs, their improved versions will also be able to successfully compete with formidable rivals.
In principle, the brightness increase of the flagship, the new processor and the improved webOS 23 can be positioned as traditional annual progress. But the M3, with wireless signal transmission up to 4K@120Hz, is rightfully claiming to be one of the sensations at CES 2023.
This video introduces the world's first wireless LG OLED TV.