Annual Consumer Electronics Show (CES) in Las Vegas has long become one of the most popular platforms for demonstrating the achievements of innovative leaders. Of course, high-tech TVs and projectors are in the spotlight.
As a rule, companies demonstrate technological concepts and the development of the most successful previous ideas. For example, the list of most revolutionary concepts of recent years includes:
– OLED evo (2021) in LG OLED G1/G2/C3/G3 series and the hybrid QD-OLED panels (2022) in Sony A95K and Samsung OLED S95B;
– mini LED backlit (2021) in Samsung Neo, LG QNED and TCL OD-Zero series.
This year was no exception. Wireless 97-inch LG Signature OLED M3, 76-inch Samsung Micro LED CX panel, and Hisense 120LX 8K UST projector once again demonstrated the prospects for further development. Indeed, a TV without an antenna cable, a more affordable 76-inch Micro LED panel with impeccable picture quality, or an Ultra Short Throw (UST) triple-laser 8K projector are impressive. But, to be fair, too high a price is unlikely to allow them to take a place among the bestsellers in the coming years. However, this task is not a priority for innovative concepts.
Of course, the development of the most successful previous concepts is a necessary condition for marketing success. The list 2023 includes:
– Samsung S90C/S95C with hybrid QD-OLED panel;
– LG G3/C3 with OLED evo panels.
But, of course, the new premium LED TVs with QD-based panels and innovative miniLED backlit have shown the max development rates. Based on these technologies, this year the companies presented:
– Samsung Neo QN90C/QN95C 4K and QN800C/QN900C 8K series;
– Hisense premium ULED X and ULED U6K / U7K / U8K 4K series;
– premium TCL Q series.
Quantum Dots (QD) technology and MiniLED backlit
As known, QD technology was developed by Samsung. It radically expanded the color gamut and increased the color accuracy of LED TVs by improving the backlight quality.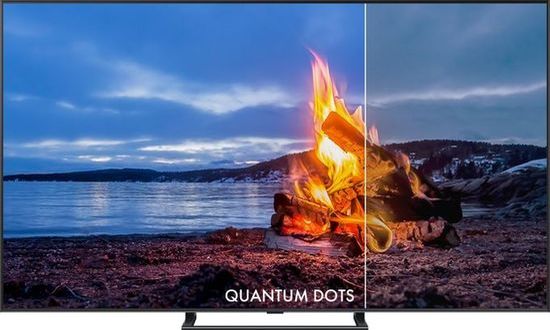 This task was solved by generating near-perfect white in TV and works as follows. The light from the array of blue LEDs is directed onto an additional film with sputtered microparticles, the size of which corresponds to the wavelengths of red and green. After this matrix, the blue that has partially passed through the film is combined with the re-emitted red and green, generating an almost perfect white. Next, it's directed to the RGB filter.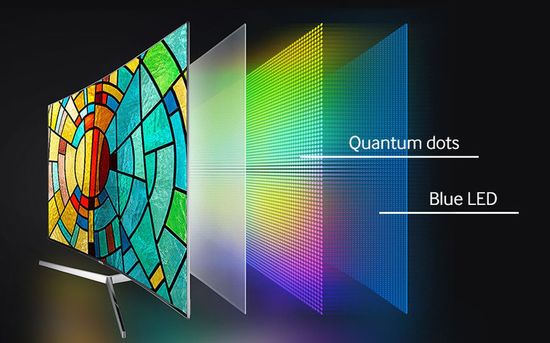 In fact, the developers created an analogue of a small sun in TV.
MiniLED backlit improves the LED TV contrast almost to the OLED-panel level with self-emitting LEDs that work without backlit. This technology uses mini LEDs instead of traditional ones.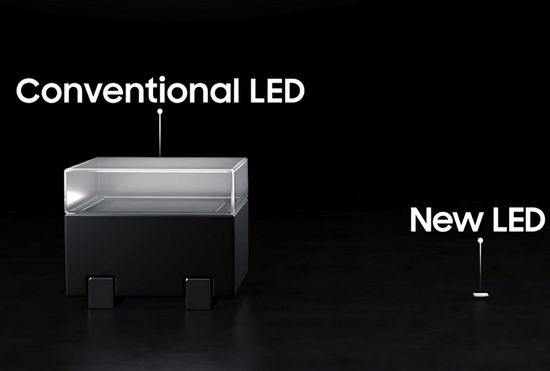 By combining mini LEDs into local dimming zones with separate control, the developers have increased their number to hundreds and even thousands. In turn, this improved the brightness control accuracy in every frame areas, drastically increasing the overall image contrast.
As known, TCL is the pioneers of this technology:
– 2018 – TCL 6-Series Roku TV (Contrast Control Zones, 120 zones@65-inch panel);
– 2019 – TCL 8-Series Roku TV (Quantum Contrast technology, ~ 1,000 zones;
– 2020 – announced Vidrian "Glass on LED" technology;
– 2021 – TCL OD-Zero (Optical Depth Zero) MiniLED technology (TCL C825/C725);
– 2022 – TCL OD5 version.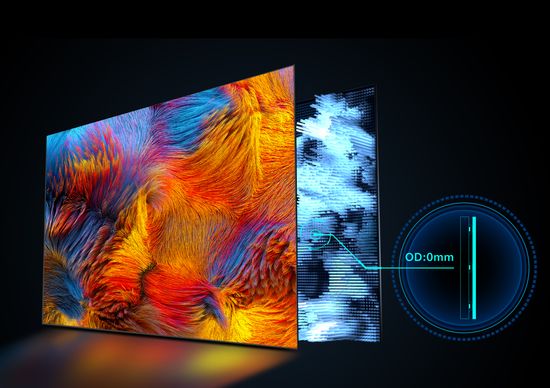 Moreover, C935/C835 (TCL 6-Series 75R655 in USA) with this technology won two CES 2023 Innovation Awards.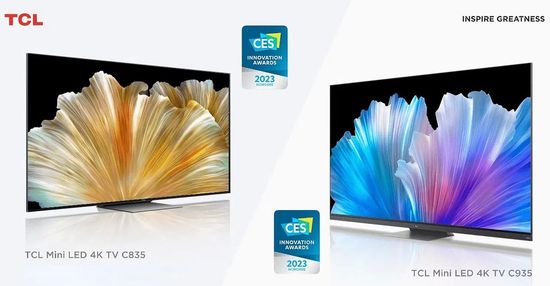 TCL TVs 2023
TCL has become the only leader not to introduce 8K models. Perhaps this fact means nothing. But it could also be a conscious decision by one of the major TV manufacturers due to the lack of 8K content. In this case, 8K TVs risk repeating the sad fate of 3D TVs.
The company significantly simplifies the classification system, dividing TVs into a Q-series with QD-technology and non-QLED 'budget' S-series. This year's lineup includes QM 8/7/6 and S 4/3/2 series.
New Q-models use an improved TCL AIPQ (Ai-Picture-Quality) processor 3.0 version to optimize contrast, clarity and colors.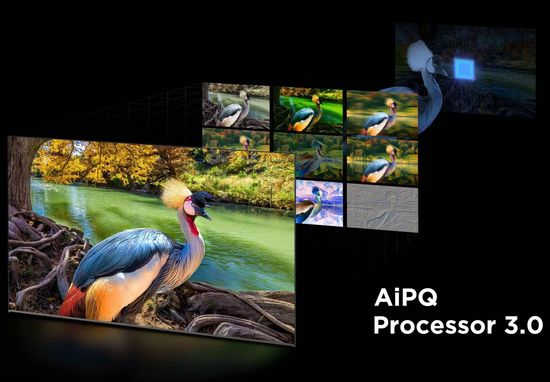 All Q-models have Google TV built-in, support Wi-Fi 6 and Game Accelerator with a higher effective frame rate for smoother motion scenes. According to the company, it doubles the refresh rate of the panel by cutting the vertical resolution in half. But full 4K viewing can only be achieved at a 120 Hz due to the vertical reduced resolution. Its activation in the QM8 and Q7 series with 120Hz panels raises the refresh rate in games to 240Hz with VRR.
All TVs have a bezel-less design.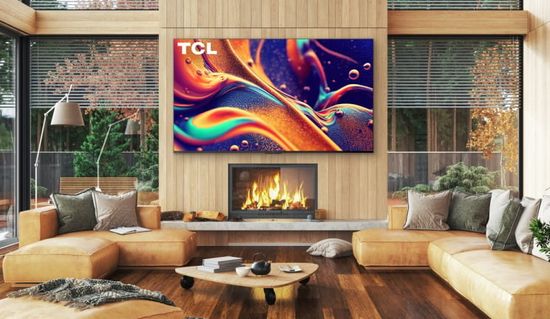 The flagship QM8 includes 98/85/75/65 QM850G models. The 98in model uses more 2,300 dimming zones and provides peak brightness up to 2,800 nits. QM8 has HighBright Ultra panel with double brightness vs miniLED models 2022.
QM8 and QM7 support Dolby Vision IQ, AMD FreeSync Pro, IMAX Enhance, and voice control via built-in long-range microphones.
Q7 has HighBright Pro display ('double the peak nits'), includes 55-, 65-, 75-, 85-inch models, but uses only full-array local dimming (FALD). Q6 uses HighBright QLED display (+66% vs non-QLED brightness and 120Hz VRR gaming), but does not have miniLED or FALD, and will be available in 50- to 75-inch screen sizes.
Conclusion
CES 2023 did not deceive the expectations of the audience. The companies presented a wide range of new premium TVs. This year it expanded with:
– Samsung S90C/S95C with hybrid QD-OLED panel.
In addition, the companies continued to actively develop a new segment of LED TVs with quantum dot (QD) display and miniLED backlit technology. It has expanded with:
– Samsung Neo QN90C/QN95C 4K and QN800C/QN900C 8K series;
– Hisense ULED X and ULED U6K / U7K / U8K 4K series.
Of course, the Chinese giant TCL, which is one of the leaders in this industry, did not stay away from this exciting process. Its lineup has expanded with the Q-series, including the flagship QM8 (QD+miniLED). Traditionally for TCL, this series offers huge 98-inch model with unprecedented peak brightness up to 2,800 nits and more 2,300 dimming zones of local dimming.
Taking into account the price-quality, an assessment of their marketing prospects will be possible after the announcement of prices and testing. But given the company's traditionally loyal prices, they seem quite rosy.
This video features TCL's highlights at CES 2023.