Traditionally for industry leaders, BenQ annually expands its projector line, and 2023 is no exception. Last year, the company introduced superb gaming BenQ X3000i 4K LED projector with new DMD chipset. In fact, it became an improved version of BenQ X1300i 1080p. The list of new products for 2023 is much longer.
Today, Taiwanese BenQ is one of the few large companies that continues to actively develop the mid-focal segment, including lamp projectors.
A few years ago, many experts predicted the rapid decline of lamp models. But high brightness and reliability still keep them well competitive. Moreover, a significant price reduction up to ~ $ 50 has practically eliminated the problem of their limited service life. In addition, the improvement of the lamps has significantly reduced their heating and, as a result, the requirements for their cooling. In models of previous generations, the noise of powerful fans reached 50-60 dB, sometimes interfering with viewing. In modern lamp projectors, it slightly exceeds 30 dB, which corresponds to a whisper.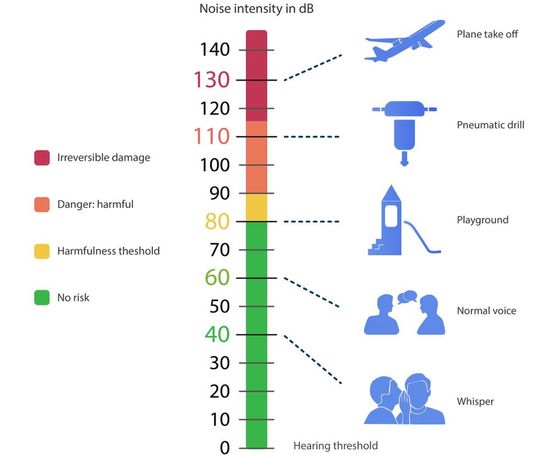 The company also actively uses SSL (solid-state lighting) light engines. For example, all latest BenQ projectors use an innovative 4LED light source, with increased brightness through an additional pump LED.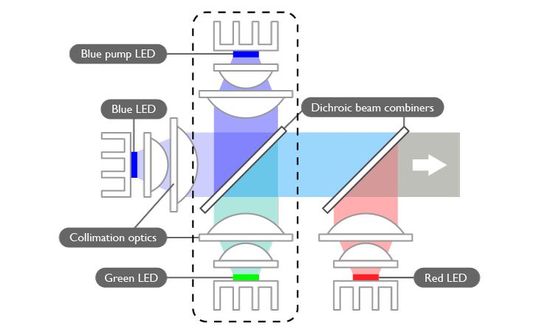 Of course, the Taiwanese company is actively developing very popular UST (Ultra Short Throw) projectors, which are gradually pushing TVs from living rooms. The absence of problems with wires on the floor due to the placement near the screen is their main bonus.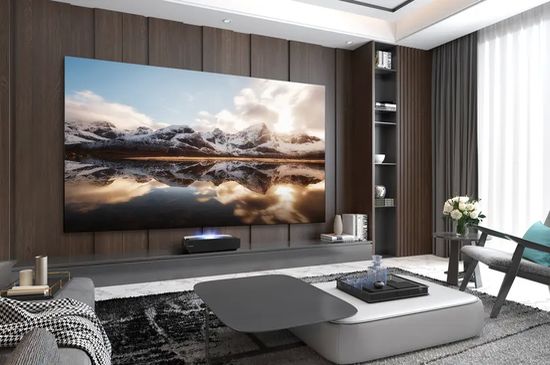 Owners of mid-focal models can only solve it with a complex and troublesome ceiling mount. This year, the company announced the new V5000i UST 4K.
BenQ V5000i UST 4K
The previous BenQ V7050i won the award for the best single laser UST projector at the 2022 Laser TV Showdown.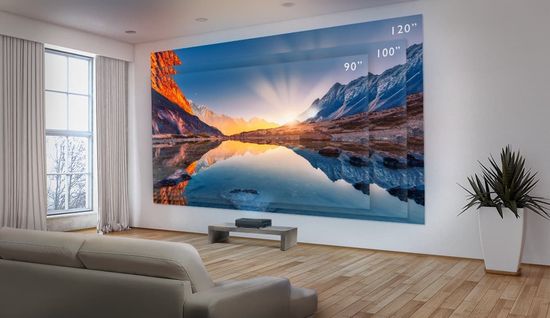 Today its price varies up to $ 3,000. In May 2023, BenQ announced the V5000i UST 4K model with ALPD 4.0-based triple-laser RGB light source. For reference, ALPD is an acronym for Advanced Laser Phosphor Display. The model has a traditional UST projector design.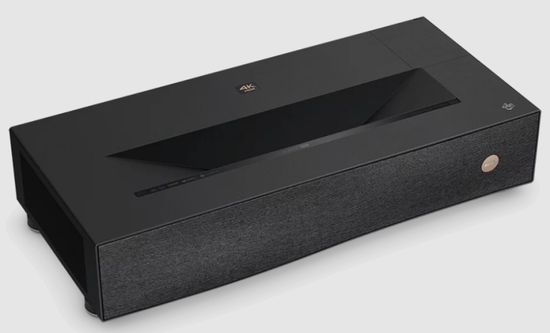 Specs:
– expected price ~ $ 3,500;
– release date – July 2023;
– 2,500 ANSI lumens brightness;
– 4K resolution (DLP chipset with XPR technology);
– color gamut – 95% of BT.2020 color space or 98% of DCI-P3;
– 2,000,000:1 dynamic contrast;
– HDR10+ and HDR-Pro support;
– 4K@120Hz gaming with a super low input lag;
– 3D;
– 0.23:1 Throw Ratio;
– video processing – CinematicColor, Local Contrast Enhancer and Tone Mapping (increased details in the dark and bright areas), MEMC motion smoothing (frame interpolation);
– 40W treVolo sound system is compatible with Dolby and DTS technologies;
– HDMI eARC, USB-A and S/PDIF ports for further speakers;
– 3x HDMI ports;
– AndroidTV 11 interface;
– built in apps for Netflix, Disney+, Hulu, etc;
– wireless connectivity via Wi-Fi 6 and Bluetooth;
– V5000i comes with 100″ Fresnel-based Ambient Light Rejecting (ALR) screen.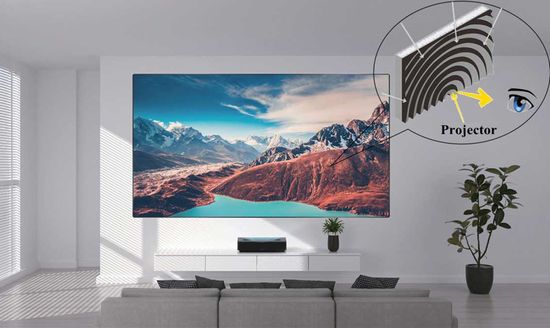 The triple-laser light engine, UST design, on-board Netflix, 3x HDMI ports, 3D and 4K@120Hz gaming with 'ultra' low input lag at 120Hz are premium.
But 95% of BT.2020 is clearly less vs 107% of Formovie Theater or Hisense models with similar triple-laser light engines. The brightness of 2,500 ANSI Lm is impressive, but not in the premium segment. It's unlikely that it will be sufficient for a saturated colorful 100-120″ projection in diffused daylight.
Key Features
Too high a price creates major risks for the marketing prospects of this model. Of course, a traditional launch price correction can eliminate this problem. But so far the list of its competitors includes:
– Formovie THEATER UST 4K – just over $ 3,000, triple RGB laser light engine, 2,800 ANSI Lumens Brightness, 107% BT.2020 color gamut;
– new Hisense Laser TV and Laser Cinema 2023, including PX2-Pro, L9H, Hisense PL1 (€2,200, 2,100 ANSI Lumens), etc.
The high price is largely due to the 100″ ALR screen included. The controversial practice of selling projectors with screens dates back a few years. Of course, companies don't want to risk their reputation by trying to provide max image quality, which depends on the screen.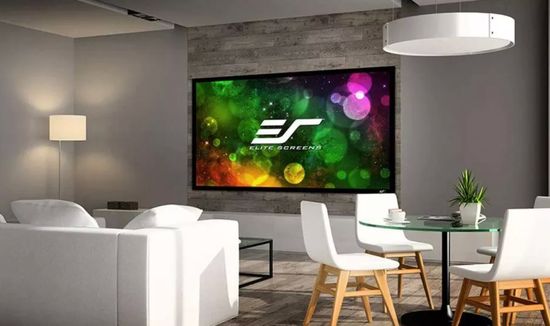 Unfortunately, high performance screens are very expensive. They start at $ 600 and can go up to $ 3,000-$ 4,000. Of course, it raises the model price, reducing its competitiveness.
But the user can keep the screen from the previous projector, inherit it or win the lottery. Finally, he can buy it separately when he gets a little richer. Given these aspects, most companies have abandoned the sale of the screen as a set or have created a more flexible sales system. For example, Hisense has been offering Laser TV / Laser Cinema lineups since this year which include models with / without a screen, respectively.
Regardless of the price, the promised ultra low input lag for 4K@120Hz could make the BenQ V5000i the best 3D gaming UST projectors on the market.
Mid-focal BenQ projectors 2023
Of course, the traditional mid-focal models have not been forgotten either. This year's list includes BenQ GP500 4K, which offers a full range of modern features for only $ 1,700.
In addition, the company presented:
– BenQ HT2060 (LED) – $ 1,000, 1080p, 2,300 ANSI Lumens, 500,000:1 dynamic contrast ratio;
– HT3560 (Metal Halide bulb) – $ 1,700, 4K, 2,200 ANSI Lumens, 50,000:1 (full on/off);
– TK860i (Metal Halide bulb) – $ 1,800, 4K, 3,300 ANSI Lumens, 50,000:1 (full on/off);
– HT4550i (4LED) – $ 3,000, 4K, 3,200 ANSI Lumens, 3,000,000:1 dynamic contrast ratio.
Of course, all models have a lot in common due to the use of the same technologies and components.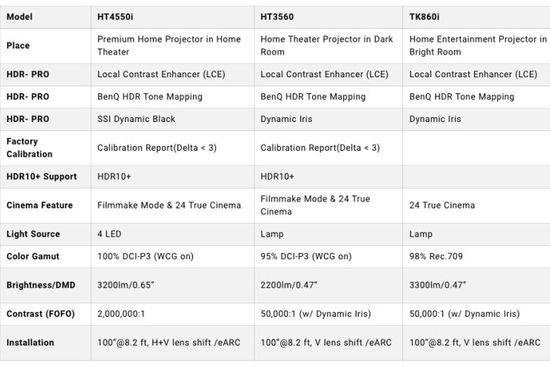 Specifically, their Throw Ratio of (1.15:1 – 1.50:1) optics provide an Image Size of (76 – 762cm) / (30″ – 300″) from Throw Distance of (1.0 – 7.6m) / (3.3 – 24 ft), 100″@(2.5-3.3m) / 9.7ft.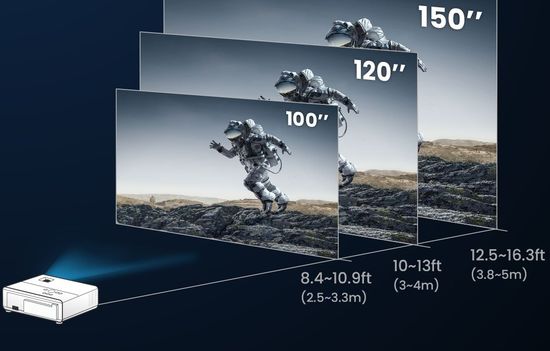 In addition, they have 2 x 5.0W internal speakers, offer 1.3x manual zoom and focus, Horizontal & Vertical Digital Keystone, and Vertical +10% Lens Shift (HT4550i – Horizontal & Vertical).
All projectors support Full HD 3D, Geometric Correction and HDR format. The HT3560 additionally uses CinematicColor, Local Contrast Enhancer and Dynamic Tone Mapping.
The functionality of the TK860i has been expanded with Frame Interpolation, Android OS, Streaming Apps and Google Assistant. In addition, it supports 24p playback without judder in HDR mode. Its treVolo 2-chambered speakers employ acoustic and psychoacoustic sciences for deep bass and highs. Finally, the model offers an auto vertical and manual horizontal keystone.
The flagship HT4550i covers 100% DCI-P3 with CinematicColor accurate colors, has Certified Android TV, 2D lens shift, 24p playback support, 1.3x big zoom, and 3,000,000:1 dynamic contrast ratio.
Conclusion
The company once again confirmed its leadership ambitions by providing several superb models. Each of them has cloudless marketing prospects due to excellent value for money. Roughly, they can be classified as:
– flagship mid-focal 4LED HT4550i (videophile performance in dark rooms) – $ 3,000, 3,200 ANSI Lm.
This model uses local dimming to enhance contrast;
– mid-focal 4LED BenQ GP500 – $ 1,700, 1,500 ANSI Lm;
– mid-focal HT3560 with metal halide bulb (high quality in dark rooms) – $ 1,700, 2,200 ANSI Lm;
– -'- TK860i with metal halide bulb (cinematic HDR performances even at diffused daylight) -$ 1,800, 3,300 ANSI Lm;
– V5000i UST with triple laser RGB light engine (cinematic performance for daylight living rooms) – $ 3,500, 2,500 ANSI Lm.
With the exception of the HT3560, all models are equipped with Google-certified Android TV and preloaded Netflix. Moreover, the projectors come with improved BenQ's QS02 Android TV dongle, the functionality of which is significantly extended vs QS01.
In fact, the company has updated the entire range, including:
– models with lamp / 4LED light engine;
– mid-focal / UST projectors.
The price of new products ranges from $ 1,700 to $ 3,500, simplifying the choice for any budget.
This video demonstrates the firmware update for BenQ GP500 projector.