The Chinese giant Hisense hardly needs an introduction. Hisense TVs have long and successfully competed on all continents. In addition, the company is rightfully positioned as one of the innovative leaders in the segment of ultra short throw (UST) 4K laser projectors. Their popularity as an alternative to traditional TV in the living room has been skyrocketing for several years now.
UST living room projectors
This is due to several objective reasons, including:
– UST design provides a projection of 100″ or more from a distance of several dozen inches.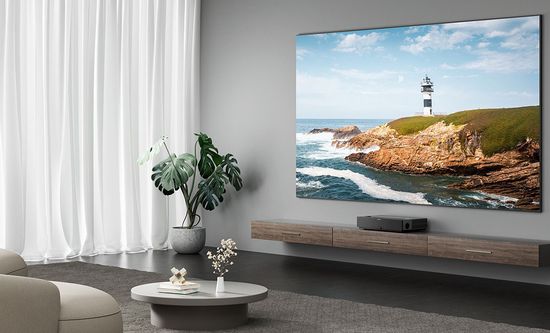 Accordingly, placement near the screen eliminates the traditional problem of mid-focus models with wires. Of course, the wires on the floor in the living room are very inconvenient, especially for children and pets. In fact, it's solved only with the help of a complex ceiling mount;
– screen mirroring technologies and wireless streaming have eliminated the problem of content for the projector.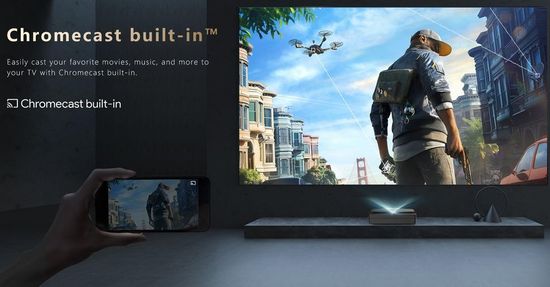 – ALR (Ambient Light Rejection) screens have increased the efficiency of re-reflecting the light flux.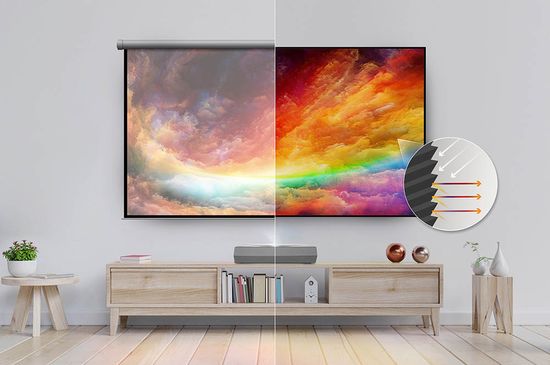 – new 4LED light sources with an additional pump LED, ALPD 3.0-based laser+phosphor and ALPD 4.0-based triple-laser RGB light engines significantly increased the brightness of the projectors and expanded their color gamut. For example, TriCroma Hisense with ALPD 4.0 technology covers 107% of BT.2020 color space. As a consequence, high brightness has reduced dimming requirements to eliminate the influence of ambient light (it makes the image faded and dull). The wide color gamut makes the projector colors richer and more colorful, bringing them closer to the TVs level. For reference, ALPD is the abbreviation of Advanced Laser Phosphor Display.
Hisense pioneered this trend with the introduction of 4K DLP UST laser projectors called 'Laser TVs'. To be fair, it seems a little marketing-oriented. However, any projector with a built-in TV receiver can be formally positioned as a TV with screen outside the case. But most manufacturers prefer to traditionally call such models UST projectors.
Hisense UST 4K projectors
Hisense uses two types of light engines, including:
– single X-Fusion laser light source (ALPD 3.0, blue laser + phosphor color filter) – 80-90% of DCI-P3 color space;
– more expensive triple-laser RGB TriChroma technology (ALPD 4.0) with coverage of ~ 107% for BT.2020 color space.
As known, BT.2020 is much wider than DCI-P3 and provides a richer colorful image.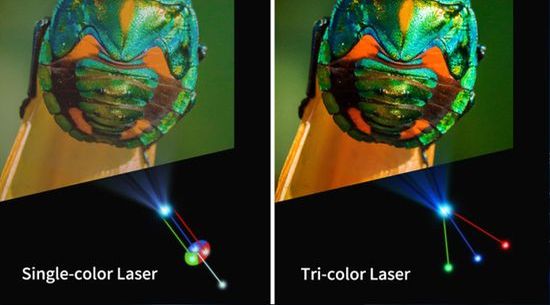 To avoid confusion, starting this year the company divides the lineup into Laser TVs and Laser Cinema. Laser TVs come with 100″ or 120″ ALR screen. The cheaper Laser Cinema projectors (without a screen) have a powered digital lens focus system to adjust the screen size in the range (90″-130″) / (80″-120″).
For 5 years, the company has already developed several generations, including:
– L10E (CEDIA 2018, Laser Phosphor) – discontinued Nov 2020;
– L9G (September 2021, TriChroma, comes with 100″ screen) – 3,000 ANSI Lumens, $ 4,000;
– PX1-PRO (January 2022, TriChroma) – 2,200 ANSI Lumens, $ 2,500;
– L5G (January 2022, X-Fusion, comes with 100″ / 120″ screen) – 2,700 ANSI Lumens, $ 3,000 / $ 3,900;
– PX1 (May 2022, TriChroma) – 2,000 ANSI Lumens, $ 2,000.
– L9H Laser TV (Google TV, TriCroma, replaces L9G 2021) – 3,000 ANSI lumens, 100″/120″ screen included, ~ $ 4,000 with 100″ screen (new high-gain ALR screen with a simpler calibration);
– L5H Laser TV (X-Fusion, replaces L5G 2022) – 2,700 ANSI lumens, 100″/120″ screen;
– PX2-Pro Laser Cinema (90″-130″ adjustable projection size, TriCroma, replaces PX1-Pro 2022) – 2,400 ANSI lumens;
– PL1 Laser Cinema (80″-120″ adjustable projection size, X-Fusion) – 2,100 ANSI lumens.
PL1 Laser Cinema
So far, only PL1 is available from the new line.
Launch prices:
– in Europe – from € 2,220 to € 2,600 ($ 2,470 – $ 2,900);
– Australia – A$ 3,300 (~$ 2,250);
– United Arab Emirates – AED 8,000 (~ $ 2,180).
Among current Hisense UST projectors, this model is positioned between last year's PX1-PRO and PX1.
PX1-PRO vs PL1 vs PX1:
– price – $ 2,500 vs ~ $ 2,200 vs $ 2,000.
But after the traditional launch price correction, PL1 claims to be the cheapest Hisense UST projector;
– brightness – 2,200 vs 2,100 vs 2,000 ANSI lumens;
– color gamut – 107% BT.2020 vs 115% Rec.709 / 85.0% DCI-P3 vs 107% BT.2020.
Unlike triple-laser RGB light engine in PX1 and PX1 PRO (ALPD 4.0 TriChroma technology), PL1 uses ALPD 3.0-based X-Fusion light engine (laser + phosphor).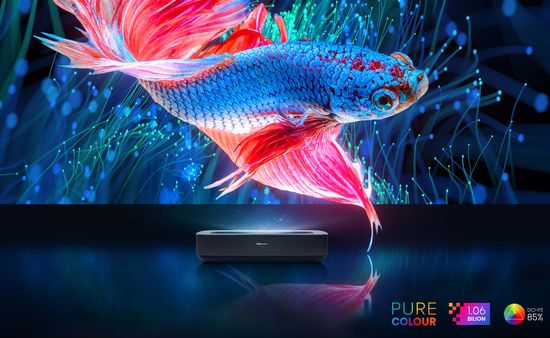 As known, a wider color gamut is one of the main pros of triple-laser models;
– contrast – 1,000,000:1 vs 2,000,000 vs 1,000,000:1 dynamic contrast ratio.
The native contrast ratio of PL1 reaches 3,000:1 (full on/off);
All models:
– screen size varies from 80″ up to 120″ (200-300cm) from a distance of 1.7ft -2.3ft (50-70cm) at 0.25:1 throw ratio.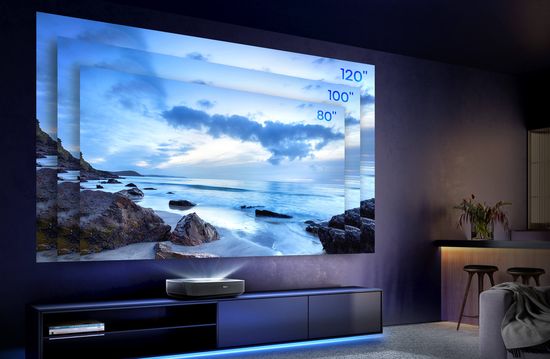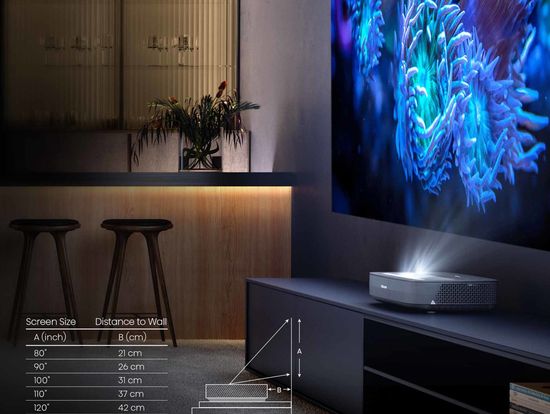 – Hisense Linux-based Vidaa U6 supports android apps, including Netflix, Youtube, Prime Video, Disney+, etc;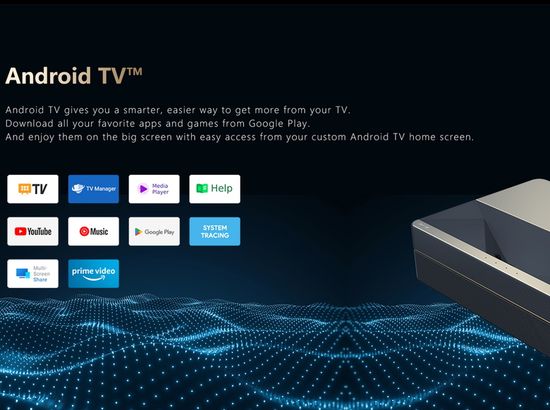 – built-in 30W Dolby Atmos sound;
– Filmmaker mode (max authenticity without using image enhancement algorithms);
– HDR;
– Game Mode with ALLM (Auto Low Latency Mode);
– Frame Interpolation (MEMC).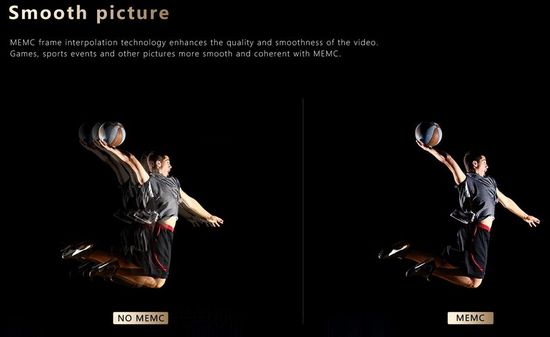 – Google Assistant + Amazon Alexa + Vidaa Voice.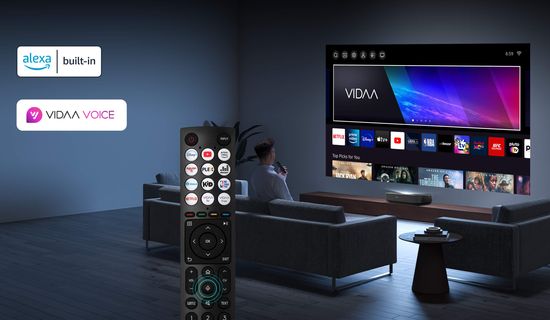 – Geometric Correction (Digital Keystone Horizontal & Vertical) in PX1-PRO and PL1.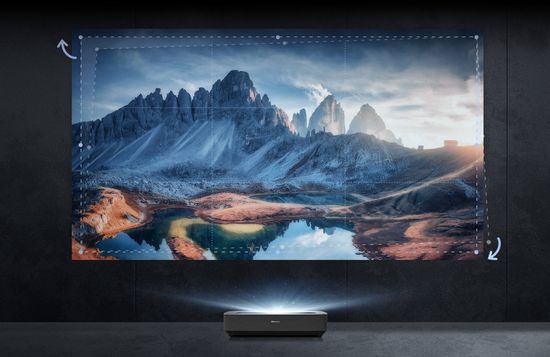 Conclusion
With the exception of the $ 2,300 Optoma CinemaX D2, new UST projectors start at $ 3,000:
–LG CineBeam HU715Q – $ 3,000;
–Formovie Theater – $ 3,000;
–Epson EpiqVision Ultra LS800 – $ 3,400.
Only Hisense line up contains models under $ 2,500, which compete with each other.
New PL1 provides higher dynamic contrast (2,000,000 :1 vs 1,000,000 :1 in PX1-Pro and PX1). But it uses a cheaper X-Fusion light engine (ALPD 3.0-based, laser + phosphor), covering only 115% Rec.709 or 85% DCI-P3 color space. For comparison, Hisense PX1-Pro and PX1 cover ~ 107% of the wider BT.2020 color space due to the more advanced triple-laser RGB light engine (ALPD 4.0-based, TriChroma technology). Perhaps the increase in contrast allowed the developers to reduce the price while maintaining image quality even with narrower color gamut of cheaper X-Fusion.
After the traditional launch price correction, PL1 will become the cheapest Hisense UST 4K laser projector. But so far, a comparison of the PX1-Pro, PX1 and PL1 shows their almost identical price-quality ratio.
Already today UST models offer 4K images from 100 inches for ~$ 2,000. For comparison, this price level corresponds to 65-inches premium LCD with QLED miniLED, OLED and QD-OLED TVs.
To be fair, any TV is much brighter than a projector, but this bonus depends on ambient light. In the evening, the projector offers almost the same image quality on a huge screen for the same price.
The video introduces the latest Hisense PL1H 4K DLP UST Laser TV.