Digital technologies have given a powerful impetus to the development of consumer electronics, including TVs, projectors, smartphones, robot vacuums, etc. At the same time, a high-quality image on a huge screen in an apartment with a projector has long been in demand. But about 20 years ago, companies mainly offered only children's models for watching cartoons and Home Theater projectors. Unfortunately, several cons significantly limited their popularity:
– high price;
– powerful lamps as a light source got very hot and required effective cooling with powerful noisy fans and a large internal volume. Therefore, they were noisy and bulky;
– the content was very limited;
– low brightness required a thorough darkening, because mbient light makes the image dull and faded;
– mid-focus models form a projection of 100″ or more from a distance of several meters. But placing the projector in the center of the room is not very convenient due to the wires on the floor. In fact, this task was solved only with the help of complex ceiling mount.
UST projectors
Over several decades, companies have made radical progress in solving almost all problems:
– Home Theater segment radically expanded due to budget LED models and mid-budget projectors with ALPD 3.0-based light engine (laser + phosphor);
– innovative 4LED and ALPD-based light engines have increased the brightness and expanded the color gamut.
Today, companies use ALPD 3.0 light sources and more expensive triple-laser RGB design (ALPD 4.0 technology with ultra-wide coverage from 107% BT2020 color space);
– built-in Smart TV, screen mirroring and wireless technologies have radically eliminated the content problem;
– increased brightness and effective ALR screens (Ambient Light Rejecting) significantly reduced the requirements for dimming.
Moreover, the companies have developed CRL (Ceiling Light Rejecting) screen, which is a version of the ARL screen for UST projectors. The special structure of its surface redirects the light from the projector to the viewing area, cutting off the re-reflected environment light.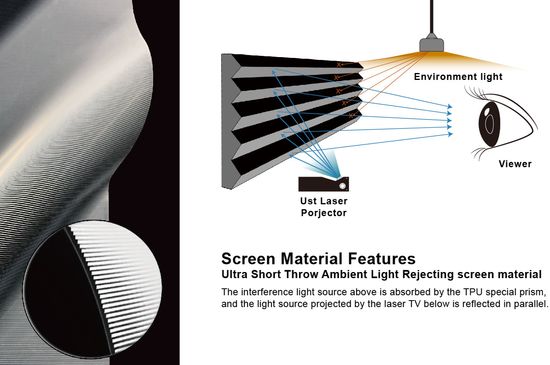 – UST (Ultra-Short Throw) models form a projection 100″ from a distance of several tens of centimeters from the rear panel to the screen. Placing the projector near a wall fundamentally eliminates the problem of wires on the floor.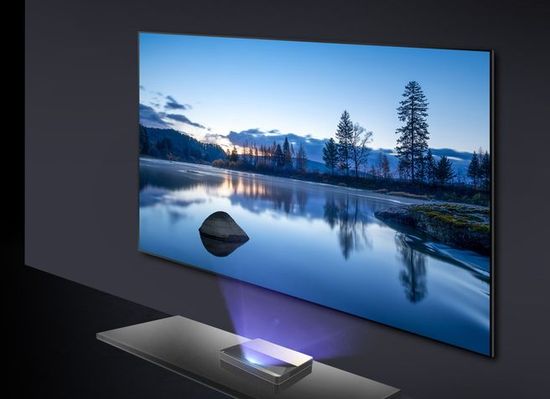 As a result, modern UST projectors are becoming an increasingly attractive alternative to traditional TVs. They already offer reasonably high quality on a huge screen for the price of a 65-inch TV. To be fair, TVs are much brighter because the viewer perceives direct light as opposed to reflected light from a screen.
But brightness is important for ambient light compensation and for HDR performance. However, the problem of daylight diffused light in the evening is no longer relevant. Also, HDR effects are not very important for playing the SDR format which makes up the majority of satellite/cable TV and internet content.
Changhong UST projectors
Of course, companies adequately respond to consumer demand. As a result, the UST projector segment is booming. Today the list of their most active producers includes Hisense, Epson, LG, Samsung, Optoma, ViewSonic, Formovie (Hisense ecosystem). However, the model ranges of most other manufacturers also contain UST projectors.
Changhong joined this list over 5 years ago. As known, Sichuan Changhong Electric Co Ltd was founded in 1958. Today it's now one of the largest Chinese consumer electronics, including TV, refrigerator, air conditioner, cell phone, electronic components, compressor, etc. In particular, Changhong is China's second largest TV manufacturer. In 2004, its share of TVs exported from China to the US reached 90%.
Changhong owns eight listed companies. The Chinese giant actively cooperates with Toshiba, Sanyo, GE, Microsoft, TI, Samsung, LG, Philips, etc. Its products are successfully sold in America, Australia, many countries in Europe and Asia. Many are familiar with Changhong products under the CHiQ (smart products), Saba (television buisiness), Huayi and Jiaxipera (compressors) brands.
Changhong Laser Display company designs, manufactures and sells premium laser projectors and fresnel ALR screens (Ambient Light Rejecting S-CK and S-FX screens).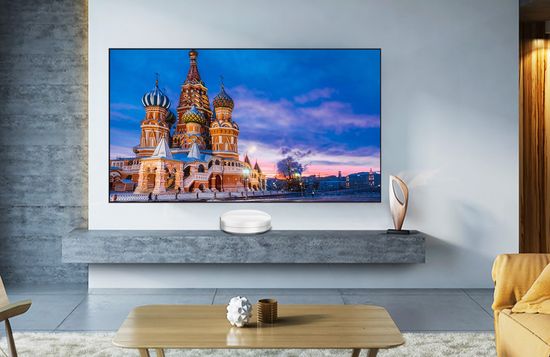 The list of UST (Ultra-Short Throw) models includes:
– CHiQ C7UG (2019);
– -'- C8UT (2020, triple-laser light engine with 120% BT2020 color space coverage);
– -'- A5U / B5U;
– Changhong E5X36 XGA / E5W36 WXGA / E5F36 FHD projectors;
– new CHiQ B8U, B7U and B7U Pro.
In fact, B7U replaces B5U, offering 3D, higher brightness and color accuracy.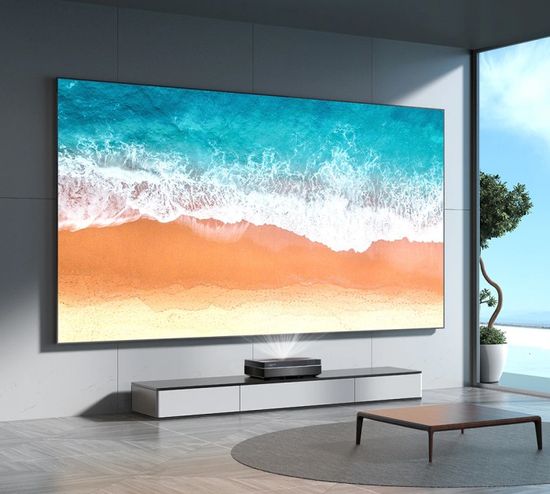 The brightness is the main and only difference between and Jenovox (Changhong) B7U Pro and B7U. The Pro version is much brighter (3,700 ANSI Lm vs 2,300 ANSI Lm), but their prices are almost the same (~ $ 1,850 vs ~ $ 2,100).
CHiQ B8U vs B7U
Both models:
– 4K UHD (3,840 x 2,160) resolution using TI's 0.47″ DMD with XPR technology (Xpanded Pixel Resolution).
As known, this innovative technology has allowed companies to develop DLP projectors by displaying 4K content using relatively cheap 1080p DMD chipsets. In fact, the projector divides 8 million pixels of a 4K signal into 4 parts (4-phase pixel shift) and sequentially displays four 1080p images, shifting them diagonally by half a pixel from each other.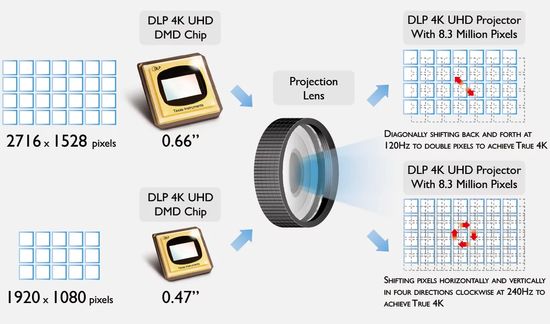 Due to the high frequency, the eye and brain perceive four 1080p images as a whole. Pixel shift is performed by tilting the lens using 4 electromagnets of the XPR module.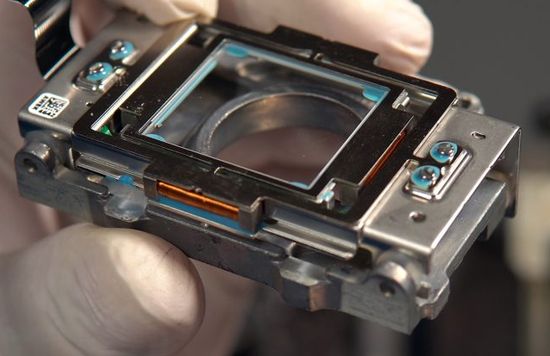 In fairness, 4K support is needed only in games and for native 4K content, the range of which is still limited;
– 2,300 ANSI Lumens in Bright Mode with ALPD 3.0-based 'laser + phosphor' light engines;
– 1,500:1 (full on/off) contrast – some sellers list the clearly erroneous 15,000:1. For reference, native contrast typically does not exceed 500:1 for LED DLP and ranges from 1,000:1 – 3,000:1 for laser models;
– Colour Gamut – 130% BT.709;
– auto focus and 8 points Keystone Correction.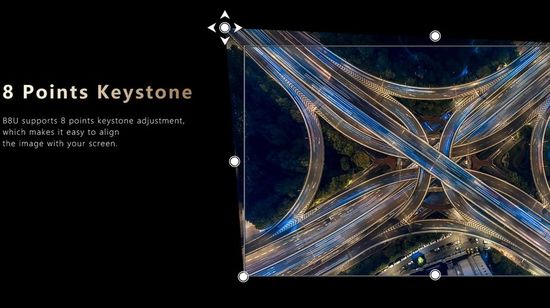 – Full HD 3D support (DLP-Link technology);
– 80″ – 150″ screen size with 0.21 throw ratio (100″@19.5cm).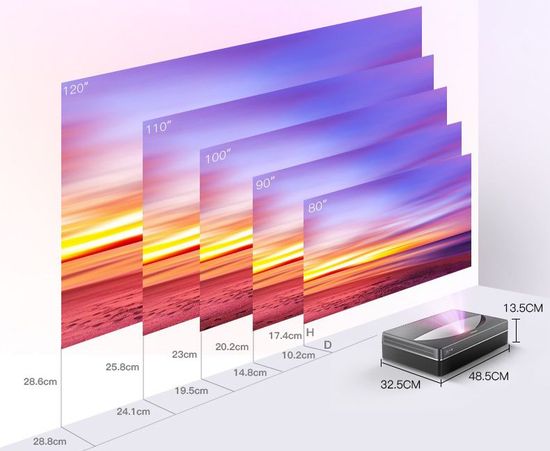 – Dolby Virtual Surround + UMAX;
– 2x 10W audio, bass boost, Dolby Surround (Dolby Digital 5.1);
– Input Lag (HDMI, Game mode) – 28ms;
– 3 gen MEMC (frame interpolation; increases Input lag by 15ms).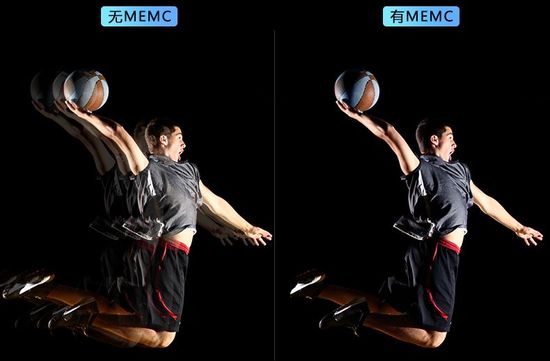 – Wi-Fi 2.4GHz/ 5GHz, Bluetooth 5.0, DLNA, Miracast, Airplay, CromeCast;
– noise ≤ 32dB.
Differences
– price – $ 3,000 vs ~ $ 2,000;
– Google Android 11.0 vs Customised Android 9.0.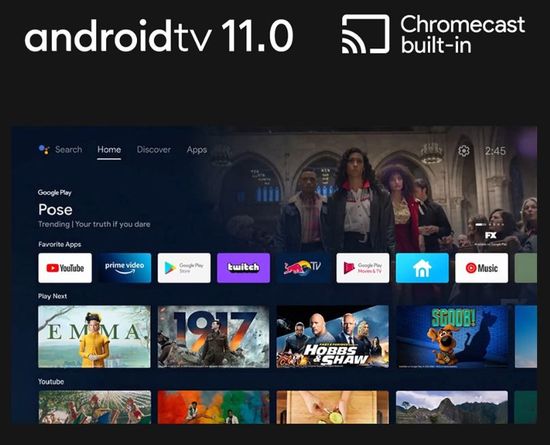 Key Features
According to tests, B7U covers 117% Rec.709 / 86% DCi-P3 / 62% Rec.2020. Vivid mode is for 150-inch screen or for 3D mode. In this mode projector reproduces without the traditional offset to green, providing accurate colors. Despite using a color wheel, the rainbow effect is almost non-existent. It only slightly appears when playing the text, for example, in the movie credits. MEMS works great. Input lag in game mode of ~ 35ms is quite typical for UST projectors.
The model does not support BD3D (3D image storage format) and requires a vertical or horizontal stereo pair. DLP-Link compatible glasses are synchronized using special flashes generated by the projector. 3D mode in CHiQ projectors provides superb depth and dimension. But of course, MEMS doesn't work in 3D.
Even without an ALR screen, the projector delivers acceptable image quality on a flat white wall.
Horizontal and vertical Digital Keystone ±35° simplify tuning, which is especially important for UST models.
Like many modern laser projectors, the B7U has laser beam eye protection that uses an infrared sensor.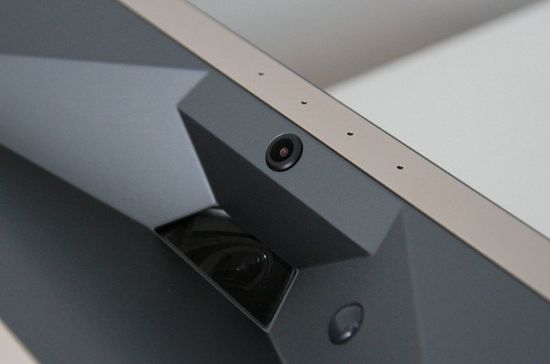 In case of approaching a dangerous distance, the projector turns off the laser for a few seconds and in a pleasant female voice asks to move to a safe distance. Of course, an adult is unlikely to look into a working projector, but it's useful for curious children and pets. However, the function can be disabled in the menu.
The short list of cons includes modest contrast, little color wheel noise, and no support for 3D via HDMI for Blue-ray Disc.
Conclusion
Of course, CHiQ brand is less known in USA, UK and Europe compared to, for example, Epson, Hisense, BenQ, Optoma, etc projectors. However, the Chinese giant successfully compensates for this aspect due to the superb value for money. In particular, the prices of new UST models are:
–LG CineBeam HU715Q – $ 3,000;
–Formovie Theater – $ 3,000 (2,800 ANSI Lm ; ALPD 4.0-based triple-laser technology);
–Epson EpiqVision Ultra LS800 – $ 3,400 (4,000 ANSI Lm; ALPD 3.0-based laser phosphor).
However, the segment of cheaper UST models is also impressive:
– Optoma CinemaX D2 – $ 2,300 (3,000 ANSI Lm; laser phosphor);
– Hisense PL1 – $ 2,200 (3,000 ANSI Lm; laser phosphor);
– Hisense PX1-Pro and PX1 – $ 2,500 / $ 2,000 (2,200 / 2,000 ANSI Lm; triple-laser RGB light engine).
But after the traditional launch price correction, CHiQ B7U claims to be one of the cheapest UST 4K laser DLP projectors. Already today, some sellers are announcing prices up to $ 2,000.
The comparison of CHiQ B7U/B8U specs and prices is in favor of the 7th model. Except for the OS (Android 11.0 vs 9.0), they are identical, but the B7U is substantially cheaper (~$ 2,000 vs $ 3,000). Today B7U costs of £ 1,825 in UK (< € 2,100), and € 2,400 in Europe.
But CHiQ B7U is significantly inferior to B7U Pro, which is ~40% brighter at almost the same price. Probably, today it's the best choice.
This video introduces the range of CHANGHONG CHiQ products.