The popularity of home entertainment devices, including televisions, projectors, audio systems and game consoles, has been growing rapidly for several decades. Of course, companies adequately respond to market conditions by actively developing audio / video processing and transmission. As a result, this segment is constantly expanding due to new technologies.
TVs perfectly illustrate this trend. About 10 years ago, insanely expensive modular micro LED panels with fantastic picture quality, very expensive OLED models with superb contrast, and much cheaper LCD TVs coexisted relatively peacefully in different price segments. Hisense then introduced ultra short throw (UST) projectors with ALPD-based light engine called 'laser TVs'. Quantum dot (QD) technology has become the impetus for QLED models. Introduced at CES 2021, miniLED backlit paved the way for LCD TVs with stunning near-OLED contrast. In fact, the market has formed a new segment of premium LCD TVs with QD technology (high brightness and color accuracy + wide color gamut) and miniLED backlit (superb contrast). At CES 2022, Sony unveiled the A95K with an innovative hybrid QD-OLED panel from Samsung Display. As a result, TVs premium segment today includes:
– micro LED panels;
– OLED TVs;
– 'Laser TVs';
– models with a hybrid QD-OLED panel;
– TVs with QD technology and miniLED backlit.
Of course, such a variety pleases the consumer market, but slightly complicates the choice. Therefore, even a simplified classification can be useful.
Micro LED and OLED TVs
The direction of home micro LED panels of relatively small size up to 100″ is mainly developed by Samsung. This year, the South Korean giant announced a 76-inch MicroLED CX with pixel-by-pixel brightness control (great contrast due to 20-bits black-level depth), and with 99.9% screen-to-body ratio ('zero-width bezel').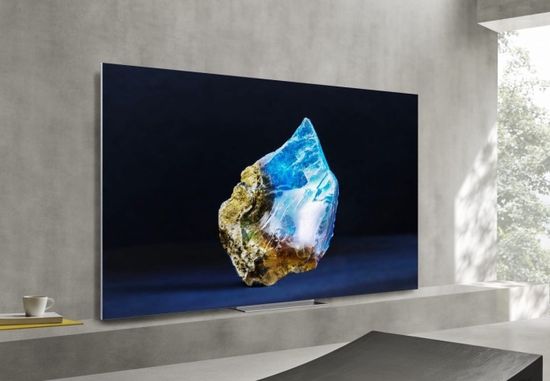 This panel does not require professional installation, has 240Hz refresh rate and the response time of 2 ns (0.000002 ms). According to some experts, its launch price is unlikely to be below $ 80,000.
Moreover, the company promises 50- and 63-inch versions.
LG is rightfully positioned as the leader in the OLED TVs segment. As known, they provide superb contrast with deep blacks. In turn, the perfect black is due to the lack of backlight, which is not required for organic LEDs. Unfortunately, the limited brightness due to degradation of blue LEDs (~14,000 operating hours) is a significant disadvantage. At CES 2021, the South Korean giant presented LG G1 with innovative OLED Evo panel. An additional third green emitter layer between two blue emitters and replacing hydrogen with deuterium in blue emitters allowed the developers to increase the current by 20%. As a result, their peak brightness exceeded 1,000 nits (cd/m2). This year, the South Korean giant introduced the third generation of TVs with OLED Evo panels. Today price for 65″ models:
– LG OLED Evo G1 (2021) – $ 1,780;
– -"- OLED Evo C2 and G2 (2022) – $ 1,700 and $ 1,800;
– -"- OLED Evo C3 and G3 (2023) – $ 2,600 and $ 3,300 (launch prices).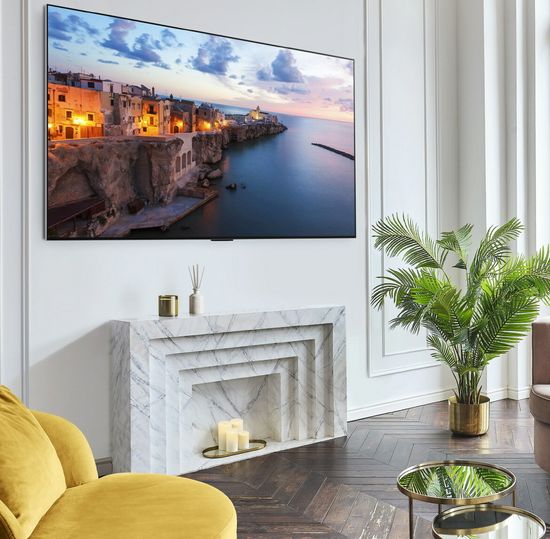 Superb picture quality at a relatively affordable price makes them one of the most popular premium TVs on the market.
Laser TVs
In fact, 'Laser TVs' are UST projectors with a laser light engine (ALDP 3.0-based laser phosphor or ALDP 4.0-based RGB triple laser). UST-design provides a projection of 100″ or more from a distance of several tens of inches between the rear panel and the screen. In turn, placing the projector close to the screen eliminates the problem of mid-range models with complex ceiling mount or with wires on the floor. This factor was the reason for their name 'living room projector' as an alternative to the TV.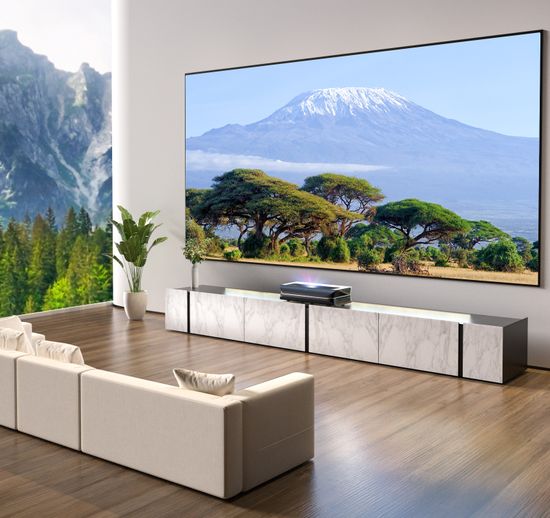 Of course, the slightly marketing name 'laser TV' may cause a physicist to smile skeptically. But formally, any projector with a built-in TV receiver can be positioned as a TV with a screen outside the case. To be fair, Epson, BenQ, Sony and other manufacturers still prefer to call their similar models UST projectors.
Starting at $ 2,000, modern UST models deliver reasonably high quality on a 100″ screen or more. But their reflected light output is drastically lower vs TVs. In general, limited brightness significantly affects image quality when viewed in diffused daylight or in HDR mode. But evening viewing fixes this problem. Besides, HDR content is currently only available on expensive subscriptions like Netflix or on Blu-ray disc.
This segment is rapidly expanding with new UST laser projectors. For example, at CES 2023 Chinese giant unveiled two new series and flagship Hisense 120LX 8K UST, which will compete with the Samsung 8K Premiere. According to preliminary estimates, its price may vary in the range of $ 10,000 – 16,000. By comparison, the launch price of the mid-focus 8K JVC NZ7 was $ 11,000. But the price of JVC NZ8 и NZ9 reaches $ 16,000 and $ 26,000, respectively.
Hybrid QD-OLED panel
The idea of developing a panel that integrates the 'infinite' contrast of OLED TVs with the wide color gamut and high color accuracy of QD technology was first announced by Samsung almost 10 years ago. Last year, Sony and Samsung introduced the first TVs with a hybrid QD-OLED panel from Samsung Display. It uses an additional stack of blue OLED material as backlight for red and green quantum dots.
The successful debut was a good stimulus for the development of this technology. This year the Asian giants have presented the second generation TVs with hybrid panel. Today this list includes (prices for 65″ models):
– Sony A95K, 2022 ~ $ 2,600 (US) / £ 3,000 (UK) / € 3,000 (Eu), and A95L (2023) – launch prices not yet available;
– Samsung S95B (2022) ~ $ 1,500 (US) / £ 1,500 (UK) / € 1,830 (Eu), and S95C & S90C (2023) ~ € 3,300 / £ 2,900 / $ 3,485 / AU$ 5,175 & € 2,800 / £ 2,470 / $ 2,955 / AU$ 4,395.
Of course, five series can hardly be positioned as a full-fledged segment yet, but the great price-quality ratio promises them superb marketing prospects.
New Samsung series use an innovative brightness-boosting Quantum HDR OLED Plus feature with precise pixel-level brightness control. What's more, the second-gen QD-OLED hybrid panel from Samsung Display can reach a maximum brightness of 2,100 nits. However, based on reasonable sufficiency, the developers limited the peak brightness to 1,400 nits on 10% window in Filmmaker mode.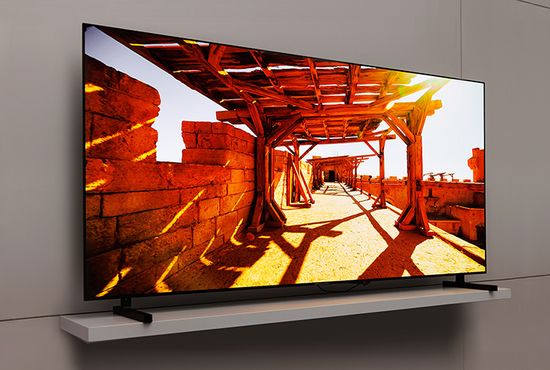 The new Sony A95L achieves an increase in peak brightness with an additional radiator to dissipate heat and more effectively control by using dedicated thermal analysis.
LCD TVs with QD technology and miniLED backlit
Without a doubt, QD technology and miniLED were innovative breakthroughs in the LCD TV evolution.
QD technology increases panel brightness, enhances color accuracy, and expands color gamut.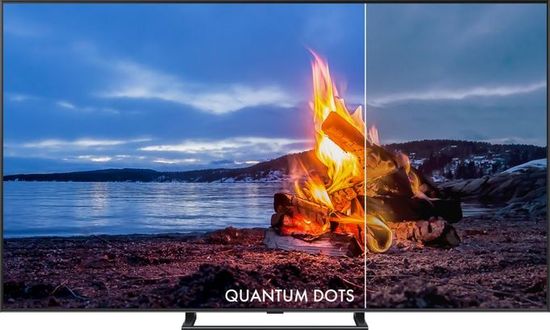 It works in the following way. The blue LEDs emit blue. It falls onto the film with sprayed microparticles. Their size corresponds to the wavelengths of red and green. Absorbing blue, microparticles re-emit red and green. In addition, part of the blue light passes between the microparticles. Behind the film, blue, red and green are combined into a high quality white that is sent to an RGB filter.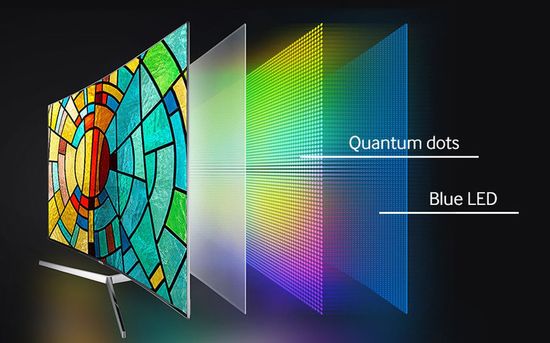 In fact, the developers have created an analogue of a small sun with perfect white.
MiniLED backlit uses a huge number of miniature LEDs.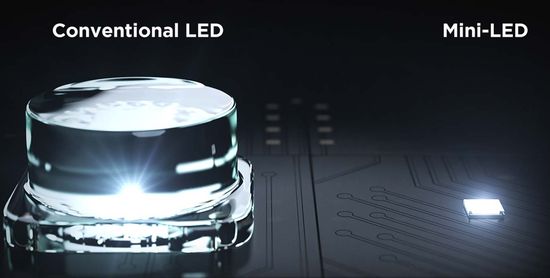 Combined into hundreds and even thousands of local dimming zones, they allowed developers to radically improve the brightness control accuracy in the frame, depending on the content.
As a result, TVs with QD technology and miniLED backlit offer near-OLED contrast and near-QD colors.
The list of new TVs with these technologies includes Hisense ULED X, LG QNED, TCL QM8, etc. But, to be fair, the Samsung Neo series is the most successful.
In three years, the company introduced (4K series):
– QN80A and QN90A (2021) – $ 1,600 (65″ QN90A);
– Samsung QN90B and QN95B (2022) – $ 1,800 and $ 2,500 (65″);
– QN85C, QN90C and QN95C (2023) – $ 2,000, $ 2,800 and $ 3,300 (launch prices for 65″).
In addition, Samsung offers the Neo 8K series with similar technologies that have an extra '0' at the end of their name (QN900A/900B/900C, etc).
Conclusion
Due to the huge cost, micro LED panels costing $ 80,000 and up are unlikely to compete with other technologies in the near future.
OLED Evo panel (65″):
– LG OLED Evo C2/G2 (2022) – $ 1,700 / $ 1,800;
– LG OLED Evo C3 / G3 (2023) – $ 2,600 / $ 3,300 (launch prices).
Hybrid QD-OLED panel (65″):
– Samsung S95B (2022) ~ $1,500;
– Samsung S90C / S95C (2023) ~ $ 2,955 / $ 3,485 (launch prices).
QD technology + miniLED backlit (65″):
– Samsung Neo QN90B / QN95B (2022) – $ 1,800 / $ 2,500;
– Samsung Neo QN85C / QN90C / QN95C (2023) – $ 2,000 / $ 2,800 / $ 3,300 (launch prices).
Given almost the same prices and excellent image quality, none of the modern technologies does not pretend to dominate.
Prices for popular UST 4K projectors ('Laser TVs') range from $ 2,000 to $ 4,000. Projectors offer a huge screen of 100″ and more, but are significantly inferior to TVs in contrast and brightness. In principle, LCoS (D-ILA, SXRD) projectors provide superb contrast due to deep blacks, but they are much more expensive. As known, brightness affects HDR performance and compensates for ambient light, which makes the image dull and faded. Accordingly, the limited brightness of the projectors requires darkening and is less effective for HDR mode. But overall, UST laser projectors are slowly replacing traditional TVs, improving image quality with increased brightness and performance of ALR screens. This video introduces the very popular Hisense PX1-PRO Laser TV.