2021 was the start for LCD TVs with QD (quantum dot) technology and miniLED backlit. As known, QD technology was the first revolutionary breakthrough for LCD TVs with LED backlight, expanding their color gamut, increasing brightness and color accuracy. This progress was achieved by dramatically improving the white quality used to highlight the RGB filter. In fact, the developers have created an analogue of a small sun in TVs. QD technology generates white from blue (rear blue LEDs array), red and green, which are re-emitted by microparticles (they size corresponds wavelengths of red and green). The film with sputtered microparticles is located between the blue backlight matrix and the RGB filter.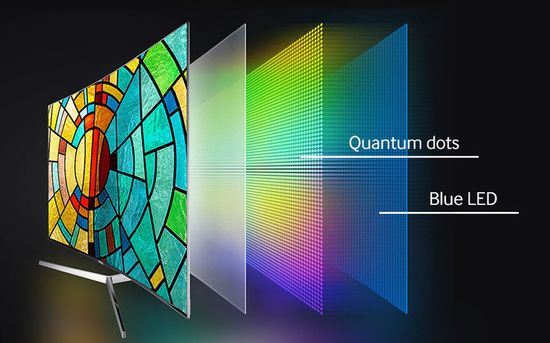 MiniLED backlit was the second breakthrough in the evolution of LCD TVs, radically increasing their contrast. Using a huge number of miniature LEDs, the developers have radically increased the number of independent local dimming zones to hundreds and even thousands. In turn, a sharp increase in their number increased the overall image contrast by improving the accuracy of brightness control in different areas of the frame.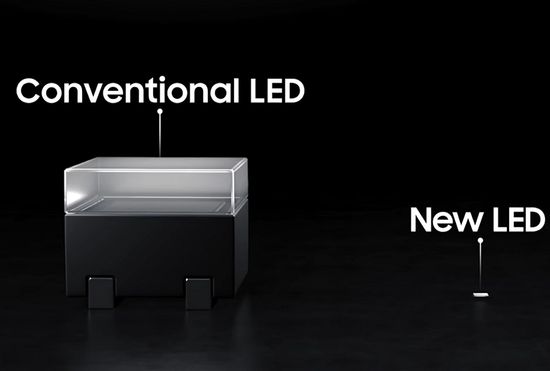 As a result, LCD TVs with these technologies have taken a strong place in the premium segment, delivering QD-colors and OLED-contrast.
At CES 2021 Samsung, TCL and LG presented their versions of the innovative miniLED backlit. Today, this technology is used in Samsung Neo, LG QNED and TCL 6-Series R655 and QM8 series. TCL calls its version OD-Zero (Optical Depth Zero).
However, Chinese giant Hisense offers similar technologies in ULED X series. LG's lineup includes four 4K and two 8K QNED miniLED series. But, in fairness, the Samsung Neo series is the most popular and successful.
Samsung Neo TVs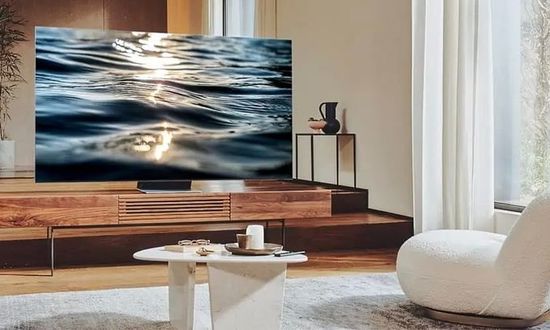 This list includes:
– QN80A and QN90A (2021) – $ 1,600 (65″ QN90A);
– Samsung QN90B and QN95B (2022) – $ 1,800 and $ 2,500 (65″);
– QN85C, QN90C and QN95C (2023) – $ 2,000, $ 2,800 and $ 3,300 (launch prices for 65″).
New Neo 8K series (MSRP):
– QN900C – $ 6,300 / $ 5,000 for 75″/ 65″;
– QN800C – $ 6,000 / 3,500 for 85″/ 65″.
They provide up to 4,000 nits peak brightness, have Quantum Matrix Ultimate technology with 14-bit processing and up to 1,000 local dimming zones.
Neo 4K (2023):
– QN95C – $ 5,800 (£ 7,000) / $ 4,200 ( £ 5,000) / $ 3,300 (£ 3,700) for 85″ / 75″ / 65″ (prices in UK are higher);
– QN90C – $ 4,800 / $ 3,300 / $ 2,800 / $ 2,000 / $ 1,600 / $ 1,200 for 85″ / 75″ / 65″ / 55″ / 50″ / 43″;
– QN85C – $ 3,800 / $ 2,700 / $ 2,000 / $ 1,500 for 85″ / 75″ / 65″ / 55″.
So prices range from $ 1,200 for 43-inches QN90C to $ 6,300 for 75-inches QN900C.
As in the model lines of previous years, the flagship QN95C 4K is in the spotlight. Its specs are really impressive.
The flagship uses a VA panel with a QD filter, latest 4K Neural Quantum Processor, extra speakers for Object Tracking Sound Pro and miniLED backlight with twice the number of local zones compared to last year's QN95B. Its smart platform runs under Tizen 7.0 OS which offers all the main streaming services. In addition, the QN95C has onboard Dolby Atmos decoding, supports HDR10 / HLG / HDR10+ formats and virtually every gaming feature.
Key features
With the exception of S95С with hybrid QD-OLED panel and 8K models, all new Samsung TVs come without One Connect box for wires. As a result, they are slightly thicker. But Samsung QN95C has the new slim power board and popular Infinity One design with a bezel-less screen. Therefore, despite the direct full-array backlight, multichannel speaker system and lack of One Connect Box, its thickness does not exceed 20 mm.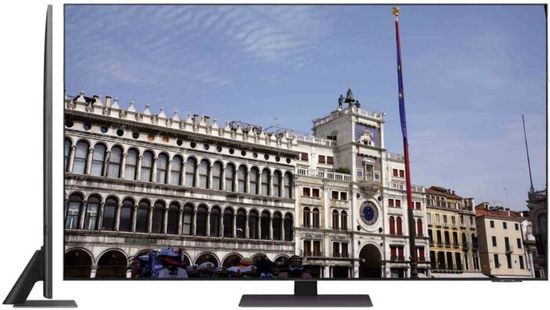 The QN95C comes with a new stand that is narrower than last year's. In addition, it can be wall mounted with an optional 'no-gap' bracket.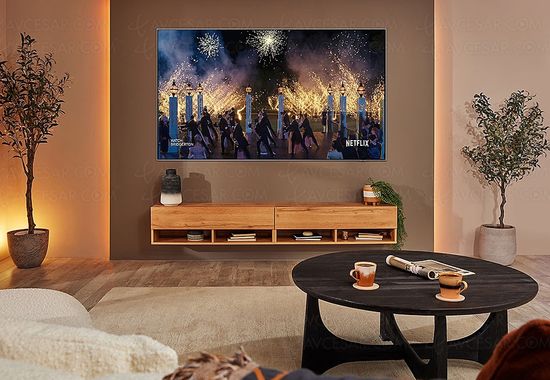 Compared to last year's model, the new Solar Cell remote with direct access keys for Netflix, Prime Video, and Disney+ is smaller and simpler.
The list of wireless connections includes Wi-Fi, Bluetooth and support for Apple AirPlay 2.
Main technologies:
– QN95C uses the 'Auto HDR Remastering' algorithm with AI deep learning technology. It analyzes and applies real-time HDR effects to SDR content in a scene-by-scene mode.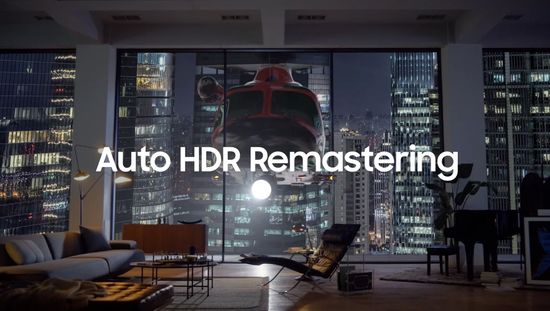 In fact, this function plays Standard Dynamic Range (SDR) content with in HDR format. Theoretically, this feature will improve the picture quality when playing SDR movies, TV shows, etc, and perhaps partially solve the problem of the HDR content shortage.
– 14-bit processing and improved local dimming.
According to the company, a new dimming tech provides 'improved brightness and grayscale control to accurately render both luminance and extreme details across the whole screen';
– AI Sound Remastering option improves voice clarity and provides ideal volume levels for each audio component.
– Q Symphony 3.0 syncs the TV's speakers with a Samsung soundbar for an expanded Dolby Atmos audio;
– Anti-Glare screen and Ultra Viewing Angle technology to expand viewing angles.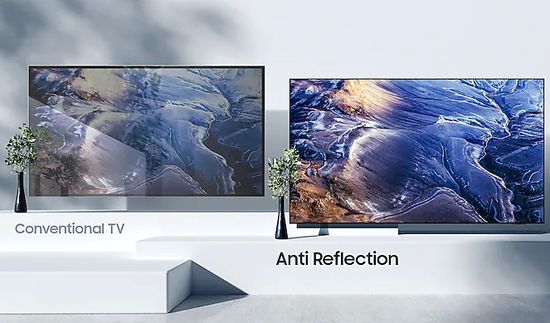 QN95C brightness and audio
By comparison, the first Neo QN90A with 27,000:1 contrast and 1,700 nits brightness became the most contrasting and brightest LCD TV of 2021.
For SDR content the peak brightness of QN95C on 100% white window exceeds 320 nits, which is typical. For HDR signal, the TV delivers over 800 nits at 100% white, and 1,380 nits on 18% window. This is slightly lower vs 1,700 nits of the QN90B, but very bright compared to other competitors. The brightness level in the 10% window rises to 1,570 nits in Cinema mode, and almost to 1,700 nits in Filmmaker mode.
The contrast ratio is similar to last year's series. Both TVs reproduce deep black levels perfectly. But compared with the previous QN90B, the new QN95C demonstrates a significant improvement in motion and picture processing, reproducing even complex scenes without judder and blooming.
Audio
Perhaps the audio quality of the built-in speakers will seem insufficient for music lovers, but will allow most to save on a soundbar. TV separates stereo well, reproduces mid-range and treble frequencies cleanly, and offers even acceptable basses. The total power of its speakers reaches 70W (4x 5W + 2x 15W).
Onboard Dolby Atmos decoding works very effectively, greatly expanding the soundstage with Atmos content. New speakers seamlessly reproduce overhead effects in soundtracks. Object Tracking Sound+ and Q-Symphony 3.0 complete the audio functionality.
In particular, 4.2.2-channel speaker layout with tweeters of Object Tracking Sound+ improvies the spatial accuracy of sound effects. Q-Symphony 3.0 more efficiently syncs built-in speakers with an external Samsung soundbars.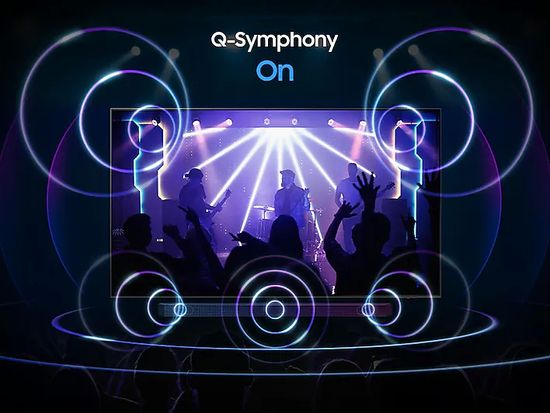 Of course, the flagship supports Dolby Atmos / Dolby Digital Plus / Dolby Digital (AC-3) / Dolby AC-4 formats.
The control via Amazon Alexa or Samsung Bixby is done with the long-range mic.
HDR performance
The deep blacks of VA panel and high details in the shadows with miniLED backlight provide very sharp contrast images.
The 4K Neural Quantum Processor flawlessly upscaling lower-resolution content to 4K. Even without Picture Clarity frame interpolation, the motion handling ensures smooth playback of normal content without judder and artefacts. However, it's useful for sports broadcasts.
According to the moving dot test pattern, the 65-inches has 48 horizontal and 28 vertical zones, using a total of 1,344 independently dimmable zones, double the specs of last year's QN95B.
The 14-bit HDR Mapping adds details to dark and bright scenes, and Quantum Matrix technology with Shape Adaptive Light Control more accurate controls the mini LEDs.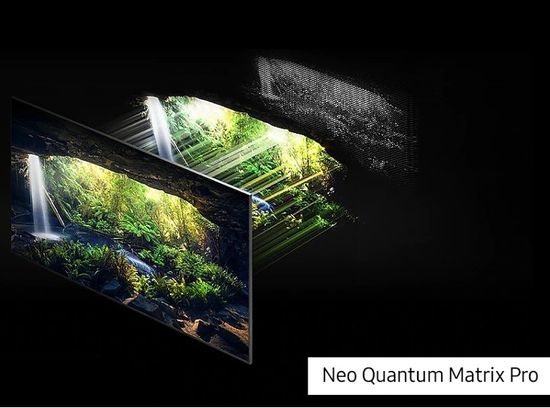 Physically, it redirects the light from the darker parts of the picture to the brighter ones, expanding the dynamic range. Finally, Neo Quantum HDR+ and Auto HDR Remastering improve HDR performance for all content.
In general, the flagship of the South Korean giant demonstrates one of the highest HDR-performance in the industry. This is due to a combination of an effective light rejection filter, wider viewing angles, and an increased number of independent local dimming zones. These factors provide HDR mode with deep black levels and bright highlights without blooming.
The QN95C peak brightness exceeds 1,700 nits (cd/m2) on a 10% window in Filmmaker mode, and reaches an unprecedented 720 nits on a 100% full field pattern. In fact, TV can accurately display ≤ 1,000 nits HDR content without tone mapping.
The color gamut is also impressive, providing 95% coverage for DCI-P3 and 71% in BT.2020 color space while maintaining very accurate color tracking.
Samsung still doesn't support Dolby Vision HDR. As known, the company prefers its HDR10+ format. Perhaps it's less widely adopted but has some unique pros.
Smart options
From 2023, some Samsung TVs will come with a built-in SmartThings Zigbee & Matter Thread One-Chip module. It provides TV compatibility with smart home devices using the Matter, Zigbee and Z-Wave protocols. In fact, it turns TV into fuss-free smart home hubs.
Tizen 7.0 new features:
– Chat Together – a live chat group while watching the same content;
– ConnectTime – a larger platform for video calls on the TV;
– 3D Map View – home and all SmartThings devices bird's eye view.
In fact, these options make it easier to activate of a live chat 'watchalong' session.
Other:
– dedicated section provides access to connected games consoles and various gaming apps;
– Netflix, Prime Video, Apple TV+, Disney+, Now TV, Rakuten, YouTube, etc.
– SmartThings app makes setup simple;
– compatibility with Amazon Alexa and Google Assistant, Bixby built-in, access Siri via Apple's AirPlay 2;
– Slim Fit USB camera built-in.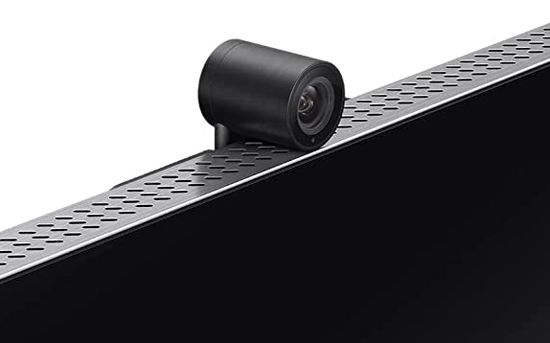 But QN95C can also use the phone camera. It's compatible with Google Meet, Workout, Samsung Health apps and supports two-screen Multi View mode;
– Smart Calibration Pro – calibration with iOS / Android smartphone via Smart Calibration app.
It uses test patterns, the photos of which are transmitted from the camera to the service. The Basic mode only lasts 30 seconds, optimizing the greyscale and color gamut. Advanced mode lasts longer but provides greater accuracy. However, even the basic setting provides DeltaEs ≤ 3, which corresponds to a good level. For reference, QN95C 'out of the box' has Eco mode with excess of blue in white and slightly over-saturated colors. But the Filmmaker Mode provides greyscale with superb DeltaE (error) ≤ 2.
Gaming
Samsung QN95C rightfully claims to be among the best gaming TVs, offering:
– Freesync Premium and Motion Xcelerator Turbo Pro 144Hz;
– ultra-responsive gameplay.
Unlike most competitors, the QN95C has a maximum refresh rate of 144Hz, which makes this panel highly responsive. Besides, Game Mode reduces input lag to 5.8 ms for 4K@120 signal and below 5 ms with a 4K@144 signal. But without its activation, input lag increases to 73 ms;
– HDMI inputs with support of next-gen console features, including 4K@120Hz, VRR, and ALLM;
– advanced Game Bar (Super Ultrawide view mode, 'zoomed' map on tablet or smartphone, Virtual Aim Point mode, etc).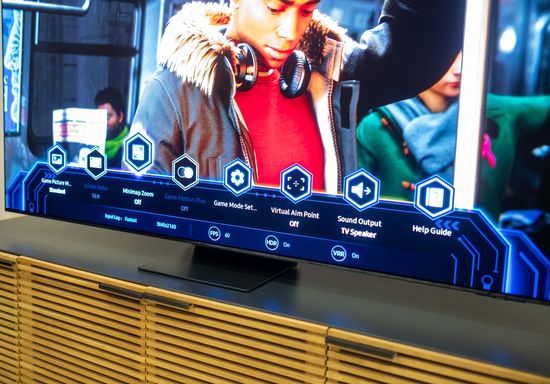 It provides quick access to gameplay settings.
Unfortunately, Samsung QN95C does not support Nvidia G-Syn. As known, this adaptive sync technology provides a variable refresh rate for tear-free gameplay. In fact, G-Sync doubles the number of Hertz when they reach below the minimum. However, the Neo series uses FreeSync Premium Pro, which solves a similar problem. But, in fairness, this technology only reduces screen tearing and stuttering, unlike G-Sync, which prevents them. However, the unprecedentedly low input lag makes this difference irrelevant.
Conclusion
Pros
– high brightness;
– near-perfect black with high-precision local dimming;
– superb uniformity;
– improved image processing;
– flawless SDR images;
– superb HDR performance;
– extensive next-gen gaming support;
– Atmos-enhanced audio;
– Infinity One design with a bezel-less screen.
Cons
– high launch price;
– no Dolby Vision HDR;
– not compatible with Nvidia G-Sync;
– no built-in DTS decoder;
– no Freeview Play (free TV channels).
Of course, the assessment of the marketing prospects based on launch prices is hardly correct. Probably, it will become possible after their correction closer to autumn. But given the specs and technology, the Samsung QN95C 4K QLED miniLED really claims to be among the best TVs of 2023 in terms of picture quality.
In addition, it offers superb gameplay, great audio with innovative features, a wide range of Smart options, and other premium bonuses.
But, of course, the flagship will have a very difficult battle with formidable competitors, the list of which, for example, includes:
– Samsung S95B (2022), Sony A95K/A95L and Samsung S90C / S95C (2023) with hybrid QD-OLED panel;
– LG OLED Evo C2/G2 (2022) and LG OLED Evo C3/G3 (2023).
But, of course, it's much wider. In particular, Laser TVs are gradually replacing traditional TVs in the living room.
However, healthy competition is unlikely to confuse the South Korean giant, and it will be pleasant and useful for consumers.
This video demonstrates gameplay with Samsung Neo QLED miniLED 8K TVs.