10 years ago, the TVs range included only expensive premium OLED models with superb contrast due to perfect black, and wide range of LCD TVs with LED backlight. The technological boom has radically changed the situation.
Today this list inbcludes:
– micro LED panels with fantastic image quality and fabulous price;
– OLED Evo TVs with increased brightness;
– 'Laser TVs' – ultra-short throw laser projectors with a projection size from 100″, which are aggressively and very successfully replacing traditional TVs from the living room.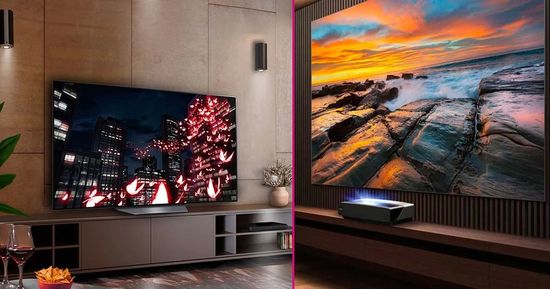 – new Samsung and Sony models with a hybrid QD-OLED panel from Samsung Display;
– LCD TVs with quantum dot (QD) technology and miniLED backlight.
Of course, each technology has key features. For example, Samsung is constantly reducing the size and price of micro LED panels. This year, the South Korean giant announced a 76-inch MicroLED CX with pixel-by-pixel brightness control (great contrast due to 20-bits black-level depth), and with 99.9% screen-to-body ratio ('zero-widthbezel').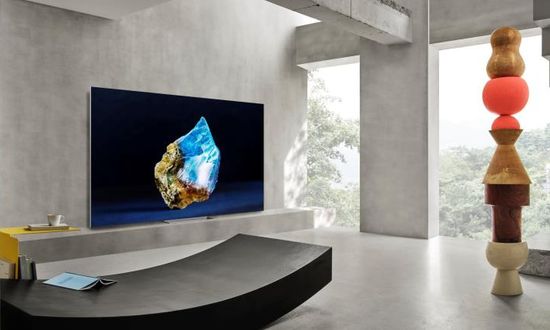 Unlike previous models, it does not require professional installation, has 240Hz refresh rate and the response time of 2 ns (0.000002 ms). But according experts, its launch price is unlikely to be below $ 80,000.
Dominanting the OLED technology segment, LG continues to successfully reduce prices and improve their quality. As a result, LG OLED TVs prices have left the top lines of the premium segment.
The developers of 'Laser TVs' are also dynamically developing this direction by improving the light engine (ALPD technology), increasing the resolution (DLP XPR eShift technology), the efficiency of ALR screens, expanding smart functionality, etc.
The new Samsung S95B (2022), S95C / S90C (2023) and Sony A95K / A95L (2022 and 2023) with a hybrid QD-OLED panel also have excellent marketing prospects. But only five series today are hardly enough to position them as a full-fledged segment.
QLED miniLED TVs
Due to high reliability and affordable price, LCD TVs with LED backlight remain one of the most popular. Of course, companies are very actively improving this technology. In fact, their evolution is based on two fundamental breakthroughs, including QD technology and miniLED backlight.
QD technology has significantly expanded the color gamut, increased brightness and color accuracy by improving the white quality, which is used as a backlight for the RGB filter.
The developers solved this problem by generating white from blue, green and red. The blue source is an array of blue LEDs. An additional film with microparticles is installed between it and the RGB filter. Their size corresponds to the wavelengths of red and green. Passing through this film, some of the blue is absorbed by the microparticles, which re-emit either red or green, depending on their size. Behind the film, the partially transmitted blue is combined with the re-emitted red and green to produce a high quality white that is sent to the RGB filter.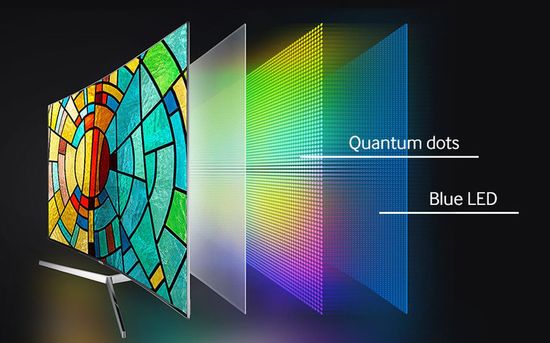 MiniLED backlight has radically increased image contrast by significantly improving the accuracy of brightness control in different frame areas. In turn, this progress has been achieved through the use of miniature LEDs, which are grouped into hundreds and even thousands of local dimming zones with independent brightness control.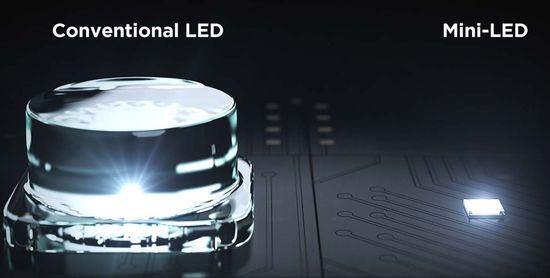 At CES 2021, TCL, Samsung and LG introduced the OD-Zero, Neo and QNED series with their own miniLED versions. In fact, 2021 was the starting point for premium LCD TVs with quantum dot technology and miniLED backlight ('QLED miniLED' TVs).
Today's list of TVs with these technologies includes Hisense ULED X, LG QNED, TCL QM8, etc. But, to be fair, the Samsung Neo series is the most popular.
Prices
The annual renewal of model ranges by industry leaders has long been a stable trend. Moreover, companies often use the same pricing strategy. For example, the difference in launch prices between flagships and the series following them is usually disproportionately large. But after their traditional correction, it's significantly reduced.
Price ratios in LG and Samsung lineups (65″ TVs).
LG OLED:
– G1 vs C1 (2021) – $ 1,780 vs $ 1,430 ($ 350);
– G2 vs C2 (2022) – $ 2,000 vs $ 1,600 ($ 400);
– G3 vs C3 (2023, launch prices) – $ 3,300 vs $ 2,600 ($ 700).
Samsung Neo QLED miniLED:
– QN90A vs QN85A (2021) – $1,380 vs $ 1,290 ($ 110);
– QN95B vs QN90B (2022) – $ 2,300 vs $ 1,600 ($ 700 is an exception);
– QN95C vs QN90C vs QN85C (2023, launch prices) – $ 3,300 vs $ 2,800 vs $ 2,000 ($ 500 and $ 800).
Of course, all flagships offer higher specs. For example, LG G1 uses a brighter Evo panel, LG G2 increases brightness with an additional heat dissipation sheet, QN95C provides higher contrast and brightness with more local dimming zones, etc. But redundant specs of modern premium models are manifested only in difficult for video processing scenes. For example, the flagship better reproduces the night sky or the night city (bright little dots on a dark background), racing at night (highly dynamic scenes with a lot of black gradations), a spy in a black cloak in a cave, which watches a blonde on the sunny beach, and so on.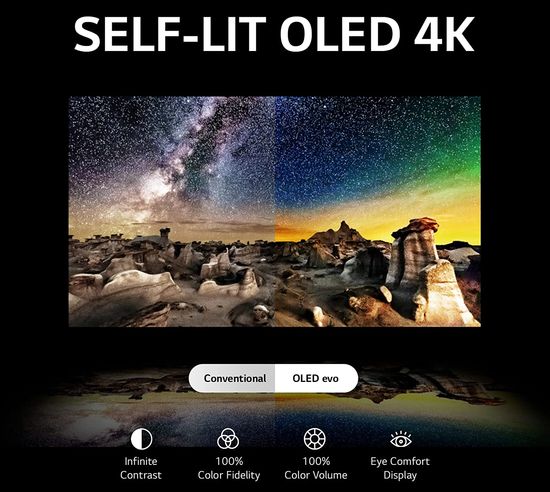 To be fair, the share of such scenes is limited. In addition, most viewers receive SDR content via cable or satellite television, which is perfectly reproduced by most modern TVs.
Samsung Neo 2023
This year, Samsung expanded the Neo series with QN95C, QN90C and QN85C.
QN95C (2023) vs QN95B (2022):
– more precise backlight control by almost doubling the number of local dimming zones. This should greatly reduce blooming;
– Auto HDR Remastering option.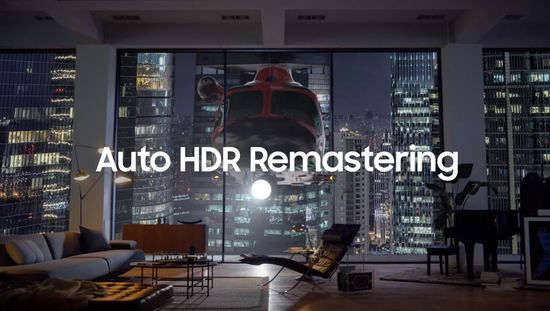 This new AI deep learning-based algorithm analyzes and applies HDR effects to SDR content in real-time frame-by-frame;
– upgraded Samsung Gaming Hub provides access to cloud gaming streaming services, including Xbox Cloud Gaming, Amazon Luna, Nvidia GeForce Now and Utomik;
– streaming in 4K resolution and viewing other content at the same time;
– extended viewing angles reduce color distortion in off-axis viewing;
– improved light rejection filter performance reduces ambient light impact on black levels and eliminates artefacts;
– upgraded GameBar 3.0 with MiniMap Sharing (game map on any display) and Virtual Aim Point (improved crosshairs in FPS).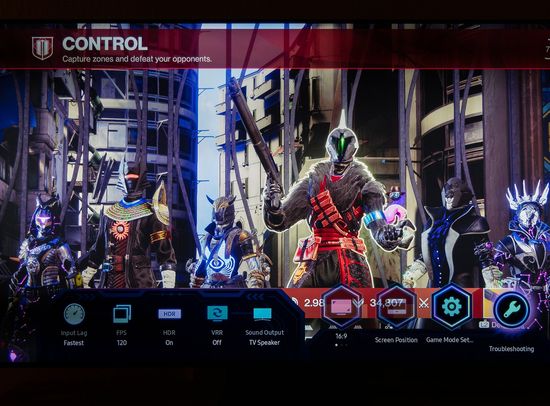 – 144Hz refresh rate for games;
– reduced response time.
QN95C vs QN90С vs QN85С (all 2023)
All seeries:
– display type – miniLED QLED (QN95C – 14-bit miniLED backlight);
– processor – Neural Quantum Processor 4K;
– gameplay – 4k@144Hz, 4k@120Hz, VRR, ALLM;
– sound – the company promises Dolby Atmos sound without a separate soundbar.
Differences:
– QN95C provides increased brightness and more precise backlight control with more local dimming zones (1,344 independently dimmable zones for 65-inches model);
– QN90C supports refresh rates up to 144Hz only in 43-inch and 50-inch models;
– audio – 70W vs 60W vs 60W 4.2.2-channel system;
– QN85C does not have anti-reflective coating.
Samsung Neo QN90C
The Samsung QN90C is a great choice for non-perfectionists. With almost the same functionality, imaging technologies, and image quality, it's $ 500 cheaper vs flagship QN95C. As a result, the price-quality ratio is clearly not in favor of the flagship.
Indeed, its peak brightness is excessive even for room with sunlight, and miniLED backlight provides superb contrast with deep black even with fewer local dimming zones.
The list of differences is very short. First, the series use different designs. In particular, the thickness of Samsung 43QN90C with NeoSlim screen reaches 2.8 cm vs 2 cm of QN95C with Infinity One design. But, in fairness, the 43QN90C is unlikely to be bulky even in a small room.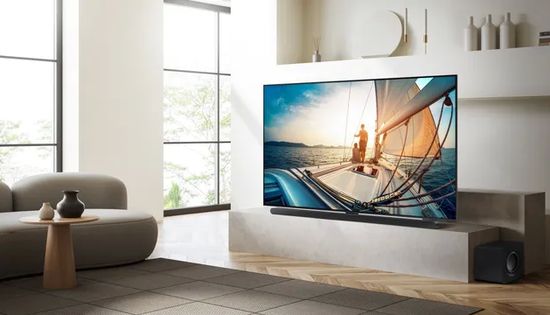 Like all Neo QLED series, QN90C uses QD technology with richer colors, wide color gamut and high color accuracy. Additionally, its local dimming with innovative miniLED backlight provides excellent contrast with deep blacks.
The peak brightness of the TV reaches 700 nits (cd/m²) in standard picture mode and an impressive 1,100 nits on 10% window for HDR content. But of course, its brightness is lower in Filmmaker mode with the most realistic image.
Like the flagship, it has a bright VA panel with superb contrast Ultra Viewing Angle technology to boost viewing angles. This technology preserves the brightness and saturation of colors when deviating from the screen axis. In addition, the TV uses Samsung's anti-glare technology to compensate for reflections in a brightly lit room.
Like all Samsung TVs 2023, QN90C offers new Auto HDR Remastering option to play standard content with HDR effects. Perhaps this technology will reduce the HDR content shortage problem. But so far, this algorithm only works in models sized from 55″.
Smart TV, gaming and sound
In fairness, today Tizen 7.0 interface is inferior to competitors. For example, Google TV offers more upfront information and better viewing suggestions.
But perhaps this compromise is a conscious choice of a company that is actively developing base platform technologies for a shared future with the Metaverse and robots. Indeed, Tizen 7.0 shows significant progress in strengthening the features of smart devices and the service platform, including an improved 3D rendering engine, a real-time engine, and more. Unfortunately, the remote control complicates and slows down the whole process.
The input lag up to 10 ms, Gaming Bar 3.0 (mini-maps and new aiming), 4k@120Hz, HDMI 2.1 ports with support of ALLM and Variable Refresh Rate (VRR) greatly expand the gaming capabilities of this series.
Finally, all Neo series 2023 have intelligent sound remastering. As a result, TV provides clear sound without distortion at all volume levels and in all genres. Its quality may not satisfy music lovers, but most people can save money on a soundbar. However, if necessary, the improved Q Symphony 3.0 will ensure the TV matches perfectly with any Samsung soundbar.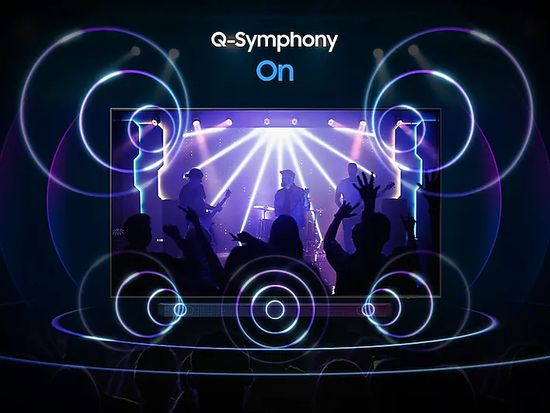 Conclusion
Without a doubt, the flagships remain attractive to perfectionists and progressives with a big budget. But the series that follow them often become bestsellers due to the best value for money. Samsung 4K Neo QN90C really claims this perspective.
Of course, this series will face tough competition with formidable opponents, the list of which includes:
– flagship QN95C (after launch prices correction);
– 4k laser UST projectors starting at $ 2,000 that are increasingly replacing traditional TVs in living room;
– Samsung S95C / S95B / S90C and Sony A95K / A95L with hybrid QD-OLED panel;
– flagship Hisense ULED X and TCL QM8 TVs.
However, competition is unlikely to scare the South Korean giant. But regardless of winners in competitive battles, the consumer market can only welcome the abundance of superb TVs based on various technologies.
This video demonstrates the capabilities of Samsung Neo QLED miniLED TVs.